Top 10 best Billie Eilish songs so far
Billie Eilish songs are unique in today's pop-music industry. Unlike many other pop-songs, each track created by this singer is one-of-a-kind. Her songs are easily recognisable, addictive, and hypnotising. Check for yourself. I am sure that these songs will end up in your playlist.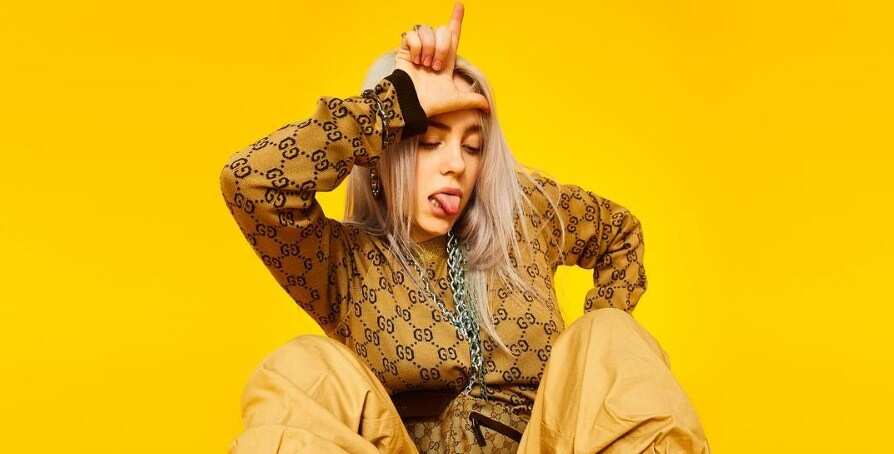 The young star is quickly overrunning the American music industry. Her brand new album When We All Fall Asleep, Where Do We Go? has already conquered Billboard 200 Chart. So, what is so special about her songs?
Best Billie Eilish songs
We have compiled a list of top 10 best Billie's songs so far and would like to start with the musical composition which brought the young lady to the limelight.
Billie Eilish Ocean Eyes
This track is extremely significant for the singer and her career. After its release on SoundCloud in 2016, the artist became popular as the song instantly turned into an ultimate banger. Ocean Eyes was originally written by the girl's brother Finneas O'Connell, who is a musician himself. After the success of the track performed by Billie, the siblings recorded four remixes of it and included them in EP Ocean Eyes.
The track is very melodic and even. The pure voice of the singer fits the music perfectly creating an ethereal atmosphere. It is hard to believe that such a masterpiece is performed by a fourteen-year-old girl.
The music video for the track was published on YouTube on March 24, 2016. Since that time, almost 100 million people have viewed it, and everyone was absolutely thrilled about the song:
No matter how many times I watch this it's still hard to believe Billie was only 14. - @bread
Nothing can ruin this song! - @doge dogo
My cousin recommended this for me to sleep now I can't sleep cuz of how beautiful this miracle is. - @Mikz Manoban Padz
This song made me fall in love with her. So pure. - @jnthn
Wow this music is very soothing - @Isa B
Billie Eilish When the Party's Over
When the Party's Over comes from a Billie Eilish new album called When We All Fall Asleep, Where Do We Go? Before the track was released, it was performed live on several occasions. Because of this fact, it was difficult to achieve the magic of a live performance the fans got used to when the song was being recorded in a studio, according to Finneas O'Connell.
The lyrics of the track are a bit vague and open for interpretation. The same can be applied to its sound. Some might think that the music is sad; others may consider it to be soothing. As for the singer herself, she has her own vision of the song:
It's like, "I'll call you when the party's over," you're on the phone with someone and you can't hear them, they can't hear you, it's loud, they're mad at you for some reason. I feel like everybody's had that struggle with someone – somebody on the phone yelling for some reason, and you're just like, "You know what? Fucking leave me alone."
READ ALSO: Top trending Jon Bellion songs and albums 2019
Party's Over was received very warmly by the fans of the singer as well as other artists. This could be number one among Billie Eilish best songs so far. For example, Dan Reynolds, the frontman of Imagine Dragons, said that this is the best track ever created by the young singer.
Since its publication on YouTube, Party's Over has gathered over 199 million views. See what YouTube users say about the track:
I'm always at peace when I listen to Billie Eilish. Her voice is so soothing and she is such an artist and I mean artist. She is all about the words and the message, not about the sexuality that most singers portray. The creativity and visuals in this video are stunning and I'm honestly in love with her new album. - @tenorbuds
The fact that she's only 16 and has such a genuine unique voice and style blows my mind. - @Masud Abedin
Beautiful, yet heart-wrenching. This is incredible. - @jessiepaege
Billie Eilish Lovely
Lovely is another soul-touching track performed by the singer in collaboration with Khalid. Their voices create a perfect sound together. The singers wrote the song together with Finneas, and their hard work paid off. It became a soundtrack for the famous Netflix TV series 13 Reasons Why.
The track's official music video has stunning 292 million views on YouTube. Look how people reacted to Lovely:
Oh my gosh their voices harmonize so perfectly together! - @penny pinch
As someone who is struggling with depression right now, this hit me right at home. - @Darcoon
Their voices sound so amazing together; this collab was meant to happen! - @X.E.X
It's so beautiful and aesthetic that my soul's crying. - @Natalie Natalia
So happy this song was on 13 reasons why because now more people are noticing Billie and her amazing music. - @Rose Love
Billie Eilish Bellyache
Bellyache is another popular song by the artist. It is more upbeat than the aforementioned ones; however, the story it tells is not that cheerful. As the singer explains in one of her interviews:
'Bellyache' is about the concept of guilt, when you do things in the moment because you feel so strongly about them. In the end, you're left with the decision you made. That line—"I thought that I'd feel better, but now I gotta bellyache"—is about how you kinda know that you're the worst, but you don't care.
Notwithstanding the gloomy lyrics, the track is a banger. Its tune is addictive, be careful.
Billie Eilish Bury a Friend
Bury a Friend is another work from Billie Eilish album When We All Fall Asleep, Where Do We Go? The song is a crucial part of the album as its lyrics contain the words "When We All Fall Asleep, Where Do We Go?" In her interview for UMusic, the singer states:
'Bury a friend' is literally from the perspective of the monster under my bed. If you put yourself in that mindset, what is this creature doing or feeling? […]I also confess that I'm this monster, because I'm my own worst enemy. I might be the monster under your bed too."
The song is quite gloomy; however, it is nothing if you take into account the music video for the track. It is utterly scary. Check out the reactions of YouTube users:
READ ALSO: Latest Tatiana Manaois songs 2018-2019
Billie should do a horror Netflix series. I would watch it. - @Basic Stuff
Am I the only one who wants to see Billie in a horror movie? I mean this music video scares the daylights out of me especially the needle part, but I love Billie and her music so much. She is a true artist which is why I always love to watch her music videos because you never know what to expect. - @tenorbuds
Why are people scared of monsters under the bed when you have Billie? - @sarah
Love her reductive music style, essence distilled into a form where silence is as important as sound. Brava! - @Dark Star
Billie Eilish Idontwannabeyouanymore
This track is very personal for the singer. The girl sings:
Tell the mirror what you know she's heard before / I don't wanna be you... / Anymore
She faces herself through this song. In it, she tries to overcome her fears, emotions, and insecurities.
Billie Eilish Copycat
The message of this track is literally the opposite of the one conveyed by the previous song. Through this work, the singer appears to be a confident girl who will not tolerate anyone hurting her feelings. Particularly, she addresses all those people copying her style and manner:
Copycat tryna cop my manner / Watch your back when you can't watch mine / Copycat tryna cop my glamor / Why so sad, bunny? Can't have mine
The track has an addictive lyrics and a recognisable tune, which makes it an ultimate banger.
Billie Eilish You Should See Me In a Crown
You Should See Me In a Crown is a powerful track that is also included in the brand-new album When We All Fall Asleep, Where Do We Go? As Finneas O'Connell puts it:
It's a song about being power hungry, and a power struggle in general. It feels very Macbeth to me. I thought the knife was kind of a Shakespearian take on what really is just her saying, 'give me control.'
The music video for the song is another story. If you have arachnophobia, you should definitely forget about watching it. In the video, the singer is sprinkled with spiders of various kinds. She even takes one in her mouth. While this can give shivers to many people, the girl did not feel any discomfort, as she confessed in her interview for CR Fashion Book:
Spiders on my face and hair. It was crazy. I loved it. I would have never thought in my life that I would have done that.
Billie Eilish Hostage
Hostage is an even, lyrical, and sad song that tells us about egotistical feelings of a person that is in love with someone. The whole story revolves around a wish to be with an object of admiration always, to be a part of him or her, to hold their hearts and souls:
And let me crawl inside your veins / I'll build a wall, give you a ball and chain / It's not like me to be so mean / You're all I wanted / Just let me hold you / Like a hostage
Billie Eilish Bored
Bored, like Lovely, also was used as a soundtrack for 13 Reasons Why but for the first season of the TV series. This tender song depicts a classic toxic relationship, in which one of the partners gives everything to the other one while receiving nothing in return.
The reason why Billie Eilish songs are so popular is that they evoke very different emotions in the listeners. Some of them make you cry; others make you dance wildly around the room. Such diversity of moods is what attracts people to these tracks. With her new album, the singer proved that she has a lot to tell. We hope that her new stories put in songs will continue to delight us in future.
READ ALSO: List of all Lil Wayne songs so far
Source: Legit.ng