Jenna Fischer husband Lee Kirk: Top 10 facts about him
Can you imagine a life where you cannot check your social media feed every hour or so? For many of us, such a life would feel like being in prison. However, when you take a moment to think about the whole idea about sharing posts online, you will realise that there are people who opt to remain private and do not even have social media accounts. Lee Kirk is a classic example of an individual who stays away from the spotlight. Learn more about him in the post below.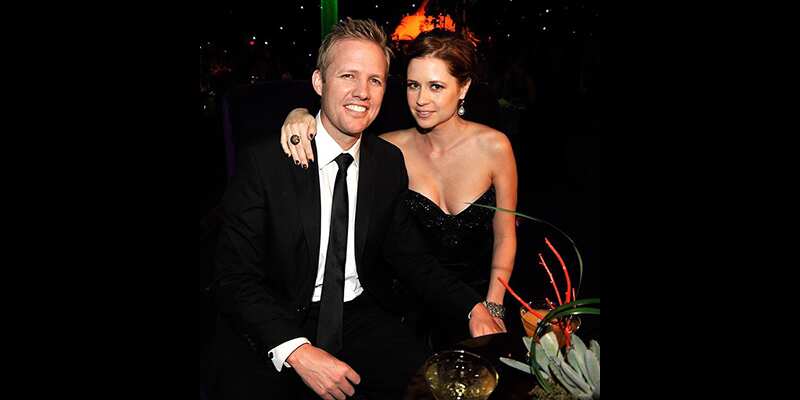 When you talk about Kirk, the first thing that pops in mind is Jenna Fischer. These two Hollywood entertainers are indeed opposite just, as they say, opposites attract. Jenna is the bubbly one in the relationship and always ready to share online posts about her life and marriage. He may be staying away from the limelight, but here are some interesting facts about this Texas-born film director.
Lee Kirk profile summary
Full name: Lee Kirk
Date of birth: Unconfirmed
Nationality: American
Marital status: Married
Wife: Jenna Fischer
Place of birth: Texas, in the United States
Ethnicity: White
Profession: Writer, director and actor
Build: Average
READ ALSO: Tamiko Bolton bio: age, ethnicity, net worth, marriage with George Soros
Where was Lee Kirk born?
Kirk is indeed a private person and has managed to keep his personal information under the wraps. That is why the Lee Kirk age remains unconfirmed. However, his place of birth is public information, and he was born in Texas, the United States.
Fell in love while on set
According to Fischer in 2012, she confessed that Kirk and herself fell in love while on set. In retrospect, it seems like everything fell in place for these two lovebirds to end up together. She always wanted to be part of a movie from its inception to screening, and that is how she met her partner.
READ ALSO: CNN Pamela Brown bio: salary, net worth, husband, family
Got engaged to Jenna Fischer on June 30, 2009
Lee got engaged to Jenna back in 2009 and seems they have never looked back as you continue reading.
Who is Jenna Fischer's husband?
After the engagement, it is evident that Kirk is the Jenna Fischer spouse because they ended tying the knot on 3 July 2010, which was one year after their engagement.
Jeff Probst of the Survivor television show officiated his wedding
Now, this is an interesting fact. Survivor the TV show is almost in its 40th season and its host – Jeff Probst was the one who officiated Lee's colourful and star-filled wedding.
READ ALSO: Who is Damon Thomas: Top 10 facts about Kim Kardashian first husband
Lee has two children
He has two children whose names are Harper Marie Kirk and Weston Lee Kirk. His son Weston is seven years old, while his daughter Harper is four years old.
Lee Kirk and Jenna Fischer relationship
The relationship between these two stars will always draw the interest of many fans. Notably, he is the second husband of Jenna, but does that even matter at this point?
He is a director and actor
He has a small portfolio, but his career has seen him take up both acting and directing roles. For that matter, he played both roles in The Office television series.
He is well-known although he has only directed a few movies
According to IMDb, he has directed only three films. However, he seems to be well-known, and his relationship with his wife has helped on that front.
READ ALSO: Kim Zolciak net worth, salary, age, height, husband, and children
He is an awesome father, loyal friend and loving husband
In the words of his wife, Lee is an awesome father, loyal friend and loving husband. Fischer posted those words on her social media account back on September 8, 2016. The couple seems to be enjoying their life.
After reading through the above facts about Lee Kirk, which one do you find as the most interesting? Was it Jeff Probst officiating their wedding or the couple falling in love on set? Anyway, one of the things that you can also take away from him is that it is possible to remain private and not share updates about your life on social media.
READ ALSO: Josh Peck wife Paige O'Brien bio: age, dad, pregnancy, married life
Source: Legit.ng