Legit.ng weekly price check: Prices of fruits drop, sellers lament low patronage in spite of Ramadan
- The prices of goods have become available and affordable in markets across the state in spite of the Ramadan season
- Checks by Legit.ng at Jakande market, Ikosi-Ketu, Lagos, showed the stability in prices of some fruits and excess supply of other goods
- At the market, fruit sellers revealed that although the prices of goods are relatively low but patronage is very low
The prices of goods have remained stable and affordable in market across the state. Investigations by Legit.ng at Jakande market, Ikosi-Ketu, Lagos showed the availability of fruits in the market and stability in the prices of major goods.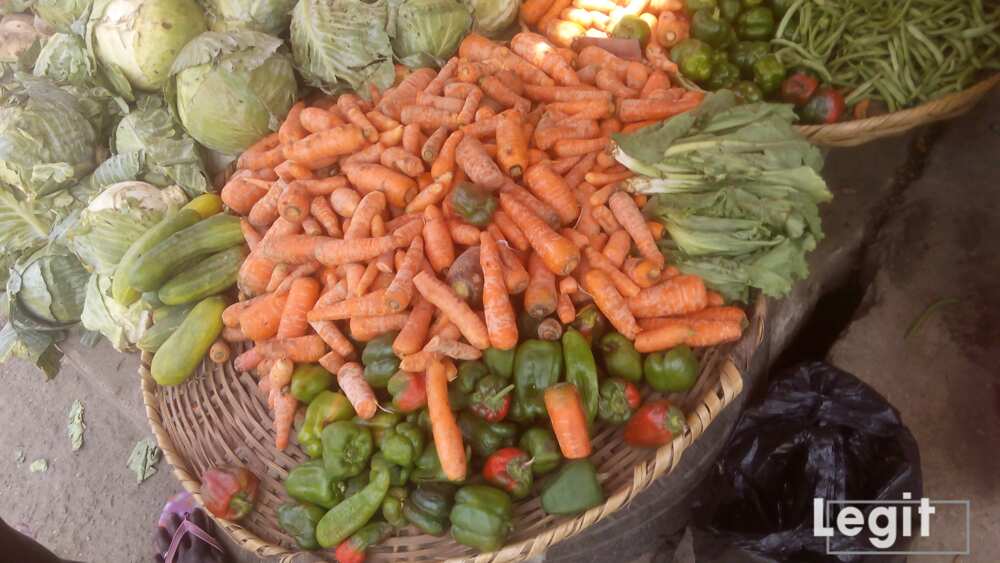 According to traders, the fruits are affordable due to its excess supply and seasonal factors. Fruits popularly consumed during this period are mango, orange, apple, avocado, pineapple to mention but a few.
At the market, a trader who sells apple explained to Legit.ng the affordability of the produce. She informed that when the fruits are in its season, they become afford ale and their supply increases but when they are not in season, the supply becomes low thereby making it expensive.
"Apple is in its season now, and this is the period it becomes very affordable. The supply of the fruit is very high due to the seasonal change. But after a while, when it is out of season, it becomes expensive; supply will then be low.
"A carton before now, ranges from N8,000, N10,000, N12,000 and above but now a carton can be purchased from N4,0000,N5,000, N6,000 and N7,000. Right now, 3 pieces of small sized-apple can be gotten for N100 and 5 pieces of apple can be gotten for N200 in this market. But it sold at an expensive rate when purchased from here to the supermarket, retail market and at the eyebrow areas.
"It is important to state that, the size of the fruit influence the price to a large extent; the smaller the size, the affordable the fruit and the bigger the size, the expensive the fruit," Mummy Subomi, the fruit seller informed Legit.ng.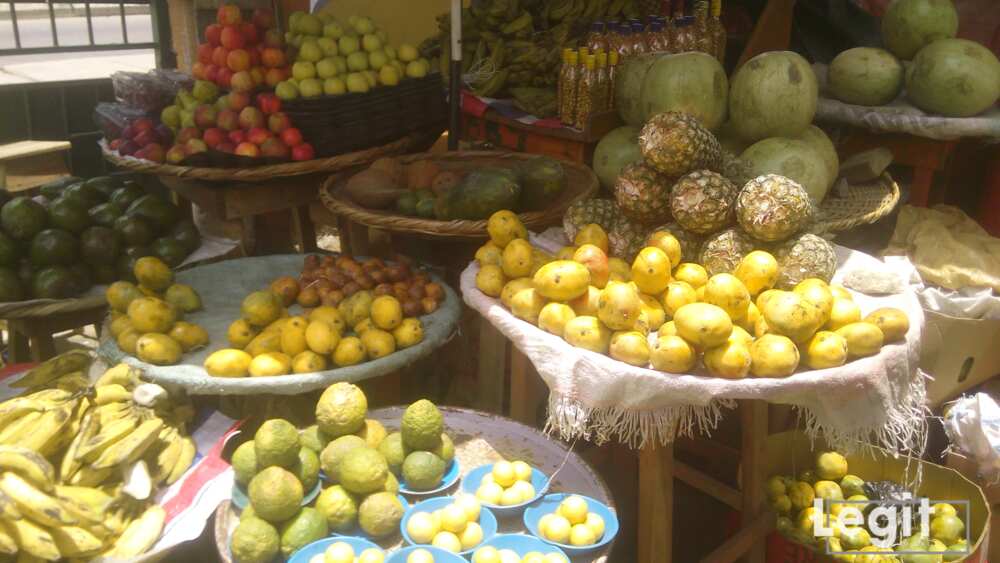 At the market, it was observed that the sellers opt for mango to other fruits due to its time and season. According to them, mango is the 'reigning fruit' as the case of apple; so traders purchase mango and apple now in large quantity and purchase the other fruits in small quantity, then resell. Informing that, most sellers go beyond the shores of the market and supply to supermarkets, offices and even housewives who are busy in one way or the other.
Adamu, a trader who sells oranges at the market, in a chat with our correspondent lament low patronage despite the affordability of the fruit.
He expressed dissatisfaction over the current purchasing power of the buyers as the Easter celebration approaches.
In his words: "Oranges are quite affordable now but despite the affordability, sales have been very low. And this period, we expected buyers to come and buy in large quantities but the revers has been the case as they come complaining of low cash and even the small quantity they purchase won't change anything at the end of daily sales.
"In previous months, the prices of oranges are high but now, it is low. Now, 50 pieces of oranges range between N700 and N1,200 respectively depending on the size and quantity purchased as well as the market situation."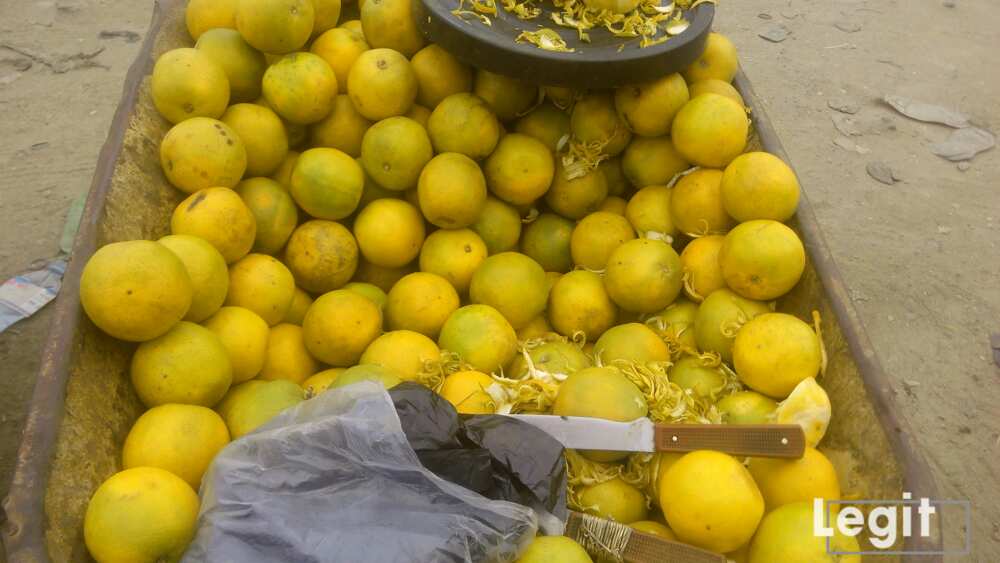 A trader who sells foodstuff items at the market, identified simply as Mr. Chijioke, informed our correspondent that the prices of foodstuff items fluctuates but are quite affordable this season.
He added that the markets and traders' decision as well as the cost of purchase sometimes influence the prices of goods, not leaving out the cost of purchase and transportation.
The trader stated that: "It is the usual belief that every festive period prices of goods rise but it is not welcomed because, the availability of the food items and cost of purchase as well as the cost of transportation determines the amount they will be sold to the consumer and retailers as well. At major market, goods are sold at wholesale prices but in retail markets, they are sold at market prices.so, those who are aware of this fact, often visit the major markets.
"For rice and garri, their prices are relatively low but beans are sold at an expensive rate. It is surprising that people blame a particular festive period for.
"A paint of garri goes for N350 as against its previous price of N450. A derica of rice is sold for N250 before but can be purchased from N200 now. A derica of beans goes from N150 upwards. So for now, prices of rice have not increased in fact it is stable. A bag of rice (Aroso) that was sold at N14, 500 before now goes for N13, 500. We sell 25-litre of groundnut-oil for N11, 000, while refill groundnut oil cost N10, 000. As for egusi and ogbono, their prices remain stable but sales have been encouraging and we are grateful to God." The father of three explained to Legit.ng.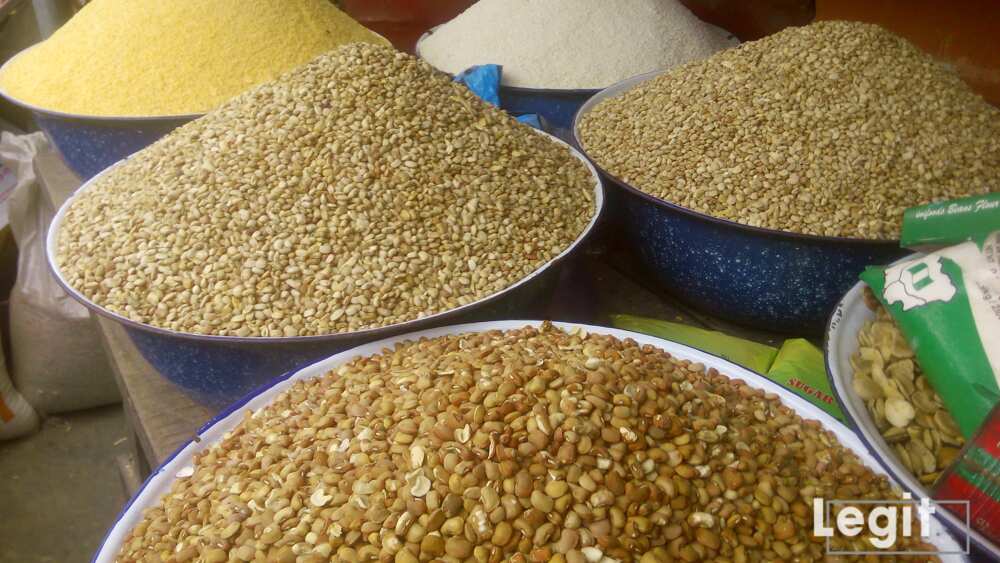 Meanwhile, a trader who sells banana, avocado, pineapple and watermelon stated that the health benefits of fruits inform the choice of most buyers.
Tahir informed that: "Fruit is one business that does not require expertise and even huge start-up capital. It is quite lucrative depending on the ones you choose to sell. The prices of fruit are influenced by the availability, supply and seasonal factors. This season, fruits are quite affordable but the sizes vary with prices.
"For banana, the price is not stable but fluctuates while that of watermelon is relatively low due to the season we are in now. We have different types of banana; and their prices are influenced by the types, the size and the market situation. You can get a bunch of small sized banana from N100, N200 and above, surprisingly, you can get banana of N50. One medium sized watermelon is sold from N300 upwards; the bigger the watermelon, the higher the price and the fresher the fruit, the more expensive it becomes.
"Fruits are very affordable in Lagos markets and the health benefits of these fruits are numerous. Thus, most buyers cannot do without it daily. Fruits contain a lot of health benefit and regular consumption of fruits promotes healthy living and lifestyle. If you want to live healthy, fruits is an excellent choice, so this is one major reason buyers patronize us. Also, some buyers buy in large quantity and take it beyond the shores of the country, to resell and for personal consumption."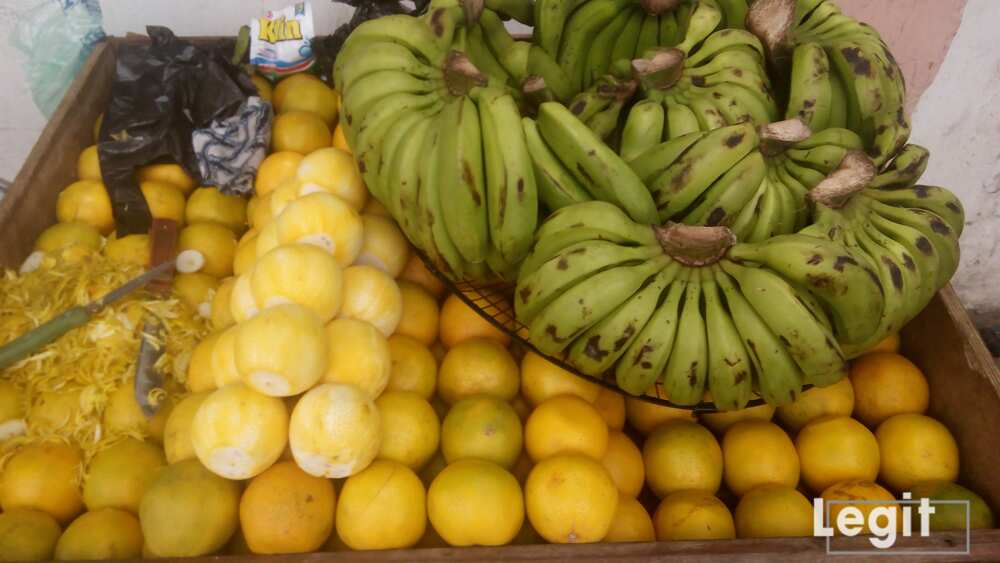 Similarly, perishable items are sold at a reasonable rate as observed by our correspondent in the market but the sellers are not happy with this development due to poor sales.
Iya Basira expressed dissatisfaction over the recent level of sales despite the activities of the holy month.
According to her, buyers patronize them but their level of patronage is quite low as against trader's expectation this season.
She said: "I have been in this business for over five years. I can tell you that the holy month has nothing to do with the cost price of some goods. We have the harvesting period and planting period for these goods, so the (periods) inform their cost price to a large extent. Right now, I can tell you, Ramadan has nothing to do with the prices of the perishable goods but some traders are inflating the price of goods.
"As at now, you can purchase basket of tomatoes, from N4, 000 upward and the big ones as well as the fresh ones from N8, 000 upward, depending on the size of the basket and the tomatoes. Before now, tomatoes are quite expensive due to the cost of transport and seasonal changes; this is same with pepper and onion. Customers buy in low quantity now and sales have been worrisome."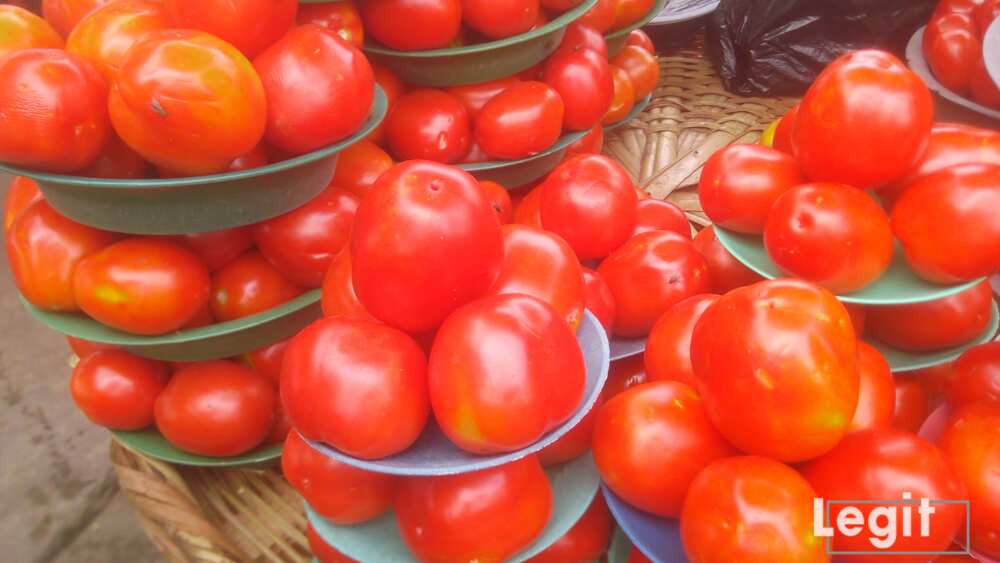 In another development, a trader who sells carrot and cucumber in the market informed of good sales, stating that buyers love to purchase goods that are cheap and well packaged.
"Packaging matters a lot in business. Yes, we want to make profit as traders but bad packaging affect sales. Before, some of us put carrot in nylon and sell in large quantity for small amount but now, it is no longer so; as we now use rubber band to arrange the carrot, sell in small quantity at that old price and still make our profit.
"Most times when we purchase these fruits, we try and sell them at an affordable rate due to their perishable nature, so as not to suffer loss at the end of the day. But most times, the reverse is the case as some of the sellers are just managing with the business and are not fully equipped to preserve the fruits few days after purchase.
"You can get carrot from N50 and above, but the ones that are big in size and fresh, are sold from N100 upwards. While cucumber too is quite affordable; depending on the size, a piece is sold for N50, while 3 pieces of a medium sized cucumber is sold from N200. But in supermarkets, it is expensive due to location, high cost of storage and way it is being packaged," Mallam Yakubu explained to our correspondent.
Interestingly, most of these sellers see the fruit business as a non-lucrative one due to the poor preservation methods by some local dealers and others who see the business as one they could live on for survival informed that the imported fruits are mostly preferred to the local ones.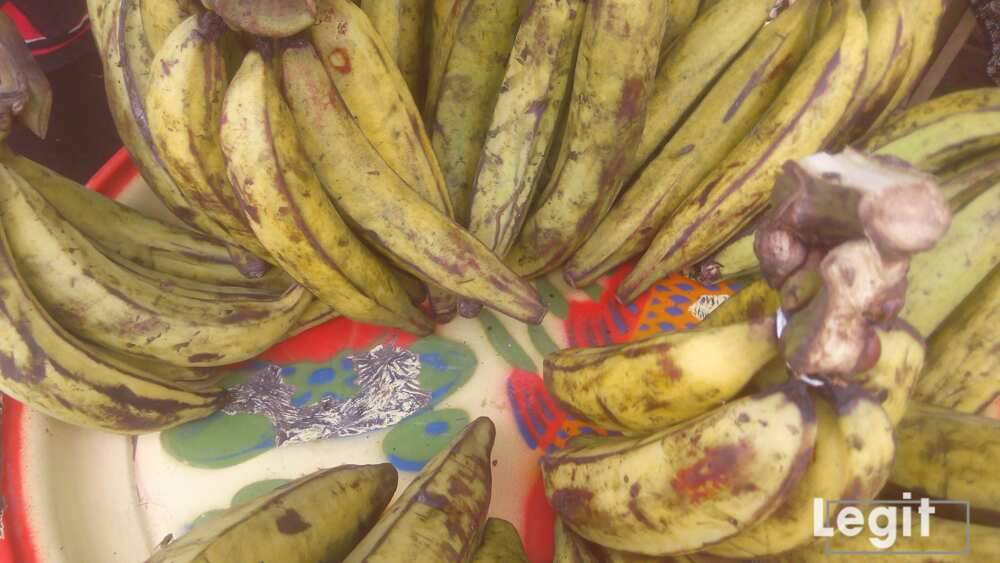 A plantain seller identified simply as Mama Kewe, makes clear to us on the above assertion. She said: "The fruit business is one business that requires proper preservation methods to store the different type one invest in. If you don't store them properly, they get rotten and results to loss.
"It can be frustrating at times, when you purchase and then in less than three days, it becomes bad and you are at a loss; this makes it non-lucrative. But for those who have an understanding of the business, they make profit because they supply to firms, caterers, chefs and cooks who use them to prepare special delicacies.
"The irony of it all is that the imported fruits are mostly preferred by our people as they see our own local fruits as not rich enough for consumption not realizing that the imported ones are not too good for consumption as most of them have been damaged by chemicals already. As a country, the habit of importing almost everything in the market is really affecting our mentality as well as our decision making process of what we consume too.
"Before, I sell fruits and even perishable goods like tomatoes and pepper but due to the fluctuating price of goods and poor market situation, I now sell plantain; this explains why we the traders are really finding it hard for our businesses to thrive in the country. But this season, fruits sells faster compared to other goods."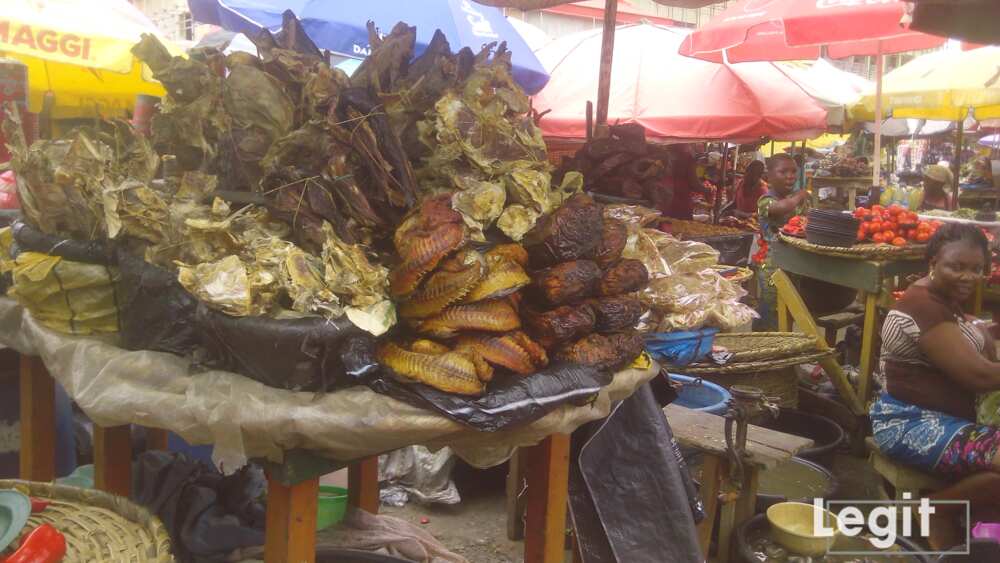 INTERVIEW: I got into this business to fend for my family - 52-year-old female cobbler reveals via Legit TV
Source: Legit.ng