Top 10 trending Mzvee songs of all time
Check out Mzvee songs to confirm that Africa has some fine female artists that will make you fall in love with African hits. Mzvee is one such artist whose songs will move you to dance and have fun even when you are at your lowest point.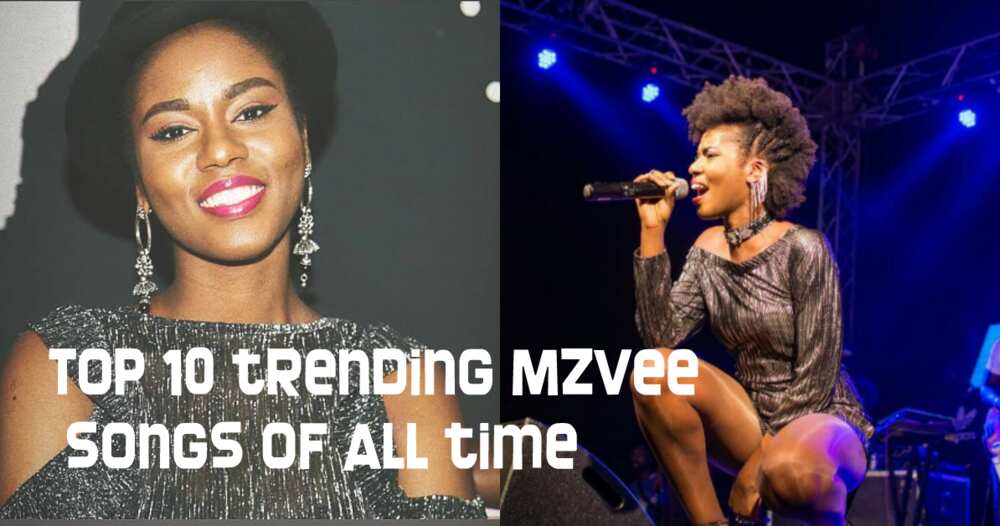 Africa as a continent is blessed with beautiful and talented artists whose goal is to entertain listeners and fans. Mzvee will make you appreciate African music in a whole new light. Whether she sings alone or collaborates with fellow artist, her tunes have a ring to them. The addictive songs will get you off your chair in appreciation. Check out the following ten.
The best of Mzvee songs
Listen to Mzvee new song, or better still, check out her older tunes to appreciate the range of songs she has been able to work on over the years. One thing that is clear though is that she is an excellent entertainer. Listening to her tunes on YouTube or attending her live performance guarantees you a great feel. The following ten songs are just examples of what she can do.
1. Daavi
Starting with her unique voice, to an excellent and simple video, you can be sure that you will enjoy this tune. The Ghanaian queen does not disappoint in this hit. The song is a thanks-giving number that appreciates the far she has come. This tune is one of those that will give you a feel-good mood when all you want to is break down. The 2017 tune from natural African beauty is a hit that has over 1.3 million views on YouTube.
2. Bend Down
As one of Mzvee latest song, the reception is already impressive. Apart from the positive comments on the YouTube page, the song has over 3 million views, considering that it was released in September 2018. Watch the video for some great dance moves. In this one, Mzvee collaborates with Eugene in a banger that took the internet by storm. Everything about the hit is perfect. The singers have vocals that will entice even the gloomiest person, not to mention the danceable beats and creative video.
3. Sing My Name
When two great artists from Africa come together, the expected result is nothing but excellence. This is exactly what Patoraking and Mzvee did in this tune. The lyrics will make you appreciate love as you think about your special someone. The December 2017 tune has over 12 million views which shows how much people have fallen in love with it. The Ghana-Nigerian combination is like a fire that cannot be ignored.
4. Come and See My Moda
Never disappointing, Mzvee features another one of African's finest female artist, Yemi Alade. The message is one that women will always identify with. If you are interested in enjoying anything that the lady you admire has, make a point of visiting her mother to make everything official. It is not surprising that a song that was released in January 2018 has over 7.3 million views on YouTube. If you love songs for their perfect lyrics and vocals, then this is a hit that you will be putting on replay every time. Enjoy your womanhood for you are a woman of substance that knows what she wants.
5. I Don't Know
Listening to this tune will convince you that this beautiful artist is not appreciated enough. This hit gives a story that many women can identify with. It is all about a lover that everyone warns you about yet you keep loving him, and you cannot explain it. With a Ghanaian star on fire, the banger will also excite you.
READ ALSO: List of all Kwesi Arthur songs so far
6. Natural Girl
Miss Vee, as she is commonly known as releases another excellent video titled Natural Girl. This was an instant hit because all African girls can identify themselves with it. There is no need to change how you look just to please a man. If he cannot appreciate you the way you are, then he does not deserve you for sure. Wear your natural beauty like the proud African queen that you are. The hit-maker featured StoneBwoy on this one, adding to it a nice riddim ring to it. Clearly, this is one of those tunes that should get more appreciation. At least, if not for anything else, the lyrics are the bomb.
7. Borkor Borkor
When choosing to download Mzvee songs, add Borkor Borkor to the list. This is one of the few tunes that shows the queens versatility musically. Here, she does a riddim rendition that will catch you off guard. The song was released 5 years ago, but the excellence and uniqueness of her voice sails through. This banger shows what a great artist should be like: versatile and flexible, traits that make the difference between an ordinary entertainer and a genius musical talent.
8. Hold Me Now
This sensual tune will make you fall in love with your man. Dedicate the song to your man as proof and confession of your love for him. You will do everything that he loves, but you are the most priced gift he will end up with.
9. Abofra
Miss Vee has always been great. This jam from 2015 proves that she has always worked on perfect tunes ever since. With a world-class video grade and perfect instrumentals, not to mention Mvee's addictive voice, this hit is one that you must include in your playlist. Ghana's best talent has been well represented here.
10. Hiribaba
Even when featured by Kwani Eugene, Miss Vee still brings her best game forward. This hit from 2017 is one of the best collaborations around. The two work well together, and it would be great to see more jams done by them. This appreciation song of their hard work will get you dancing and appreciate their hard work.
If you love Mzvee songs, then you know a few that are worth having as part of your playlist. She is one of the few female artists that keep the African name soaring.
READ ALSO:
Top 10 Daddy Lumba songs of all time
Top 10 trending Stonebwoy songs of all time
Top 10 trending Sarkodie songs of all time
Source: Legit.ng