A catchy Afro-beat tune is something that always excites the listener and prompts them to start dancing. Positive vibes and high spirits are the results of listening to the newly released Idowest- A Day Money track. The song is part of his much anticipated 7-track Mafia Culture TheEP Vol. 1 album. Idowest – A Day Money (No salary) is a hit song that you must listen to right away!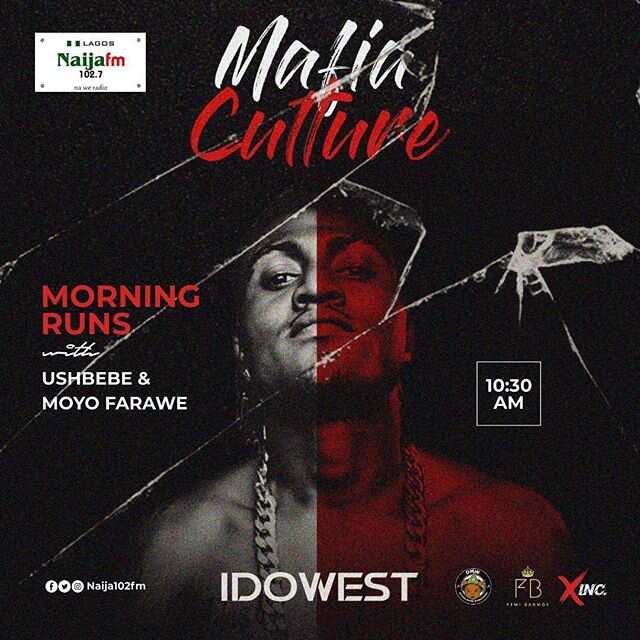 Idowest is a rapper who is presently signed as the sixth artist in the Davido Music Worldwide (DMW) label. He is a gifted 26-year-old Lagos-born music lover, a writer and a rapper who has attracted a large following due to his rapping talent. Known as the King of Shaku Shaku, this musician claims to have been making Shaku Shaku music right from a tender age. Idowest- A Day Money is all the buzz right now!
Previously, this hip hop street artist was part of the trio that formed M.A.F.I.A. The other two members Abram Soul and C Black. The trio released songs such as Umbele and Panda (cover) before he embarked on a solo career that has been successful so far. In the new album, A Day Money is among the most requested songs that has elicited a lot of attention since its release about a week ago.
READ ALSO: Top 25 richest musicians in the world 2019
A Day Money (No Salary) video
The official video of A Day Money that is part of the much awaited Mafia Culture TheEP Vol. 1 album is yet to be released. The 7-song collection features other gifted and sensational contemporary musicians such as Drumphase, Vstix, Damayo and Dicey. The official video is likely to please the audience as much as the audio has. Keep checking here to be the first to know as soon as the video production is out!
The available audio song is catchy. The beats are beautiful and inspire an African dance vibe. His characteristic voice is easy to relate to, and the way he raps speaks volumes about his passion for good music.
A Day Money lyrics
The rapper is yet to give the world a copy of his lyrics. These will be availed soon to help you sing along to this excellent production. As we all await the lyrics, it is apparent from the audio release and the title that the song talks about the financial struggles that most modern youth face. This theme provides evidence that the rapper is authentic and aware of the challenges that young people face. He does not shy away from addressing this challenge!
Reactions from the public
Idowest is a growing brand after the split of M.A.F.I.A. His following is steadily growing with more youth recognising and accepting his raw talent and passion for the African upbeat hip-hop genre of music. His fans are excited that his album is finally out and has 7 relatable tracks.
The A Day Money (No Salary) song has gathered positive and encouraging responses from fans. Some of the reactions from his official Twitter account are the following: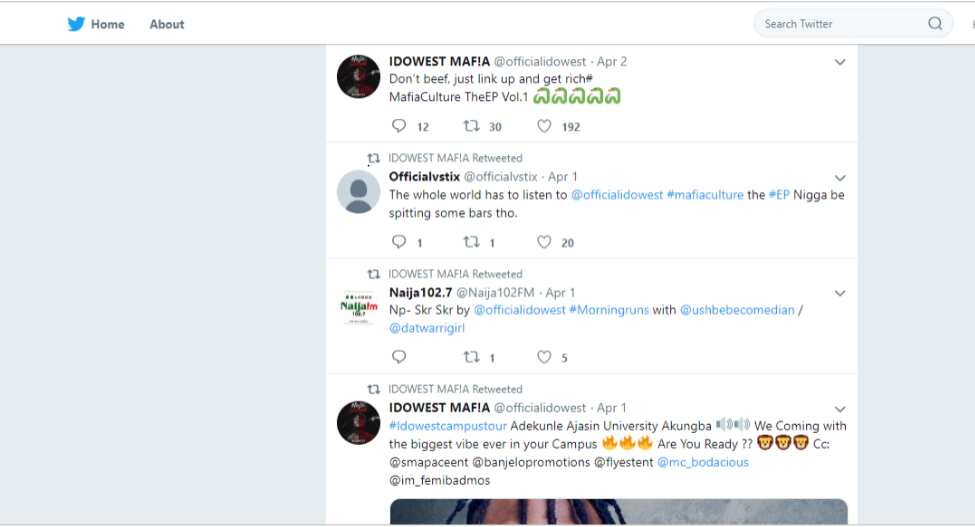 Here are some of the comments on his Instagram page:
@wreckliss_trapol: Mafia culture is mad fire mehn!
@ccynthiad09: A Day Money (love emojis)
@officialbarkboneotis: Mafia never quit!
@shawnriki: Idowest (Fire emojis)
Idowest- A Day Money (No Salary) is one of the best songs from his newly released Mafia Culture TheEP Vol. 1 album. His fans have been waiting for this release, and we can all tell that they have not been disappointed. Although the official video is not yet out, the song has attracted positive opinions and feelings. Click below to listen to this catchy African hip hop song and be sure to come back to catch the latest information about the sensational Idowest.
READ ALSO: