Post Malone net worth, age, height, house, cars
Do you like hip hop? If yes, you must have heard the name of Post Malone and could have seen him on so many posters and pictures. However, this personality is famous not only due to his music but also due to his luxurious life. How does he live? What is Post Malone net worth? Go on reading to find it out!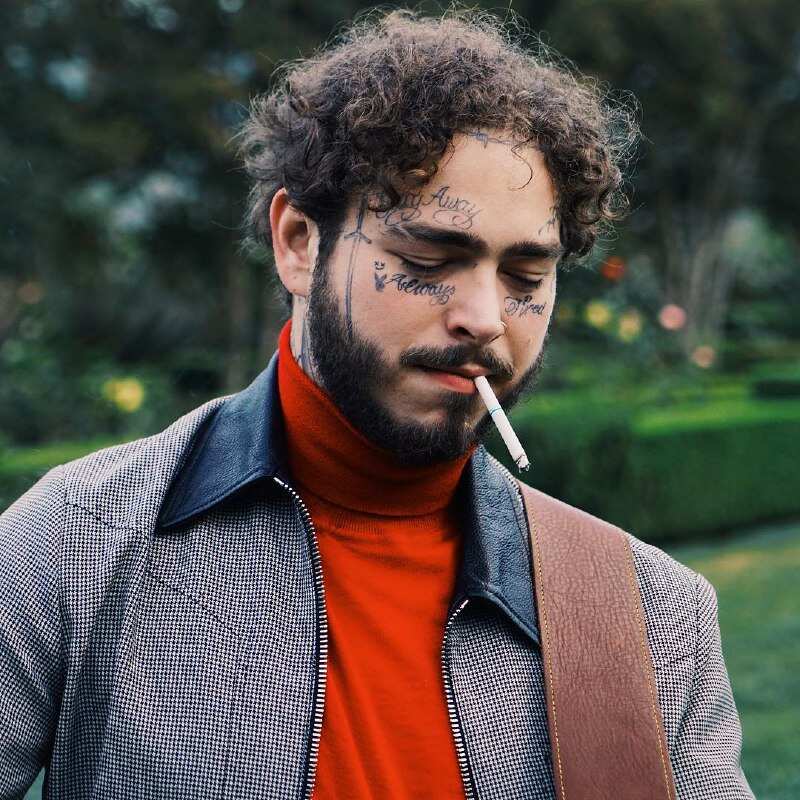 Today there are lots of opportunities for young and talented at breaking through the wall of the music industry. However, where more opportunities are, there are more competitors too. As a matter of fact, only the best of the best become stars. Post Malone is one of the best, the person who earned his chic living due to his talent.
What is Post Malone net worth and how has he earned it?
This man is entirely involved in the music industry: he deals with hip hop, rapping, singing, songwriting, guitar playing, and producing. He is extremely talented and gets profit from all these activities. So how much is Post Malone worth? It is hard to believe, but Post Malone net worth is estimated to be crazy $14 million!
He has $14 million but looks quite young, and his career goes on developing. Therefore many fans want to know: "how old is Post Malone?" You will be surprised, but Post Malone age is only 23! The rapper was born on July 4, 1995, in Syracuse, New York, and was one of those kids who was supposed to be a star someday.
His music career went on developing really fast. The boy started playing the guitar when he was a teenager. His father – Rich Post recalled:
"I told him if he stuck with it for six months, I'd get him guitar lessons. [Six months later] he said 'Nope, I developed my own style.'" Later the guy moved to Los Angeles, and his career started developing with crazy speed.
His debuted with the song "White Iverson" (2015), that was downloaded to SoundCloud. The musical composition gathered a million streams very fast, and it was a success for the young musician. In one of his interviews the star said:
"I actually felt that I'd made it when Wiz Khalifa and Mac Miller first reposted the track, but now with having a No1 song like 'Rockstar', I guess this is actually it."
READ ALSO: Best rapper in the world right now - Top 10
Due to it, he signed a contract with Republic Records. Later, the upcoming singer got an opportunity to perform at Kylie Jenner's birthday and moreover, it is believed that the birthday-girl has spent $25,000 on such music accompaniment. But during the party, the young man got something more important than money, and it was the acquaintance with celebrities of the American music industry. One of such stars was Kanye West, who eventually was impressed by Post Malone's talent and invited him to co-record his single "Fade" from the album 'The Life of Pablo'. The young singer was impressed by such turn of event and even described the work process with Kanye in one of his interviews:
"I'll tell you what. He's got this pad of paper with just like thousands of ideas in it, lines that he'll use. Throughout the day he'll probably just think of something and write it down, he flips through and comes up with the craziest stuff, off a freestyle, off a flow. We kinda record in the same way, but in his way, he's just so much more genius than me."
Subsequently, the star collaborated with Ty Dolla Sign, 50 Cent, Young Thug, Bring Me the Horizon and Justin Bieber. Further, it is more. His album Beerbongs & Bentleys (2018) was certified platinum just four days after being released! The single Rockstar became acknowledged platinum for five times, and he got a number of awards like MTV Europe Music Award for the Best Song (2018), MTV Video Music Awards (VMA) for the song of the year (2018), was nominated on Grammy (2019) and Guild of Music Supervisors Awards (2019). There is no surprise that for about four years, the musician has managed to earn such a crazy sum of money. However, it is not everything about him. The young man knows how to spend this money too.
How is Post Malone net worth spent?
This tall, tattooed man (Post Malone height is 6ft ½ inches or 184.2 cm) does his best to live a luxurious life of a successful man and rides such cars as VelociRaptor 6×6 (bought recently in 2018) and Rolls-Royce Ghost (that costs about $420,000).
The rapper has a house in Northern Utah. Its size is impressive: 13,000 square foot; and the price is about three million USD. The mansion has marble floors, a huge framed portrait of Malone, a swimming pool and many other luxurious decorations.
He also has an obsession for guns and holds a collection of these expensive "toys" at home.
The rapper does not hide details about his abundant life, and it became a problem for him last September. The former Post Malone house was robbed, but fortunately (or not) the star did not live there anymore! Three robbers got into the house through a window, shouting the celebrity's name, and attacking a new resident. When they understood that they would not see the star, the robbers simply took cash, jewellery, cell phones (all at the sum of about $20,000) and ran away.
The same month in 2018, the hip-hopper had one more money-consuming situation. Post Malone car – Rolls Royce crashed into a Kia and then a fence. There were no victims or severe traumas, but Rolls Royce was, obviously, damaged. Later, the singer made a Tweet where he jokingly wrote that God hated him.
However, who knows, it is difficult to say that fate or God hates you when you are a young and famous multimillionaire with a big house and luxurious cars.
Post Malone net worth and luxurious life may impress not only his fans but also other celebrities. The most surprising thing is not the amount of money, but the time needed to earn it all. It took only about four years for the rapper to become famous, rich and famous.
READ ALSO: Rapper Tyga's net worth and assets
Source: Legit.ng