8 things everyone should know about plane crashes
An Ethiopian Airlines flight flying Boeing 737 MAX 8 between Addis Ababa, Ethiopia, and Nairobi, the Kenyan capital, crashed on Sunday, March 10, killing 149 passengers and eight crew members aboard.
The aircraft model, Boeing 737 MAX 8, has crashed twice in less than six months. In October 2018, a new Lion Air Boeing 737 MAX 8 flight went down over the Java Sea, killing 189 people.
Following the two deadly crashes, some countries and airlines have grounded Boeing 737 MAX 8 aircraft.
Though plane crashes or aviation accident are not as frequent as other forms of accident (e.g. road accident), the larger number of people usually involved and the deadly nature (usually no survivors) make plane crashes very frightening.
Below are some key things everyone should know about plane crashes.
1. Africa and Russia have the highest rate of plane crashes
According to a report by Vox.com, Africa and Russia record more plane crashes than other regions of the world considering the number of total flights or passengers.
Quoting Forbes notes, Vox.com states that Africa's elevated accident rate is mostly due to the use of older, poorly maintained planes and substandard runways, pilots with less training, and reduced government enforcement of safety standards.
It attributes Russia's plan crash rate to an aging fleet of Russian-made jets that are difficult to maintain and find new parts for.
2. Plane crash deaths jump sharply in 2018
According to The Guardian UK, the number of people killed in plane crashes jumped sharply in 2018, according to new analysis.
The newspaper states that analysis shows that 500 people died in major accidents last year compared with none in 2017.
There were more than 500 deaths stemming from passenger airline crashes in 2018, according to Dutch aviation consulting firm To70 and the Aviation Safety Network, but both groups emphasised that fatal crashes remain rare.
There were 13 deaths in 2017 in two fatal crashes worldwide, but both were on regional turboprop aircraft.
Despite the increase, 2018 was still the third safest year ever in terms of the number of fatal accidents and the ninth safest measured by deaths, the Aviation Safety Network was quoted to have said.
3. Small planes crash more often than commercial flights
While private planes offer numerous advantages, they are reportedly more dangerous than commercial air travel.
According to Quartz, out of 35 million commercial global flights in 2017, only two ended in accidents resulting in fatalities, quoting To70, an aviation consulting firm.
A total of 13 people died in the two crashes in Angola and Russia.
By contrast, general aviation—which includes unscheduled charter flights as well as private flights—is much more dangerous. In the same period, Quartz states there were 209 fatal accidents, resulting in 347 deaths, in the US alone, according to the Federal Aviation Administration.
Vox.com list reasons why small planes crash more frequently.
"There are a few different reasons why these small planes crash so much more frequently. They're often flown by amateur pilots, and sometimes land at smaller airports with unpaved runways. The planes themselves are more likely to have defects, and aren't as well maintained. And with surprising frequency, the pilots flying these planes run out of fuel during flight."
4. Most plane crashes are due to pilot error
Boeing estimates that 80% of all crashes can be blamed on humans, rather than hardware.
One of the most common scenarios, the BBC notes, involves pilots crashing into the ground, a mountain, or water — either due to poor visibility, distraction, or a navigation mistake.
Hardware malfunctions, however, do cause some accidents, and can compound a pilot's error to lead to a crash.
5. Either everyone survives or almost no one survives
Making reference to a chart from a government analysis of all US accidents between 1983 and 2000, Vox states that the majority have high survival rates, with more than 81% of the people on board surviving. Most of these involve improper landings.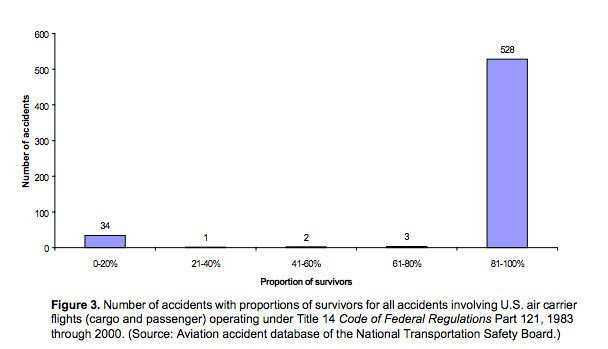 But the actual "plane crashes" - the plane drops from the air and hits the ground or water at high speed - killed more than 80 percent of the people on board.
6. Flying is still much safer than other forms of travel
Despite the scary nature of its accidents, Vox, referencing data from the US, states that flying is still much safer when compared with other forms of transportation.
7. At least 88 planes have disappeared since 1948
Also, data from the Aviation Safety Network, shows that at least 88 planes have disappeared since 1948. All 88 flights went completely missing without a single trace.
"In these cases not a single piece of wreckage, oil slick or body has been found," the network says.
8. Plane crash occurs mostly during takeoff and landing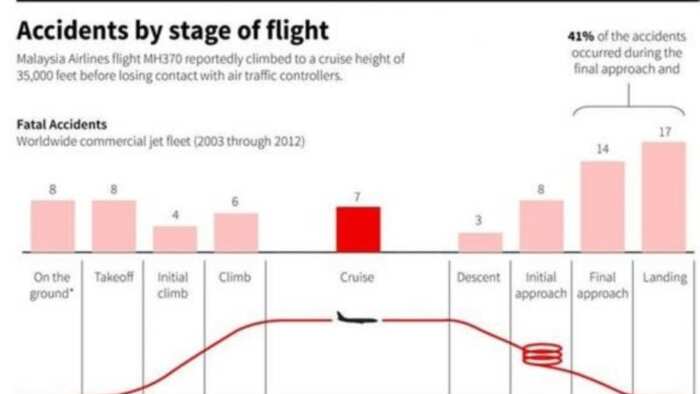 Even though planes spend a lot of time cruising at high altitude, the most dangerous part is at the very end and very beginning. Vox, referencing a Reuters chart, states that most fatal accidents on commercial jets from 2003 and 2012, happen during takeoff and landing.
NAIJ.com (naija.ng) -> Legit.ng We keep evolving to serve our readers better.
My life after the plane crash – Nigerian plane crash survivor Kechi Okwuchi speaks to Legit TV
Source: Legit.ng