Who is Sophie Mudd? She is not just another pretty model; she is a girl of unearthly beauty and incredible charm. Her glance and smile can hypnotise almost any man. We are glad to tell you about this incredible girl and her life path. The era of digital technology gives everyone a chance to realise their hopes and dreams. Sophie managed to do all of the above.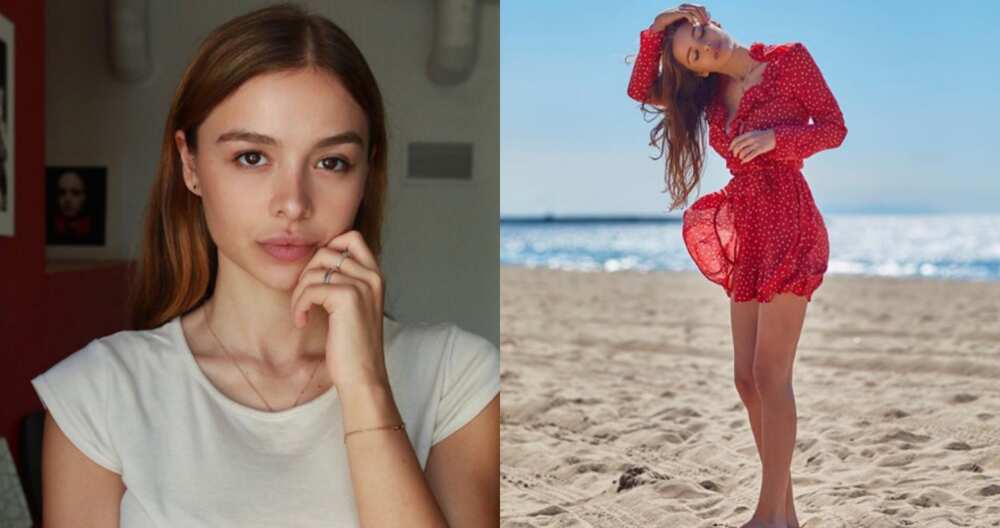 This girl has blown Instagram up with her sexy photos. Sophie has gathered so many fans, and looking through her Instagram profile, you will notice why.
Sophie Mudd bio
Sophie Mudd was born on July 27, 1998, in the United States. She spent her whole childhood in America. The information about the lady's personal life is hidden from the public. Probably, the girl is very secretive and does not want to share information about her personal life with the whole world.
We also do not know who her parents are, and their names as well. We can only conclude that the girl loves her mom and dad very much and she likes to share photos with them on her Instagram captioning them with words of appreciation.
Also, it is known that Sophie has a brother Nicholas, whom she considers a best friend.
Personal life of Sophie Mudd
At the moment, the girl is in a relationship with Austin Dash. The girl does not advertise the relationship with Austin, and only some photos and comments under them can indicate that they are happy together.
Sophie Mudd's popularity on Instagram
Sophie's Instagram page is incredibly popular. She has gathered her big fan club, which consists of 1.2 million followers. It is not surprising, because the beauty of her face and body is unique.
Talking about the financial side of Sophie's life, she earns good money thanks to advertising campaigns for lingerie and swimsuits. It brings her not only a good profit of $250,000 a year but also new fans in her piggy bank of achievements.
READ ALSO: Ekaterina Lisina: height, feet, husband and hot photos
Sophie Mudd age is 20. She is still very young, but already popular in some scales of the model business. Thanks to her numerous pictures, we can fully observe her girlish beauty. There are all chances that her career will be prosperous and bring her even more success in the future.
Sophie Mudd measurements
The measurements of this girl are impressive. When you look at her photos, you understand why. Sophie is called the next Emily Ratajkowski.
Concerning Sophie Mudd height, weight and other measurements, they are the following:
Height: 165 centimetres or 5 feet 5 inches;
Weight: 58 kilograms;
Breasts-waist-hips: 96-63-91 or 38-25-36 inches.
Having such a figure, Mudd will undoubtedly become a famous American model. The youth and fantastic measurements of her body will allow her to become popular not only in social media but also in modelling, who knows, maybe even in the movie industry.
We hope you have learned the necessary information about this rising star of the American fashion business, Sophie Mudd. The girl became famous for her hot photos in lingerie advertising campaigns. We are sure that in a couple of years, she will be not just a newcomer in this competitive industry, but a real professional. We wish her good luck!
READ ALSO: Nigeria's 'most beautiful girl in the world' now an international model