Family, friends and many Nigerians are still mourning the death of late Prof. Pius Adesanmi, a brilliant Nigerian mind who died on board the Ethiopian Airline flight 302 which claimed the lives of 156 other on March 10, after it crashed few minutes after take off.
As Nigerian pour in their condolences all over social media, a certain post which the late prof once shared is gaining traction. Due to the nature of his job, Adesanmi was a frequent traveler and once, he revealed how his regular sojourns affected his little daughter.
In the post, he pointed how uncomfortable and sad she always got when he had to leave her and mummy to go do his work. As a caring father, he will explain his job requirements and say comforting words just to calm her nerves.
Many who are now only just seeing the post have been moved to tears, especially when trying to imagine how little daughter and wife must feel now that his traveling has come to a stop and he will not return to them again in this life time.
READ ALSO: Nollywood actress Ruth Kadiri is married, flaunts wedding ring
However, even as the world is gradually accepting the reality of his untimely passing, it has been a really tough one for some of his close friends and family. One of late Pius' friend, Akintunde Akinyele shared the heart-wrenching moment Adesanmi's wife, Muyiwa broke the news of his passing to their daughter.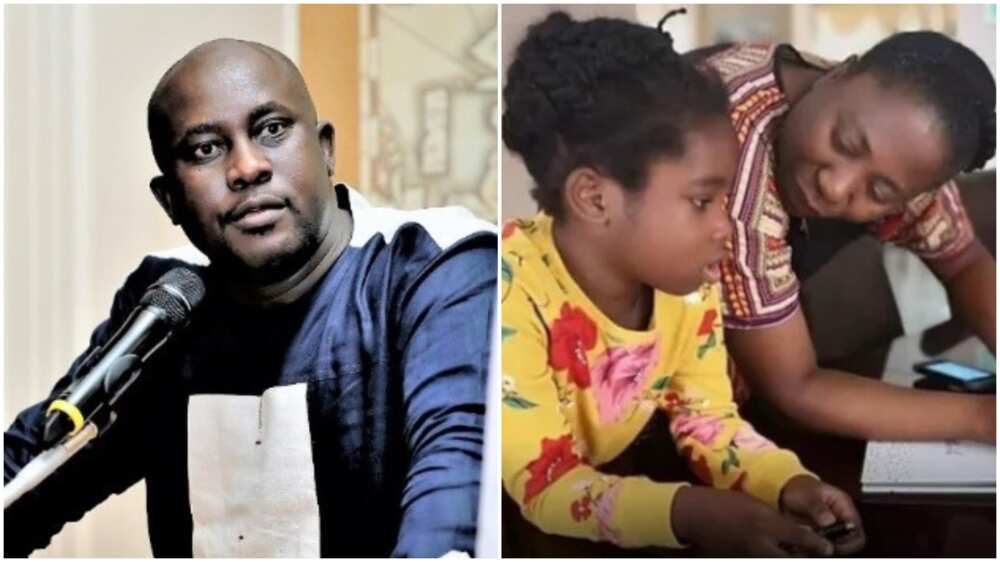 PAY ATTENTION: Get your daily relationship tips and advice on Africa Love Aid group
There are no words to describe the heartbreak the wife and daughter must feel but Adesanmi's achievements as a scholar and his unflinching love for his family will remain a sweet memory to many.
Read the late professors' post about his daughter's protest against one of his many travels:
"The toughest part? The tears heralding every departure. The accusations. The tantrums. You are going again!!!
The pleading. The cajoling. The explanations. These trips, they are Daddy's work. Your own trip with Daddy is in August. That is when the family vacation comes.
But I've been to your work. Your office is not on an airplane. Every time you go to the airplane without me you say it is work.
Another round of coaxing, sweet talking, pleading. You try to explain this kind of work that takes you to the airplane. And away. From her. You are struggling. Then she breaks it down brilliantly the way nature has wired toddlers to be far beyond us.
Daddy is this also like the hard work that you say they give you money at the end of the month when you do it? Toddler-speak and syntax for salary.
Yes, Tise, when you work hard you make money to buy things.
So when you leave on the airplane, you make money to buy me happy meals? Yes.
Lots of happy meals? Yes.
At the new McDonalds? Yes.
Her face dissolves into happinness. She is dancing now and running around the house and helping me pack. And we dance like best friends all the way to the airport.
And she waves me bye and tells me to remember my promise of happy meals from the money I make on this trip.
I suppress a tear and walk to check in, afraid to look back and catch her gaze…"
Pius' friend and colleague, Akintunde also shared a post where he revealed that he is still struggling to accept the sad nes.
Read below:
Meanwhile, the death of Adesanmi has been described as a terrible loss to the literary world. It is in this light that a candlelight gathering has been organized in Abuja.
A Twitter user shared the post and it reads: "Fellow Nigerians, Please, join us on Wednesday, March 13, 2019 for a Candlelight Gathering at the Unity Fountain, Abuja by 4:00PM. This will be the first of a 7days event and more in commemoration of our dear Prof. Pius Adesanmi. May his soul Rest In Peace.#RIPPiusAdesanmi.
Did you know? NAIJ.com (naija.ng) is now-> Legit.ng We have updated to serve you better.
PAY ATTENTION: Read best news on Nigeria's #1 news app
My life after the plane crash – Nigerian plane crash survivor Kechi Okwuchi speaks to Legit TV