From March 1st, movie lovers around the country are beginning to enjoy short films at selected Filmhouse Cinemas nationwide. Filmhouse in partnership with Moët & Chandon will be hosting a first of its kind short film viewing called, The Shorties, in our Lekki, Port-Harcourt, Kano and Surulere theaters.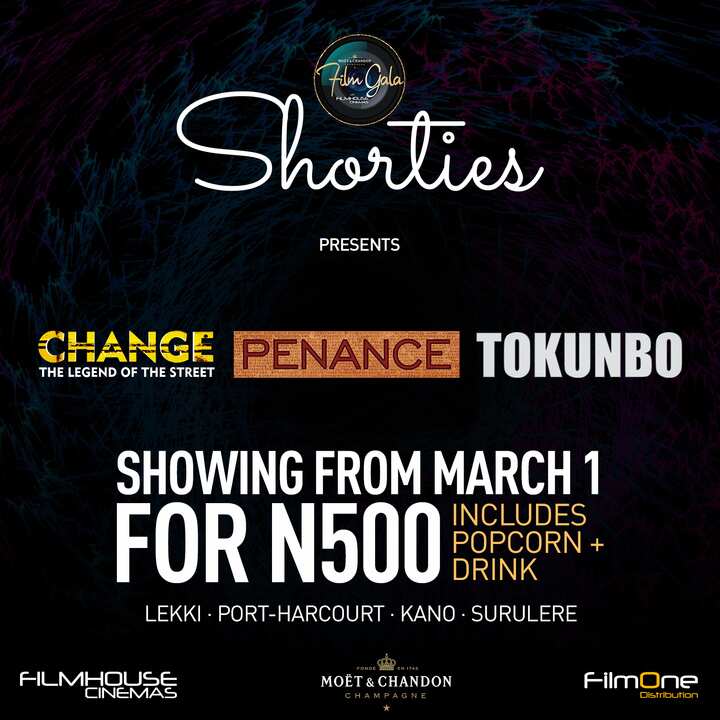 The films to be shown at the Shorties are from a selection of short films from the entries at The Film Gala.
The small screen is the workshop in which all true craftsmen and women of film must hone their skills. It is with this in mind that Filmhouse and Moët & Chando, seek to grow the culture, one film at a time by providing a platform to recognize and acknowledge the talented future players, those writers, directors and producers behind Nollywood's future hits.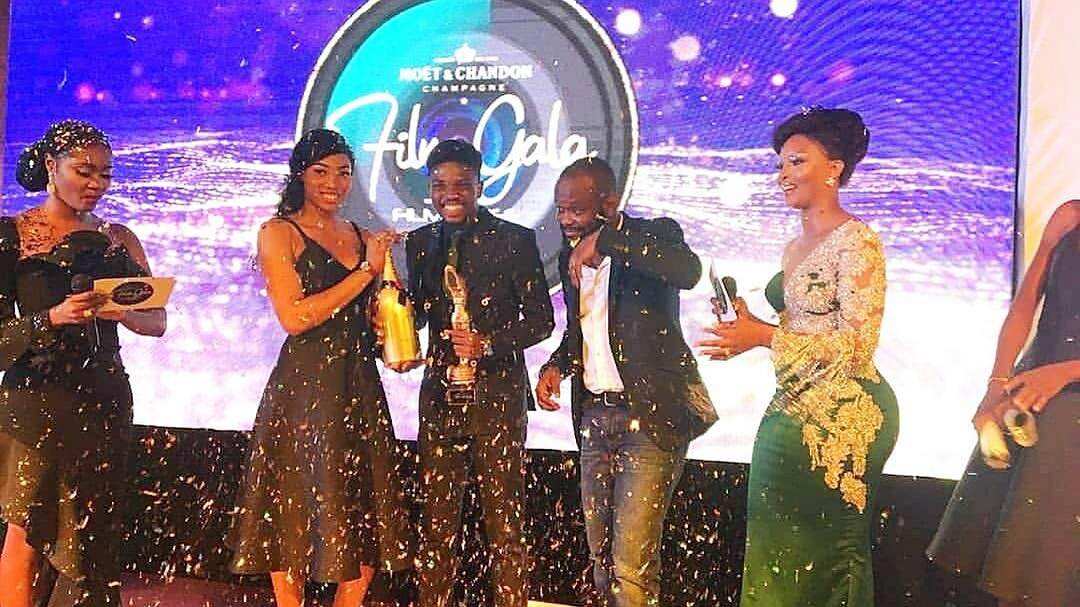 Following the success of the award ceremony of the Moët & Chandon Film Gala with Filmhouse Film Gala, The Shorties is another initiative to strengthen the industry by providing a night that brings together key players to celebrate the art of film-making, three short films made it to the top selection of films we believe need to be seen by a wider audience.
(Combined Trailer - https://drive.google.com/open?id=1e8S-A_FM-440XYoje6tZSY6n8vfACMC7)
Tokunbo
Rogba Arimoro's Tokunbo, a thematically dense and stylistically rendered film, highlights the experience of love and the journey it undergoes using car scenes that serve as metaphors for journeying. It is a film that must be seen to be truly appreciated, and we are excited to be premiering it on the big screen for so many to see.
Penance
There is also Penance by Michael Akinrogunde, a rather introspective film that takes a look at moving on and the effects of things done in the past, playing on the polar moral distance of a priest and a drug addict, both with confessions of their own you will have to watch to find out. We cannot stress how happy we are to watch films progress in the direction of experiment and theme development.
Change
The last of the three but by no means least is Change: The Legend of the street by Olu Salako (AKA SLKomedy), a brilliantly shot film chronicling a series of social ills in Nigeria with a focus on the streets of Lagos. To say a word more about this picture would be to let the cat out of the bag too early. We would say, just come and witness it for yourself. It is a piece that sees education meet with entertainment. We couldn't arrange a better marriage if we tried.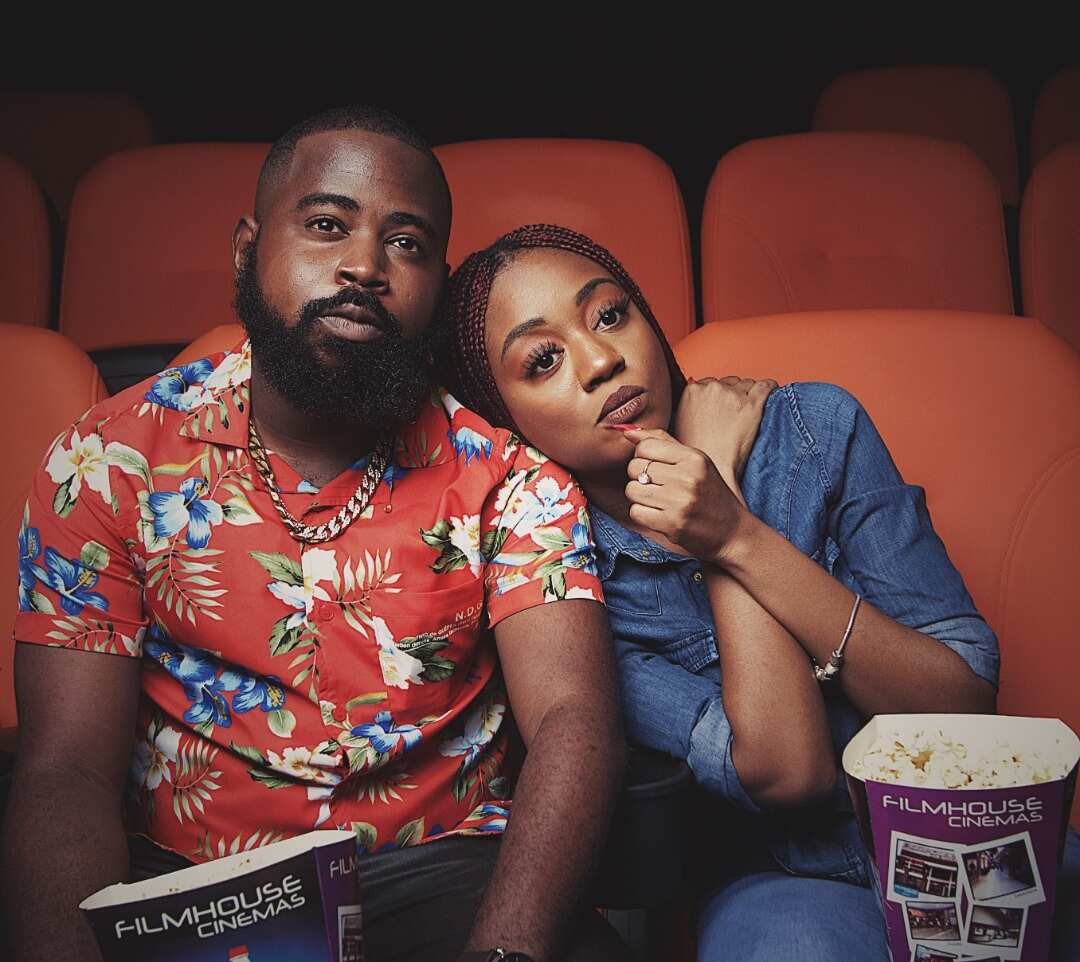 For only N500, of which proceeds are to be shared between the filmmakers behind the projects; Filmhouse Cinemas and Moët & Chandon is inviting you to come and enjoy all three movies, pop-corn and drink on us. You can save the date as March 1, we would love nothing more than to see you all there supporting the future of Nigerian film-making. With your support, we hope to continue with our efforts in this light, steadily growing our film industry and culture while inspiring upcoming filmmakers to know that there is a place for their stories because their stories are ultimately our stories.
Follow @filmhousecinemas on Instagram for more information.
See you there, on the March 1, and don't be late. You wouldn't want to miss a second of this.
About Moët &Chandon
Recognized for its quality and prestige, Moët & Chandon is the champagne of choice for celebration in both big and small moments. The venerable house has captured the attention of the brightest stars since the birth of the film industry. Founded in 1743, Moët & Chandon contributed to introduce champagne to the world by offering a range of unique wines for every occasion. Moët & Chandon celebrates the thrill of living. With a bottle of its champagne opened every second around the globe, Moët & Chandon knows that every second is an experience, and every experience is a #Moet moment to live now.
Enjoy premium viewing experience of short films for N500 at Filmhouse cinemas (includes popcorn and drink)
[Sponsored]