5 Agri-Tech companies to invest in 2019
Agriculture has advanced beyond the era of cutlasses and hoes, farmers are now getting enlightened on the use of technology and also trained on the technical-know how of machines. Agriculture is now becoming more recognized and attractive due to technology and mechanization.
Youths, Farmers and Non-Farmers are now delving into Agriculture. The use of technology saves farmers energy, time and loss to diseases while providing bountiful harvest for them.
The current government has placed a ban on the importation of goods into the country and this has encouraged the use of local produce. Many companies are taking advantage of advancement in technology and government policy by investing heavily in agriculture, this in turn encourage our youth to engage in agriculture instead of chasing white-collar-jobs. The following are some Agri-tech start-ups that are worthy of investments in 2019.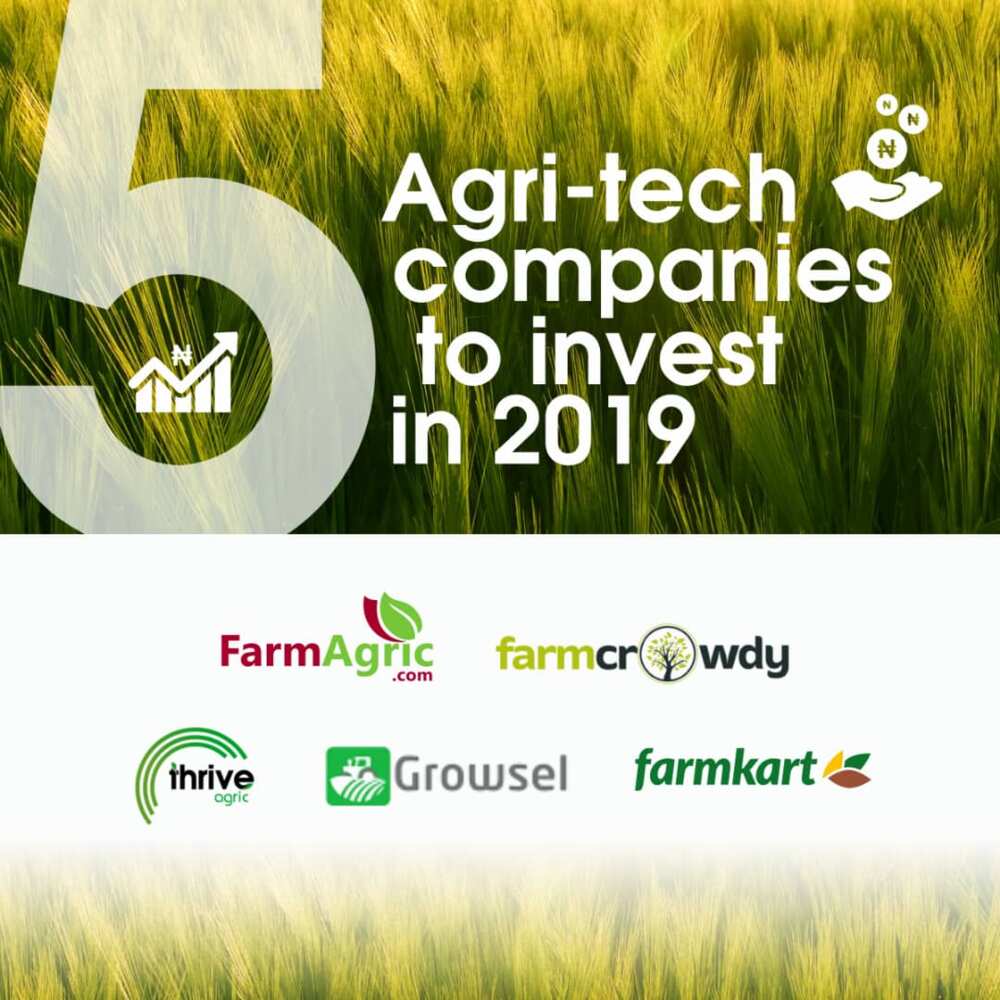 1. FARMCROWDY
This is Nigeria's first digital agriculture platform, established in 2016 which is focused on connecting farm sponsors with real farmers in order to increase food production while promoting youth participation in agriculture. It uses the sponsors funds to secure the lands, engage the farmers and ensure that farm produce complete the full cycle. Farmers and sponsors all receive a percentage of the profits on harvest. Their ROI ranges between 8% -15% across their farmers which include poultry, rice, maize, cattle and soybean.
2. FARMAGRIC
This a new agri-tech company making waves in the Agric value chain. They are focused on empowering farmers by providing them with all necessary inputs required to produce maximum yield. They link farmers to investors.They give the best ROI (which ranges between 16.5% - 17.5%) on their farms compared to all other Agri-tech companies. Asides returns, they provide other benefits to their investors. Compared to all other agri-tech platforms,they are also involved in charity, supplying chicks, cages and trainings to people at IDP camps.
3. THRIVE AGRIC
This is another Agri-tech company empowering farmers. It was founded on the basis of 3 major challenges facing farmers: Insufficient Finance, Mechanization and Market. They work with farming communities and drive real change by connecting farmers to investors while also providing access to market. They also deploy technology (data-driven advisory services) to increase yield and productivity as extension workers use an app which gives daily information; farmers also get automated messages. Their ROI ranges between 8% -20% across their farms.
4. FARMKART
FarmKart is an agri-tech platform supporting local farmers and also encouraging youth participation in Agriculture. But unlike other Agri-tech platforms,they are focused mainly on livestock farming which include catfish and poultry. They have up to 30% ROI.
5. GROWSEL
They also connect under-financed farmers with investors. The investor puts a certain amount of money on a farm and after the whole farming cycle, he's paid both the capital and interest. They also provide agricultural advises through SMS to local farmers who have no access to Internet across rural areas in Nigeria.
[Sponsored]
Source: Legit