What does the Bible say about anger?
We all feel mad or irritated sometimes; it is normal. What does the Bible say about anger? Should a Christian avoid feeling angry? You may think that it is necessary, indeed, because anger is one of the gravest sins. Yet, the matter seems to be somewhat more intricate.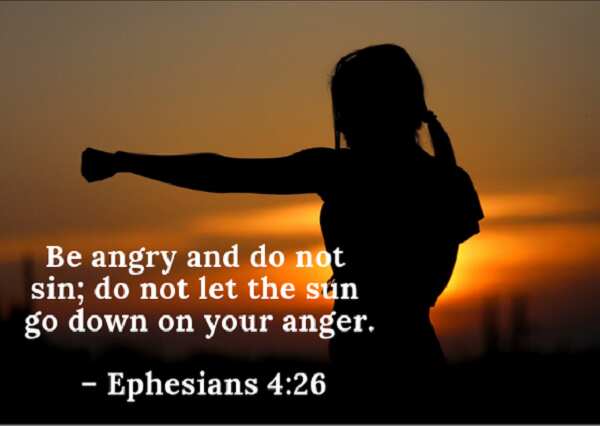 The emotions of modern people are very diverse. They seem to be much more complicated than the emotions of their ancestors who lived many centuries ago. With the development of society and all the changes in life, people have changed a lot from the inside. Yet, anger has remained one of those primary emotions in people's hearts and it often seems to be out of place in the heart of a good Christian person.
What does the Bible say about anger, in general?
The Holy Script says that feeling angry is one of the biggest sins a human can commit. Still, it is said about the emotion a person cannot control, the rage that cannot be held back. Only, in this case, rage becomes a destructive force for everyone. It destroys the soul that harbours it, and it destroys its targets.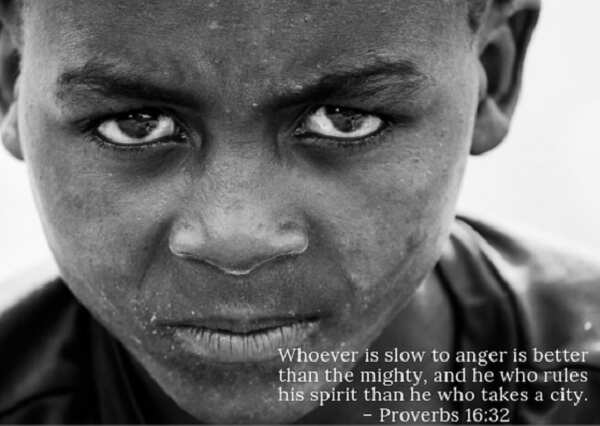 READ ALSO: Top 10 Bible study topics
"A man of wrath stirs up strife, and one given to anger causes much transgression." – Proverbs 29:22
It is essential to fight the so-called fits of rage because the Bible insists: these people will know no salvation because of their uncontrolled temper and bad emotions.
"Now the works of the flesh are evident: sexual immorality, impurity, sensuality, idolatry, sorcery, enmity, strife, jealousy, fits of anger, rivalries, dissensions, divisions, envy, drunkenness, orgies, and things like these. I warn you, as I warned you before, that those who do such things will not inherit the kingdom of God." – Galatians 5:19-21
The Holy Book shows people how necessary it is to tame one's negative emotions because they can be evil and harmful to those who surround an angry person, and it goes against one of the most prominent Christ's commandments: "To love one's neighbour as oneself" – Matthew 22:39
Does the Bible say anger is wrong?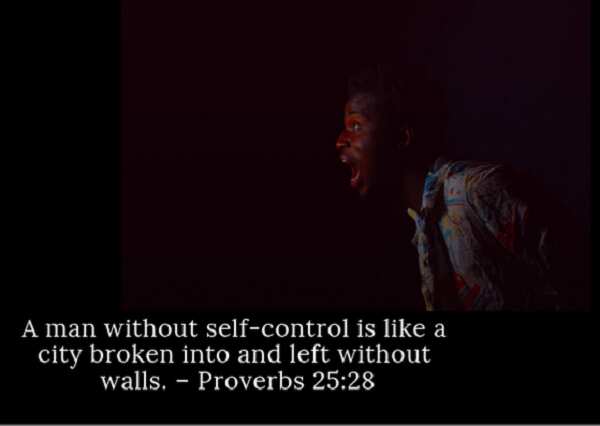 Yes, it does. However, it refers to those cases when people could not control and tame their emotions properly. For instance, Cain's horrible actions show how dangerous and destructive one's rage can be:
"And the Lord had regard for Abel and his offering, but for Cain and his offering he had no regard. So Cain was very angry, and his face fell." – Genesis 4:4-5
This is how fury mixed with jealousy and envy can change a human personality for the worse and bring one even to the verge of murder. Any moral codex will condemn such feeling and the deeds they cause.
In another case, the Lord Himself confirmed that uncontrolled fury is totally wrong, especially for a Christian man who's supposed to be able to forgive, stay patient, merciful, and loving, no matter what. It was a case when the prophet Jonah found it intolerable that the Lord found mercy for sinners from the city of Nineveh:
"And the Lord said, "Do you do well to be angry?" – Jonah 4:4
The Lord told Jonah that those miserable sinners were even not able to tell right from wrong and simply lived as senseless beasts without realising how sinful they were. It was one reason for Jonah not to give way to his fury: it is necessary to tell a good reason for feeling upset from a poor one. Another reason was that the emotions people feel do not necessarily mean what the Lord has on His mind:
"For the anger of man does not produce the righteousness of God." – James 1:20
This example shows clearly that sometimes people manage to combine two deadly vices in one: wreath and pride. They feel rage and, in their pride, they decide that they have reasonable grounds for feeling it. It seems that they know how the Lord would have treated this or that situation and justify themselves and their emotions.
Does the Bible justify anger? How can it be?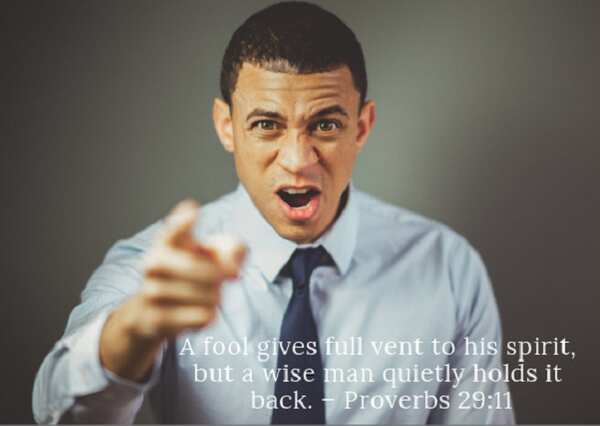 READ ALSO: Top 20 Bible verses on healing
The Book, indeed, says that such negative emotion can be fair and entirely justified in some cases. A faithful person may easily feel fury and frustration when seeing sins and blasphemy. We all remember how one of the most significant holy figures in Christianity, Moses, felt extremely angry when he saw his fellows worshipping a golden statue. He was so filled with rage that even broke sacred texts the Lord had given him on the mountain. His anger was absolutely justified, and it was not a sin.
Another faithful man felt a fit of acute rage when he got to know about the humiliation and oppression of his fellows:
"I was very angry when I heard their outcry and these words." – Nehemiah 5:6
The Bible also speaks about the moment when the Lord Himself felt very angry. For example, it happened when people abandoned their faithful worshipping dedicated to Him and started to serve pagan gods.
"They abandoned the Lord and served the Baals and the Ashtaroth. So the anger of the Lord was kindled against Israel, and he gave them over to plunderers, who plundered them. And he sold them into the hand of their surrounding enemies, so that they could no longer withstand their enemies." – Judges 2:13-14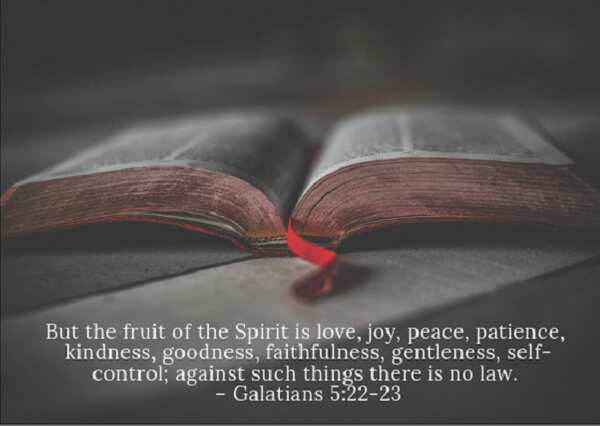 The case of Sodom and Gomorrah, the building of the Babylon Tower, the great flood – these are examples of the Lord's dissatisfaction with humanity. He was very angry, and we all remember well the consequences of all these events and the punishment, which fell upon the humankind.
However, all these examples do not mean that everyone should give way to their emotions freely just because they know, God felt it, too. Even if God did feel angry, it was never a quick judgement, and the Bible confirms it quite well with the words said to Moses:
"The Lord passed before him and proclaimed, "The Lord, the Lord, a God merciful and gracious, slow to anger, and abounding in steadfast love and faithfulness, keeping steadfast love for thousands, forgiving iniquity and transgression and sin." – Exodus 34:6-7
This is what every faithful person should be: forgiving, loving and slow to anger. It is not always easy, but the Bible can teach you how to manage your rage.
What else does the Bible say about being angry?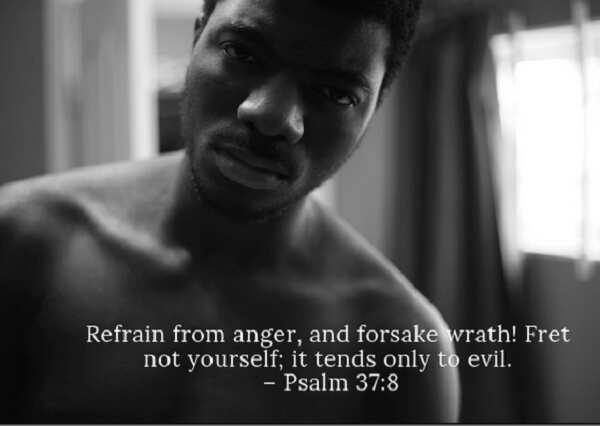 Here is a brief compilation of several most essential and meaningful pieces of wisdom from the Holy Script. It may be a support for us, imperfect humans, who need to control their rage and require some divine assistance and guidance.
"Whoever is slow to anger is better than the mighty, and he who rules his spirit than he who takes a city" – Proverbs 16:32
The bravery that allows great warriors to conquer and achieve whatever they want is a fantastic ability, but in the eyes of our Lord, it is much better to be able to conquer one's temper and keep the emotions tamed.
"The beginning of strife is like letting out water, so quit before the quarrel breaks out." – Proverbs 17:14
The ability to stop when emotions start to get hot is a tremendous talent or a lot of work on oneself. Not letting a sparkle turn into firestorm is a real gift. Develop it in yourself for the sake of your faith.
"Good sense makes one slow to anger, and it is his glory to overlook an offence." – Proverbs 19:11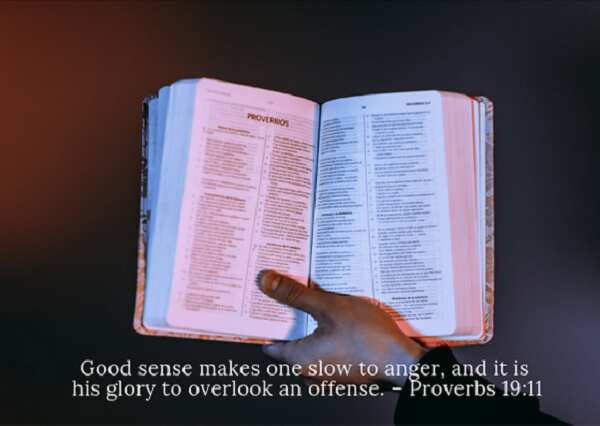 READ ALSO: Top 15 Bible verses on thanksgiving
When you are about to break into fury, start counting. If necessary, count to thousands but remember that being slow to get mad is a great virtue. The harder it will be to overcome your own self, the more the Lord appreciate this sacrifice from you.
"But the fruit of the Spirit is love, joy, peace, patience, kindness, goodness, faithfulness, gentleness, self-control; against such things, there is no law." – Galatians 5:22-23
These are the most significant virtues for a faithful Christian. They are not attached to every human soul and temper from the very moment of birth. Still, one can develop them with the help of the Holy Spirit in his or her heart.
"Be angry and do not sin; do not let the sun go down on your anger." – Ephesians 4:26
This saying is one of the most famous from the Biblical quotes. It means that we cannot keep away from negative emotions and conditions due to the imperfection of human nature. Still, we can always manage our rage and frustration and never let it cross the verge of sin.
Several Biblical lessons on anger management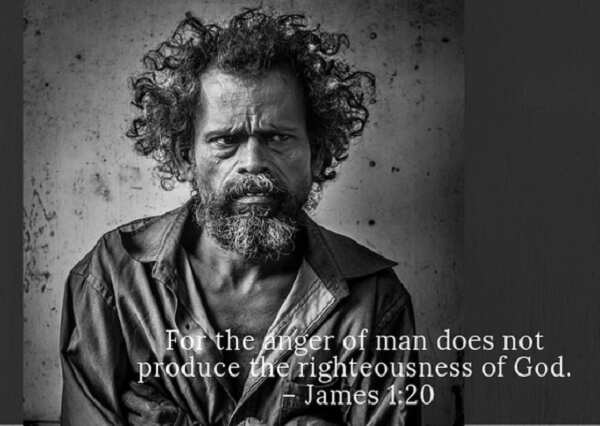 There are several techniques, which can help you take control of your emotions and always stay calm and confident with the help of the Holy Spirit.
Understand the danger
You need to understand how dangerous your uncontrolled rage can be. Sometimes, people show their fury to intimidate and prove their strength. In reality, however, it appears that the person who is not able to handle his or her emotions properly is rather weak than strong.
"A man without self-control is like a city broken into and left without walls." – Proverbs 25:28
"A fool gives full vent to his spirit, but a wise man quietly holds it back." – Proverbs 29:11
"Whoever is slow to anger has great understanding, but he who has a hasty temper exalts folly." – Proverbs 14:29
From the point of view of health, it is quite a reasonable piece of advice. Still, it is also necessary not to let your emotions stay inside you for a long time without being freed. It is only necessary to find an occupation, which will sublime your negative emotions and transform the energy into something constructive, useful and pleasant to you.
Stop it timely
It is essential to take control of your emotion before it acts on your behalf, causing something terrible you will regret. When you start to feel that you will break into a fit of fury this very moment, you need to remember that there are two choices: to give way and to stay calm without letting our emotion speak something terrible, do something bad, or commit a sin.
"Refrain from anger, and forsake wrath! Fret not yourself; it tends only to evil." – Psalm 37:8
The Psalm continues that all the evildoers will be cut off as harmful weed, but those who obey the Lord will feel His mercy and generosity. Still, apart from the long-term consequences for the soul in its eternal life after the death of the material body, there are momentary consequences like offending, hurting or humiliating other people during a fit of rage. This is indecent behaviour for a truly faithful person.
Take your time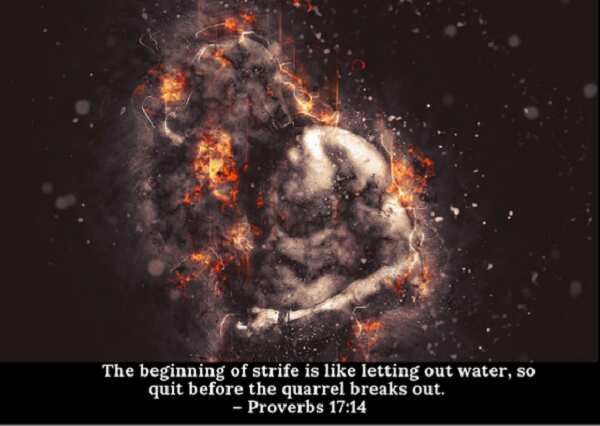 READ ALSO: 30 best short Bible verses for inspiration
If there is a quarrel, solve it with a cool head. You need to slow down and understand that some time will hardly make matters worse if you use it in the right way. As a Christian person, you need to slow down whatever is starting and try to understand an opponent. It is crucial not to go spiralling during this pause but to try to find some mercy and love for the opponent in your heart. If you bite back, it will only multiply aggression, and if you stay calm and loving, you will leave your opponent without a weapon.
"The beginning of strife is like letting out water, so quit before the quarrel breaks out." – Proverbs 17:14
Do not let the pause be too long, though, because solving a conflict quicker means reducing negative tension.
Stay fair
To be fair and solve conflicts effectively and without aggression, you need to have facts. Your impartiality is one of the best things against any uncontrollable anger. You should be quick to listen to all sides of the conflict but slow to give way to your fury.
"Know this, my beloved brothers: let every person be quick to hear, slow to speak, slow to anger." – James 1:19
Pray for the peace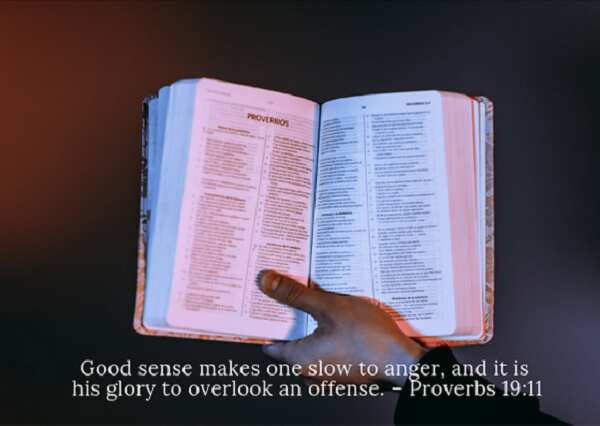 No matter what, the Lord always remains the essence of peace and patience. He is your example, and He is your source of emotional comfort. When you need some peace of mind, you should pray, and your Father will always give you what you seek.
"And the peace of God, which surpasses all understanding, will guard your hearts and your minds in Christ Jesus." – Philippians 4:7
"If you then, who are evil, know how to give good gifts to your children, how much more will the heavenly Father give the Holy Spirit to those who ask him!" – Luke 11:13
You need to be sincere in your desire to find peace of mind. If you ask the Lord for a solution but keep your heart closed, the Holy Spirit will not be able to find a place there. This is what happens when people ask God for something without believing that they will receive it and then start to deny the great powers of the Almighty.
Avoid bad company
You need to be very picky when choosing your friends. The Bible says that a bad example is catchy, and if you stay beside a person with evil ways, sooner or later, your soul will be in danger.
"Make no friendship with a man given to anger, nor go with a wrathful man, lest you learn his ways and entangle yourself in a snare." – Proverbs 22:24-25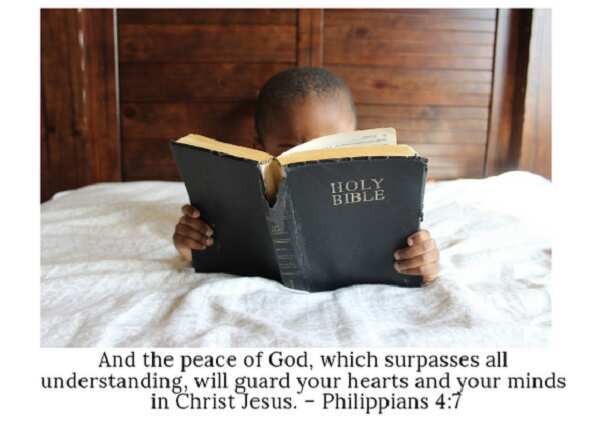 It is not hard to control your emotions and never give way to unjustified hate, rage, envy, and other destructive negative feelings. You just need to remember that those people who cause your wreath are as imperfect as you and prone to making mistakes and taking wrong steps. Your boundless faith, love, and forgiveness are the most powerful weapon a person can have against all evil. Remember about your power and use it whenever the quantity of aggression in this world starts to grow.
Hopefully, this was a good answer to your initial question, "What does the Bible say about anger?" Now you can share your newly acquired wisdom with your friend, making this world happier, brighter, and kinder – is not it the primary duty of every loving Christian person?
READ ALSO: How to fast and pray effectively
Source: Legit.ng