Love is a great human need. Most people will never be happy if they do not know that someone loves them. On the other hand, we also feel the need to love somebody as well. However, at the same time, many people do not believe in the existence of this feeling at all. What does the Holy Book say about this deep feeling and the love of our Heavenly Father? Here are Bible verses about God's love to be sure that any person can receive it from our Lord.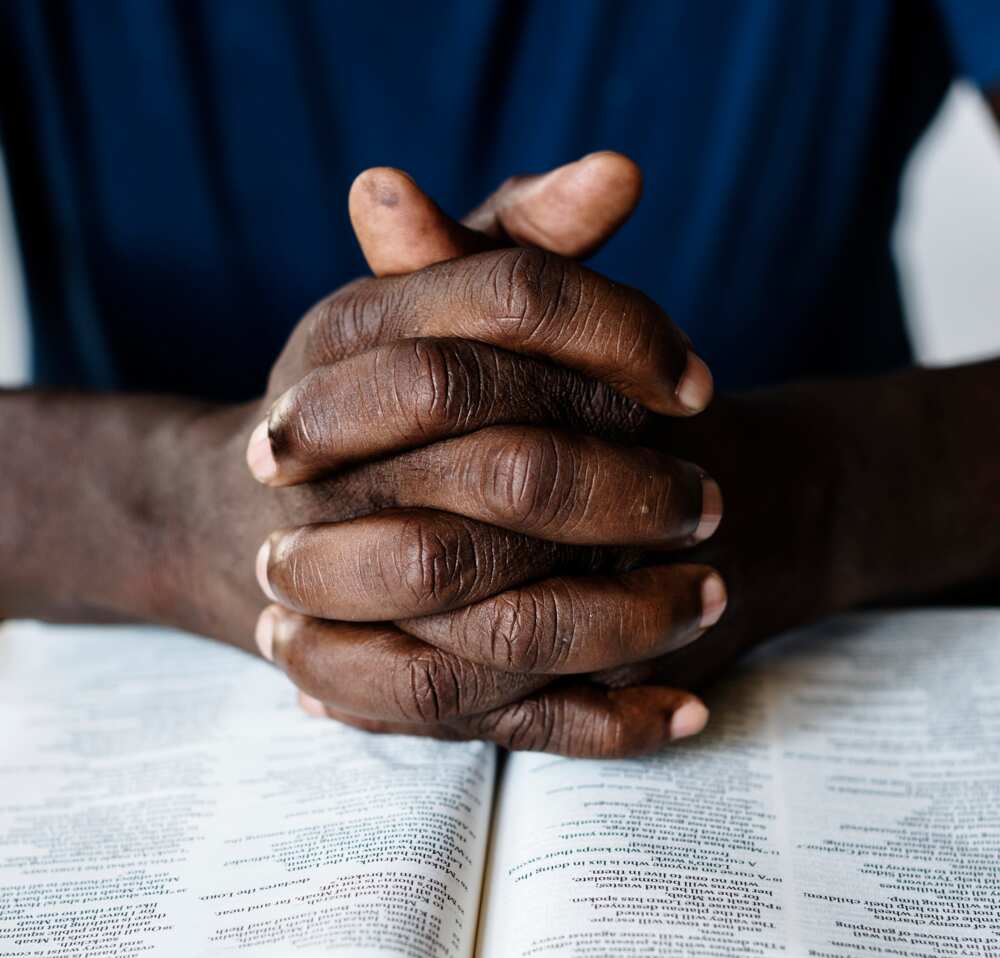 God is our Father. Therefore He will always guide us, teach, sometimes punish, but support and protect, never leaving His beloved children. And it gradually penetrates our hearts, allowing us to manifest it to others. Lord not only feels it for us but also fills our hearts with the Holy Spirit. Keep reading and find out about the manifestation of this feeling in Bible verses.
What are Bible verses about God's love?
Since the Father knows each of us personally, we feel this attitude in an individual and unique way. It can be an unexpected answer to prayer, a quiet moment in a beautiful place, generous mercies during the day, etc. It is real, and if we just try to notice it, we will see that it surrounds us. You can learn to recognise His care in your life, and verses below will help you.
"Yet in all these things we are more than conquerors through Him who loved us. For I am persuaded that neither death nor life, nor angels nor principalities nor powers, nor things present nor things to come, nor height nor depth, nor any other created thing, shall be able to separate us from the love of God which is in Christ Jesus our Lord." — Romans 8:37-39
"As the Father has loved me, so have I loved you. Now remain in my love. If you keep my commands, you will remain in my love, just as I have kept my Father's commands and remain in his love. I have told you this so that my joy may be in you and that your joy may be complete. My command is this: Love each other as I have loved you. Greater love has no one than this: to lay down one's life for one's friends. You are my friends if you do what I command. I no longer call you servants, because a servant does not know his master's business. Instead, I have called you friends, for everything that I learned from my Father I have made known to you. You did not choose me, but I chose you and appointed you so that you might go and bear fruit—fruit that will last—and so that whatever you ask in my name the Father will give you. This is my command: Love each other." — John 15:9-17
"… as His divine power has given to us all things that pertain to life and godliness, through the knowledge of Him who called us by glory and virtue, by which have been given to us exceedingly great and precious promises, that through these you may be partakers of the divine nature, having escaped the corruption that is in the world through lust." — 2 Peter 1:3-4.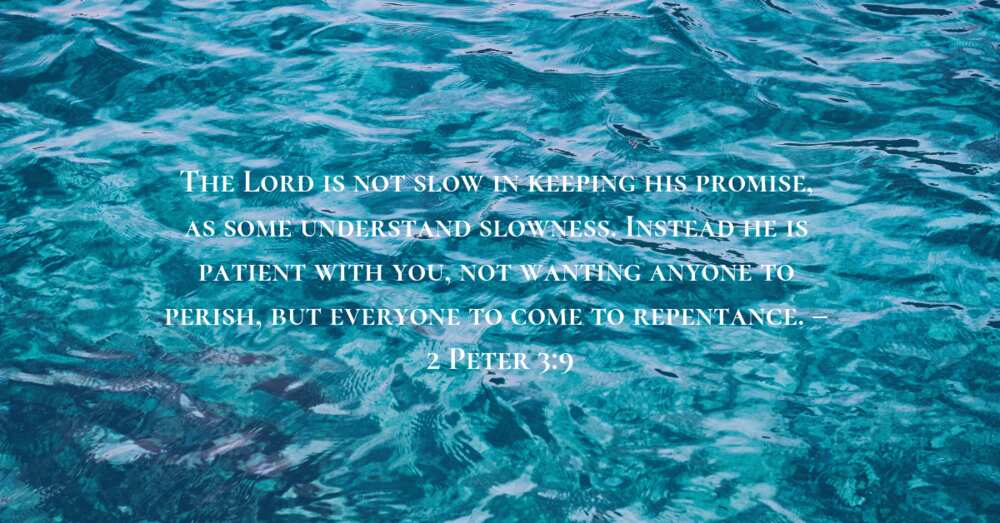 READ ALSO: Top 20 Bible verses on healing
"In this the love of God was made manifest among us, that God sent his only Son into the world so that we might live through him. In this is love, not that we have loved God but that he loved us and sent his Son to be the propitiation for our sins. Beloved, if God so loved us, we also ought to love one another." — 1 John 4:9-11
"Then the LORD said to Cain, "Why are you angry? Why is your face downcast? If you do what is right, will you not be accepted? But if you do not do what is right, sin is crouching at your door; it desires to have you, but you must rule over it." — Genesis 4:6-7
"For we do not have a high priest who is unable to empathize with our weaknesses, but we have one who has been tempted in every way, just as we are–yet he did not sin. Let us then approach God's throne of grace with confidence, so that we may receive mercy and find grace to help us in our time of need." — Hebres 4:15-16
"Love is patient, love is kind and is not jealous; love does not brag and is not arrogant, does not act unbecomingly; it does not seek its own, is not provoked, does not take into account a wrong suffered, does not rejoice in unrighteousness, but rejoices with the truth; bears all things, believes all things, hopes all things, endures all things." – 1 Corinthians 13:4-7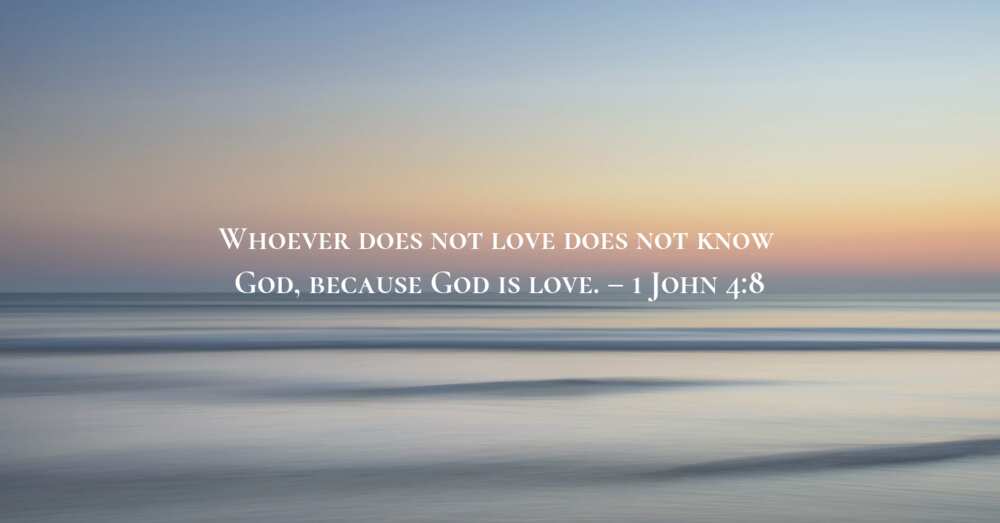 "But God, being rich in mercy, because of the great love with which he loved us, even when we were dead in our trespasses, made us alive together with Christ — by grace you have been saved." — Ephesians 2:4-5
"The LORD is compassionate and gracious, slow to anger, abounding in love. He will not always accuse, nor will he harbor his anger forever; he does not treat us as our sins deserve or repay us according to our iniquities." – Psalm 103: 8-11
"See what kind of love the Father has given to us, that we should be called children of God; and so we are. The reason why the world does not know us is that it did not know him." – 1 John 3:1
"When Jesus spoke again to the people, he said, "I am the light of the world. Whoever follows me will never walk in darkness, but will have the light of life." – John 8:12
"Know therefore that the LORD your God is God; he is the faithful God, keeping his covenant of love to a thousand generations of those who love him and keep his commandments." – Deuteronomy 7:9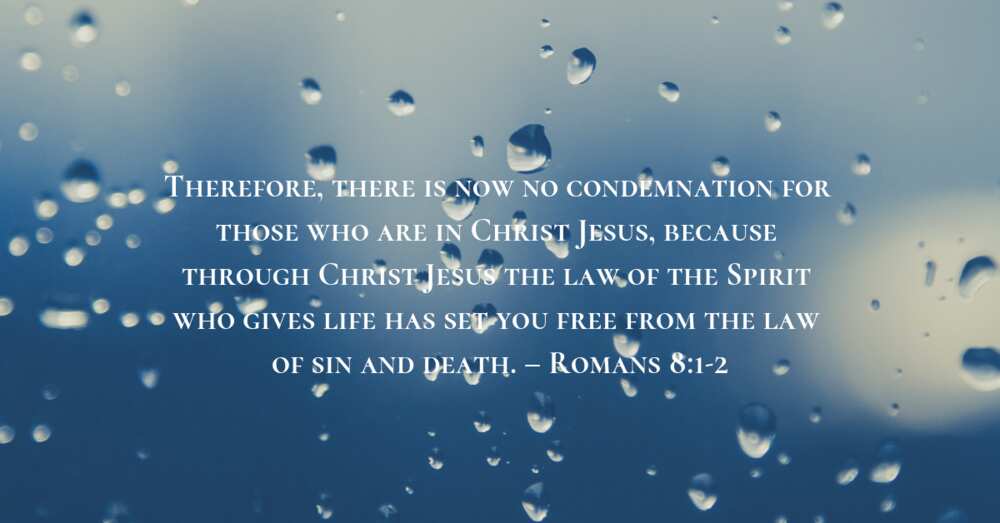 "Beloved, let us love one another, for love is from God, and whoever loves has been born of God and knows God. Anyone who does not love does not know God, because God is love." – 1 John 4:7-8
"Whoever does not love does not know God, for God is love. And God showed his love for us by sending his only Son into the world, so that we might have life through him. This is what love is: it is not that we have loved God, but that he loved us and sent his Son to be the means by which our sins are forgiven." – 1 John 4:8-10
"But God's mercy is so abundant, and his love for us is so great, that while we were spiritually dead in our disobedience he brought us to life with Christ. It is by God's grace that you have been saved. In our union with Christ Jesus he raised us up with him to rule with him in the heavenly world. He did this to demonstrate for all time to come the extraordinary greatness of his grace in the love he showed us in Christ Jesus." — Ephesians 2:4-7
"Very rarely will anyone die for a righteous person, though for a good person someone might possibly dare to die. But God demonstrates his own love for us in this: While we were still sinners, Christ died for us." – Romans 5:7-8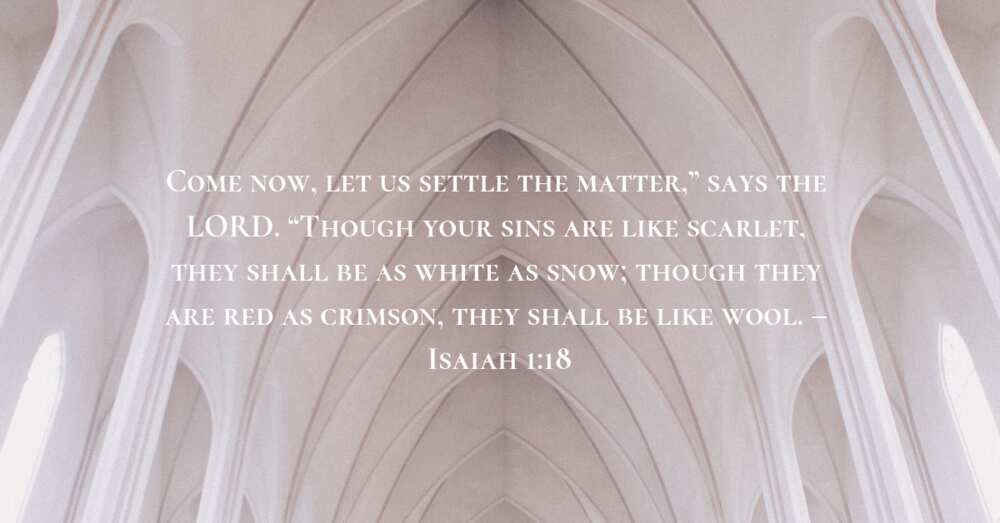 "I ask God from the wealth of his glory to give you power through his Spirit to be strong in your inner selves, and I pray that Christ will make his home in your hearts through faith. I pray that you may have your roots and foundation in love, so that you, together with all God's people, may have the power to understand how broad and long, how high and deep, is Christ's love. Yes, may you come to know his love — although it can never be fully known — and so be completely filled with the very nature of God." – Ephesians 3:16-19
"For as high as the heavens are above the earth, so great is his love for those who fear him; as far as the east is from the west, so far has he removed our transgressions from us." – Psalms 103:11-12
"Come to me, all you who are weary and burdened, and I will give you rest. Take my yoke upon you and learn from me, for I am gentle and humble in heart, and you will find rest for your souls." – Matthew 11:28-29
"As a father has compassion on his children, so the LORD has compassion on those who fear him; for he knows how we are formed, he remembers that we are dust." – Psalm 103:13-14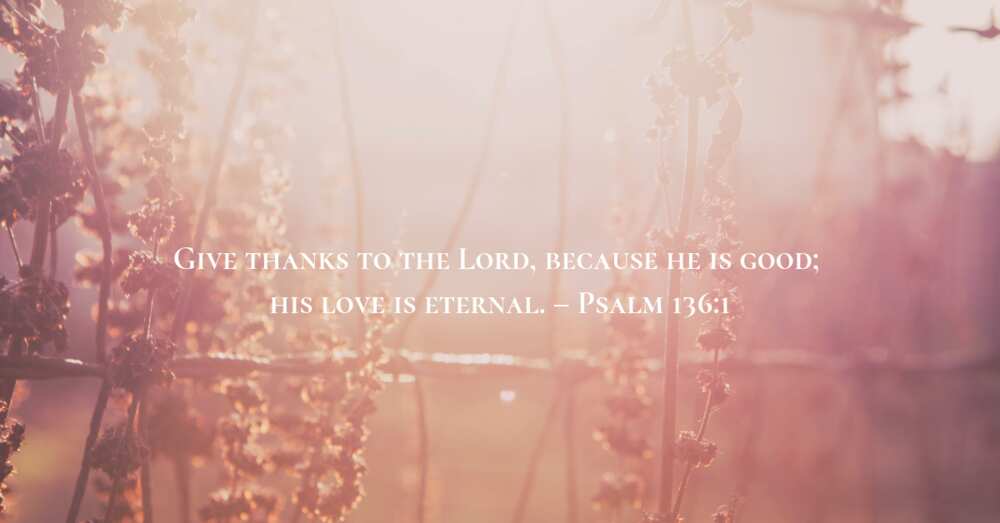 READ ALSO: Bible verses about fear
The main thing is not just to read these verses, but to put your soul and heart into them. Without true faith, these are only the lines of the book, but if you are aware of the whole essence of what has been written, you will see this feeling which is invisible at first glance.
What does God say about love?
What is love? When people think about it, they represent good and pleasant feelings. However, true dearness does not depend on them. It means much more than what we feel for someone. It also is about romantic affection, and respect for relatives, a friend or a colleague. We often give our feelings or take them on the basis of how they will benefit us. What does Lord say about it? Below are some Bible verses about all manifestations and senses of love.
"Love is patient, love is kind. It does not envy, it does not boast, it is not proud. It does not dishonor others, it is not self-seeking, it is not easily angered, it keeps no record of wrongs." – 1 Corinthians 13:4-5
"Many waters cannot quench love; rivers cannot wash it away. If one were to give all the wealth of his house for love, it would be utterly scorned." – Song of Solomon 8:7
"If I have the gift of prophecy and can fathom all mysteries and all knowledge, and if I have a faith that can move mountains, but do not have love, I am nothing." – 1 Corinthians 13:2
"Let the morning bring me word of your unfailing love, for I have put my trust in you. Show me the way I should go, for to you I entrust my life." – Psalm 143:8
"You have captivated my heart, my sister, my bride; you have captivated my heart with one glance of your eyes, with one jewel of your necklace." – Song of Solomon 4:9
"Two are better than one, because they have a good return for their labor: If either of them falls down, one can help the other up. But pity anyone who falls and has no one to help them up. Also, if two lie down together, they will keep warm. Though one may be overpowered, two can defend themselves. A cord of three strands is not quickly broken." – Ecclesiastes 4:9-12
"Do not hate a fellow Israelite in your heart. Rebuke your neighbor frankly so you will not share in their guilt. Do not seek revenge or bear a grudge against anyone among your people, but love your neighbor as yourself. I am the Lord." – Leviticus 19:17-18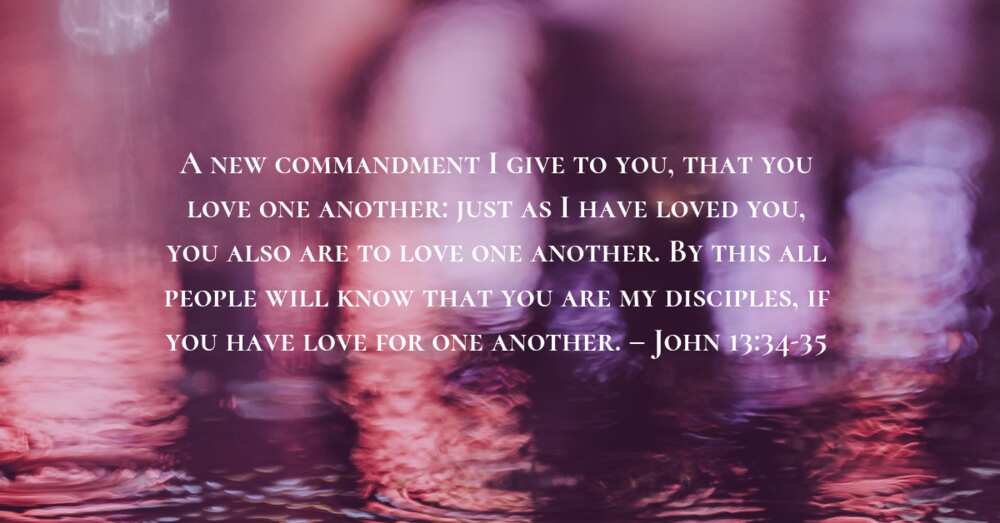 "Be under obligation to no one — the only obligation you have is to love one another. Whoever does this has obeyed the Law." – Romans 13:8
"Anyone who claims to be in the light but hates a brother or sister is still in the darkness. Anyone who loves their brother and sister lives in the light, and there is nothing in them to make them stumble." – 1 John 2:9-10
"This is how God showed his love among us: He sent his one and only Son into the world that we might live through him. This is love: not that we loved God, but that he loved us and sent his Son as an atoning sacrifice for our sins. Dear friends, since God so loved us, we also ought to love one another." – 1 John 4:9-11
"Wives, submit yourselves to your own husbands as you do to the Lord. For the husband is the head of the wife as Christ is the head of the church, his body, of which he is the Savior. Now as the church submits to Christ, so also wives should submit to their husbands in everything. Husbands, love your wives, just as Christ loved the church and gave himself up for her to make her holy, cleansing her by the washing with water through the word, and to present her to himself as a radiant church, without stain or wrinkle or any other blemish, but holy and blameless. In this same way, husbands ought to love their wives as their own bodies. After all, no one ever hated their own body, but they feed and care for their body, just as Christ does the church - for we are members of his body. "For this reason a man will leave his father and mother and be united to his wife, and the two will become one flesh." This is a profound mystery — but I am talking about Christ and the church. However, each one of you also must love his wife as he loves himself, and the wife must respect her husband." – Ephesians 5:22-33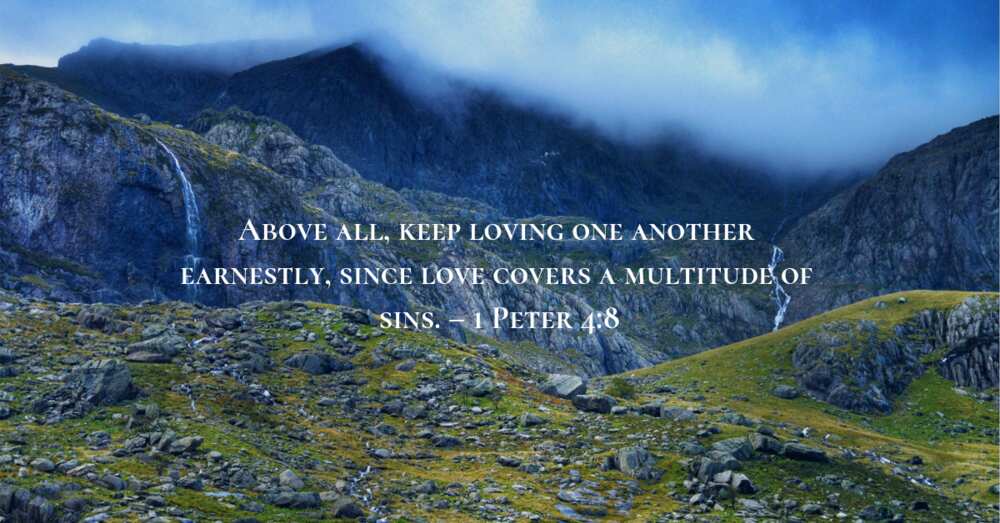 Love is subject to various descriptions and formulations depending on human experiences. It is a very multifaceted feeling. Bible says that it is latitude and longitude, and depth and height, and it is complicated to understand. Holy Father placed a mark between His personality and affection because God is love!
Bible verses about God's love can give your soul peace and tranquility. You need not only to read them but also try to understand the meaning of each word. The most important thing is to believe. We hope that you will find in these verses what you have been looking for a long time. Share this article with your friends and family. They will undoubtedly be interested to know a little more about the Holy Father`s love.
READ ALSO: Top 15 Bible verses on thanksgiving