Top 20 Bible verses on healing
Many will argue that the Bible is the best source of advice and consolation. Bible verses on healing can give you strength and restore your faith in recovering. Reading these words of wisdom and praying to God may have the potential to heal anything. Thus, we have gathered the most compelling Bible verses about healing sicknesses in this article so that you have something to turn to in time of need.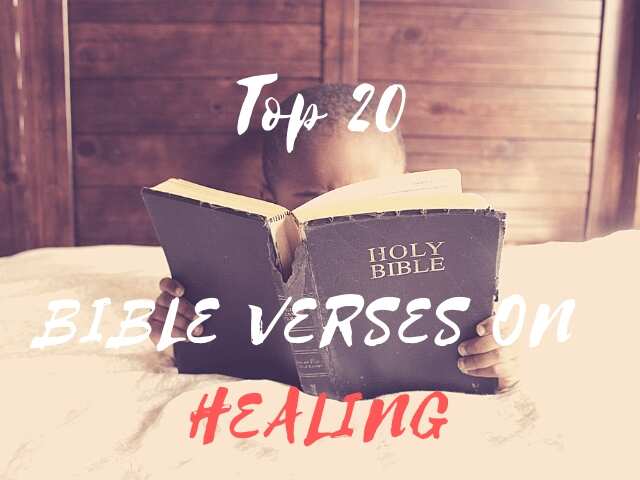 Health is one of the most precious gifts that the Lord gives us. It is our duty to take care of this gift; however, everybody can get ill, no matter how attentive he or she is to his or her health. In such cases, along with proper treatment prescribed by doctors, you are welcome to turn to Bible verses for healing and strength to gain additional impact that will lead to recovery.
What are the Bible verses for healing?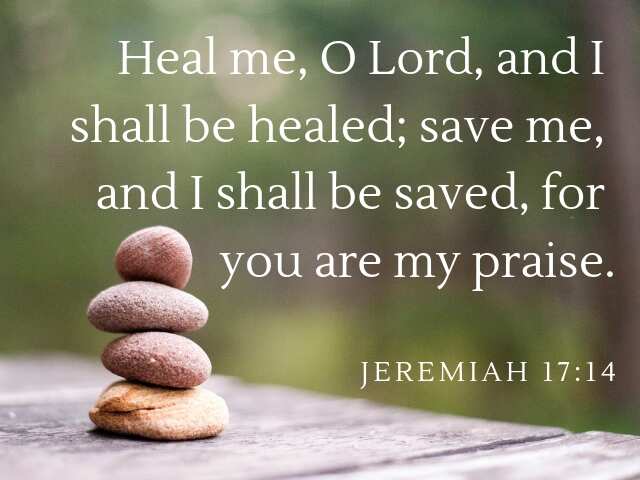 Our world is not perfect. There are diseases, wars, natural catastrophes, and many other things that bring about pain and suffering. In these hard times, the only solution is to turn to the Almighty and seek His blessing. He is our Lord and is able to deal with anything.
Bible verses about healing and comfort provide solace for those suffering from ailments. Reading them, you gain strength to hold on a little longer. These Bible verses on healing give you faith and hope that everything will be fine because God has the power to cure any disease.
Here are best Bible verses on healing that will help you to live through the hard times of fighting an illness.
He said, "If you listen carefully to the LORD your God and do what is right in his eyes, if you pay attention to his commands and keep all his decrees, I will not bring on you any of the diseases I brought on the Egyptians, for I am the LORD, who heals you." - Exodus 15:26
Praise the Lord, O my soul; and all that is within me, bless His holy name. Bless the Lord, O my soul, and forget none of his benefits—who pardons all your iniquities, who heals all your diseases; who redeems your life from the pit, who crowns you with loving kindness, who satisfies your years with good thing, so that your youth is renewed like the eagle's. - Psalm 103:1-5
For everything there is a season, and a time for every matter under heaven: a time to be born, and a time to die; a time to plant, and a time to pluck up what is planted; a time to kill, and a time to heal; a time to break down, and a time to build up. - Ecclesiastes 3:1-3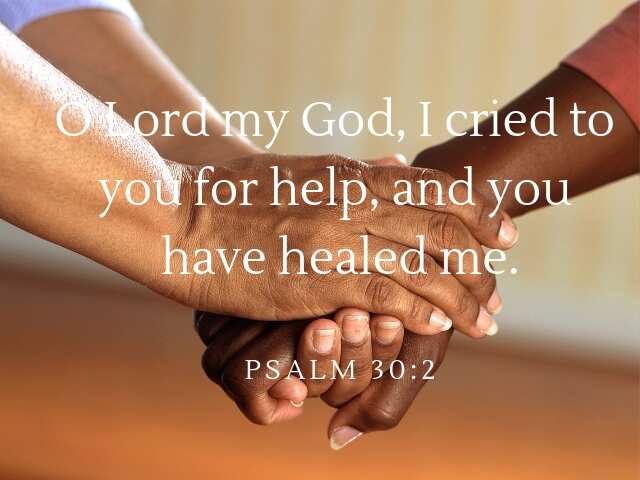 Is anyone among you sick? Let him call for the elders of the church, and let them pray over him, anointing him with oil in the name of the Lord. And the prayer of faith will save the one who is sick, and the Lord will raise him up. - James 5:14-15
If my people, who are called by my name, will humble themselves and pray and seek my face and turn from their wicked ways, then I will hear from heaven, and I will forgive their sin and will heal their land. - 2 Chronicles 7:14
The Spirit of the Lord is on me, because he has anointed me to proclaim good news to the poor. He has sent me to proclaim freedom for the prisoners and recovery of sight for the blind, to set the oppressed free. - Luke 4:18
My son, pay attention to what I say; turn your ear to my words. Do not let them out of your sight, keep them within your heart; for they are life to those who find them and health to one's whole body. - Proverbs 4:20-22
Then they cried to the Lord in their trouble, and he saved them from their distress. He sent out his word and healed them; he rescued them from the grave. Let them give thanks to the Lord for his unfailing love and his wonderful deeds for mankind. - Psalm 107:19-20
Then your light will break forth like the dawn, and your healing will quickly appear; then your righteousness. Or "your righteous One" will go before you, and the glory of the Lord will be your rear guard. - Isaiah 58:8
READ ALSO: Prayers for hope and guidance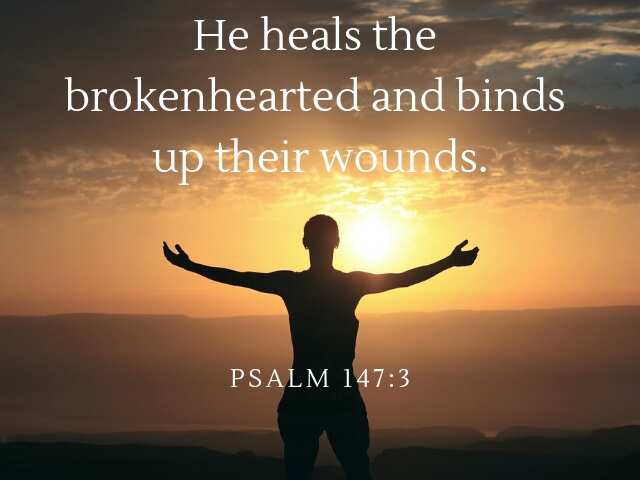 Therefore confess your sins to each other and pray for each other so that you may be healed. The prayer of a righteous person is powerful and effective. - James 5:16
So Jesus healed many people who were sick with various diseases, and he cast out many demons. But because the demons knew who he was, he did not allow them to speak. - Mark 1:34
But what could I say? For he himself sent this sickness. Now I will walk humbly throughout my years because of this anguish I have felt. Lord, your discipline is good, for it leads to life and health. You restore my health and allow me to live! - Isaiah 38:15-16
"Lord, help!" they cried in their trouble, and he saved them from their distress. He sent out his work and healed them, snatching them from the door of death. - Psalm 107:19-20
The Lord will keep you free from every disease. He will not inflict on you the horrible diseases you knew in Egypt. - Deuteronomy 7:15
'I have seen what they do, but I will heal them anyway! I will lead them and comfort those who mourn, bringing words of praise to their lips. May they have abundant peace, both near and far,' says the Lord, who heals them. - Isaiah 57: 18-19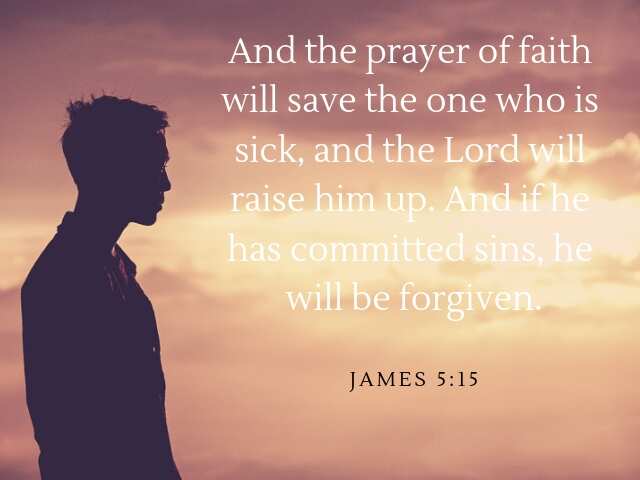 Bless the LORD, O my soul, and forget not all his benefits, who forgives all your iniquity, who heals all your diseases, who redeems your life from the pit, who crowns you with steadfast love and mercy. - Psalm 103:2-4
And the prayer of faith will save the one who is sick, and the Lord will raise him up. And if he has committed sins, he will be forgiven. - James 5:15
Therefore, confess your sins to one another and pray for one another, that you may be healed. The prayer of a righteous person has great power as it is working. - James 5:16
Trust in the LORD with all your heart, and do not lean on your own understanding. In all your ways acknowledge him, and he will make straight your paths. Be not wise in your own eyes; fear the LORD, and turn away from evil. It will be healing to your flesh and refreshment to your bones. - Proverbs 3:5-8
So you shall serve the LORD your God, and He will bless your bread and your water. And I will take sickness away from the midst of you. - Exodus 23:25
Bible verses on healing are powerful instruments for fighting against disease. They provide consolation, give us strength, and restore our hope. All these effects of Bible verses on healing and restoration are essential for a quick recovery. Therefore, read these wise lines and pray to the Lord for good health.
READ ALSO: Bible verses about fear
Source: Legit.ng