- Just one day to the general elections, activities of markets across the state are still business as usual
- Findings by our correspondent at Agege market showed the increment in the price of foodstuff items like ogbono, egusi and perishable items like fish, tomatoes and pepper
- Further report showed that some traders are dissatisfied with the present administration due to the grappling economy but others are hopeful of a better tomorrow
As Nigerians prepare for the general elections, prices of foodstuff items and perishable items have soared.
According to findings by Legit.ng at Agege market, the price of items like egusi, ogbono, crayfish, tomatoes, fish and pepper have skyrocketed.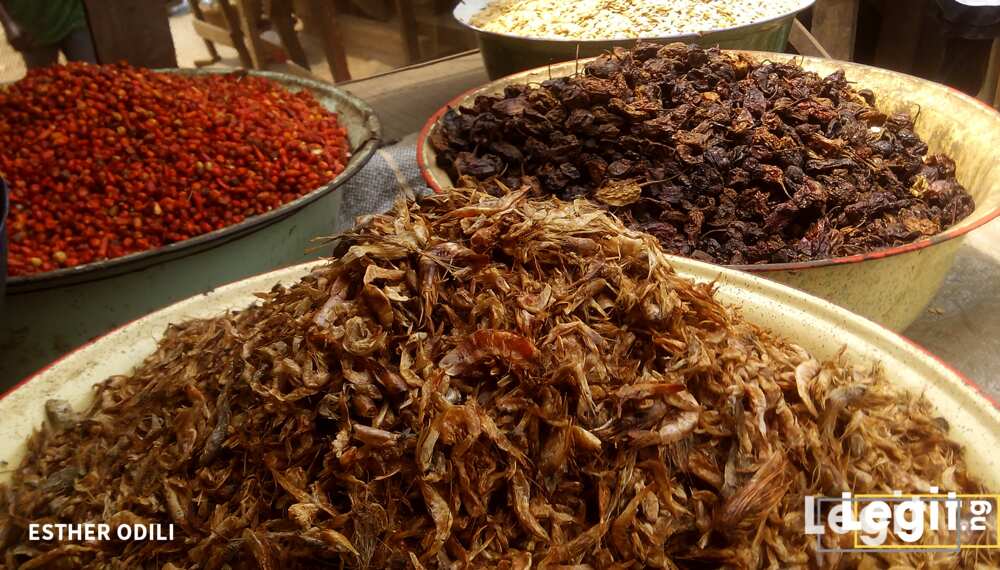 According to traders at the market, the prices of basic food items are not stable rather they fluctuate unexpectedly. And there seems to be calm everywhere with the absence of the normal hustling and bustling which usually characterize the popular market.
At this period, traders usually make a lot of sales; consequently prices of goods and services witness a rise too. Consumers however, shop for basic food items, provisional items and more to be on a safer side till the election is over.
Checks by our correspondent at the market, showed a remarkable rise in prices of commodities especially those considered essential for daily survival such as beans, tomatoes, pepper and fish.
While most people complained about lack of sufficient fund to purchase food items and other necessary things, some traders lamented low patronage while others decry hike in the prices of their goods. It was also learnt that the increment was minimal due to the purchasing power of the people in the environment as informed by the traders.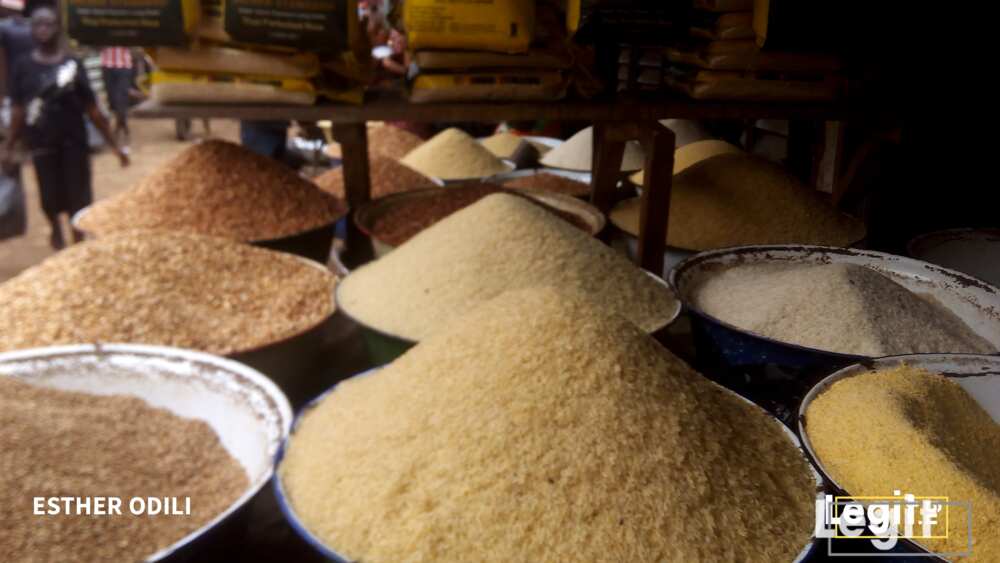 A fish seller, Iya Kewe lamented poor sales, describing the present state of business as pathetic.
She said: "Prior to this period, we make good sales because most food sellers patronize us but now that there has been an increment in the cost of purchase, business has been in a bad shape.
"It is obvious from the look of things that we are in a bad state as a country but we are still hopeful that God will intervene someday because it seems beyond human control. We don't even know what led to the fluctuation of prices of some goods and increment in others but we are hope things would turn around at the last minute. We had envisaged this because of the state of the economy.
"A carton of Kote fish cost N20,000 , while Titus cost N23,000 and Croaker fish cost N30,000. But,, the price of these items depends on the size of the fish, the quantity in the carton and the market location.Frozen fish is quite expensive now unlike before. Most buyers now go for roasted fish like Panla, because it is affordable."
Meanwhile, a trader who sells food items like rice, beans and garri informed that sales so far has improved compared to previous month. According to him, buyers patronize them but at a reduced level.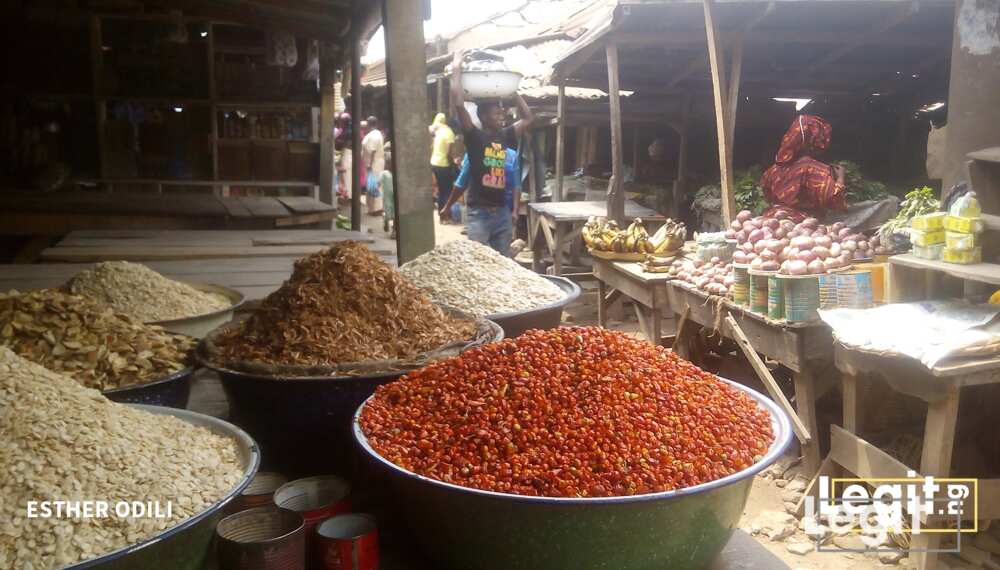 "Rice and garri is sold at a reasonable amount but that of beans, ogbono, egusi and crayfish is high. A bag of rice (Aroso) that goes for N16,000 before, now goes for N12,500 and rice (Agric) cost N16,500 , but that of beans keeps rising: a bag of beans (Oloone)cost N45,000, Beans (Olotu) cost N75,000 while beans (Oloyin) cost N25,000. A bag of garri (Yellow) that cost N9,000 before, now cost N6,000 while big bag of garri (White) that cost N15,000 before, now cost N10,500.
"25-litre of groundnut-oil is sold at N11,000 while refill groundnut-oil cost N10,500 and 25-litre of palm-oil cost N10,500. A bag of egusi N155,000 as compared to its old price of N90,000. A big bag of crayfish cost N55,000 as against itls old price of N38,000. For ogbono, We have different types of Ogbono and the type determine its price. A bag of ogbono cost N140,000 as compared to the previous price of N100,000, but the type, size of the bag and market location influences the price of these goods.
"Business is encouraging for now but we pray for a greater and better Nigeria as the election draws nearer. We make sales but the prices of these goods discourage buyers from patronizing us as expected of them," Mr Anozie told Legit.ng.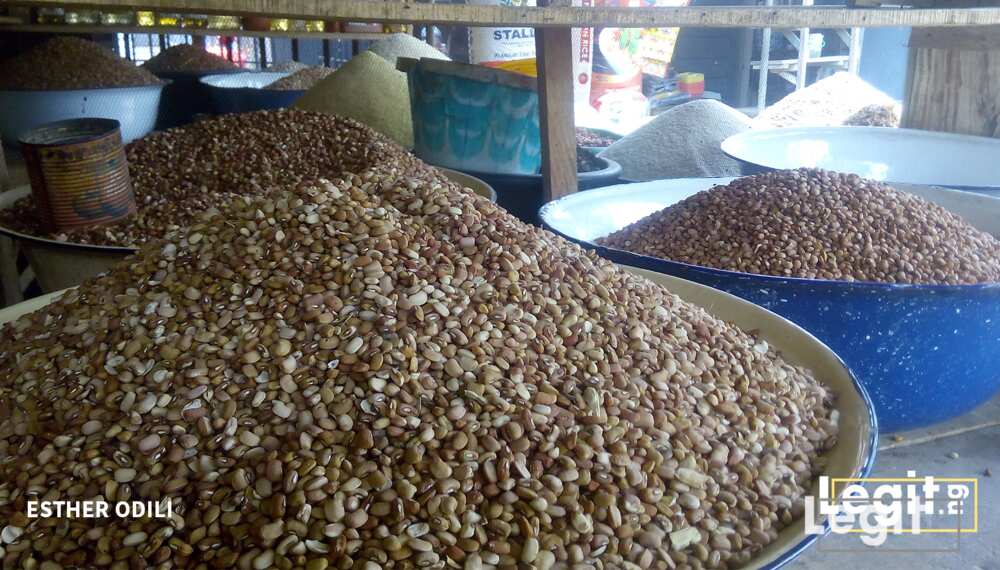 In another development, Mummy Kemi, a trader who sells yam flour in the market explained to our correspondent the state of her business, adding that market situation is unfortunate. The current state of the economy has really affected her business and the present administration is not the cause.
She said: "We hardly make good sales. We are suffering and it is not the fault of the current administration rather those who are in charge of the business itself. Market is dry. We are not voting for anybody.
"We can barely feed three times a day and we hardly meet our targets as traders because buyers buy in low quantity and complain of everything in the country; according to them, nothing seems to be working well. We are managing and it seems everything has turned upside down. A bag of yam flour that cost N25,000 and N30,000 is now N45,000 and more. How then do we realise good profit if we don't make good sales?
"We make sales but not like before, and if we refuse to sell the goods on time, it will result to shortage for us. But, getting little patronage is better than nothing at all."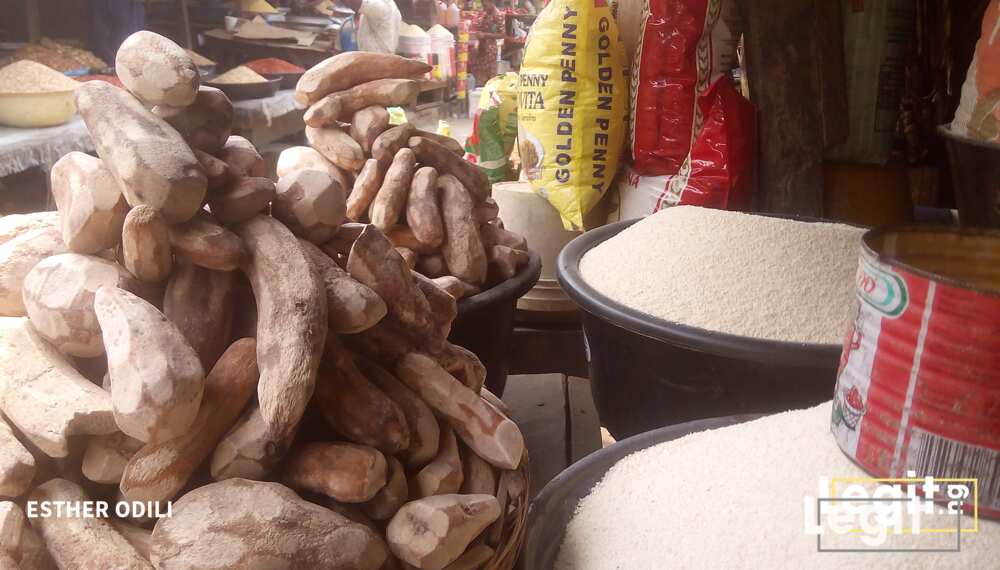 Onion, have become cheap as observed in the market, but fresh tomatoes and pepper are expensive.
A tomato seller identified simply as Mummy Temi, said tomatoes have soared just this week before election and the availability of the produce on a particular market day is influenced by its season.
"Recently, the prices of tomatoes and pepper have soared compared to other produce but they are still sold at reasonable rates. The season often influence the price of the goods and the availability when it is rainy season and harmattan period, it is very cheap but when its dry season, it becomes scarce and costly.
"A bag of onion, can be purchased from N18,000; Onions is affordable for now but tomatoes and pepper are increasing little by little. A basket of tomatoes that was sold for N4,500 before, now goes for N6,000, N8,000 and N10,000 respectively. While pepper can be purchased from N4,000 upwards depending on the size of the bag and how fresh the produce is. The prices of these items are not really fixed; sometimes, you can purchase a basket of tomatoes from N2,000 and at other times, you can get it from N10,000 or more. Buyers complain of scarcity of resources but business is fine because buyers must eat so as to live," The light in complexion trader told Legit.ng.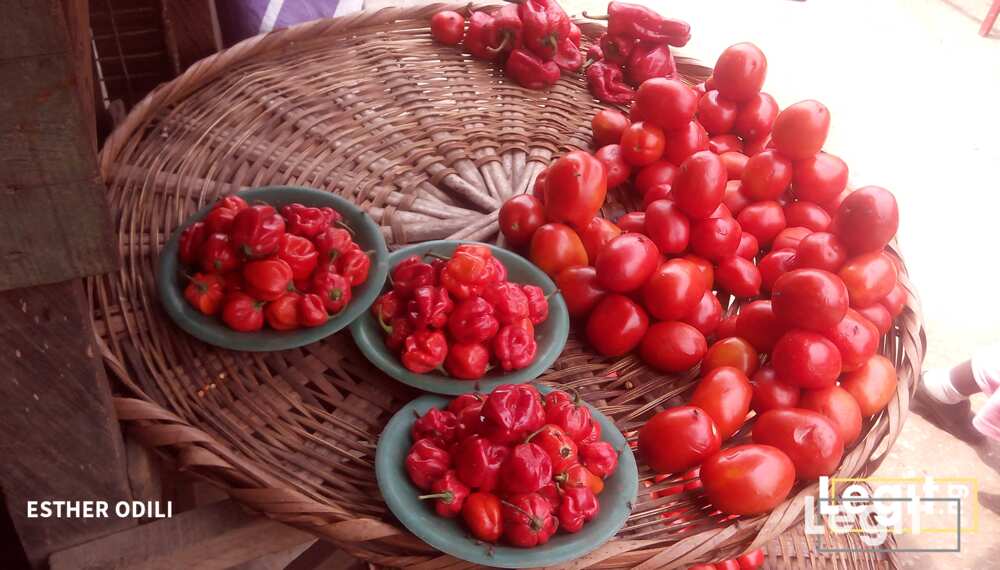 Further checks by our correspondent in some major markets across the state overtime have thus revealed prices of food items have not been stable for a while, some have gone up outrageously while others fluctuate.
At the busy market, people were seen buying and selling at a speedy rate but some of the traders, especially the sellers of non-food items were sitting idle in their shops.
Although Legit.ng observed a low turnout of people at the popular market, as traders were sad over the market condition but; the market was a bit lively as buyers came to buy a few things.
More importantly, traders' informed that the patronage recorded was lower than expected and therefore hope for a positive change in all sectors of the country.
Who are the Nigerian presidential candidates? via Legit TV