- Moshood Oshun explains why the Lagos state House of Assembly and Governor Akinwunmi Ambode recently had a rift
- Oshun reveals the role Asiwaju Tinubu played in resolving the rift as well as the former governor's interest in Lagos state
- The lawmaker reveals how members of the legislature make money while arguing that they are not as rich as believed
A senior lawmaker and chairman of the public accounts committee for state at the Lagos House of Assembly, Moshood Oshun, relives the recent crisis that erupted in the state following an alleged plot to impeach Governor Akinwunmi Ambode. Oshun also explains the role played by Asiwaju Bola Tinubu in the resolution of the friction as well as why the legislature will always have friction with the executive arm. He spoke with Eromosele Ebhomele, Damilare Okunola and Emmanuel Osodi
Excerpts:
There was this frenzy over the past few weeks about a process which should have led to the impeachment of Governor Akinwunmi Ambode. Can you shed more light on this sir?
Thank you very much. It is surprising that everybody keeps talking about impeachment. It has a process and nothing has been said, no process had been started and nothing had been done. Members were talking about the appropriation bill which we all know as the budget. Ordinarily, under section 121 of the constitution of the Federal Republic of Nigeria (as amended), it states that the governor shall have cause to lay the budget or a proposal before the House of Assembly before the end of the financial year.
That was what members were discussing that this is a new year and the budget had not been laid…what is happening? And in the process, members spoke about how they see governance, members spoke about going against the law, going against the constitution of the Federal Republic of Nigeria. The governor was actually given a week to come and explain to members what happened. And that was it.
READ ALSO: NAIJ.com upgrades to Legit.ng: a letter from our Editor-in-Chief Bayo Olupohunda
But the country, the state went agog with people insinuating that impeachment process had been started. Some even said he had been impeached, there were so many things flying about. But as far as I am concerned, it was the members looking at what the constitution says, looking at if the governor actually fulfilled that part of the constitution.
When the governor was asked to come and explain to us within seven days, he should come and explain to us why the budget had not been laid. But as at the time members were talking, they were talking about a section of the constitution that says the governor shall prepare a budget and have cause to lay it before the end of the financial year which would be December 31, 2018.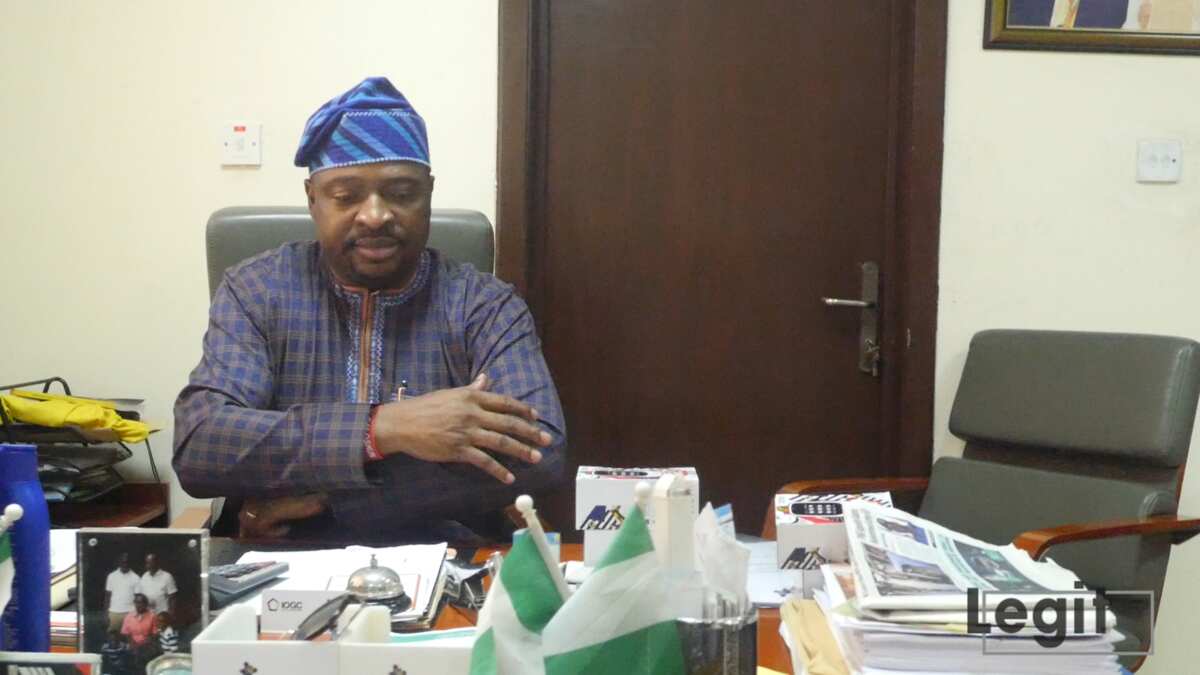 A lot of people thought there was a cold war brewing between the executive and the legislature…
I don't know if it was a cold or hot war, but you see, we have three arms of government and legislative arm is meant to be like a watchdog over the executive. That's why the constitution gives it an oversight function on the executive. It is just a way of protecting tax-payers' money, protecting Lagosians, making sure that nobody has absolute powers, making sure there is checks and balance. You know there is no way…even if you have a kid, you say to your 13 or 14-year-old son to come back before six in the evening, he is going to feel that you are trying to hold him down. So there is bound to be friction once in a while, but that friction does not mean we won't resolve it, that does not mean we won't disagree to agree.
If you have a House that does all the biddings of the executive, we call them stooges, a rubber stamp House. When you now have a House that is doing its job as stipulated by the constitution, you say they are fighting the executive. What exactly do we want? I don't think there is any cold war, but from time to time, we disagree to agree. When they bring something, we look at it, give our opinion and disagree to agree. So there is no cold or hot war anywhere.
Asiwaju Bola Ahmed Tinubu and some members of the Governors Advisory Council (GAC) met supposedly with the governor and some members of the House of Assembly. Was it not to resolve this or was there something else because we learnt Asiwaju said: 'No more impeachment anywhere'?
Asiwaju Bola Ahmed Tinubu is our political father, a godfather. He is someone who has suffered a lot for the democracy we are enjoying today. So he is someone we all respect. You need to understand the fact that he is someone who is experienced either in politics, business….he is a totality of everything. So when he calls the executive and the legislative arms to ask what is happening; and we have the Governors Advisory Council, all they were trying to do is that within the party, we can speak with one voice, if there is any argument, we can settle it in a family way. It is the same way if you have two kids and they are fighting, as a father, you call them together and say: "Look, what happened?" Then they tell you their parts of the story and you try to mediate among them. So that was what Asiwaju Bola Ahmed Tinubu did.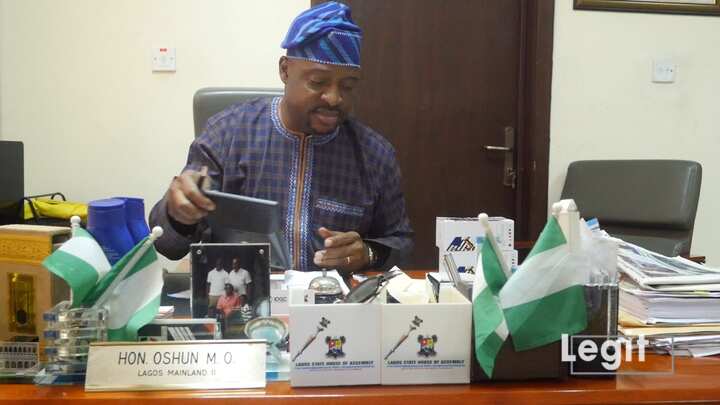 You need to understand the fact that he laid the foundation for what Lagos is today and nobody will build a mansion and watch it go down. That was why he was concerned. We have seen states, other countries learn from Lagos and we want to maintain that number one position. It is of very big importance to him to make sure that, that number one status does not slip away from us.
There is this belief and claim that lawmakers at the Lagos Assembly are not so loyal to the governor. How true is this?
Lawmakers in Lagos state are not staff of the governor. So if you talk about being loyal to him, I don't understand. Loyal in what sense? We represent over 22 million Lagosians. Our loyalty should be to those we are representing. Our loyalty should be to our party which gave us the platform, the ticket to contest, not to the governor. Maybe the commissioners, the special advisers could be loyal to the governor. The executive arm is different from the legislative arm. I will rather go back to my constituency, have a townhall meeting with them, ask them what they want than go to the governor to say: "What do you want me to do?" As a government, we all have the same focus and we can work together. So we have interdependence on each other.
PAY ATTENTION: Download our mobile app to enjoy the latest news updates
Many people have the belief that lawmakers have a lot of money while those they are supposed to be speaking for are languishing in poverty…
The perception is very wrong. Lawmakers are like any worker - the doctors, the lawyers, the engineers, the architect, who work and collect salary and try to live within their salary. Salaries should be different. What the doctor collects as salary is not what the engineer would collect. So I don't understand when you say living fat. At the end of the month, Lagos state pays me and I try to live within my salary, I try to assist and I try to help as many people as I can.
Lawmakers are even the ones holding and maintaining the society. When a doctor collects his salary, he goes home and spends it with his family. When a lawyer collects his salary, he goes home to spend it with his family. But when a lawmaker collects his salary, he goes back to his constituents to assist, to support different courses, support organisations, support individuals who need financial assistance. So at the end of the day, the lawmaker is actually working for everybody while other professionals are working for their families.
If you were to come back to this world, would you want to be a lawmaker? Is it that stressful?
It is very stressful. If you want to be a good lawmaker, you must be ready and willing to do too many things at the same time. You must be a good reader, you must learn, you must be ready to learn, you must be able to learn from others and be able to learn from your environment. You are multi-tasking as a lawmaker. But because I enjoy helping people, I enjoy fighting for people, it is something I do enjoy. It is very stressful at times. There are times I don't sleep more than two hours or three hours in a day. There are times I don't eat breakfast until about 6pm or 7pm. But again, I am enjoying it. So I would rather be a lawmaker.
Legit.ng earlier reported that the move against Governor Akinwunmi Ambode was on Sunday, February 3, halted by leaders of the All Progressives Congress (APC) in the state.
According to a statement made available to Legit.ng, the rift between the governor and the lawmakers was resolved at a special governor's advisory committee (GAC) meeting held in Marina, Lagos.
NAIJ.com (naija.ng) -> Legit.ng. We have upgraded to serve you better.
Lagos lawmaker reveals the truth about Ambode impeachment process | Legit TV