Best Valentine cakes designs for the special sweet tooth in your life
If you want to make this Valentine's Day genuinely romantic, then maybe you should consider baking a Valentines Day cake for your second half. Everyone loves delicious cakes, and if it also has a beautiful design, your girlfriend or boyfriend will be thrilled to share it with you. Below, we will share some of the best ideas for Valentine cakes with you, and their recipes from the most popular bakers on Instagram!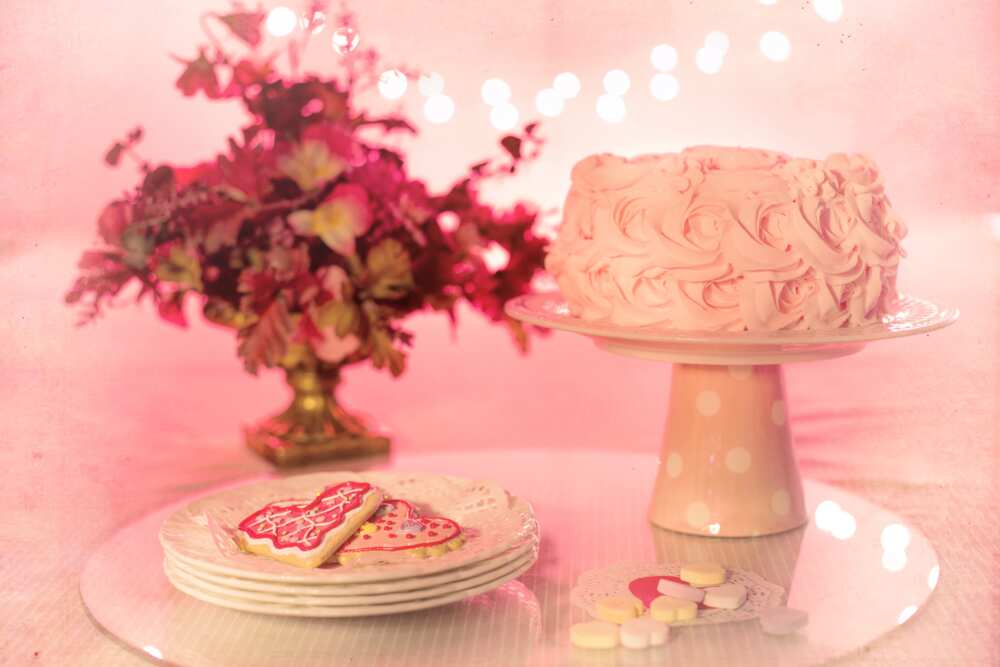 This Valentine's Day, you have a chance to create something unusual to make this day better for your beloved person. Everyone would be happy if they are surprised by a creative and tasty Valentines cake, so do not waste any time and check out our best Valentine cake ideas!
Valentine cakes - pictures with decoration tips
Whether it is a Valentine's Day heart cake, or Valentine cake with name, or something else, we know for sure that it will capture the heart of the person who is special for you, especially if they are a known sweet tooth. You have an opportunity to spend your February 14th in a beautiful atmosphere with the person you love and a delicious kuchen. Does this sound romantic to you? Of course, it does!
Below, you will see the most fantastic Valentine cakes recipes. We hope that it will be easy for you to learn how to bake them!
1. Valentine's heart-shaped cake with candy
This is one of the most popular Valentine's Day cakes that people love baking for their significant other. The kuchen will be a highlight of your significant other's Valentine's Day. It is so beautiful that some people would not even want to eat it. However, this is utterly delicious sweet goodness, and we will tell you how to bake it.
It is undoubtedly a challenge, but it will not be as overwhelming as you probably think. You should be motivated by seeing your significant other and guests stunned when you pull out this card.
Ingredients
So, the ingredients you need will be:
White buttercream
Large heart-shaped sprinkles
Pink nonpareils
Chocolate candy coating
Vodka or the clear extract of it
White, red, and hot pink fondant
Golden dust
Tools
For the tools, you will need the following:
Heart-shaped pan of 6'' x 2'' measure (or whatever size you want it to be)
Chocolate mold for assorted candy
Paintbrush
Stitching wheel
Optional strip cutter
Process
First of all, you have to start with preparing two layers of chocolate cake in your pan. When it cools down, put it in the fridge.
Get your buttercream ready.
Preparing the candy coating is relatively easy – put it in the microwave and heat it until it melts.
Put the melted coating in the chocolate mould openings.
Then, place the mould with the coating in the freezer for ten minutes. Once they are ready, you can decorate them as your heart desires. To make this step more comfortable, you could also buy assorted chocolates in the store and use them.
You can also make a bow, for which you will need loops. For this, you will have to make a few strips out of rolled white fondant using the strip cutter. Then, cut them into short segments, fold them gently, and attach them to form a loop. To tape the loop, you can pinch it at the bottom. You will need a total of 16 loops for your bow: some of them will be extra, just in case. Then, create a magnificent bow out of them by attaching them to a watered piece of white fondant.
For the cake, cover your chocolate base with the buttercream fully. Then, roll out some red fondant and cut a strip, which you will be attaching to the sides of the cake. It has to be slightly higher than the cake itself because you need to create the effect of a chocolate box.
The next step would be rolling out more red fondant, shaping it like a heart, and using it as a cap for your candy box. A stitching wheel will help you with drawing lines on your cap, though you should remember to do it lightly. Repeat the same thing with pink fondant, and draw a checkered pattern on it. Attach these two pieces and put the bow on top of them.
You will have to make another heart out of pink fondant to place it inside the 'candy box'. Then, put the candies on it.
The final step would be beautifying the cap and the body of your dessert with some gold dust.
2. Simple raspberry champagne gateau
This is another one of the most popular Valentines Day cakes. The design of this kuchen is simple and fancy at the same time. With it, you will be able to express your love for your boyfriend or girlfriend, as well as your appreciation for your friends and guests. So, read all about how to make this delicious sweetness!
Ingredients
You will need such ingredients as:
Baking flour (3 1/3 cups)
Baking powder (2 1/2 teaspoons)
Salt (1/2 teaspoons)
Butter (1 1/4 cups)
Granulated sugar (1 3/4 cups)
Room temperature champagne (1 1/4 cup)
6 egg whites
For the buttercream:
Vanilla extract (2 teaspoons)
Sugar (6 cups)
One pinch of salt
Fresh raspberries (3 ounces)
For the champagne reduction:
Champagne (3/4 cup)
Fresh raspberries (9 ounces)
For the glaze:
Sugar (1 cup)
Raspberry reduction (1/4 cup)
Vanilla extract (1/4 teaspoons)
Optional corn syrup
For assembly, you will need fresh raspberries and whipped cream.
Process
Your first step is making a champagne cake:
First of all, you need to preheat your oven up to 350°.
Whisk the powder, flour, and salt together in a bowl.
Beat up the sugar and butter, and then add the egg whites and vanilla extract.
Eventually, you need to add the dry ingredients one by one, including the champagne, and keep mixing them together.
The batter has to be divided evenly between the three-round pans, which you need to butter and flour slightly.
Your kuchen needs to be baked for about 25 minutes and then cooled down for 5-10 minutes.
Now, we will move on to the raspberry reduction:
Purify all the raspberries and put them with champagne into the saucepan, preparing to heat them.
Observe the mixture and simmer it until you see that it is reduced in half. You will use it in the glaze and buttercream.
The frosting is our next step:
You have to make a cream by beating salt and butter together, then add the raspberry reduction (half a cup).
What follows is the gradual addition of sugar, and you need to mix it all until it becomes smooth.
You will need to remove some mixture for the pink frosting. To the rest, you should add the 3 ounces of raspberries and mix it up. You will add this frosting between the layers of the gateau.
It is quite easy to make the glaze for any Valentines cakes recipes:
Just take a small bowl and mix some raspberry reduction, vanilla, and sugar until it is smooth. For better effect, you can also add corn syrup and water.
Now, you will need to assemble your gateau:
For this, you should place it onto a plate layer by layer, filling in-between parts with the raspberry filling.
Then, the gateau needs to be frosted by the raspberry-champagne frosting which was reserved beforehand.
You will need to refrigerate the cake for 20 minutes.
Then, the glaze should be drizzled over the top, and then again refrigerated for the same amount of time.
Right before serving, garnish it with some fresh raspberries and whipped cream. Bon appetit!
3. Unique cake in the shape of a trendy girl's face
This baked masterpiece is truly something to surprise your significant other with. It will also be great to make if you celebrate Valentine's Day with your girlfriends. One special thing about this dessert is that you can customize it to your liking. And now, you have a chance to learn how to create this sweet fashionable lady on your own!
What you will need
You will need:
The oval or round cake of whatever flavour you like, previously frosted with buttercream
Matching muffins of the same flavour for making the buns
Chocolate coating of the colour you like
Heart cookie cutter
Paper cone or piping bag
Matching taffy candies
Colourful sprinkles
Gummy cinnamon or chocolate lips
Toothpick
Process
The first step will be making our sweet lady's sunglasses: For this, the chocolate coating needs to be melted, then poured on your working surface. The heart cutter has to be dropped on your melted chocolate and then put into a fridge for it to freeze. Do it again to make another heart. Then create a small bridge with the help of the piping bag, and boom! You have sunglasses!
Then, you will have to add some sprinkles for the "hair" effect. Put them on your cake with a spoon, and play with them a little by creating a hairstyle that you want.
Then, take the muffins and put the frosting on them to make the girl's buns.
You can attach the buns to the main cake with buttercream or dabs.
Put your heart sunglasses on the cake, and lift them up by once again using dabs or buttercream on their back.
The last step will be cutting a strip from taffy and putting them into the place where the muffin and the main cake are joined.
Put the lips on the bottom, and maybe a little beauty mark out of sprinkles, if you want to. Voila, your sweet present is ready!
4. Watercolour dessert
This is yet another one of the best Valentines cake ideas.
What you will need
For the endearing watercolor dessert, you will need the following:
Layer cake of your own preference
1 buttercream batch and two additional cups
Soft gel paste of yellow and red colors
Two offset spatulas: small and tapered head one
Scissors
Parchment paper
Process
First of all, you will need to tint the buttercream and reach the light coral result. To achieve this effect, you will need to drop some red and yellow.
Then, you will have to assemble your cake and put the mixture as icing on it. Put it in the fridge and keep it there until the frosting becomes firm.
The buttercream that is left should be divided into six bowls, and each one should have different shades of red and yellow, as in pink, orange, coral, etc.
After that, cut a heart shape out of the piece of parchment paper. Use the shades from each bowl to paint according to the heart shape. Mix the tones as much as needed because it would look creative.
Using the spatula, smear the buttercream over the heart, and then lift up the parchment paper when you are finished.
Now you have a cake with a beautiful watercolor heart, which will indicate how much you love the people – or person – that you bake it for!
5. XOXO for someone special to you
By "someone special" we do not only mean your significant other. It can be a person or group of people you love and want to show your appreciation to. Also, this kuchen does not have to be an "XOXO" one – it is just an idea for what to write on it. In fact, you can choose to write something else, for example, the name of your beloved person or just 'Love'.
It is recommended to choose either red velvet or chocolate cake for a base.
What you will need
The supplies that will be needed are:
Layer cake
Buttercream
Red and pink candy coatings
Pink gel paste
Sucker molds with the letters of your choice
The small lips mold
Heart sprinkles
Sucker sticks
Process
At the start, you will need to make some buttercream frosting of whatever colour you like, but we recommend white, dark pink, and light pink for the most romantic day of the year.
The cake has to be assembled by layers, and the buttercream needs to be put between them. To make the sides flat, you should use a spatula.
When your cake's sides are smoothed, you should move on to the decorations, such as coating wavers. Make the melted cream out of them and use the chocolate mould to create different shapes, in this case, the shape of lips. If the coating has become tougher, you can put it in the microwave for a short amount of time.
To make the letters, you will have to fill the letter shapes in the mould using the pipe. Put them in the freezer for about ten minutes. If you want to play, you can combine red and pink, by adding some red when you take pink out of the freezer.
Then, complete the cake with the moulded shapes and the letters on top of it. Does it not look beautiful and romantic? We are sure you will amaze your boyfriend, girlfriend, or other special people with this dessert!
We hope you liked these awesome Valentine cakes ideas and decoration guides! We believe that the people you are baking for will appreciate your sweet and delicious gesture.
READ ALSO: Top 10 Valentine messages for boyfriend
Legit.ng recently acknowledged that Valentine's Day is closely approaching, and as a girlfriend, you may need to come up with some sweet words to say to your boyfriend on the day of love.
Luckily for you, you do not have to rack your brain looking for the perfect words to summarize your love, as Legit.ng has some cute love messages that you can send to him on the big day.
Source: Legit.ng