- Nigerian women, youths and persons living with disabilities have for long been encouraged to participate in the country's political process
- One individual who has taken on the challenge is Lois Auta, the founder and chief executive officer of Cedar Seed Foundation
- Auta is running for AMAC/Bwari federal constituency seat in the House of Representatives under Accord Party in the 2019 elections
Lois Auta, the founder and chief executive officer of Cedar Seed Foundation, has been an advocate for the betterment of persons with disabilities in Nigeria for over five years.
Auta, 38, is a person living with disability, but she has distinguished herself with her passionate and consistent advocacy for the rights of persons living with disabilities.
She recently took on the challenge thrown at Nigerian women, youths and persons living with disabilities to participate in the country's political process.
Auta is running for the Federal Capital Territory's AMAC/Bwari federal constituency seat in the House of Representatives under Accord Party in the 2019 elections.
READ ALSO: Election 2019: Nigeria president battles perceptions of frailty in poll race - Financial Times
She told Legit.ng recently about her decision to join politics and reeled out her plans to be a member of Nigeria's green chambers.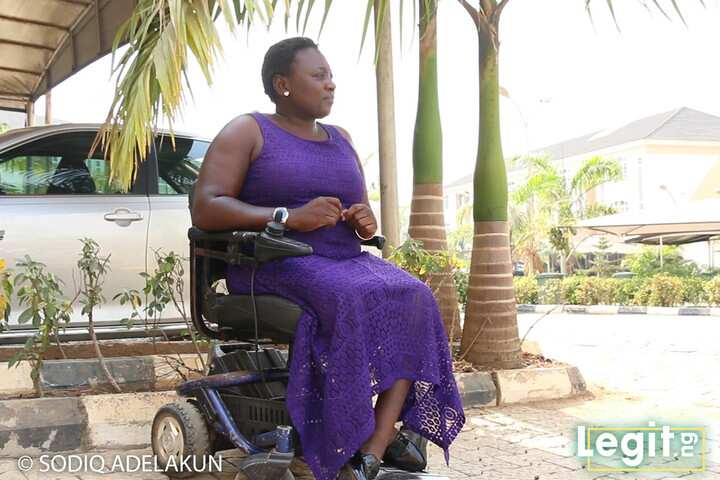 Read excerpts of the interview below:
How has the campaign been so far?
It has not been easy but by the grace of God, we are making waves, we are making progress and by God's grace, we shall win this election.
What informed your decision to go into politics?
The exclusion of young people of over 80 million, the 27 million Nigerians with disability, the 50.3 million women in Nigeria, have moved me to run for office to be able to advocate for their rights when I get to the green chambers. For too long, these vulnerable group has been excluded, discriminated and underrepresented in government policies and programmes. This is what moved me to run for office.
How has your experience so far given the fact that you were into advocacy and now moved into politics, are there similarities?
Advocacy is all about asking and appealing to government to do the right thing. While for politics, at times you need to force people into action by doing it the way it is supposed to be or the other way round. So, I have seen people condemning my decision because they think I am not going to win, and I told them it is not about going back home to sit and allow others to run. Because I have the exposure, the character, the competency and the experience from the advocacy I have been doing, now I want to use a bigger platform to advocate on these rights.
In terms of acceptance from the people, what has your experience been like?
During my consultations with my team, I had a good and bad experience. One of the good experiences I had was when some traditional leaders said they have tried the able bodied and they have failed them, they have tried the rich ones, and they have failed them. They have also tried the indigenous politicians, they have also failed them. So, let them try me because they could see the exposure, the passion, the experience on my own part. So, what they need to do to get to that office, is to support me.
What is your major focus as you contest to be a member of the House of Representatives?
One of my major agenda is inclusive legislation, whereby my colleagues and I in the green chamber, we will sponsor bills on education, on employment and infrastructural development. I am going to attract the attention of the federal government to this infrastructural needs, so they could come to my constituency and see how they would fix these problems. And one of the major issues is unemployment in this country. 23.1% according to the NBS last month, which is 67.1million people. So, we need to come up with strategies and plans that would solve these issues.
In the event that you do not win, what would be your next step?
Someone said the preparations for the next elections start from the day the 2019 winners are inaugurated and I agree with that statement. So if I do not win, I would accept my result, then I would start working towards 2023.
What advise would you give to people with disability who have since given hope for life?
They should believe in themselves, the greatness of me is in me. So, I am going to be the one to make myself great on this earth. Persons with disabilities should see beyond their disabilities, they should see it as a minor thing not a major thing. And, I am proud to tell you that I am a woman with 99.9% abilities, only one disability which was polio that affected only my legs. Now these legs, I use to drive myself to the office. And to the glory of God, I use my disability to become the great woman I want to become and I have not reached my goal yet.
But, already, I am a role-model to many people out there. I am a global citizen. I am also the first woman with disability in Africa that was named a young global leader of the World Economic Forum. I am a Mandela Washington Fellow. I was also among the 30 people out of 4,000 people that were selected for Aso Villa Demo Day. So, they can do exploits, they can do exceedingly well if they believe in themselves. They should see beyond disability and should work hard towards achieving their goals.
NAIJ.com (naija.ng) -> Legit.ng. Same great journalism, upgraded for better service!
Watch the video of the interview on Legit TV