The best Nigerian shawarma recipe with chicken and beef
Almost every Nigerian will agree if we say that shawarma is one of favourite snacks in the country and actually in the entire world. Maybe, there is no person in the whole world, who didn't taste this yummy snack, and millions of people still adore it. It belongs to the street food and is even more popular than burgers, burrito, and ciabatta. Read on, and we promise you will love this Nigerian shawarma recipe with chicken and beef. You will like it so much that would prefer to keep it a secret, so nobody in the whole world could taste this mouthwatering snack.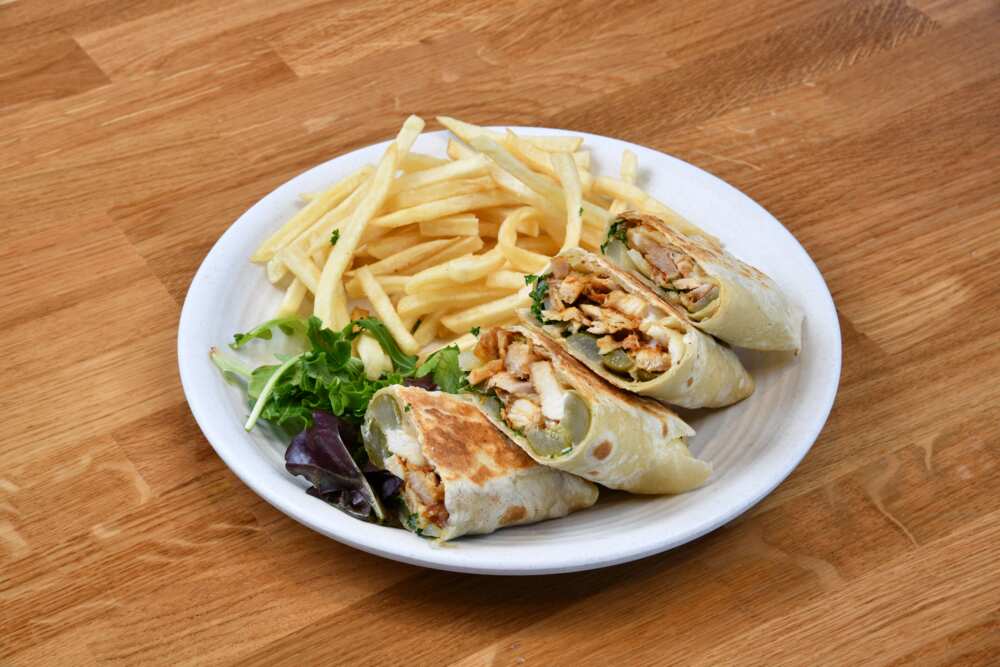 If you are looking for the ideal snack to take it to work or study — this variant is for you. Shawarma can hardly be called fast food, it consists primarily of vegetables, rather than fat products, so you can add this snack to your diet.
Nigerian shawarma ingredients
Nigerian shawarma has little difference from the traditional recipe. And besides, it's hard to speak about any traditionality in this case, because we can add anything we like to it and our method won't be wrong. Do not be afraid of experiments at your kitchen. We are here to advise, and only you can decide what ingredients will make your snack the best in the whole world.
The best Nigerian shawarma recipe includes the following ingredients:
Two medium-sized chicken thighs;
Two chicken tenders;
400 grams of the roast beef;
Six pita bread;
1 Cabbage;
One big-sized carrot;
One large cucumber;
2-3 cherry tomatoes;
One medium-sized onion;
2-3 Tablespoons of oil for frying.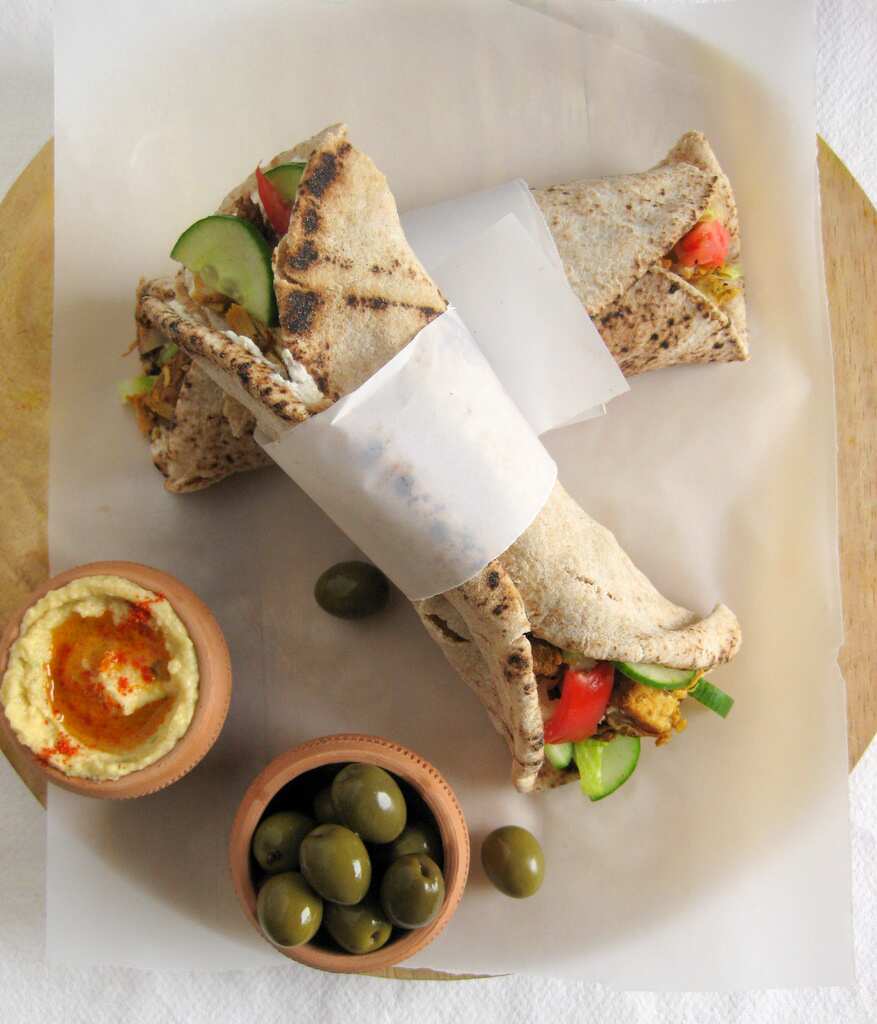 It's accepted to cook only beef or chicken shawarma, but if you want to mix it — you can do it, the snack anyway will be incredibly delicious. You necessarily would know how to make shawarma filling, because it gives unique spice to it. The basic shawarma sauce consists of ketchup, mayonnaise, and any chili sauce. You can add other ingredients to your liking, for example, salad cream or some grounded parsley.
If you take the already roasted meat, you can skip this point or also use the marinade to give the zesty notes to its taste. But we recommend you cook meat by yourself and use our marinade. Use all of the following ingredients for marinating chicken and beef:
1 Tsp of each species: thyme, parsley, cumin;
grounded red onion and garlic;
2-3 knorr cubes;
half a teaspoon of salt;
half a teaspoon of grounded black/cayenne pepper;
1 Tsp of curry flavor;
1 Tbsp of soy sauce;
1 Tbsp of any oil, preferably olive;
Some mayonnaise (add it only if the mixture is badly spreading on meat).
How to make Nigerian shawarma?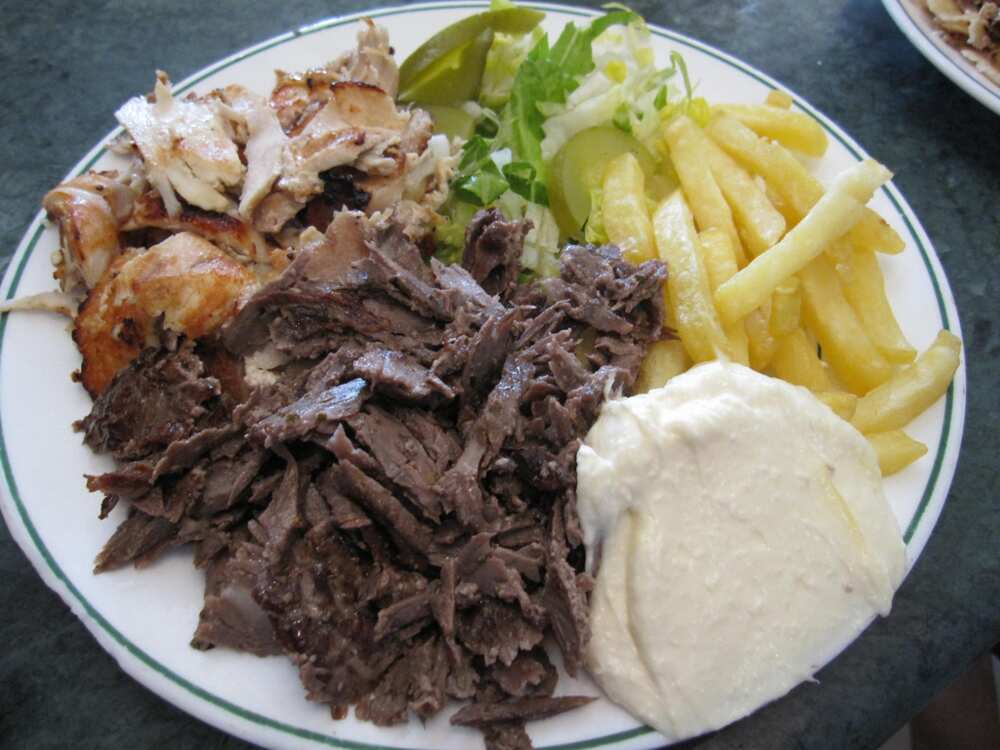 If you found all the necessary ingredients, you are on the right way to prepare the best shawarma in the world. The preparing of ingredients occupies most of the all cooking time. To cook meat, we should mix all products for the marinade, cut the meat on small slices and blend everything.
Only having ensured that the marinade thoroughly covers meat, you can put it into the fridge — the recommended time of marinating is from 2 up to 24 hours. But 2 hours is an extremely brief time for meat, so we advise you to give it more time. The best variant is to keep it in the fridge the whole night: put it there before going to sleep and take it out in the morning.
READ ALSO: Top 10 Nigerian snacks and how to make them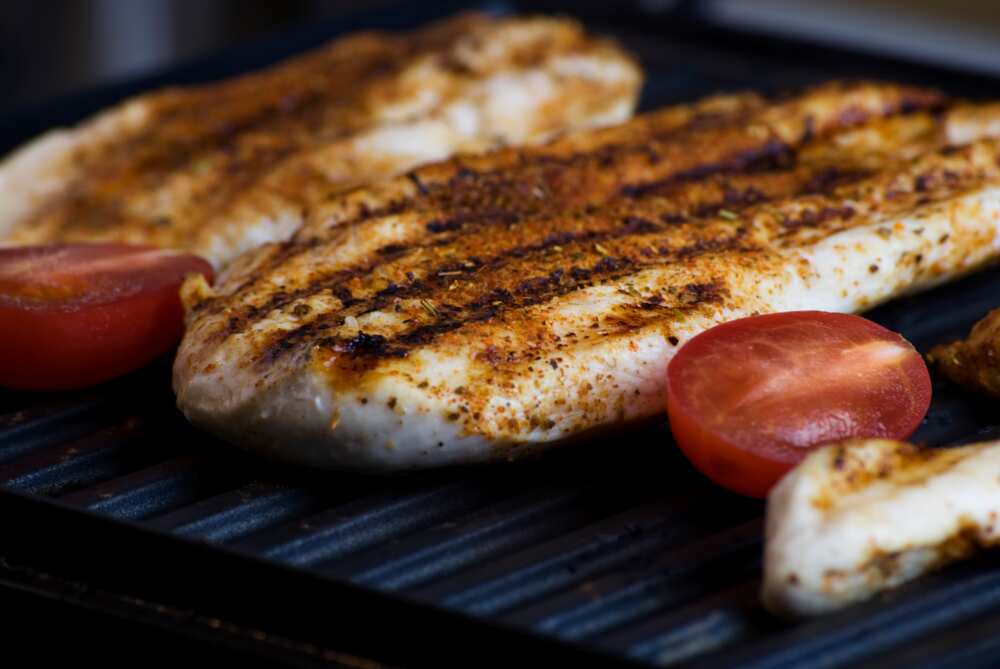 The next step in our guide is preparing vegetables. You can slice cabbage and carrot into small strips. Cutting cucumber and tomatoes into semi-rings is possible. But you should be attentive with size because too big pieces won't let you make a roll, which will hold its shape.
Then it's the right time to take out the meat and fry it. Use the needed amount of oil and roast the chicken and beef till the meat becomes a golden-brown colour: it's the sign of readiness. Lay it out on the plate and let the excess oil to drain.
Mix ingredients for the sauce to your liking (ketchup, mayonnaise, chili sauce, mustard, cheese sauce, etc.)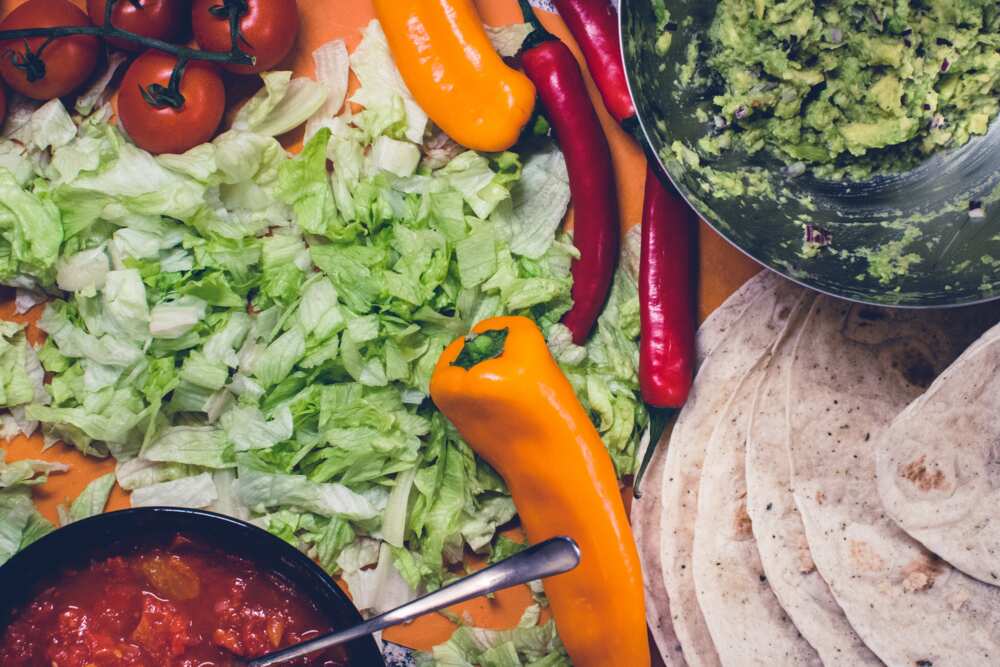 When all products are ready, meat fried, vegetables cut, it is time for the most expected step of guide on how to make shawarma: wrapping all ingredients inside the pita bread. Place pita bread on the table with the flat surface and spread the sauce on it. It's possible to cut it into two parts if it is too large. Firstly you should lay out vegetables in any order: you can make every new layer from a new kind of vegetable or mix it. The cooks recommend place the filling on the center of an edge of pita bread. Take meat and place it on the vegetables. You also can add an extra part of sauce if you think that it's not enough. Then you should fold the edges to the center and began to roll the future shawarma.
When your shawarma rolls are ready, you need to fry them. It is great if you have a sandwich grill or grill pan, but if you don't it ok you can fry shawarma rolls on a usual pan. Just don't forget to add some oil on the pan.
Now your tastiest shawarma is ready, enjoy yourself, treat to your beloved and friends. And don't be greedy, share this article with your friends.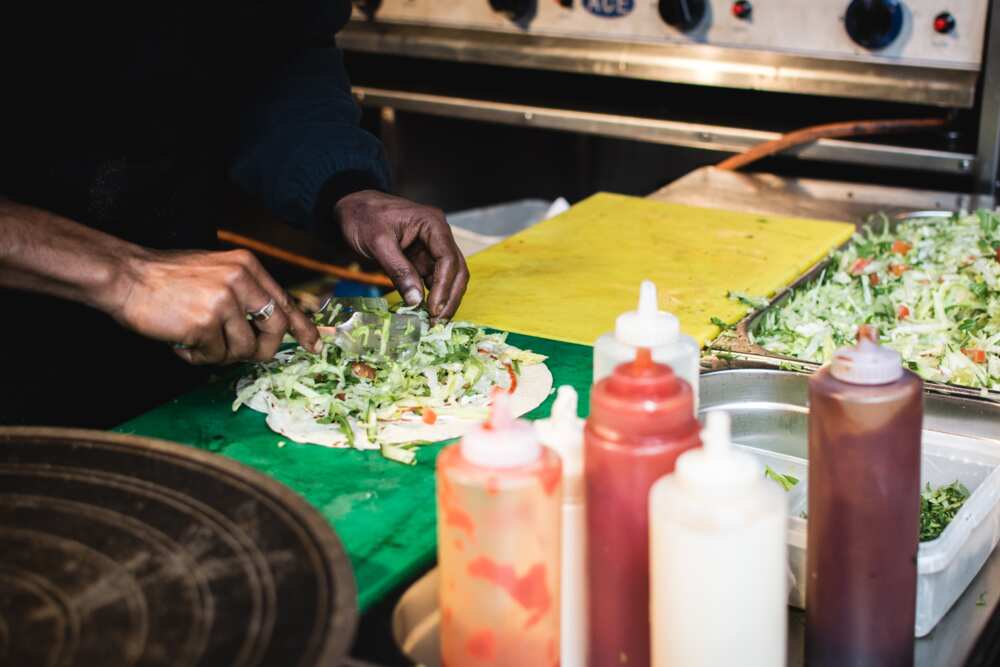 So now you know how to prepare shawarma, and even a person who has never cooked before can make this yummy snack easily. When you know the basic recipe, you can add or remove ingredients to your taste. Do not be afraid to experiment with tastes and create the own unique shawarma recipe!
READ ALSO: How to prepare sandwich: recipe you will adore
Source: Legit.ng