What is the 2019 election timetable? Elections define the near future of the entire country and its leaders. Are you prepared to give your power to the candidate you believe in? Yes? Then, learn about 2019 voting here. Your vote is your power!

Elections are is right around the corner. Soon, Nigerians will welcome a new leader. Moreover, he will open a new page in the country's history.
To see your favorite as the next president, you should come out and show your support to him/her. In this article, you will get to know the significant facts about the 2019 election timetable in Nigeria. Do not miss a chance to change your future!
2019 election timetable in Nigeria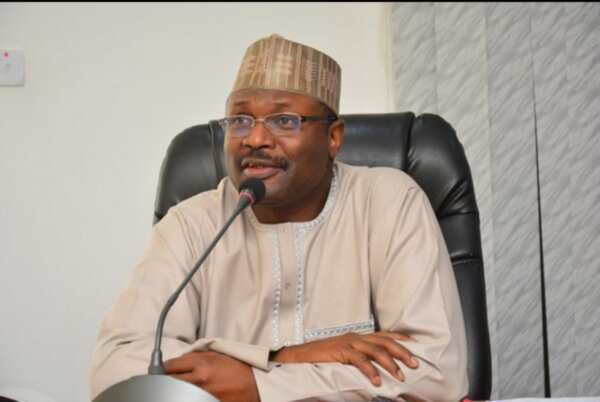 Did you hear the latest about INEC release of 2019 election timetable? Recently, the Independent National Electoral Commission issued the regulations and the schedule of 2019 voting. Prof. Mahmood Yakubu, the Chairman of INEC, officially presented it to the public during a press conference in Abuja.
READ ALSO: Who is the current INEC chairman?
Presidential election date
Perhaps, you have already searched for some information about the election date 2019. According to the data published by inecnigeria.org, voting will start on February 16, 2019. The polling stations will be open for voting and accreditation from 08:00 till 14:00.
READ ALSO: Importance of election in democracy
To be eligible to vote, you should:
Be a resident of Nigeria;
Be 18 years old minimum;
Have a Permanent Voter Card (PVC);
Your details should be in the voters register at the polling unit you want to vote.
2019 election timetable by INEC
According to the guidelines by INEC, the timetable on the day of the voting includes the following activities:
07:30: the Presiding Officer takes the cross-check of the materials adequacy.
8:00: the Presiding Officer announces the Polling Unit open for the accreditation and voting procedures. He opens the doors. The voters should come in and take place in a queue. Then, he introduces all the poll officials to voters. Finally, the officer provides all the necessary information about the process of accreditation and voting.
14:00 – certification and voting ends:
The Presiding Officer cancels all unused ballot papers;
After that, he checks all the papers once more and enters the results of his voting station into the forms (EC8A or EC8A(VP)) and a few more administrative documents.
Below, you will see the 2019 election timetable for the full period of voting.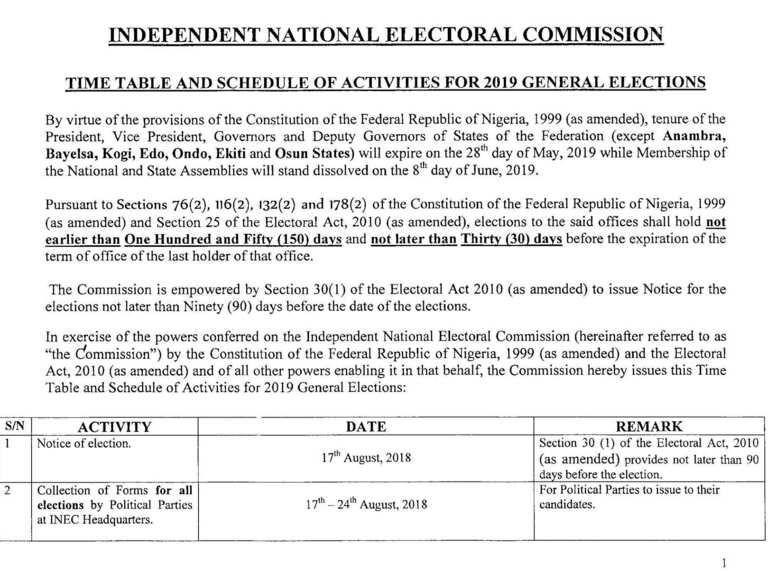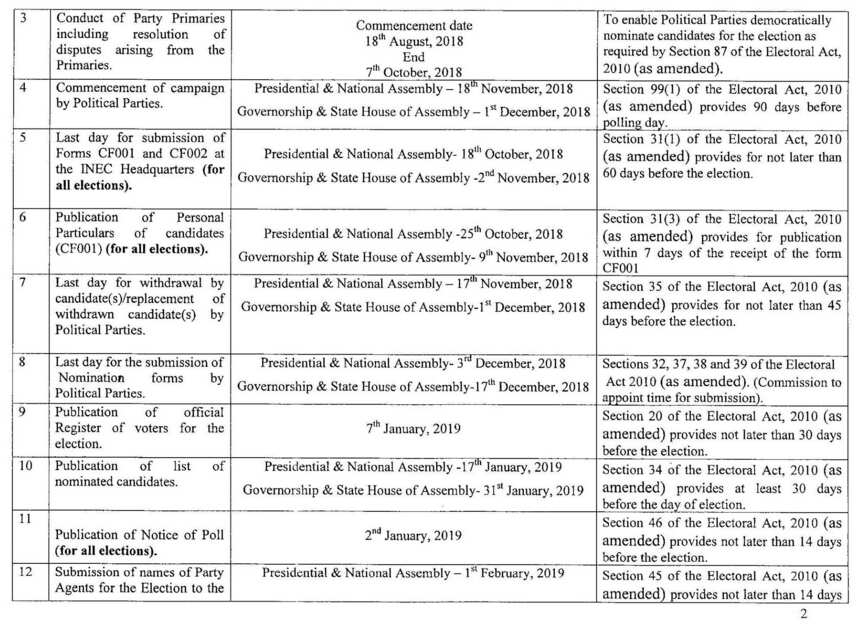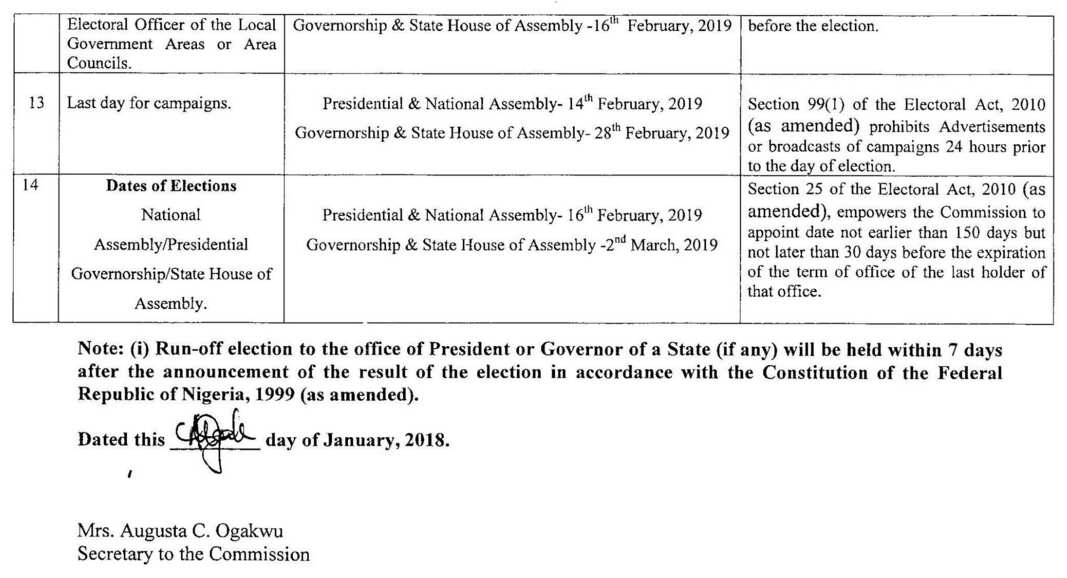 Now that you have 2019 election timetable and dates, you can see that the certification and voting processes require significant efforts. However, it is the only way to provide free and fair voting in the country.
READ ALSO: Forms and types of electoral malpractice