How to bake bread at home
Today, we are going to teach you how to bake bread at home. Some of you might think that baking is a somewhat challenging process. But we will prove you wrong. We have prepared some easy and still delicious recipes for homemade bread, and you should definitely check them out. Following these simple recipes, you will get a tasty and soft loaf of bread.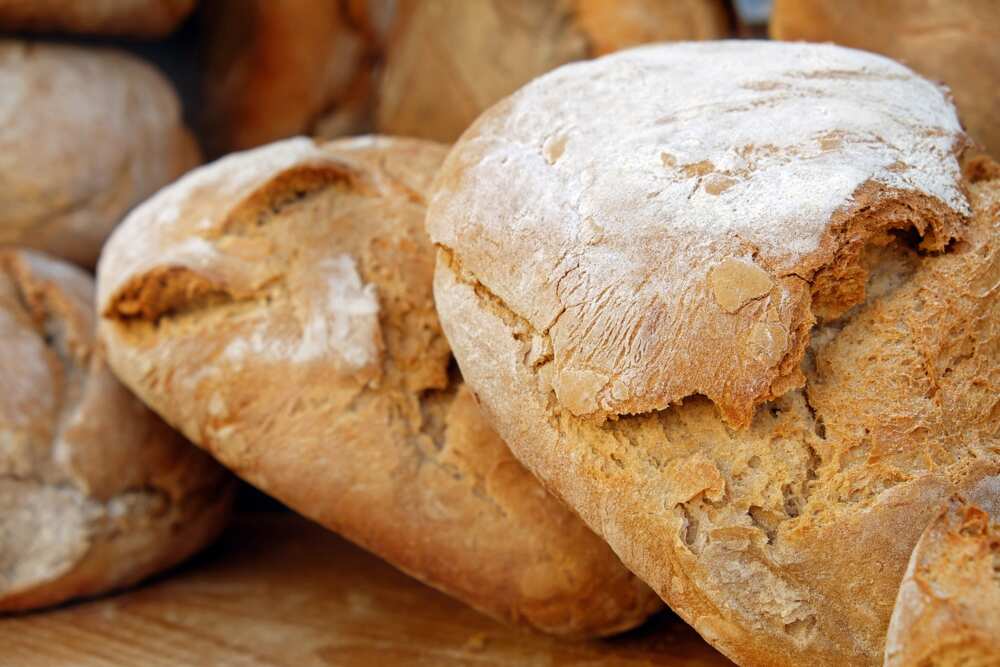 Many people live by the assumption that baking bread at home is a challenging process. However, we should all know that this process is almost completely stress-free.
How to make homemade bread
Many people who like to bake meet with the confrontation of their own laziness and the desire to eat tasty homemade pastry. This is of no surprise as the baking process might be pretty time consuming. That is why we are here to show you how to make bread easy. We have prepared some wonderful recipes which will not take much time.
Recipe 1
Here is the first recipe for homemade bread.
Ingredients
Wheat flour - 3 cups;
Yeast - 1/4 of a teaspoon;
Salt - 1 and 1/2 of a teaspoon;
Water - 1 and 1/2 cups.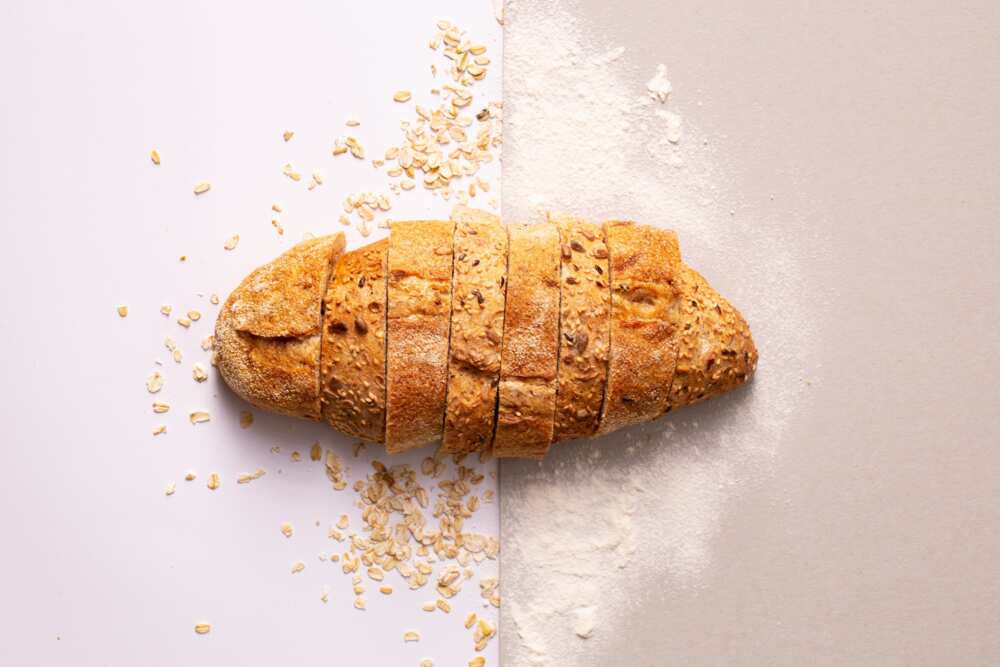 Method
First of all, you need to prepare the dough. To do this, you need to pass the flour through a sieve in a bowl, adding dry yeast and salt.
After that, the mixture should be well mixed with water to make soft liquid dough.
Of course, you cannot bake fluffy bread from the liquid dough. Therefore, you need to wrap the bowl with kitchen film and let it rise in a dark, warm, and dry place. The approximate waiting period is from fourteen to thirty hours. That is quite long. However, during this time, you will not need to spend any effort kneading the dough.
During this time, the dough will double in size and become much less liquid.
Then, you need to sprinkle it well with flour, put it on a towel and shape the future bread with its free edge on top, leaving it for another three or four hours.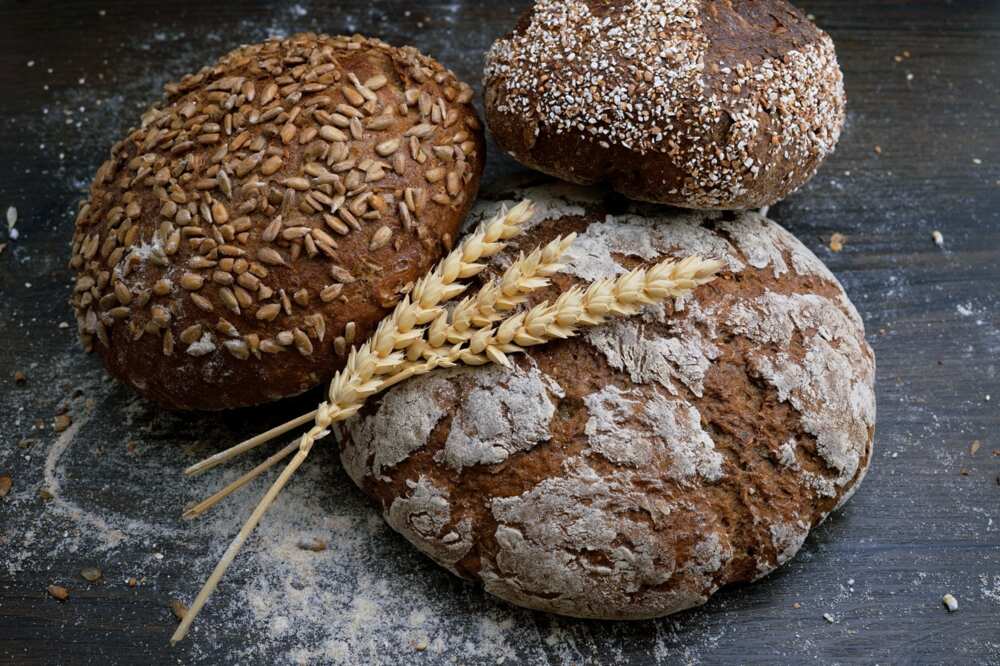 After that, you need to preheat the oven up to 240 degrees. Then, put the dough into the baking dish and cover it with a lid. You will need to bake the bread for about half an hour.
After the time has passed, remove the lid and turn off the oven, leaving the bread in there for about fifteen minutes.
As a result, you will get quite dense and medium airy bread. However, its taste will be excellent, satisfying you and your loved ones. What is more important, it will require almost no effort from you. This bread is ideal for sandwiches and can be served along with any dish. Taking into account the cost of the products used in the recipe, it is much cheaper than purchasing loaves at shops, and, in addition, it is much tastier than them.
Recipe 2: How to bake bread without yeast
Sweet, ruddy banana bread is a delicious home-made pastry that does not take much time and effort. Today, we want to introduce to you a simple, yeast-free recipe for banana bread with nuts.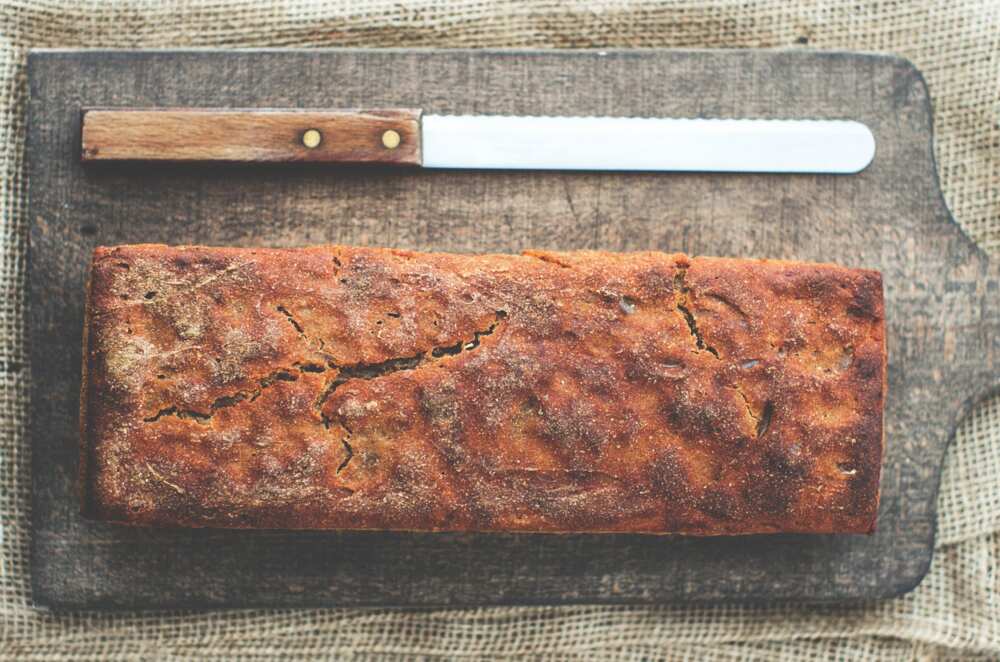 The bread prepared according to this recipe is incredibly soft and fragrant with crumbly, fluffy and juicy duff, a golden crust, and a mouthful of nuts. Such bread is tasty both warm and chilled, and if you let it stand overnight, it will become even more delicious the next day. So, let's check it out and see what we need for the recipe.
Ingredients
Butter - 120 g;
Sugar - 200 g;
Chicken eggs - 2;
Bananas - 500 g (2-3);
Wheat flour - 160-170g;
Baking powder - 1 and 1/2 of a teaspoon;
Ground cinnamon - 1 teaspoon;
Vanilla sugar - 10 g;
Salt - 1/4 of a teaspoon;
Nuts - 70 g;
Vegetable oil - 1 teaspoon.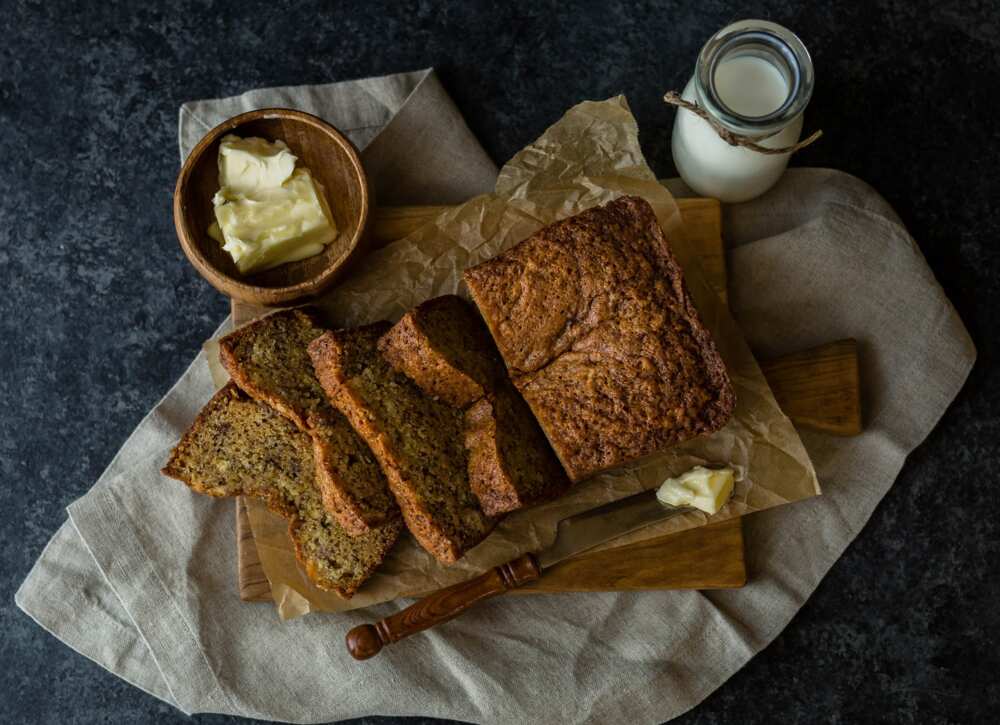 READ ALSO: How to make Nigerian bread at home?
Now, let's proceed to the preparation process and see what we need to do to bake this tasty bread. Just follow these simple steps.
Method
Combine the softened butter and sugar and beat them for a few minutes with a mixer until a smooth consistency forms.
Continuing to beat the mixture, add one chicken egg and beat the mixture for about 40-60 seconds.
Then add the second chicken egg and beat the mixture for another 1-2 minutes until the mass is airy and uniform.
Mash 2 large ripe bananas with a fork to the consistency of lumpy mashed potatoes and add them to the mixture with eggs, sugar, and butter.
Then, mix in the sifted wheat flour and baking powder gradually.
Add vanilla sugar, ground cinnamon, and salt.
And finally, gently add the nuts chopped into large pieces in the finished dough.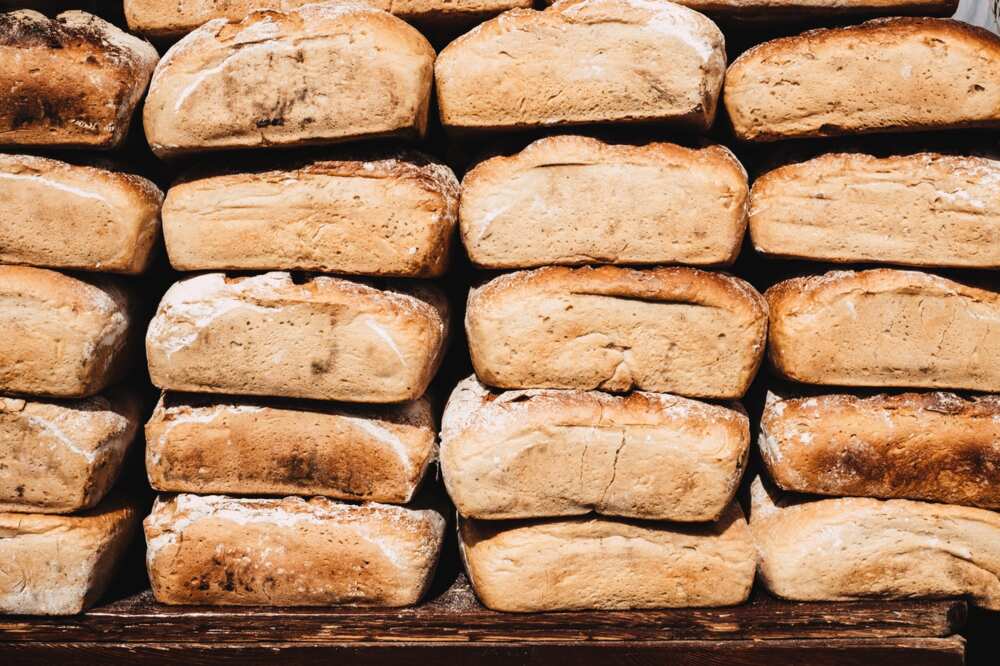 Now, pour the dough into a baking dish greased with vegetable oil and make sure that the surface is even.
Place the dough in an oven preheated to 170 degrees and bake the bread for 50-60 minutes.
Check the readiness of the bread by piercing it with a wooden stick or toothpick. If it comes out clean and dry, then it means that the bread is ready.
Leave the bread in the baking dish for about 5-10 minutes, then remove and let it cool completely.
And your banana bread is ready. Enjoy your meal!
Recipe 3: How to make bread without yeast and sourdough starter
This recipe of homemade bread is quite interesting as beer is one of the ingredients in it. Nevertheless, you will not feel it at all when the bread is cooked. And the taste will be delicious and even unique. Using this recipe, you will not need a few hours to make it. It will take you will only 10-15 minutes to prepare the dough, and the oven will do the rest of the job for you. The bread will look like a cupcake, but it has a different taste and will be more suitable for salty dishes.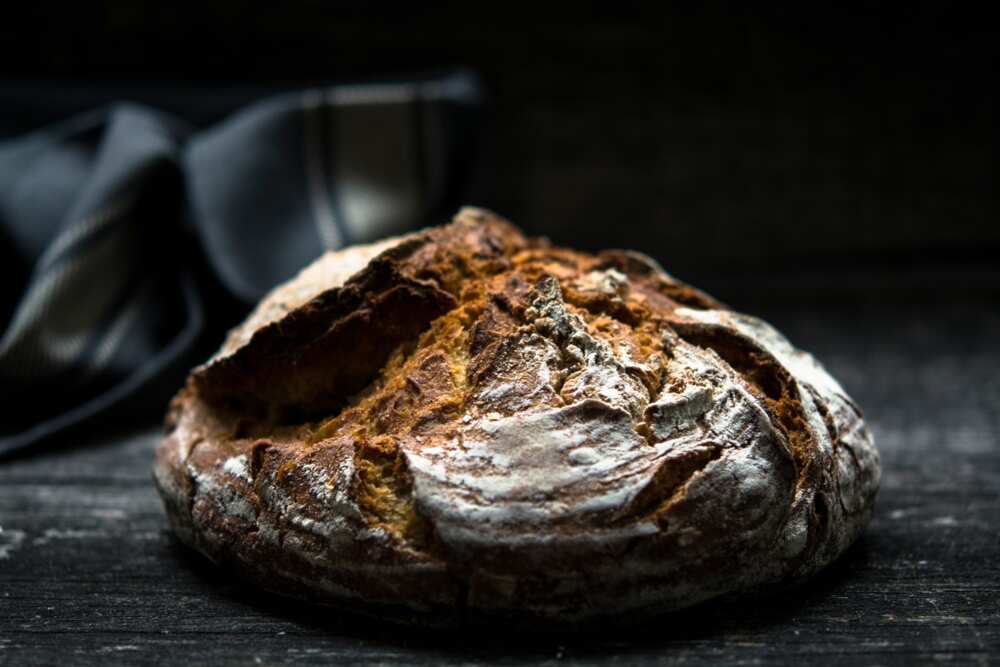 READ ALSO: Bread making process at home in Nigeria
Ingredients
Wheat flour - 400-480 g;
Baking powder - 15 g;
Salt - one pinch;
Sugar - 40 g;
Butter - 80 g;
Light beer - 330 ml.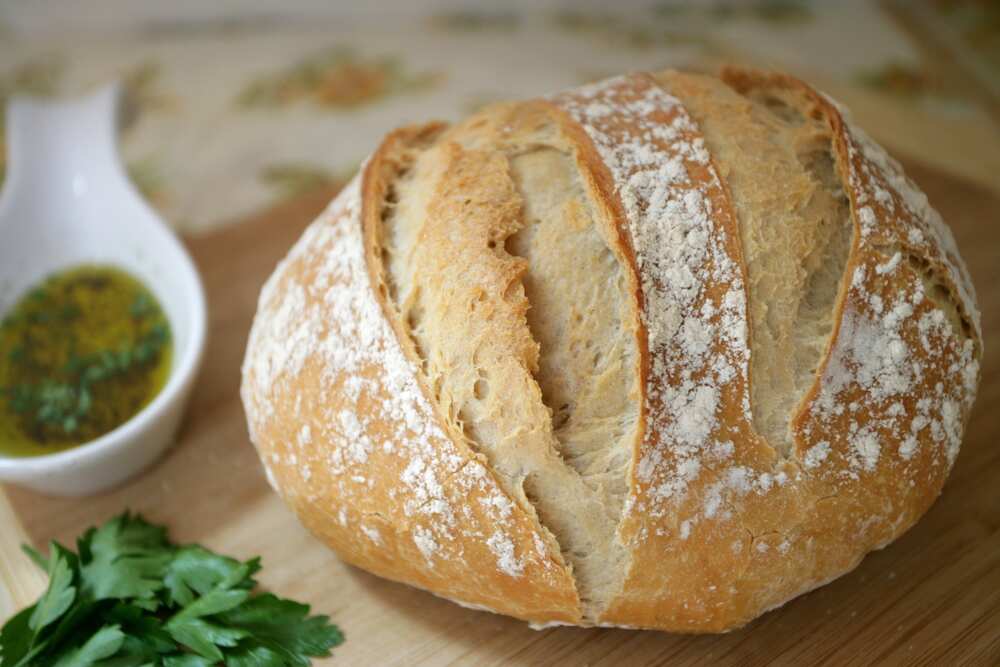 Method
First, mix the sifted flour, salt, sugar, and baking powder.
And then, pour the beer into the bowl with dry ingredients. Mix everything thoroughly. The dough should be quite lumpy and sticky.
Now, spread parchment in a baking dish and pour the dough for our bread in it.
Next step is melting the butter. When it is melted, let it cool slightly, and then pour it over the dough.
Preheat the oven up to 190 degrees and bake the bread for about one hour.
When our bread is ready, take out the baking dish from the oven and let it cool a little bit.
Then, remove the bread out of it and let it cool completely on a wire rack.
And, that is it! Now you know how to make bread at home. We hope that you have found our article useful and informative, and you will be able to delight yourself and your significant others with delicious and healthy homemade bread.
READ ALSO: Shortbread recipe
Source: Legit.ng