According to reports, Nigeria has the highest burden of sickle cell disorder in the world. Over 40 million Nigerians are carriers of the sickle cell gene. Every year, 150,000 babies are born with sickle cell anemia in Nigeria. People with sickle cell usually suffer severe painful conditions.
Pain, this is one word people living with the sickle cell disorder are very familiar with. Living a life filled with intense discomfort, an uncertain lifespan and uncountable hospital visits can change one's perspective on life. More often than not, it destroys a hopeful and optimistic spirit.
However, this is not the case for an amazing sickle cell warrior identified as Japheth Ezekiel Maichibi whose view on life is beautiful and inspiring, despite his condition. In a recent interview with Legit.ng, Maichibi opens up about his 29-year-old harrowing battle with the disorder and hope for the future.
READ ALSO: Personal letter from the Editor-in-Chief of Legit.ng (former NAIJ.com)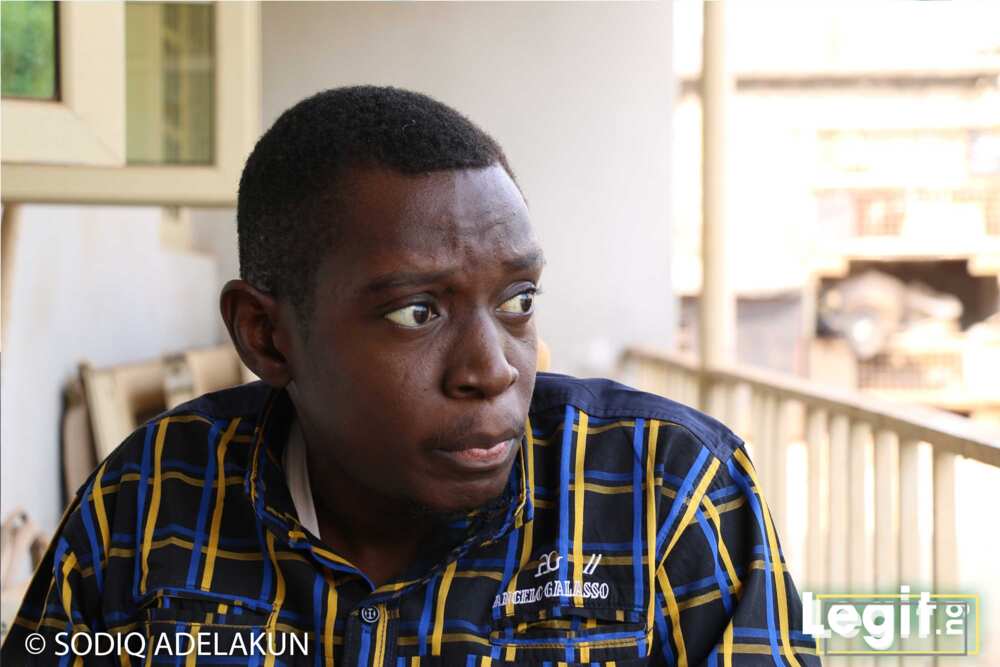 The Nasarawa indigene who comes from a family of six; four boys and 2 girls, described living with sickle cell disorder as "having its good and bad side with the bad having the highest percentage" For the 29-year-old, it has being a "journey of undefined pains; pains words can not describe."
Following the criticisms that parents of sickle cell patients are often faced with, Maichibi revealed that he does not blame his parents for his condition. In his words: "My parents got married in the 70s when there was no awareness to talk about theses things. I won't say I'm a mistake or a result of ignorance. I love myself and I don't blame anyone for what's happening to me. I had the opportunity of going to school even though it was on and off due to my condition. I had a lot of in-and-out-of-hospital experiences growing up."
READ ALSO: Meet sickle cell warrior inspiring Nigerians through his music
Maichibi, a 400 level student of psychology whose father is also a psychologist revealed psychology was not his first love.
"I started with B.Sc Statistics when I got admission in 2009. The first two years were okay but in 300 level, I became very sick and I had to miss a whole semester. On returning back to school, everything had changed. I had an understanding coordinator who advised I do a change of course and find one that is less stressful. It was a tough decision but I took it."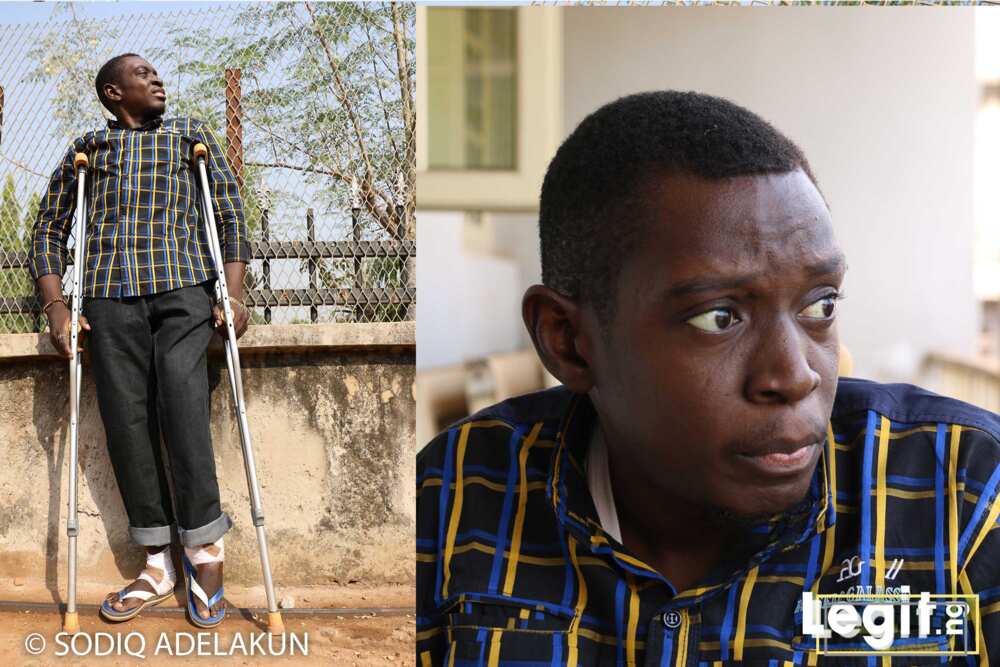 The young man who moves around with the assistance of crutches revealed it was not always the case.
"Getting to 400l, just got my project topic and I came home to inform my family of my graduation from school which has always been my dream. I was excited but then I came down with a mild fever. I told my mum who observed the situation and asked me to rest. The evening before returning to school, I took a nap. When I woke up and tried to walk, I noticed a squeaky sound in my hip region.
That night was the beginning of my journey being in pain up until this very moment. I did an x-ray and discovered that was when I was told by the doctor that I have avascular necrosis of the hip. My hip was generally damaged due to lack of supply of oxygen that causes the tissue to die. There was no sign, no pain, it just brought me down all of a sudden. Due to this condition, I haven't been able to return to school till date."
Also suffering from sickle cell ankle ulcer on both legs, Maichibi uses his social media page to solicit for funds. He revealed that the feedback has not been encouraging. He stated that N200,000 was the highest donation he has ever gotten but maintains he is grateful for the little funds as they help him with his medications and wound dressing.
PAY ATTENTION: Get the Latest Nigerian News on Legit.ng News App
On how he maintains a positive spirit despite living with pain, he had this to say:
" Honestly, I dunno but I think its God. This last attack change my perspective about the whole thing. It taught me how to be bold, to accept my situation and it taught me how to conquer. The experience has broadened my horizon. It is like a gift was embeded in me such that when I pick up a pen and start writing, the words just come to me and from it I find joy.
The cheerfulness just comes. I have a lot of sickle cell warriors who tell me I inspire them. I refuse to be called a sickle cell patient for I am a sickle cell warrior. I've learnt to forget the pain. I believe a brighter day will come. God doesn't allow things to happen without a reason. I just always pray and thank my supportive family."
He further called on the public to assist him raise funds to carry out three surgeries so he can finish up his program in school and go into awareness creation fully.
Below are his contact and bank details for well meaning Nigerians who may want to help Maichibi:
Account details: Gtb 0115632391 MAICHIBI JAPHETH EZEKIEL
Phone number: 07061668414
Get the hottest gist on Africa Love Aid
Check out FOUR IMPORTANT ways to avoid contracting Typhoid fever | Legit TV