In 2018 alone, the number of internet users, according to Hootsuite Digital, across the world rose to 4 billion. In Nigeria alone, there were 94.8 million internet users with 78% of the users preferring to complete tasks digitally whenever possible and 80% believing that new technologies offer more opportunities than risks. Currently, Nigeria's digital economy is poised to generate $88 billion and create 10 million jobs in the next 10 years.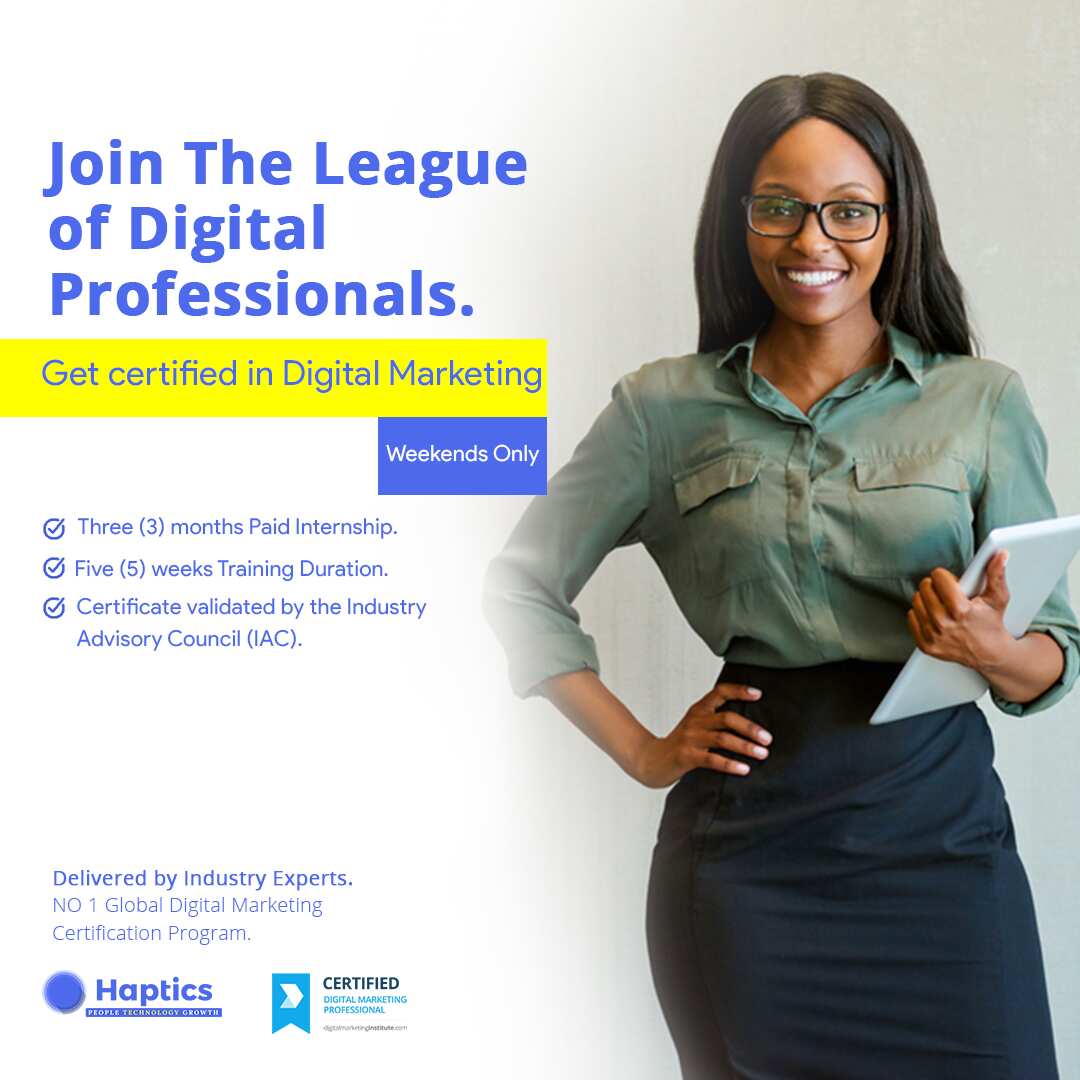 With the consistent change in the world through the advent of technology, individuals and brands alike need to keep up with the latest trends in digital and adapt to the digital world to get the right jobs, increase proficiency or even switch careers. Haptics Nigeria, a Digital Marketing & Technology Training Institution in Lagos, Nigeria is in partnership with the Digital Marketing Institute, Dublin, Ireland, the global education and certification body in Digital Marketing, is set to deliver Professional Digital Marketing Courses to the Nigerian Market to help maximize the potentials of individuals and corporations in the national and global digital space.
This world-class training is delivered by digital experts and professional trainers with years of working experience in the Digital Marketing Industry. With this partnership, Haptics Nigeria is helping to enable individuals and corporates to discover opportunities for career growth in Digital Marketing & Technology. Some of the courses offered by Haptics include the following:
- Certified Digital Marketing Professional (CDMP) - Starts February 23, 2019 : This course is for Career Professionals, Marketing Professionals, and Career Switchers/Uppers. The course is offered in partnership with the Digital Marketing Institute, Dublin.
5weeks Duration, weekends only
3months Paid internship
Industry Leading certification validated by the Industry Advisory Council
12months exclusive access to the DMI Membership Platform
Join a Global Alumni Network of 20,000+ Digital Marketing Professionals.
- Digital Marketing Foundations (DMF) - Starts March, 2019: This course is for NYSC, Fresh Graduates & Job Seekers
4weeks. Monday, Wednesday & Friday.
Three (3) months Paid Internship
Training delivered by Industry Experts
Practical, Hands-on Approach to Digital Marketing
Certification
- Digital Transformation
Certified Training and Workshops on Digital Transformation for C-level Executives
- Masterclasses
Two(2) days Intensive Certified Digital Marketing specialist programs targeted at Job Seekers & Career Professionals in Social Media, Programmatic Media Buying, Data Analytics and other fields.
- Online Digital Marketing Courses
For more information or to speak with a representative, kindly call 07065794454 or visit www.haptics.ng
[Sponsored]