If getting a car is part of your goals or plans for 2019 or you've been saving up to get your dream vehicle but your funds hasn't been sufficient enough, look no further, we've got you covered!
Paying for the cost of a car out-rightly isn't the only way to own a car, in fact making a lump sum payment for a car can become a financial burden to your pocket.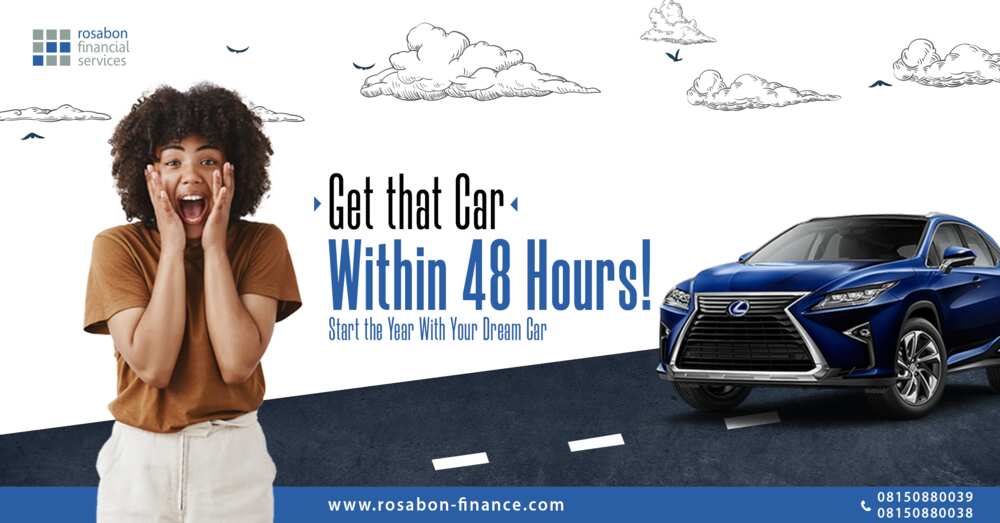 With Rosabon Consumer Lease, salary earners (who earn up to N150,000 and above) can easily get the purchase of their dream vehicles or any type of vehicle(used, tokunbo or new) financed by Rosabon Financial Services and delivered to them within 48 hours.
Rosabon Consumer Lease is a financial solution created by Nigeria's award winning and leading non-banking Financial institution, Rosabon Financial Services, licensed and regulated by the Central Bank of Nigeria with over 25 years of experience.
With Rosabon Consumer lease, all you're required to do after applying and submitting the required documents are:
● Select the vehicle of your choice from your preferred car dealer or owner.
● Make available a little percentage of the value of your preferred vehicle as an upfront payment.
● While we cover the rest of the cost.
● Upon which the vehicle is handed over to you. Insurance fully paid for.
● A flexible repayment schedule is drawn up over an agreed period of time.
● Once all repayment has been made. The ownership of the vehicle is transferred to you.
Rosabon Consumer lease comes with a repayment period of up to 42 months, depending on the type of vehicle you wish to acquire.
Click here to start the process towards owning your dream car→ http://bit.ly/RfsApply.
For further inquiries you can get in touch with any of our Client Experience Executive - Busola on 08150880038 or Rita on 08150880039 or Shade on 08150846657. You can also send a mail to info@rosabon-finance.com
[Sponsored]