We have scrambled eggs recipe step by step for you. The dish is very easy to prepare, so you should definitely try it! Read on to find out the method of preparation and also some additional tips. Interested?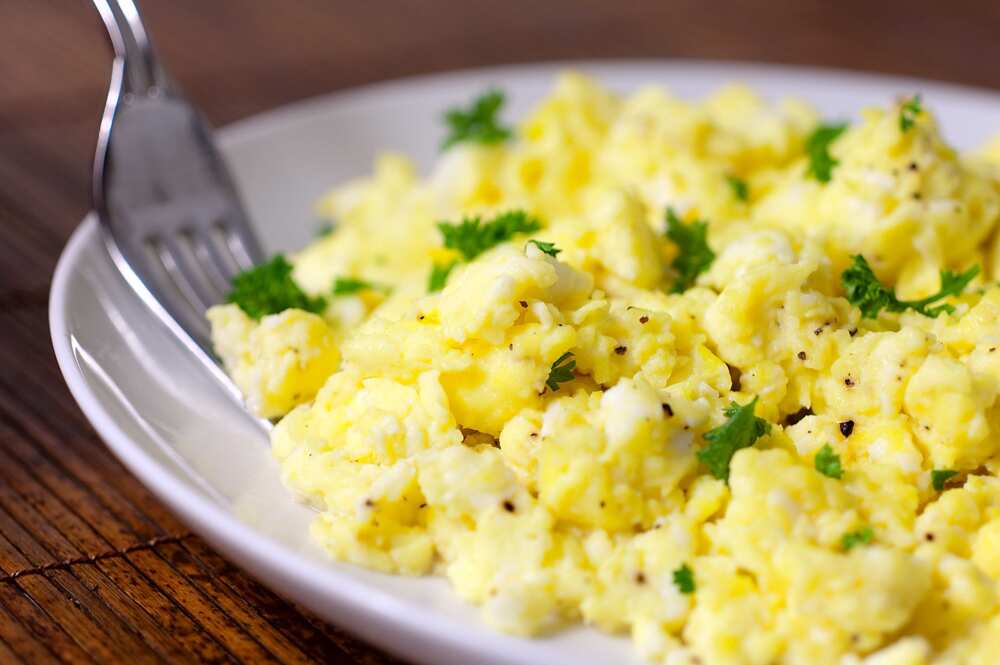 The easiest scrambled eggs recipe
Total time of preparation is about 5 minutes, and the ingredients are available for everyone, let's see the method of preparation:
Take four eggs, 1/4 cup of milk and two tablespoons of butter, these are all the elements of the recipe. Beat eggs, add milk, salt, pepper according to your taste and blend it all well.
The next step is to heat the butter in a skillet. When the butter is hot, pour egg mixture on a skillet. With the help of a spatula pull the eggs across the pan forming large soft curds.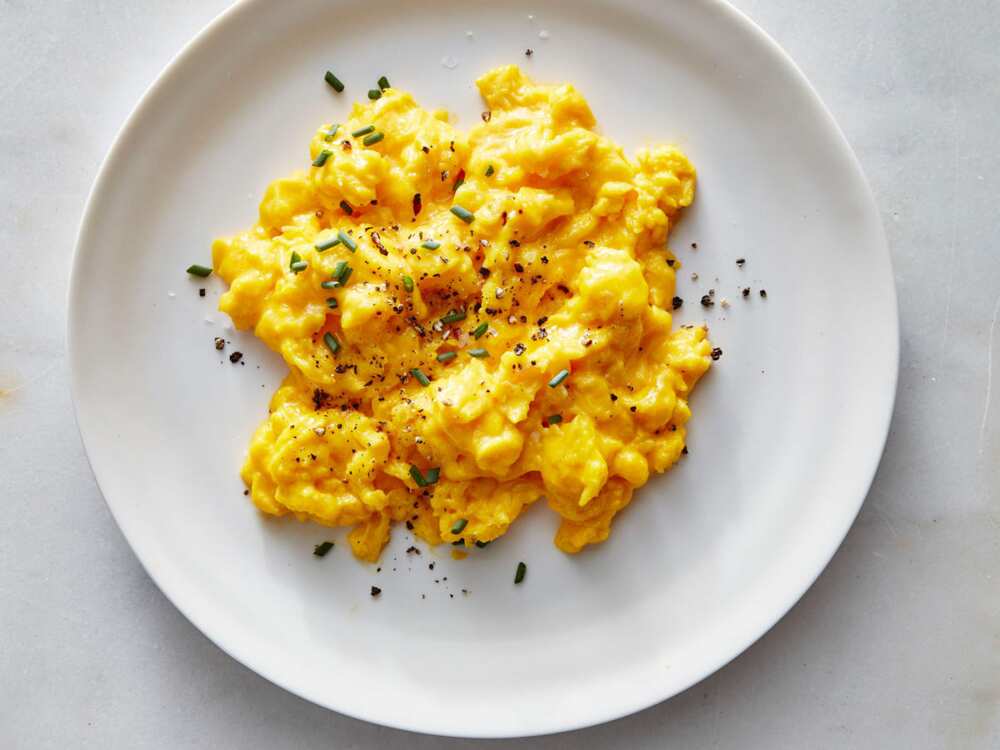 READ ALSO: Types of eggs preparation
Cook until no visible liquid of eggs remains. Remove from heat and serve the dish immediately.
Scrambled eggs recipe ideas
The perfect scrambled eggs recipe is the recipe that you like the most, the dish is simple that is why it opens a huge horizon for experiments. Try to add some more ingredients while preparation, here we want to share with you some ideas about the additional ingredients for this dish.
Goat cheese scrambled eggs with tomatoes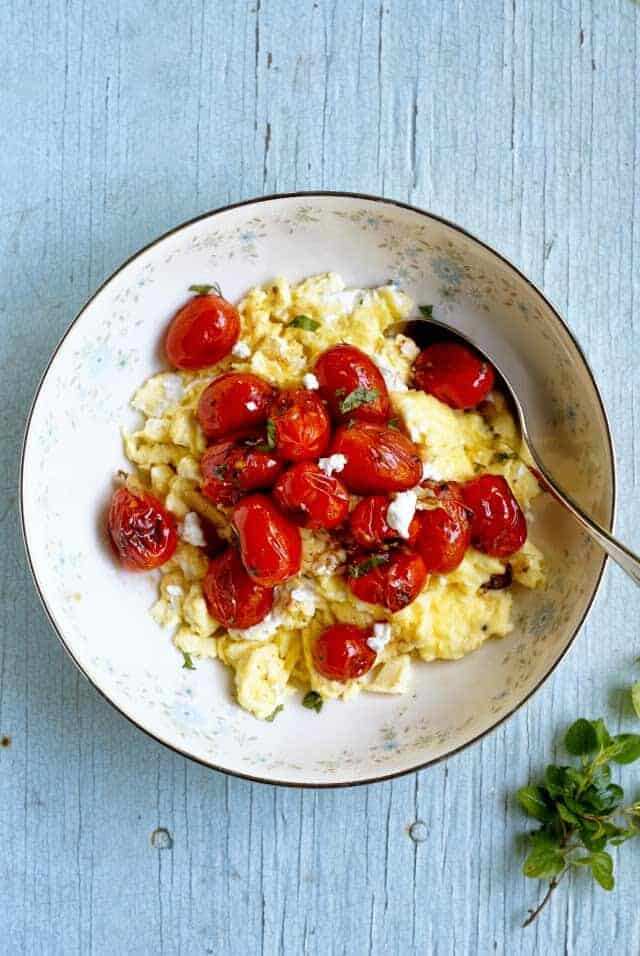 The ingredients:
One taplespoon of olive oil
One pint of grape tomatoes
One clove of garlic
Six eggs
Three tablespoons of heavy cream
One tablespoon of butter
Two ounces of goat cheese
Salt and pepper
Fresh herbs (thyme, oregano, basil)
The preparation method:
Heat the oil, add tomatoes and cook for around 2 minutes. Then add the garlic and stir it all well. Cook for more two minutes, and continue stirring. Remove the ingredients from a pan and set aside.
Take a medium bowl and mix there the eggs and cream, don't forget to add salt and pepper. Melt the butter and add eggs. Use a wooden spoon or spatula to fold the eggs as they start to set. Fry until the eggs reach doneness that you like. Add goat cheese and stir it well. Put the eggs to a bowl, add tomatoes and fresh herbs.
Garden veggie pesto scrambled eggs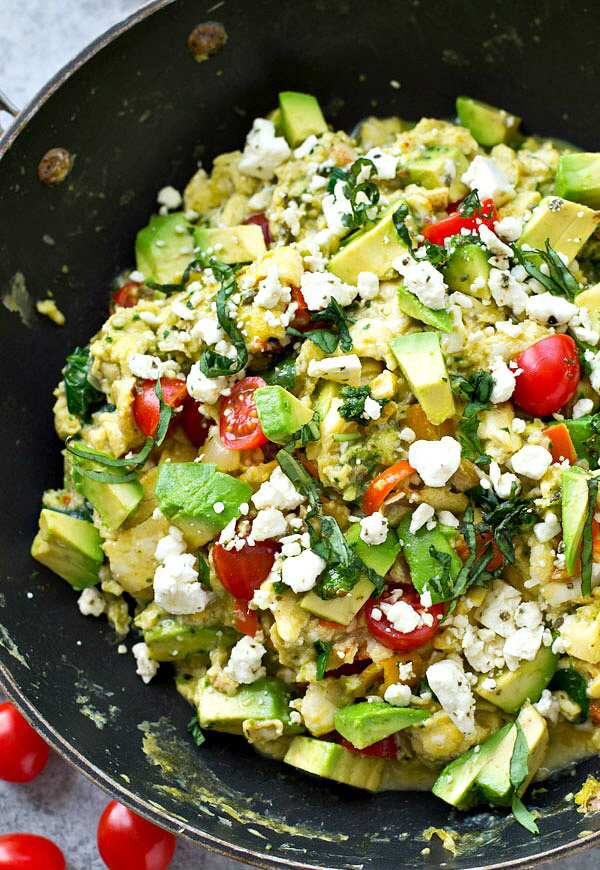 READ ALSO: How to make Nigerian buns with eggs?
Ingredients:
12 large eggs
1/2 cup milk
One large diced sweet pepper
Two cloves of minced garlic
One small finely diced onions
Two tablespoons of olive oil
1/2 cup of cherry tomatoes
1/2 cup of fresh spinach
1/2 cup of crumbled feta cheese
1/4 cup of prepared pesto
Salt and pepper to taste
Two tablespoons of minced fresh basil
The preparation:
Take a large bowl and mix there eggs with milk until smooth. Heat the skillet, saute onion, pepper, and garlic in olive oil for around 5 minutes. Now it is time to reduce heat and add eggs mixture to the pan. As eggs begin to set, fold them with a spatula until they are cooked.
Remove eggs from heat and add tomatoes, pesto and spinach. Add salt and pepper and top the dish with fresh basil and crumbled feta.
Fluffy scrambled eggs with avocado and feta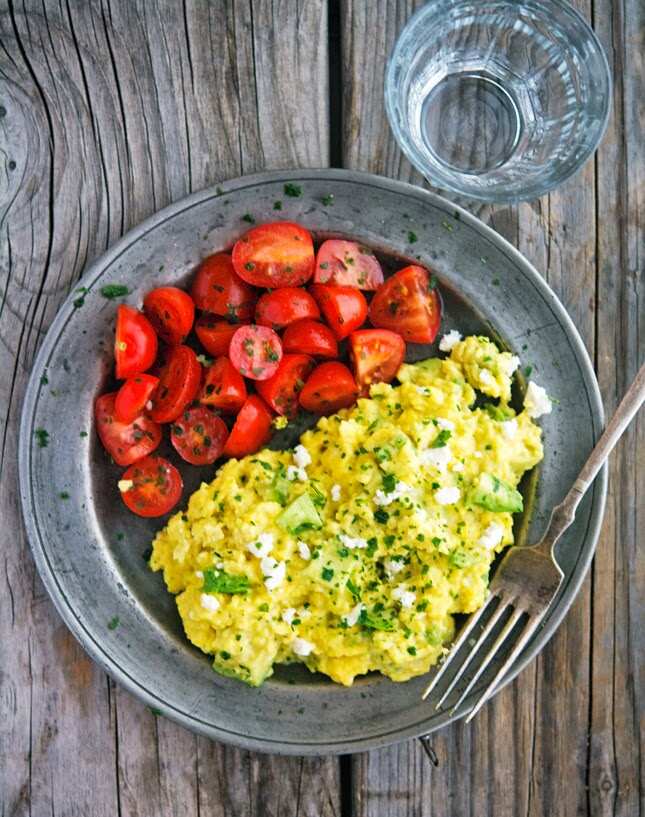 Ingredients:
Four large eggs
One tablespoon butter
¼ teaspoon fine grain sea salt
Two tablespoons of feta
One avocado and the fines herbs
Preparation:
Take saucepan and crack there eggs;
Take a pan and add there butter sliced into pieces;
Put the pan on the heat and mix the eggs to break them up. See also: How to make egg roll?
Stir the eggs constantly and after 5 minutes you will see small curds;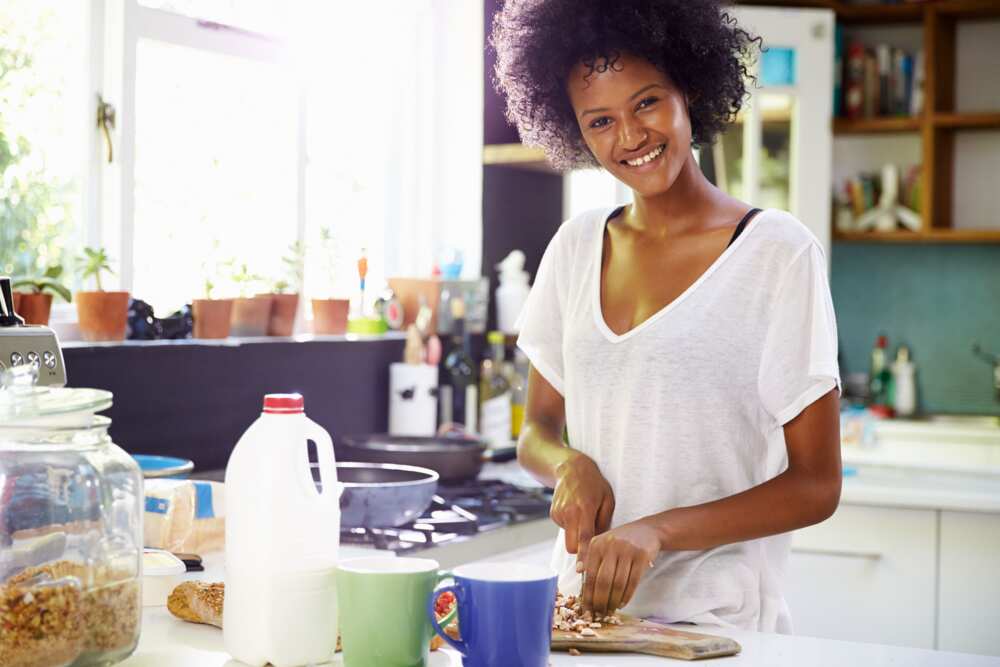 Once you saw still-wet curds, remove the pan from the heat. Add sliced avocado and the salt;
Add some chopped herbs, crumbled feta, and pepper. The dish is ready.
Some tips for scrambled eggs preparation
It is better not to use cast iron skillet to make scrambled eggs. The skillet made of this metal can produce a green shade, this effect may appear because of the reaction between elements contained in eggs and iron of the pan.
Don't overcook the eggs, remember that the heat retained in the skillet will continue to cook the dish when the heat is off.
If you want to get lighter fluffier curds, beat the eggs for a longer time.
Serve the dish immediately after preparation, it also can be held but only for a short time.
These are just a few ideas, and you can easily create your own recipes, enjoy!
READ ALSO: How to make Scotch eggs without flour?
Source: 23 Mouthwatering Ways To Upgrade Scrambled Eggs