Most populated city in Nigeria and top facts about it
This city is the largest city in the country, which attracts a large number of tourists. It is located on the coast of the Gulf of Guinea, which belongs to the Atlantic Ocean. The population of this city reached 13 million in 2018. Let`s find out what is the most populated city in Nigeria and what other cities are very close to this title.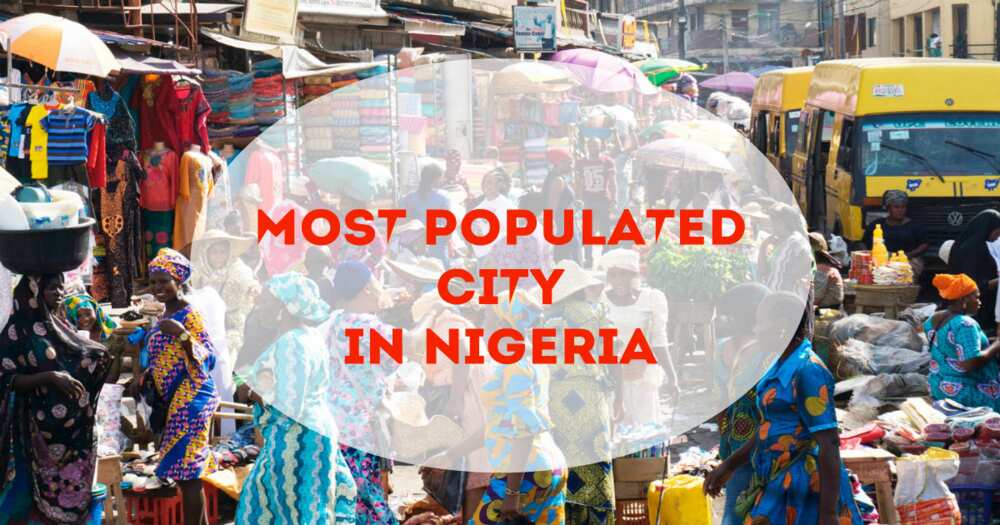 What's the most populated city in Nigeria?
According to worldpopulationreview.com the population of Lagos city reached 13,463,421 in 2018, and this makes the city the most populated in Nigeria.
1. Lagos
The center of the metropolis is located on the territory of the island of the same name, which is connected to the mainland of the country with the help of a bridge and a dam, passing to the neighboring island called Iddo. Here you can find a large number of buildings for offices. Traditional buildings that stand on narrow, curved streets are located in the old part of the city.
Lagos is a port city with its history and exotic flavor. The central part of the big city is entirely equipped. Here are government buildings, churches, and many high-rise residential buildings.
The former capital of Nigeria provides all the signs of the modern African lifestyle. It also applies to congested streets with a high degree of development. In Lagos, you can find both traditional houses and buildings in unusual Brazilian baroque style. In the central part of the city, there are super-modern buildings, as well as production facilities.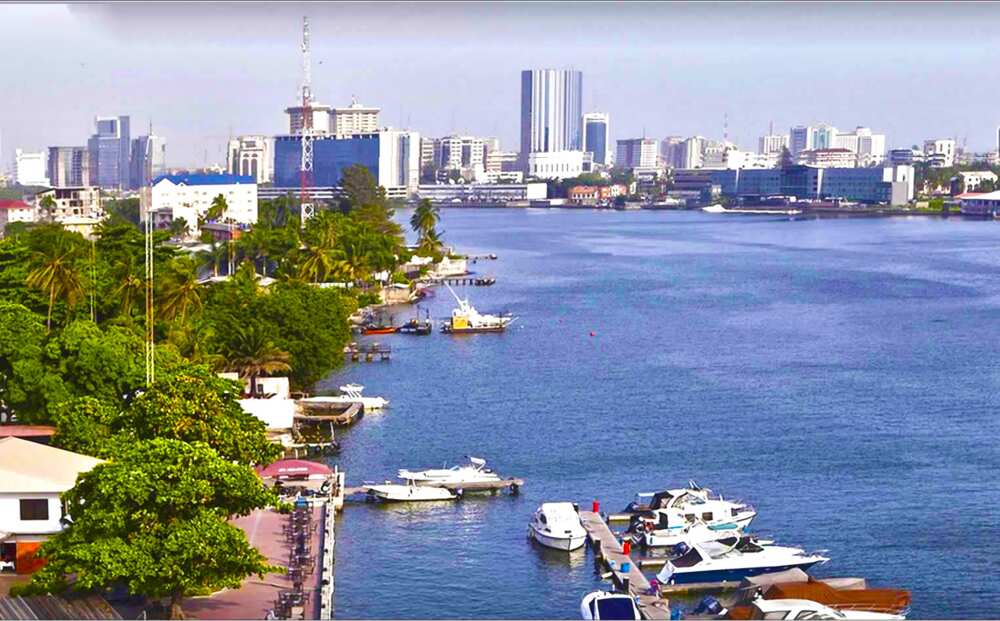 Photo from hotels.ng
READ ALSO: Smallest city in Nigeria by population and land mass
Now take a look at the top facts about Lagos city we believe you should know:
Location: West Africa, southwest Nigeria
Foundation year: 1472
Administrative division (metropolis): 16 city councils
Islands: Lagos (Eko), Victoria, Ikoyi, Iddo
Currency unit: Naira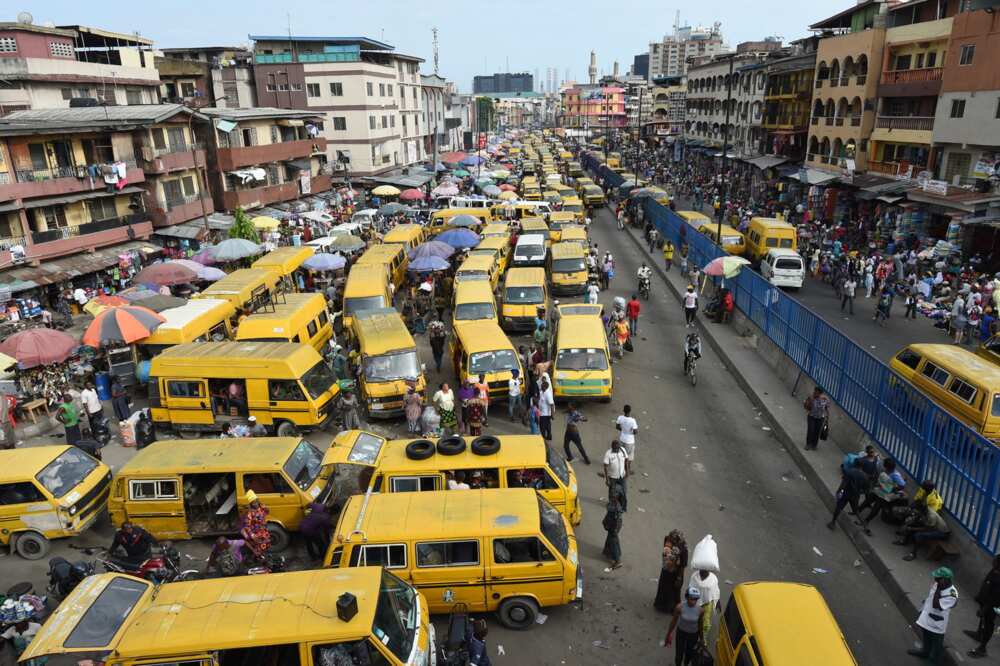 Picture from guardian.ng
Density: 6,871 km2
Urban area: 13,123,000
Urban density: 14,469 km2
Metro area: 21,000,000
Metro density: 7,759 km2
Lagos population continues to grow as more people come to this city looking for bright future. The growth of the population was analyzed by worldpopulationreview.com, and they forecast that by 2035, the population of Lagos is expected to grow and reach almost 25 million, which will make it the 3rd largest city in the world.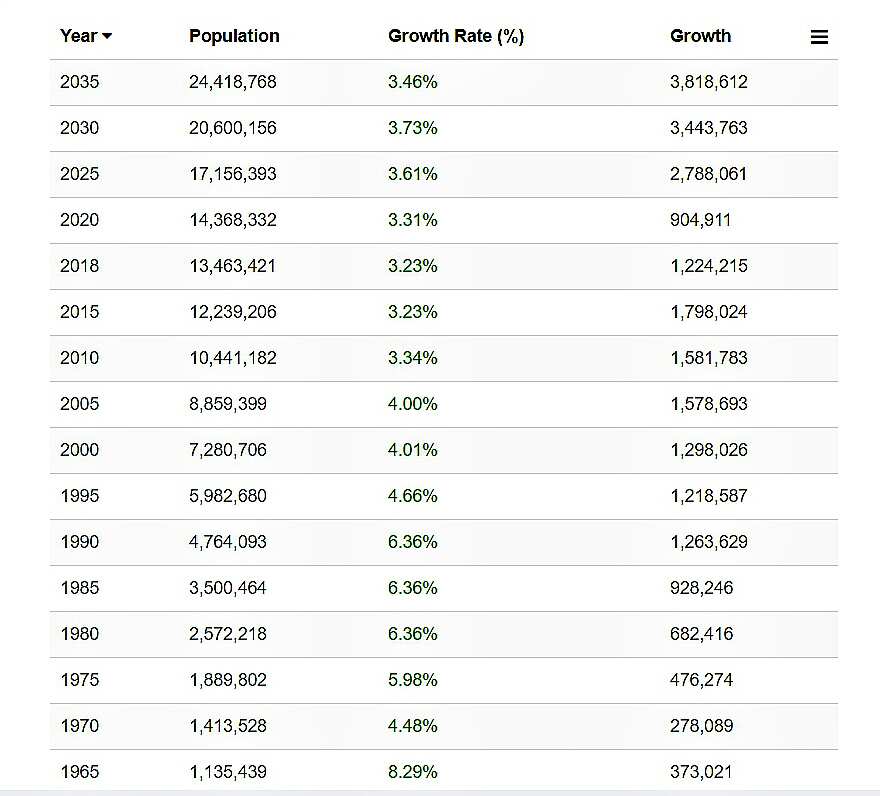 Source of photo: worldpopulationreview.com
5 most populated cities in Nigeria
Now you that Lagos is the largest city in Nigeria in terms of population. Do you also want to know what other 4 cities are making the top 5 most populated cities in Nigeria in 2018? If yes, just keep reading to find out their names.
2. Kano
Short information: It is the state capital of Kano State in North West, Nigeria. It is situated in the Sahelian geographic region, south of the Sahara. Kano is the commercial centre of Northern Nigeria and is the second largest city in Nigeria. The Kano metropolis initially covered 137 square kilometres (53 square miles) and comprised six local government areas (LGAs) — Kano Municipal, Fagge, Dala, Gwale, Tarauni, and Nasarawa. However, it now covers two additional LGAs — Ungogo and Kumbotso. The total area of Metropolitan Kano is now 499 square kilometres (193 square miles), with a population of 2,828,861 as of the 2006 Nigerian census; the latest official estimate (for 2016) is 3,931,300.
Density: 5,700 km2
City area: 499 km2
Urban area: 251 km2
Urban density: 14,100 km2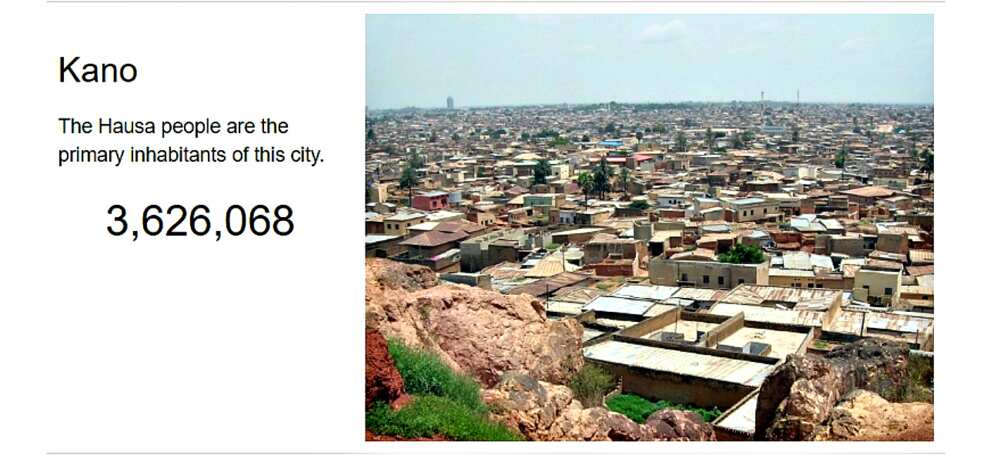 Screenshot from worldpopulationreview.com
3. Ibadan
Short information: It is the capital and most populous city of Oyo State, Nigeria. With a population of over 3 million, it is the third most populous city in Nigeria after Lagos and Kano; it is the country's largest city by geographical area after Gusau. At the time of Nigeria's independence in 1960, Ibadan was the largest and most populous city in the country and the second most populous in Africa after Cairo.
Density: 985.13 km2
Urban area: 6,800 km2
Urban density: 464.71 km2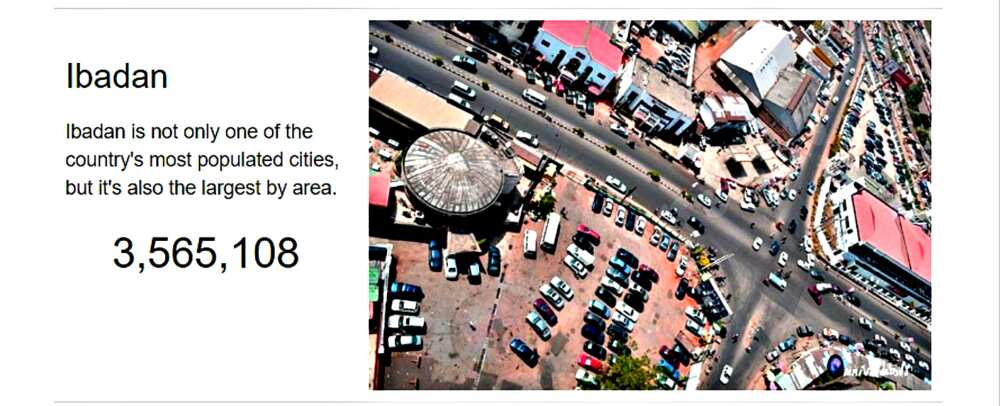 Photo from worldpopulationreview.com
4. Kaduna
Short information: It is the state capital of Kaduna State in north-western Nigeria, on the Kaduna River. It is a trade centre and a major transportation hub for the surrounding agricultural areas, with its rail and road junction. The population of Kaduna was 760,084 as of the 2006 Nigerian census. Rapid urbanization over the past decade has created an increasingly large population, now estimated to be over 1.5 million.
Area: 131 km2
Density: 5,800 km2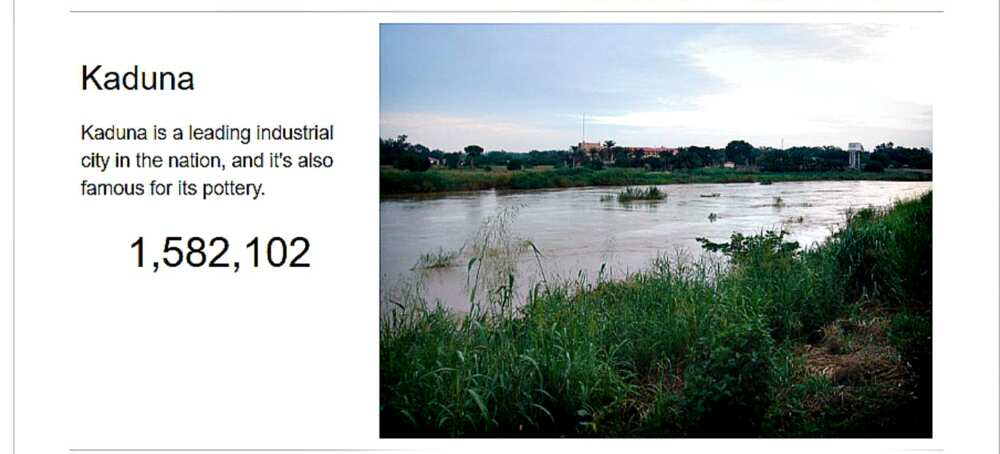 Picture from worldpopulationreview.com
5. Port Harcourt
Short information: It is the capital and largest city of Rivers State, Nigeria. It lies along the Bonny River and is located in the Niger Delta.
Density: 2,700 km2
Area: 369 km2
Urban density: 12,000 km2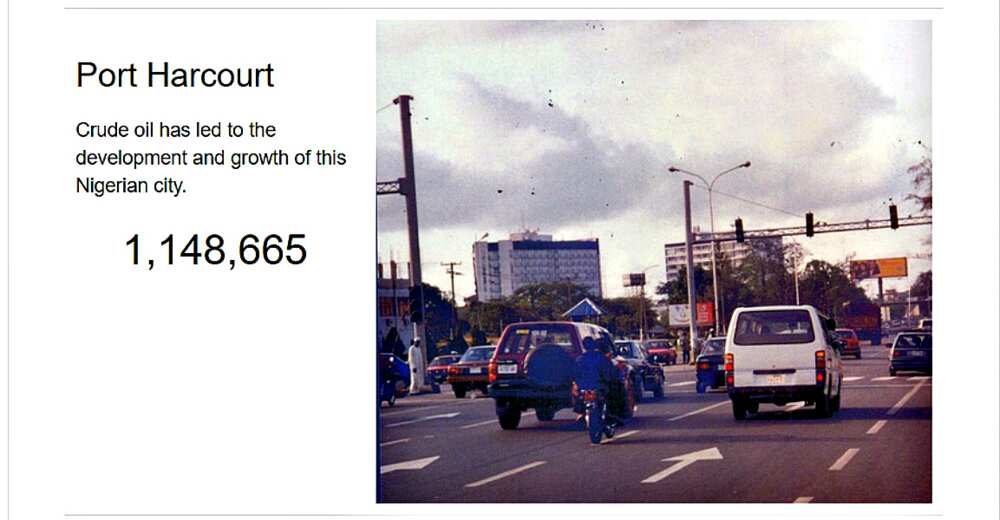 Source of photo: worldpopulationreview.com
Now you know that Nigeria's most populous city is Lagos. Due to population density, the city suffers from a lack of oxygen and space. Nevertheless, the former capital attracts millions of tourists every year. You also have learned what other cities are the leaders in Nigeria in terms of population.
READ ALSO: Cleanest city in Africa - Top 10
Source: Legit.ng