Chinese rice recipe with vegetables
We cannot help but share top Chinese fried rice recipes with you. If you've looked instructions on how to cook it correctly and couldn't find the best guide, look no further! Here we have top two recipes which will impress your guests.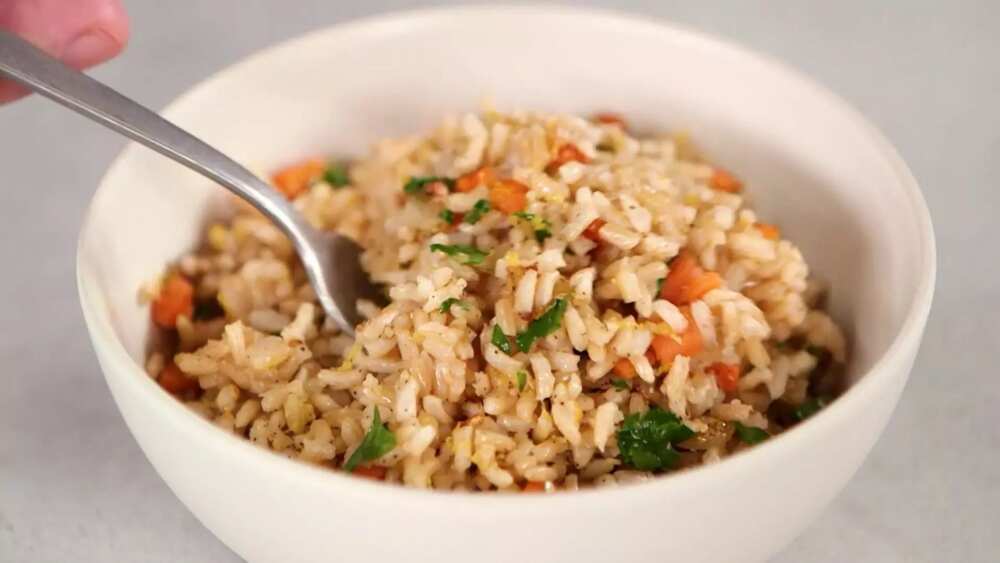 Chinese rice recipe with vegetables
1 cup of long grain rice;
2 glasses of water;
2 tbsp. of soy sauce;
1 clove of garlic;
2 eggs;
any frozen vegetables (for example, mix of peas, carrots, leeks, bamboo shoots, Chinese mushrooms or something else);
salt, pepper to taste.
Instructions
Boil rice. Let it cool completely. This turns out to be very important so that the result will not look like porridge.
Beat the eggs and pour into a heated frying pan with a little butter. We turn over to the other side, letting it fry for a while, remove it from the heat into separate dishes and DO NOT let it cool down.
Pour 2 tablespoons of vegetable oil on the same heated pan and throw back a mix of frozen vegetables, after a couple of minutes, squeeze the same garlic and stew a couple of minutes.
Add rice to the contents of the pan, mix well, pour all the soy sauce and add our omelet (cut into strips or as you like).
Cover everything with a lid, let it stand on a small fire for another 5 minutes and that's it! This Chinese rice and vegetables recipe will be favorite in your family!
Chinese rice with eggs and vegetables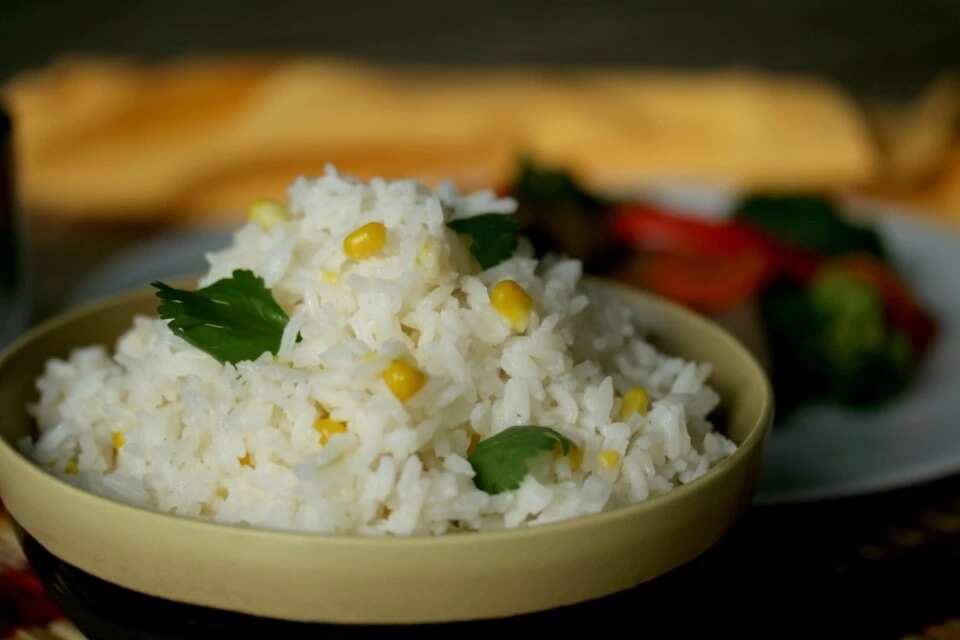 READ ALSO: How to make guava leaf tea
Now almost in any kitchen you can cook an interesting and original traditional Chinese cuisine - rice with vegetables and eggs. It is very fast and simple, easy and tasty. The main feature is that Chinese rice recipe is a full and very healthy meal. To create this meal you will need:
long grain rice - 200g
egg - 2 pcs
water - 0.6 l
carrot - 100 g
sweet red pepper - 150 g
onions - 200 g
vegetable oil - 20 g
green peas (fresh) - 150 g
sweet corn (canned) - 100 g
soy sauce - 25 g
Cooking takes forty minutes. The nutritional value of one hundred grams will be only 88 kcal.
You may not cook rice in the evening, but wash the cereal and prepare it at least two hours before making the dish - the rice should be cold and crumbly. To do this, it should be poured into boiling water, boiled in slightly salted water for ten minutes, and then washed with boiling water and poured into a colander to remove unwanted liquid.
All vegetables are peeled, cut into cubes of the same size. Pour oil into a frying pan and add the vegetables turn and fry for two minutes first onions to transparency, then carrots and peppers to softness. Then pour peas, corn and stew for five minutes.
Eggs should be beat, fried separately or, slightly pushing away the vegetables, stirring constantly on the same pan to a crumbly state. After adding the rice, pour in the sauce and mix well. Stew for another three minutes.
Culinary tips
In China, when cooking fried rice recipe Chinese with egg, culinary specialists use a variety of traditional spices - sage, curry, sesame, thyme, barberry, coriander.
If the selected green peas are fresh, it should still be boiled for three minutes in slightly salted water before the main cooking.
The dish will be more delicious when using butter;
Rice can be boiled in meat broth to improve the aroma;
You can use other vegetables - asparagus, zucchini, beans, celery, tomato Chinese rice dish recipe!
Will you try it at home? Share your opinion in comments!
READ ALSO: How to use guava leaves for weight loss
Source: Legit.ng