Plus size dresses for wedding guests in Nigeria
Searching for plus size dresses for a wedding party, many women start to think that they are not going to find anything suitable because they don't meet standard sizes and dimensions. Not all fashions match their figures, not all colors suit them well, and not all tailors agree to create something suitable for such an occasion. Still, being curvy doesn't mean being out of fashion. Check out these dresses!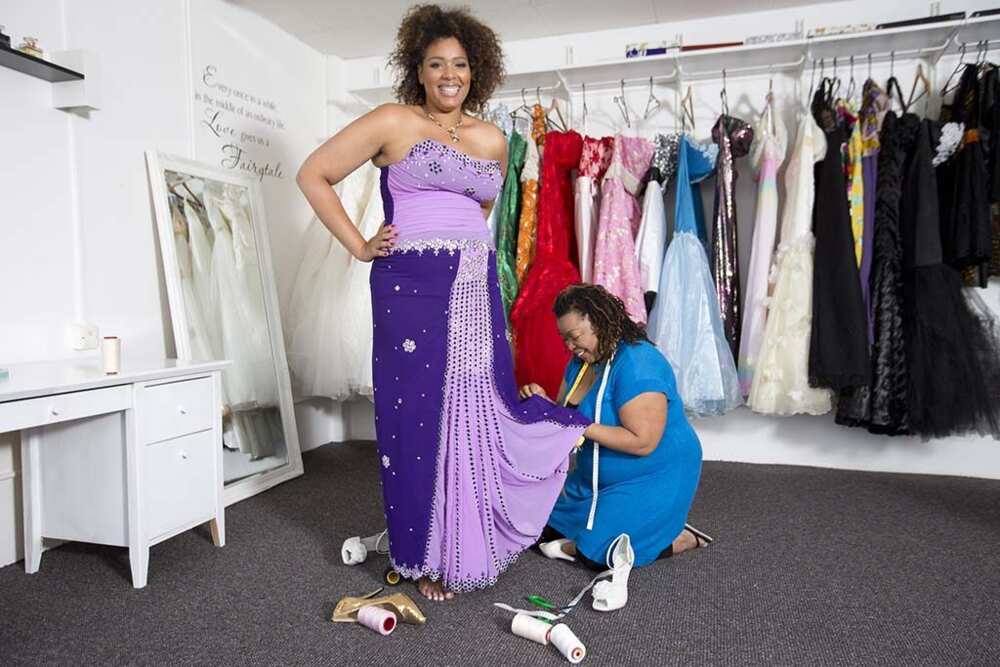 The idea of plus size dresses for wedding guests
In Nigeria, wedding parties are big with numerous guests from both the bride's and the groom's part. It's a good tradition to organize such luxurious weddings to celebrate a new family and a start of a new life for the two. It's also a tradition that wedding guests have their color codes. The bride's relatives and guests are dressed in one color and the groom's kin is dressed in another one. This makes a wedding perfectly harmonious and bright.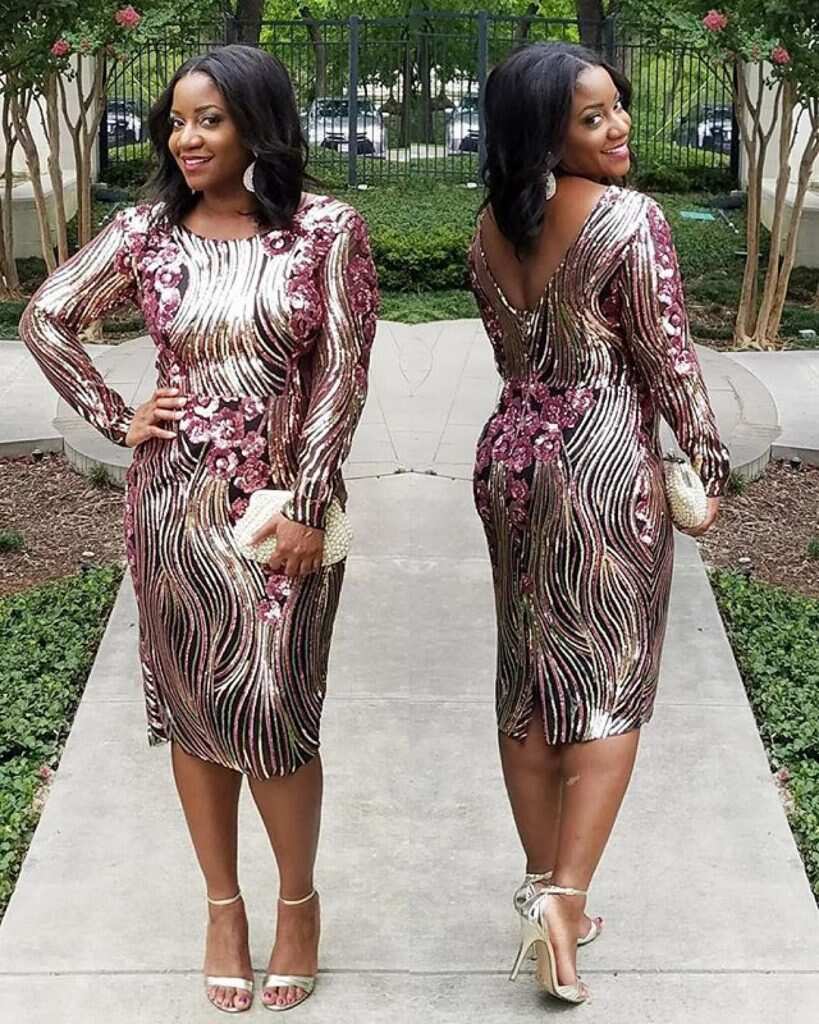 READ ALSO: How to do makeup for wedding
However, this makes the celebration more complicated for the guests. If you are invited to a wedding, it's often necessary to search for a suitable attire because everything you may have may not match the necessary color. If you are a curvy lady, the process of searching may last for a very long time. Fancy dresses often seem to be made for skinny ones alone.
Yet, there's no need to be desperate. Here you can see a selection of lovely wedding guests dresses that will enhance the beauty of curvy shapes and give you the look of a real queen. Check out these fashions and choose something for the wedding you are attending.
Plus size wedding guest dress designs in Nigeria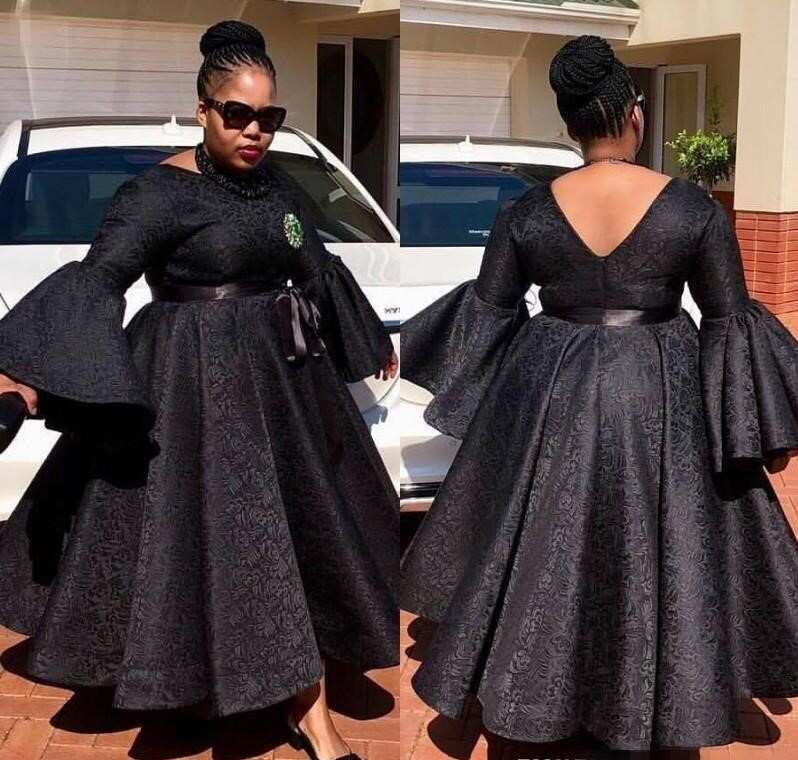 Nigerian ladies who are considered to be plus-size are usually really curvy with magnificent lines of bodies. This is why they don't need to hide much. Everything a good plus-size dress should do in their case is emphasize their natural beauty.
Check out this lovely and luxurious dress with a combination of fabrics. The matt and dark bottom part of a solid black color gives the lower part of the body a penciled shape and a gorgeous look. A very high waistline gives an accent to a slender waist and, simultaneously, supports the utterly tempting curve of the upper part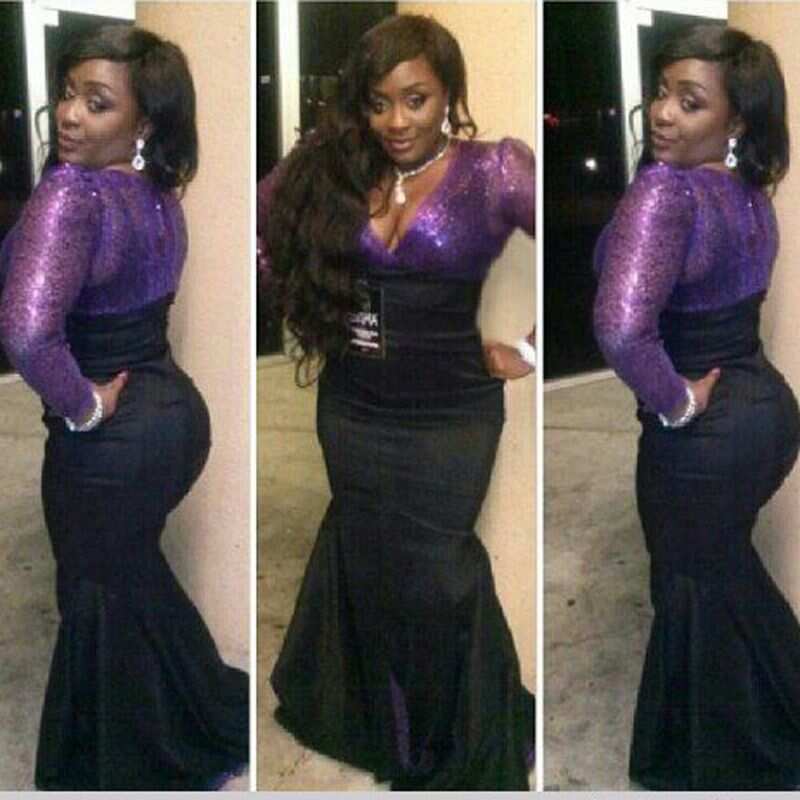 The shiny purple fabric attracts attention and gives the curves some extra ampleness, mating them incredibly beautiful. The deep neck opening that exposes even the cleavage is compensated by long sleeves that cover shoulders and arms completely.
This dark blue dress is exactly what you need for a wedding party of your friend. Long and flowing, it will add you height. The skirt will focus the attention on the ample bottom and the line between the bum and the back. The tight waistline will show how slender your waist is. At the same time, the top part decorated with fake pearls and lace will give your garment lightness and grace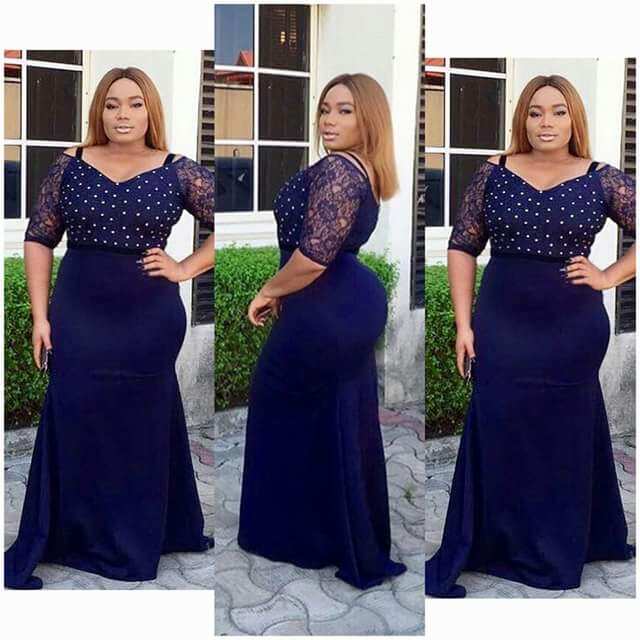 READ ALSO: Best wedding suit colour combinations for men in 2018-2019
It's often believed that curvy people should wear only black clothes to seem more slender. In fact, dark colors really make plus sizes seem smaller but if you have nothing to hide, why not wear something bright and juicy, like this dress? You can be sure: you'll have all their eyes on you!
One more option for a wedding party is right in front of your eyes. This queenly black dress with a line of golden embroidery is incredible. Just look how magnificently it wraps every curve and gives it a magical touch of attraction. Would you like to wear it for your party?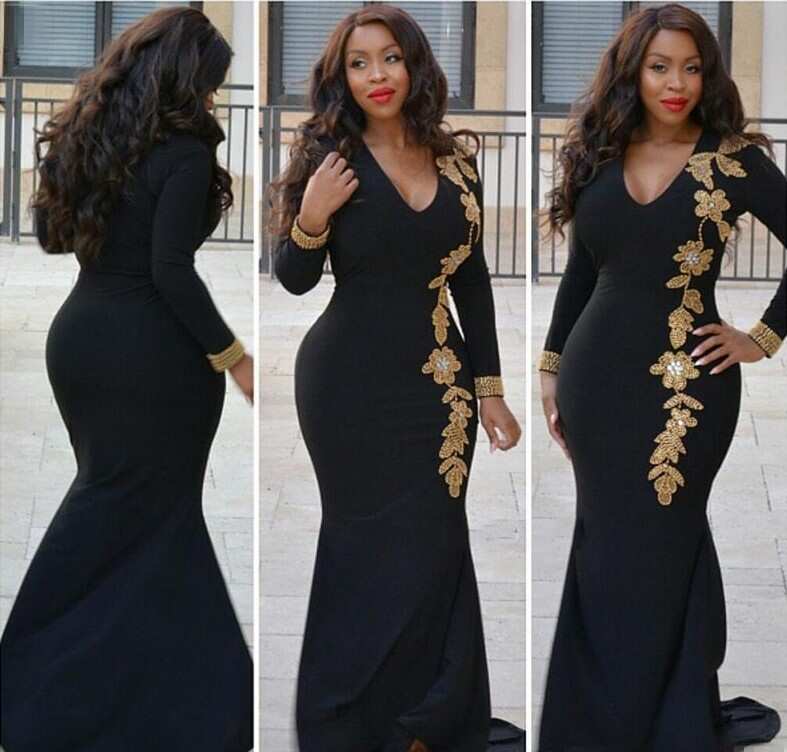 This dress is worth even the bride herself should she want an unusual wedding gown. Still, if you are a guest, you are free to choose whatever you prefer. If you like the style, may this be your choice. The mermaid fashion, so feminine and beautiful, is exactly what is needed to show a woman's beauty. The modest decorations are a statement but not the one that overpowers the charm of the bride. This is a wonderful choice for a guest.
Golden weddings are very popular these days. Brides choose golden dresses of all types and fashions to shine bright and look lovely on their special day. If you want and if the color code of the wedding allows, you can wear a golden dress, too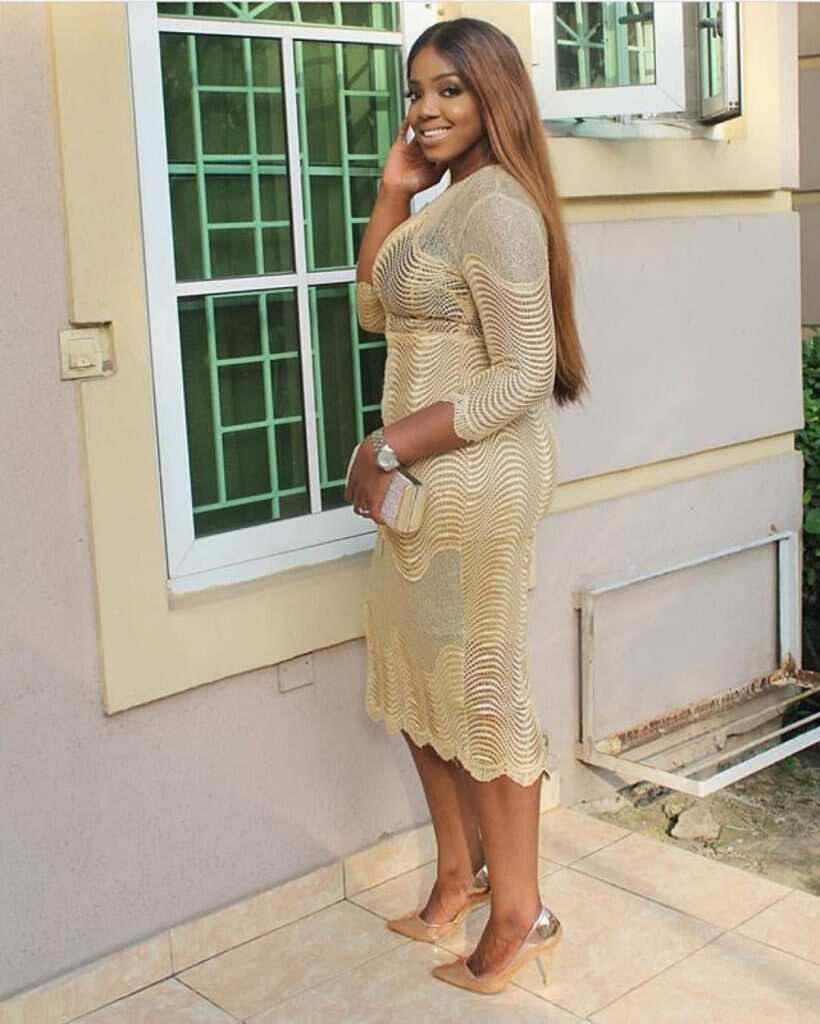 The trick of golden dresses for African women is in their ability to give a special charm to their skin tone, whatever it is. It doesn't matter much which golden hue you choose because every one of them will look gorgeous on you. Choose matching accessories and shoes – and your wedding party look is complete and perfect!
Let this simplicity not fool you! This plain dress made out of a flowing dark blue fabric is splendid without any decorations. It's for those regal bodies with ample chests, slender waists, and full hips, which attract eyes and charm minds. If you are one of them, try this style on!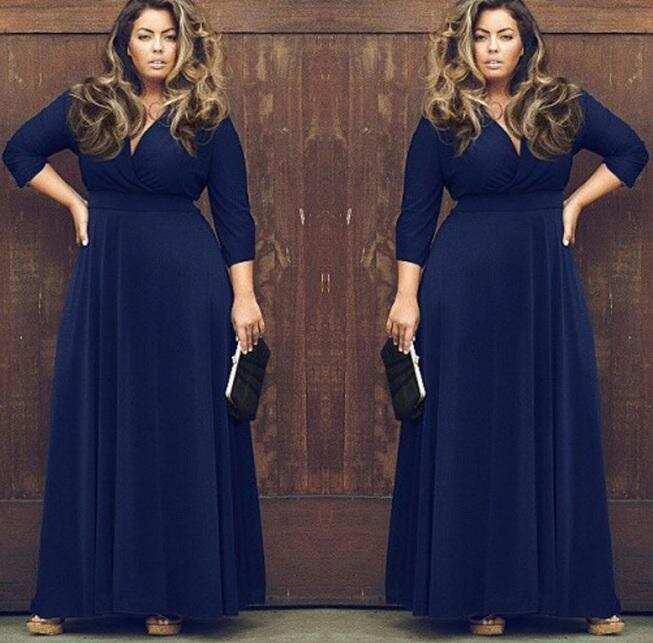 Such a dress will look great with sandals in a casual style. They will dissolve the concentrated elegance of the dress and make a pleasant contrast. You should feel free to choose any accessories. A small clutch purse will be great. If your ears are pierced, a couple of noticeable big earrings will make an outstanding statement!
Who said that Ankara can't be a great wedding guest dress designs in Nigeria? It can and it is, indeed! This dress rocks not only because of the patterns and colors. It's also extremely feminine and attractive. The flounced sleeves and the tight style increase the attractiveness of feminine curves by several times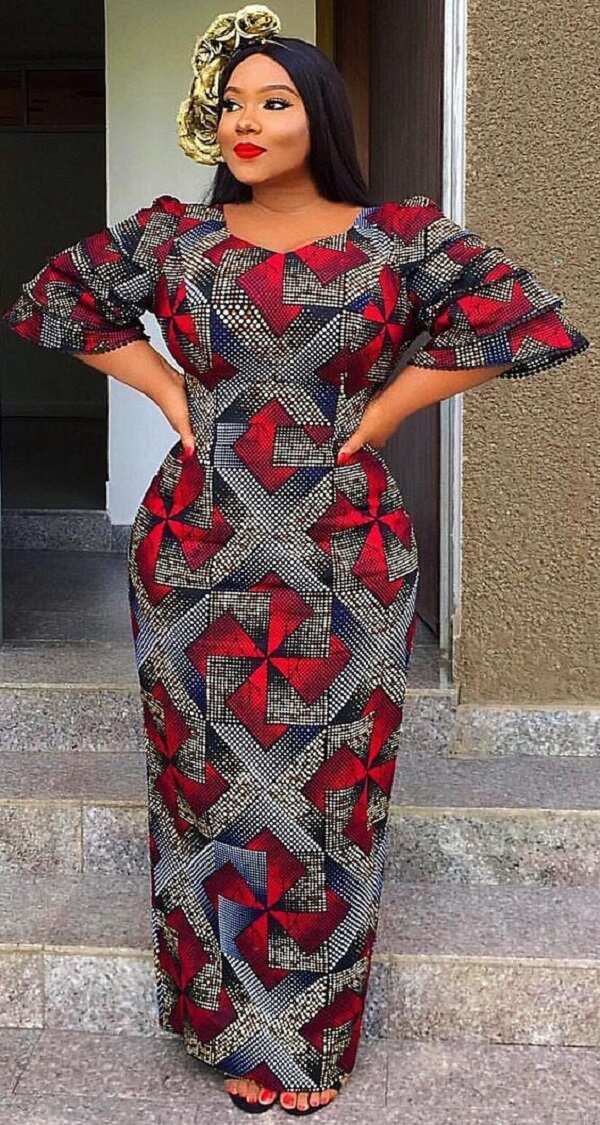 A straight bottom can be no less attractive than a mermaid skirt. If you are still in two minds, just give this fashion a try. You will never remain disappointed, this is a fact! A matching manicure and pedicure (if you are wearing open-toed shoes) will complete the look. Such a dress will also look great with a traditional head tie, if you are into wearing such accessories.
In this dress you will look like a Hollywood star from the Golden Era. If you are into wearing such a dress, you need to be sure that all other guests will be dressed in the same luxurious way and that you will not beat the beauty of the bride's gown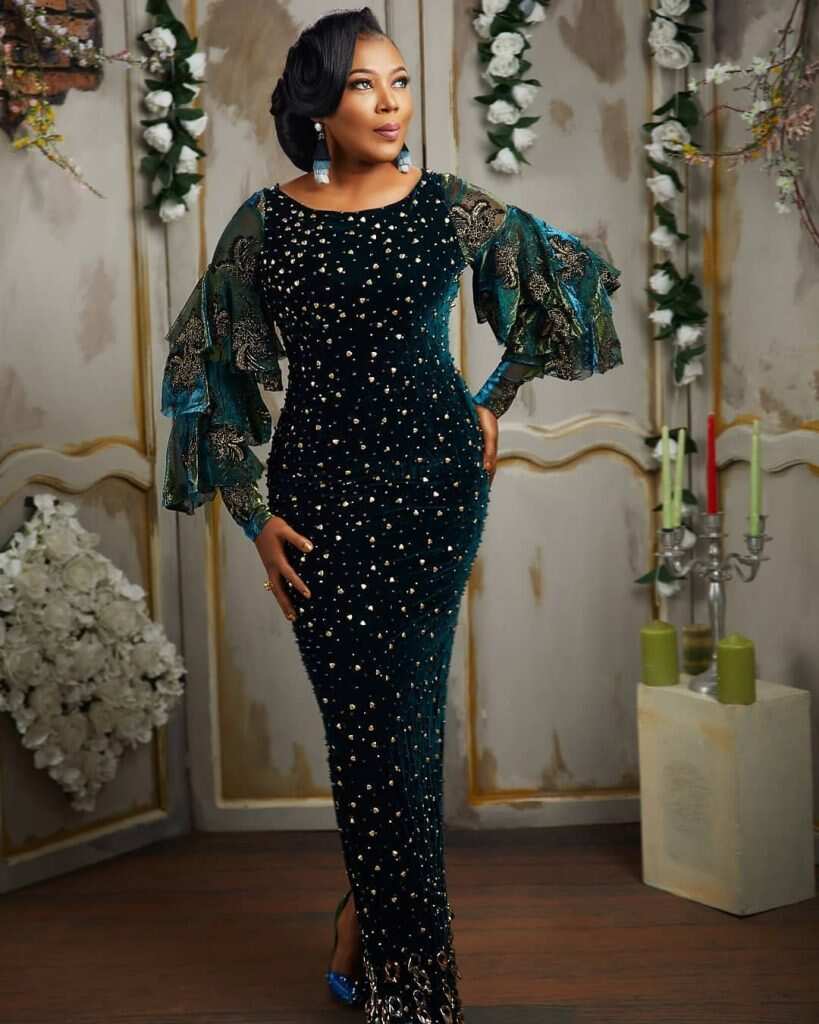 READ ALSO: Court wedding dresses in Nigeria to choose this year
Velvet set with fake peals and rhinestones is an incredible choice for a wedding party. There's no need to say that such a dress is already a statement. It demands an exquisite hairstyle and elegant accessories from head to toe. Be careful but daring enough to wear it! You will know what it is to be a star!
Traditional styles are also great for a wedding guest. Consider this peplum flounce and an asymmetric shoulder line in a traditional style. This is a great option for an Aso Ebi design and it also includes a traditional head tie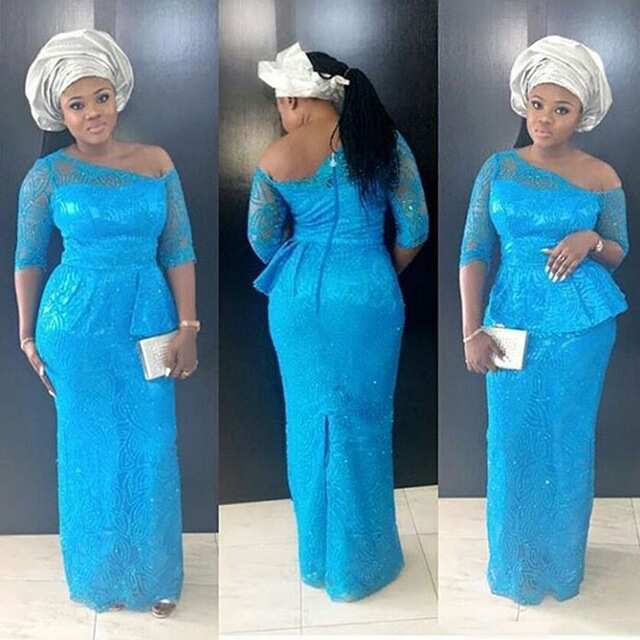 Native styles in wedding guest dresses are frequent and popular, so this style is not the only one that you can choose. Feel free to experiment with colors, styles and lines, and you will receive stunning variations. Paired with matching accessories, even the simplest native styles will look splendid enough for an occasion like a wedding.
How do you like this not quite African style? A dress that looks like a snow-white blouse and an office skirt – is it a good option for a wedding guest? It is, indeed. The decorative belt looks festive enough to make the whole look less official. Small details like jewelry, accessories and makeup hint that it's a festive garment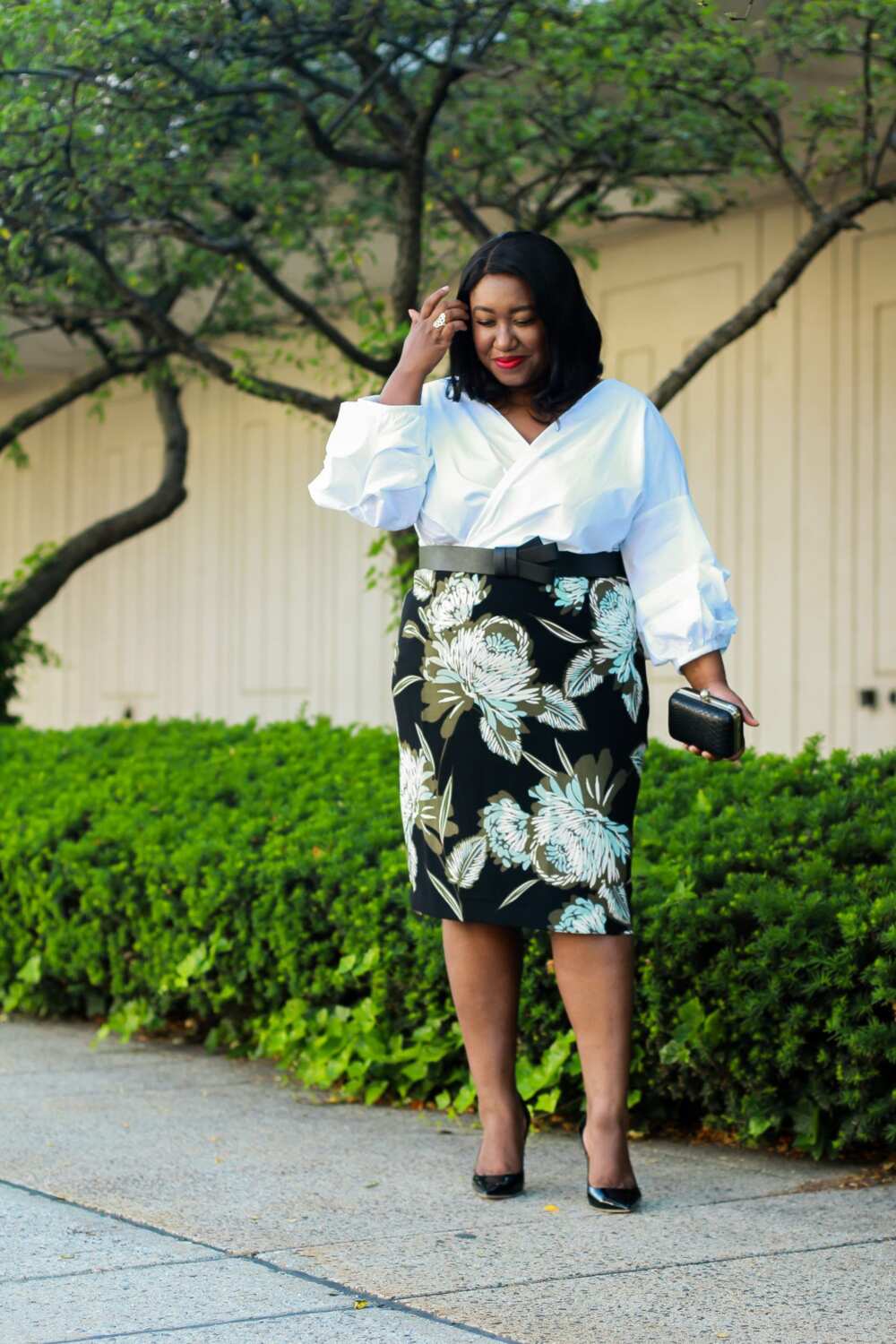 This is a comfortable, stylish and elegant wedding guest dress for plus size women. You are free to combine any colors and textures just sticking to the idea of a top and a skirt combined into a single dress. You will like it, indeed!
READ ALSO: Nikah wedding dresses in Nigeria - Best designs for special brides
Source: Legit.ng