Top 3 yam recipes in Nigeria
Today, we want to introduce to you some of the best yam recipes, that you will find delicious and fantastically easy at the same time. We have prepared top-3 recipes in our article. So, let's get started and find them out.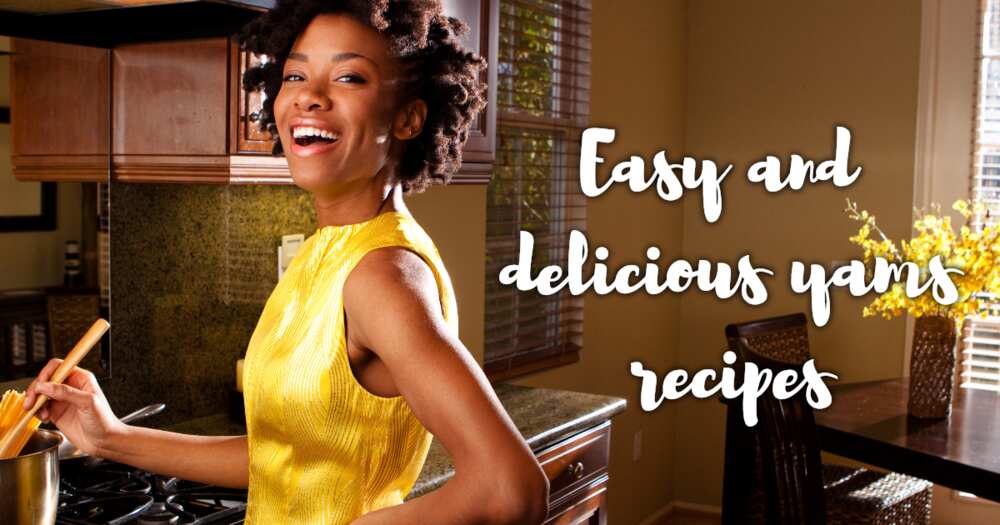 Pounded yam recipe
One of the recipes of yam we want to introduce you is pounded yams. These yam dish recipes are considered the traditional performance of this product. Pounded yams are easy to cook and quite simple as a dish, but it is very delicious anyway. Also, it is multifunctional as it can double as a side dish and can be used for further preparation in various recipes.
Ingredients:
yams - 4 medium-sized tubers;
milk - 1/2 of a cup;
butter - 2 tablespoons;
Spanish garlic (or regular onion) - 3 pcs.;
salt - 1 teaspoon.
Preparation:
First of all, we need to peel off the yams. When you have removed the skin, cut it into big or medium pieces. These pieces should be as similar in the size as possible. It is necessary to be sure that they will be cooked equally in time.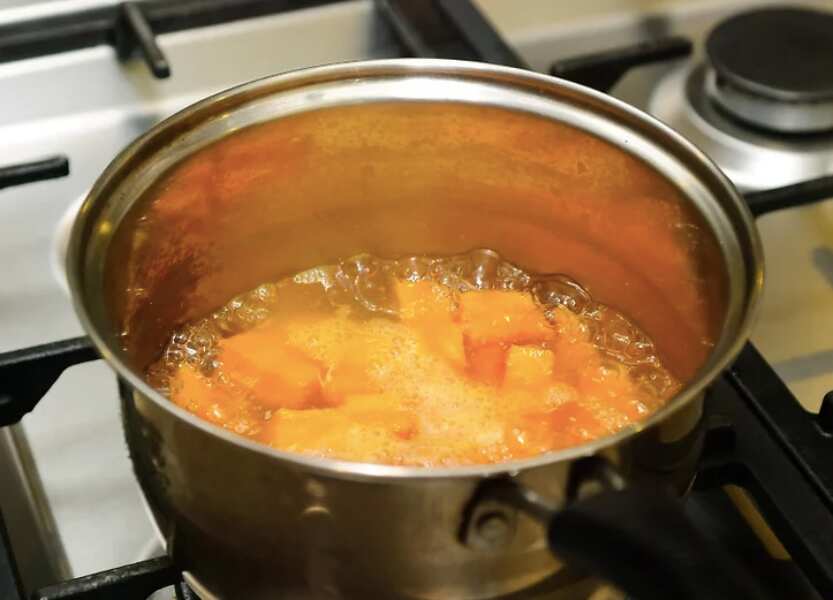 Now, put yams pieces into a saucepan and pour some water. The amount of water must be enough to cover the pieces fully. Then add your salt to the water and mix everything a little bit. Next, place the saucepan on the stove and turn on the fire on the maximum heat level. Bring water to boil, and when it is ready, set the heat on the medium level and cook until readiness of the yams.
To check if it is done, use a knife of a fork. If you can poke the pieces through easy, it means the yams are ready, and you can turn off the stove. Usually, it takes about 15-20 minutes for yams to get done after the water boils.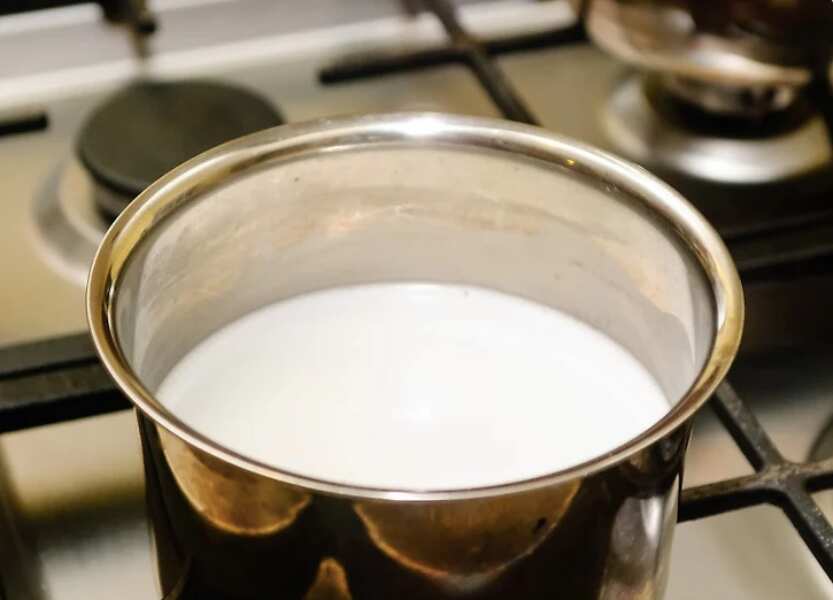 While the yams are boiling, let's get to the milk and butter. Take a smaller pot and place them into it. Put the saucepan on the stove and bring the milk with butter to the boil on the medium fire. Let it boil for a couple of minutes, to let the butter dissolve in the milk thoroughly. Then, turn off the heat, and put the pot with this mixture aside.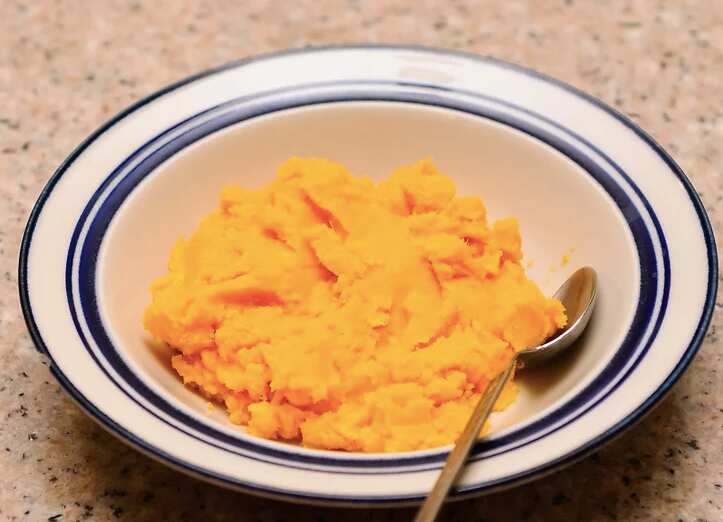 Now, let's get back to the yams. When it is ready, pour away the remains of water. When there is no water left, pour in milk little by little and pound the yams gently until its consistency is smooth and even. When you are satisfied with the consistency, its structure, and density, add chopped Spanish garlic or onions to it. According to your preferences, you can add it fresh or fried.
And now our pounded yam is ready to be served. Enjoy your meal!
Baked caramelized yams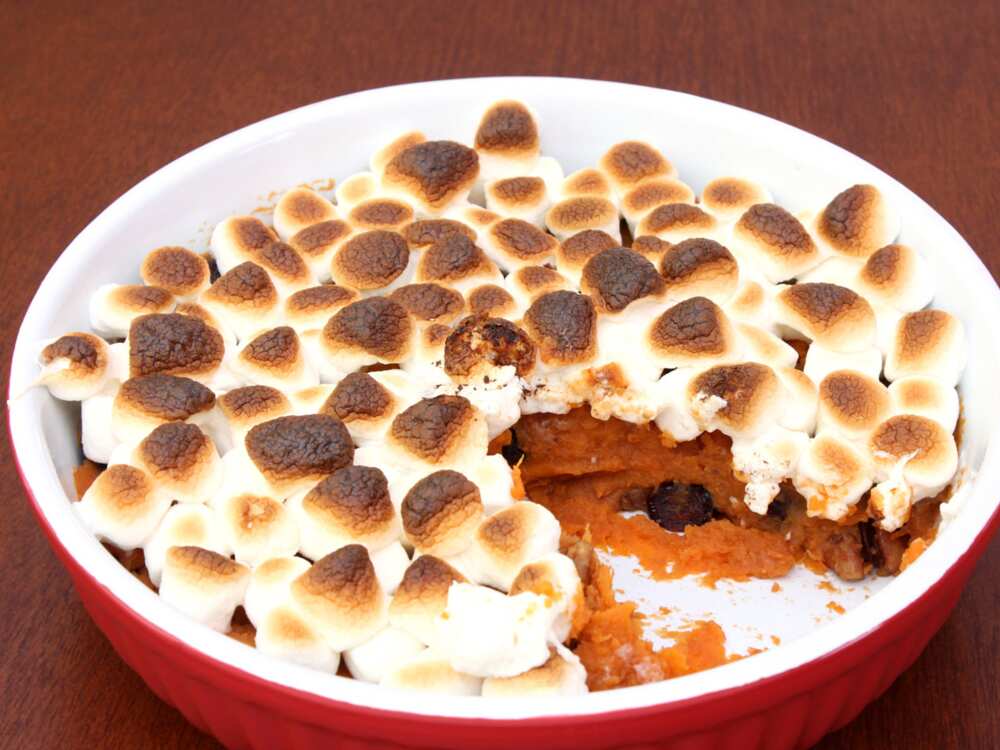 Our last recipe will surprise and satisfy you. We bet you, you will find this combination of baked yams with sweet syrup fantastic. With this recipe you will be able to astonish yourself and your guests.
Ingredients:
yams - 8 medium-sized tubers;
water - 2 and 1/2 cups;
brown sugar - 1 and 1/3 cups;
butter - 4 tablespoons;
cinnamon - 1 and 1/2 teaspoons;
vanilla - 1 and 1/2 teaspoons;
marshmallows - one small package (about 100 grams).
Preparation: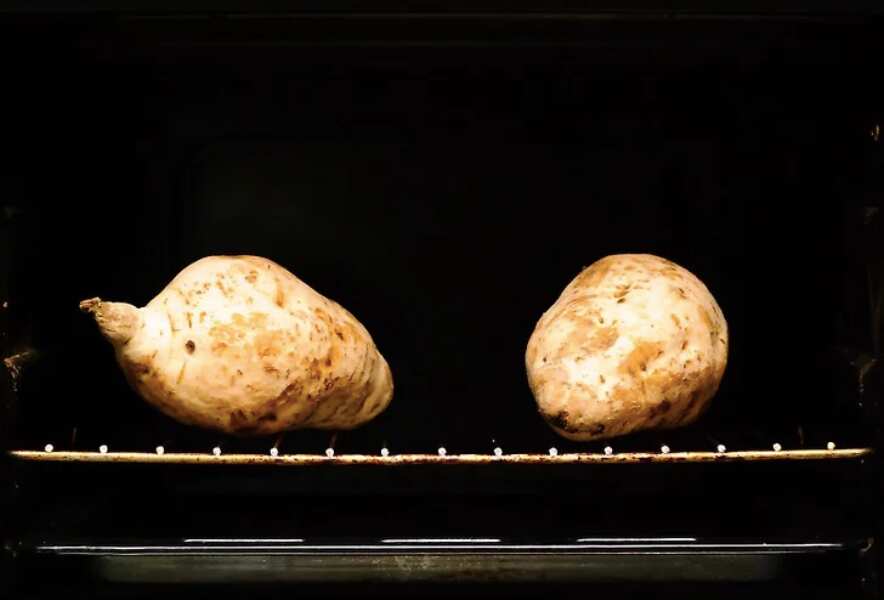 We will start our recipe by preparing yams. First, you need to bake them. You can do it in an oven or in the microwave. Gently wash the yams with cold water and then poke the sweet potatoes four or five times with a fork or a sharp knife. Put them in a baking dish. Preheat oven to 220 degrees C.
Bake for about 1 hour. Shake the baking pan once or twice to turn the yams to the other side while they are baking. Poke the sweet potato with a knife in the center. If the dish is ready, then the knife should enter gently and easily. If the yams have not yet been cooked, continue to cook it. Another characteristic sign that the sweet potato is ready is that it has become dark outside.
If you want to bake the entire yam tuber in the microwave, then make a few holes in it. Bake in the microwave on high. Cover the dish with a lid or plastic wrap. Bake for 3 minutes, when the time is over check whether the sweet potato has become soft. Continue to bake in the microwave at 2-minute intervals until ready.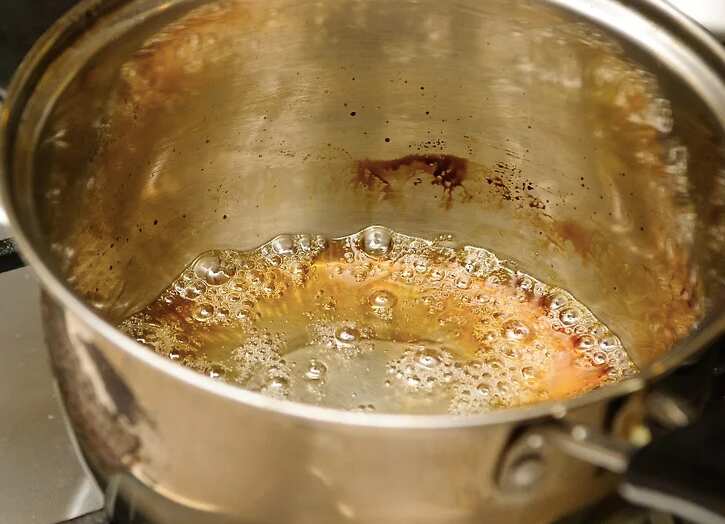 READ ALSO: Easy coconut rice recipes for everyone
While yams are baking, let's prepare our syrup. For this, mix all the ingredient for it in a small pot, place it on the oven and set the high heat level, so the liquid comes to boil. When it boils, lower the heat and cook for about 40 minutes. Mix the syrup gently all the time during the cooking, so that the sugar would not stick to the side of a pot. When the syrup obtain the necessary consistency, turn the oven off.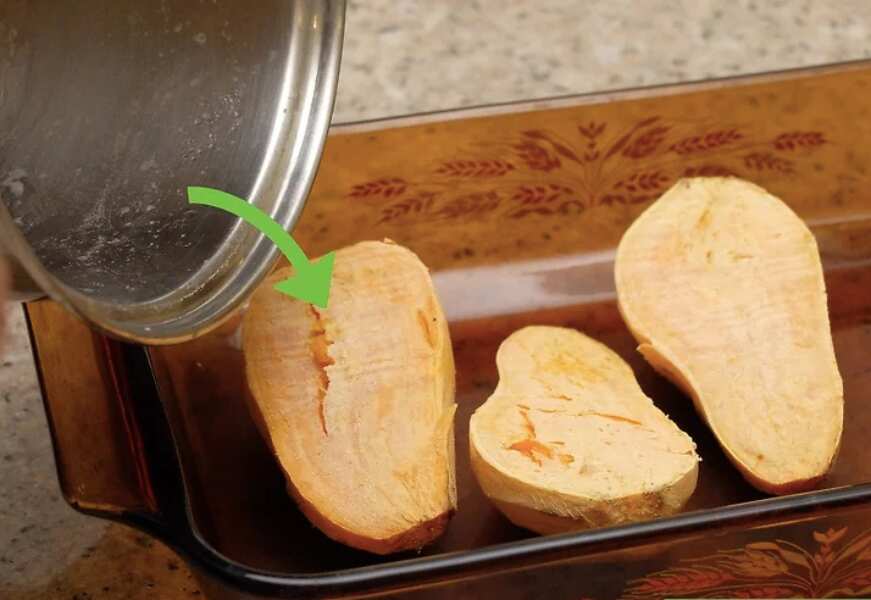 Now, you will need a deep baking form. Put in the cooked yams, cut into halves, and pour them with the syrup. And finally, add marshmallows on the yams. Put the form into the oven and cook for 40-50 minutes. When the time is over, you will be able to enjoy delicious, sweet and extremely soft yams. Bon Appetit!
Stuffed yam balls
Now, we want to introduce to you one of yam balls recipes. It is straightforward to perform and pretty varied as well. This recipe can be as a vegetarian dish. One is free to supplement it with different ingredients and experiment with the taste according to your likings.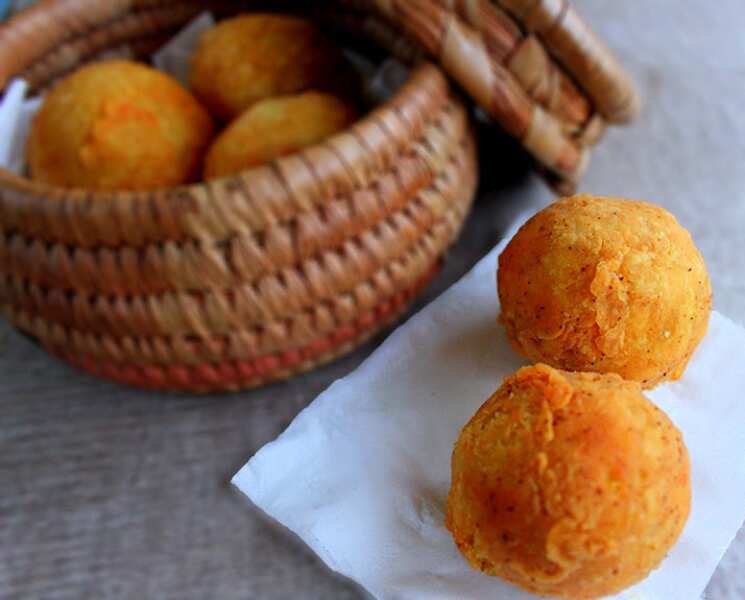 One of the main components, that is important not to forget, if you want to reach a crispy consistency of yam balls is breadcrumbs. If you do not have those, you are able to substitute them with flour, but it will not give you that crunchy and golden result like breadcrumbs do.
This yam dish can be used both as snacks and main dish. Everything depends on the portion size that is going to be eaten. Also, yam balls will be a perfect solution for a party as you can serve them as appetizers.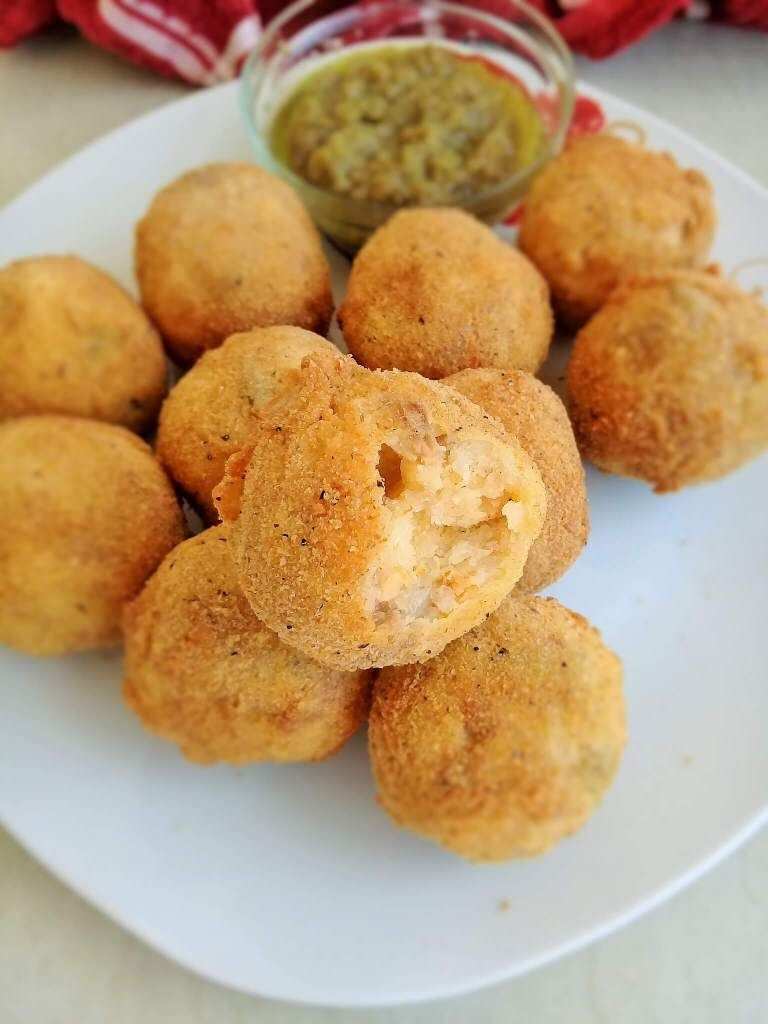 Ingredients:
yams - one small tuber;
sardines;
salt;
ground pepper;
spring onions;
chili pepper flakes;
ground garlic;
dried parsley;
chicken eggs - 2 psc.;
breadcrumbs;
butter;
vegetable oil.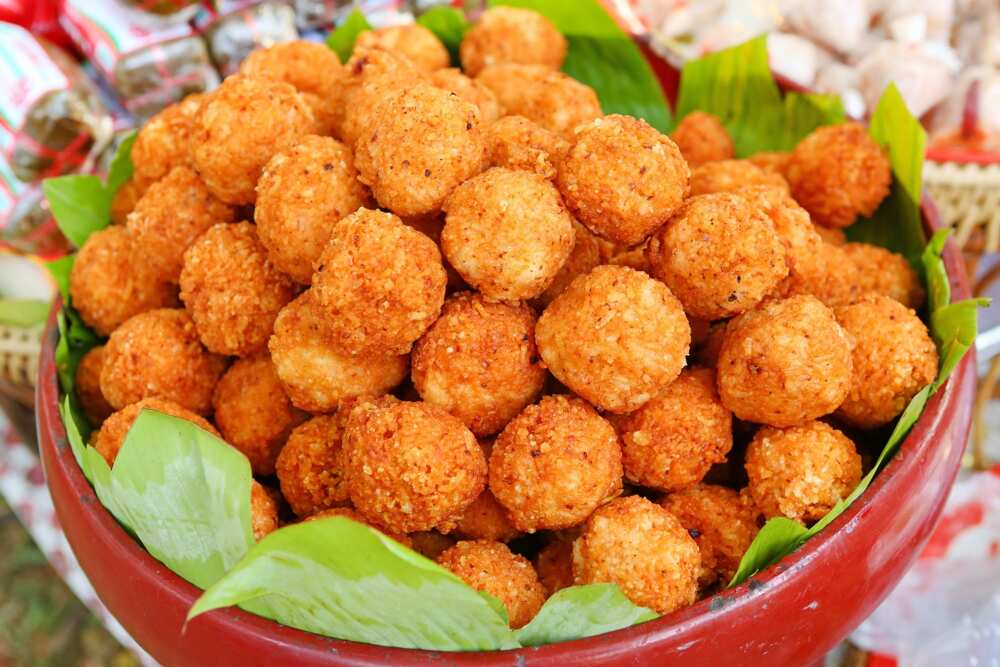 READ ALSO: How to make pap with cheese
Preparation:
First of all, you need to peel yams and cut it in small pieces. Then wash them with water thoroughly until clean. Put yams into a saucepan, and pour some water in an amount that will be enough to cover the pieces. On this step, you can add some salt if you want. Then, bring it to the boil until the yams become soft enough.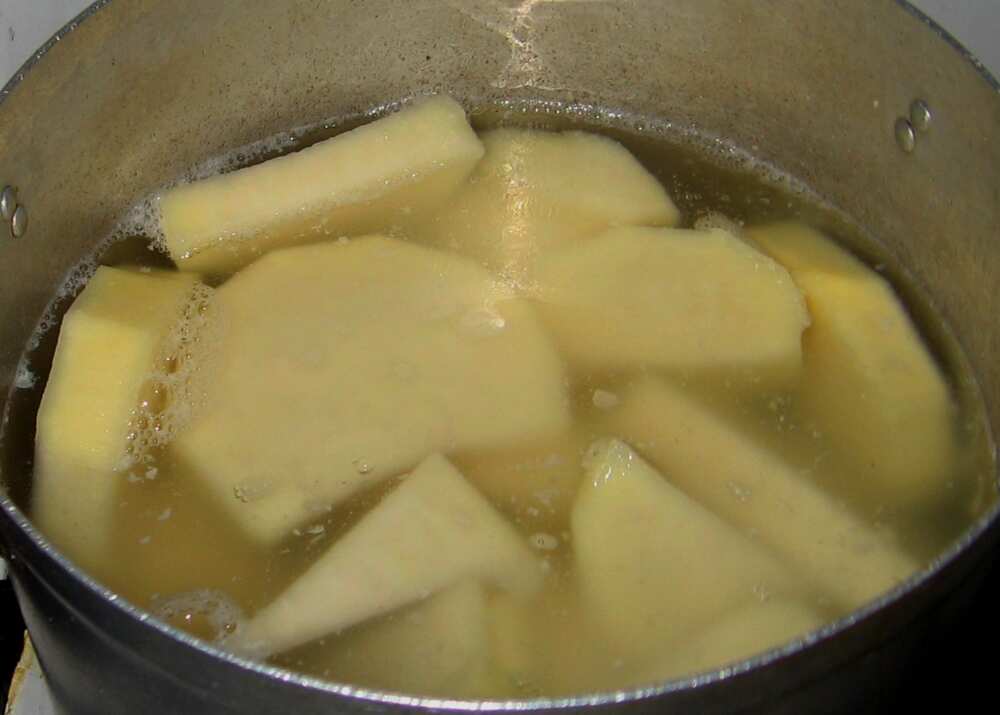 While yams pieces are boiling, let's proceed to the next step. Now, let's work with eggs. You need to depart the yolks from whites and place them into different containers. Also, pour away the oil from the sardines tin.
When the yams pieces are done, pour away the excess water from the saucepan and some pieces of butter to it. Then proceed to pound yams. Then, it is time for dry ingredients. Add dried parsley, ground garlic, and spring onions into the pounded yam. Next, add sardines to the yams and smash it until the consistency is as smooth as possible. At this point, check the taste of the mixture, and if necessary add more salt and seasonings.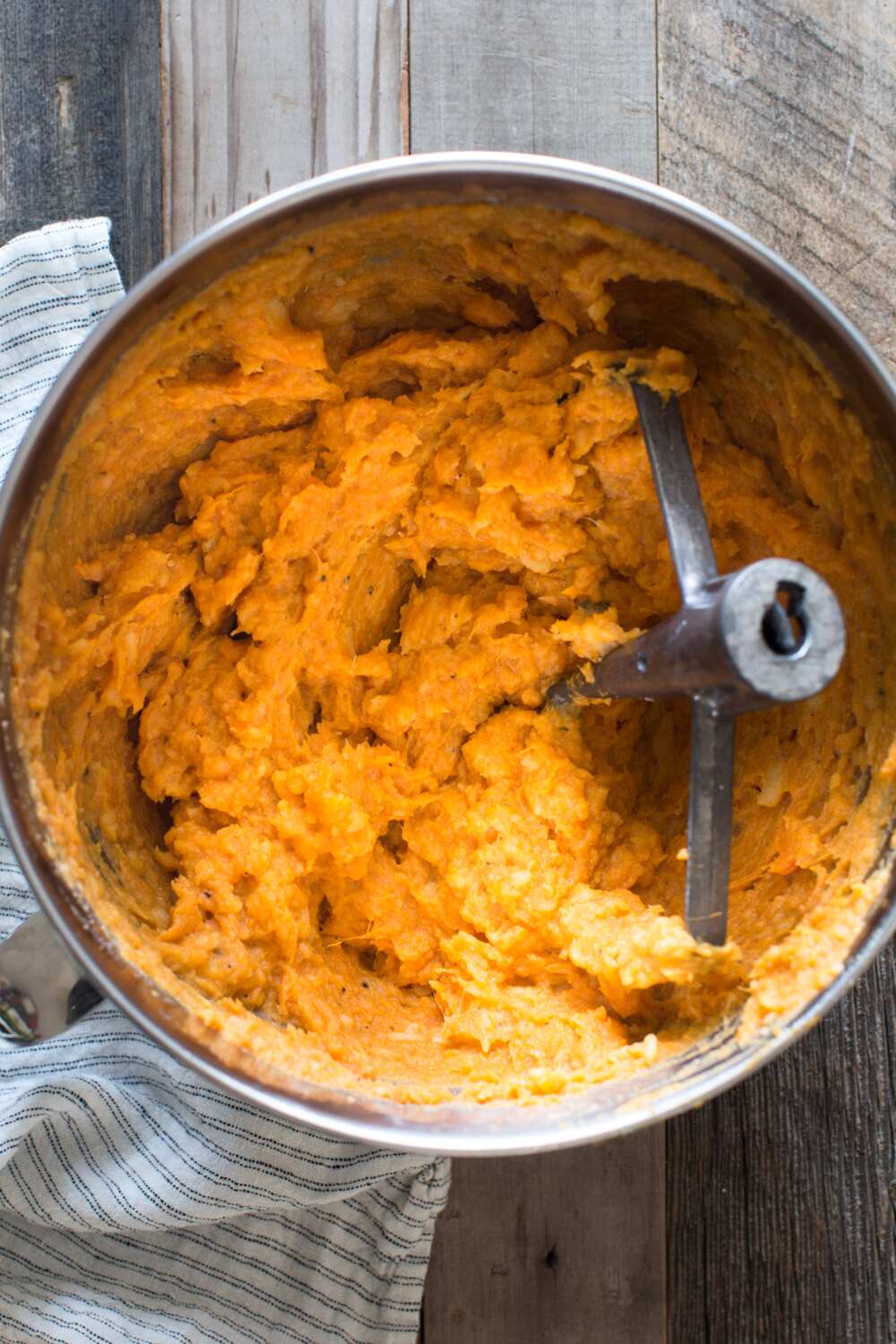 Next, proceed to add egg yolks and combine them with the yams mixture. Then, it is time for ground pepper and chili pepper flakes. Add this to the pounded yams and mix everything thoroughly one more time.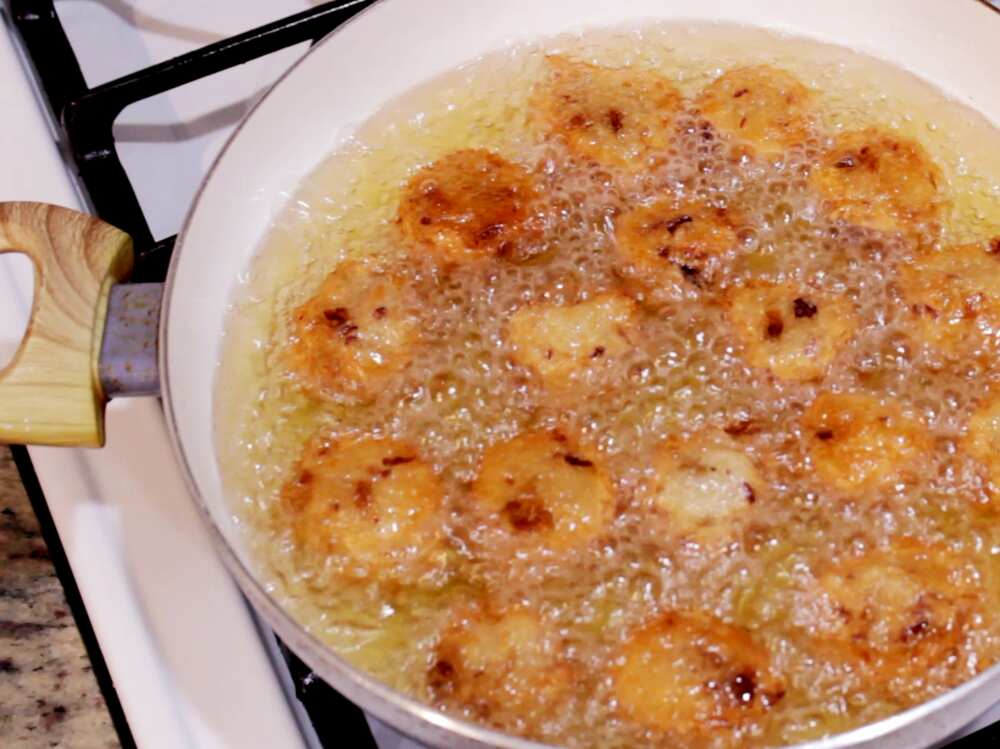 Also, whip the eggs whites and leave it for the following step of preparation. Now, make small balls out of pounded yams and dip them into whipped whites. Then you need to drop this ball into breadcrumbs in order to create an even coat of it. Repeat this procedure with all the yam balls.
To fry yams balls, you will need a saucepan or deep frying pan. Pour a decent amount of vegetable oil into it and heat it well, so it hot enough for frying. When our vegetable oil is ready, drop yams balls into it and cook until the golden color. Then, take them out of the saucepan and place on the paper towel, so that they will soak the excesses of the oil. And that is it. Our yummy balls are ready.
READ ALSO: Shortbread recipe
Source: wikihow.com
Source: Legit.ng