Braids with beads for short hair
If you have been always sure that braids with beads for short hair will never look as good as long ones, you may be taking the idea of beaded braids wrongly. Just look through the post below and discover the loveliness of the braids with beads made with short hair. You will see that the styles are diverse and that such a look is perfectly pretty and bright.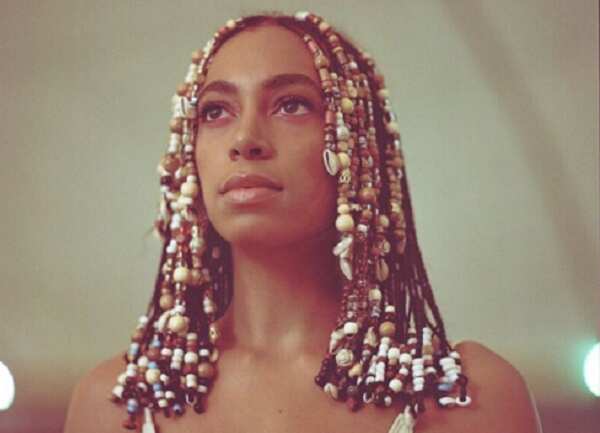 Ideas of short braids with beads
Short hair doesn't necessarily mean that you can't have an elegant and stunning hairstyle. In fact, short hair may give you even more space for experiments and creativity than long braids. Below, you will find interesting, daring, elegant, and simply jolly hairstyles with braids and beads. Check them out just to make sure that short hair and short braids can look absolutely astonishing with beads and other decorations.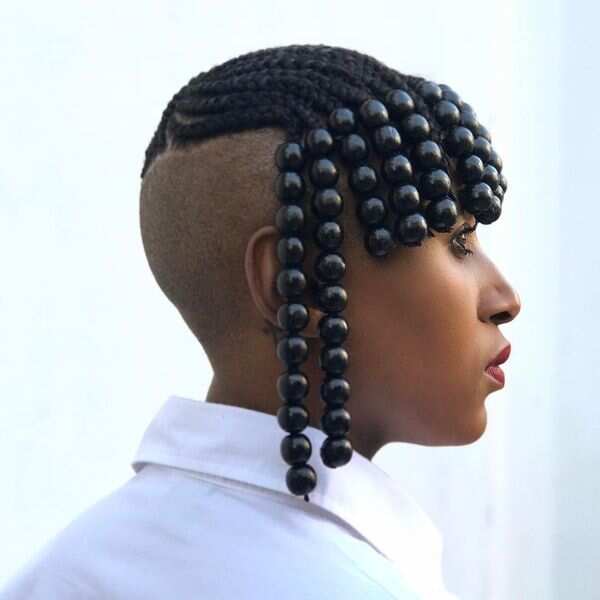 READ ALSO: All back braids with natural hair in Nigeria
This hairstyle is absolutely daring and if you make it, you will hardly ever find another woman who will look like you. The main idea is to shave the lower part of your head and leave the hair only around the crown and above the forehead. This hair should be braided into cornrows in the direction from the back to the front
The remaining ends of your braids will be decorated with big and shiny beads so that they create the illusion of a haircut with a fringe on your forehead and strands hanging down at either side of your face. You may choose any size and color of the beads for short braids but these elegant black ones seem to be the best possible idea for such a hairstyle.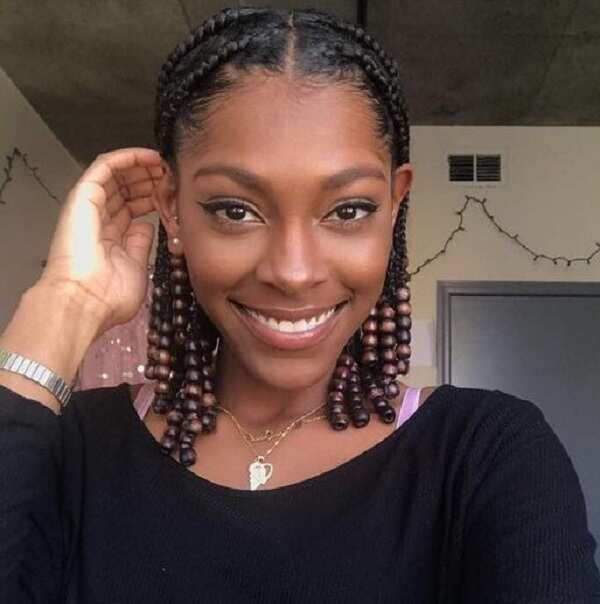 Simple box braids made out of your own natural hair are a perfect protective hairstyle. If you are trying to grow your hair safely and avoid relaxing procedures, having your hair braided this way may be the best option for you. The ends of these braids are decorated with lovely dark-brown wooden beads covered with some varnish
If you are into choosing hair beads for your braids for the first time, give preference to lightweight ones. Heavy beads that are made out of metal or glass may cause headaches if you are not used to such hairstyles. This is why it's better to choose wood, plastic, or polymer clay for your first ever beaded braid hairstyle.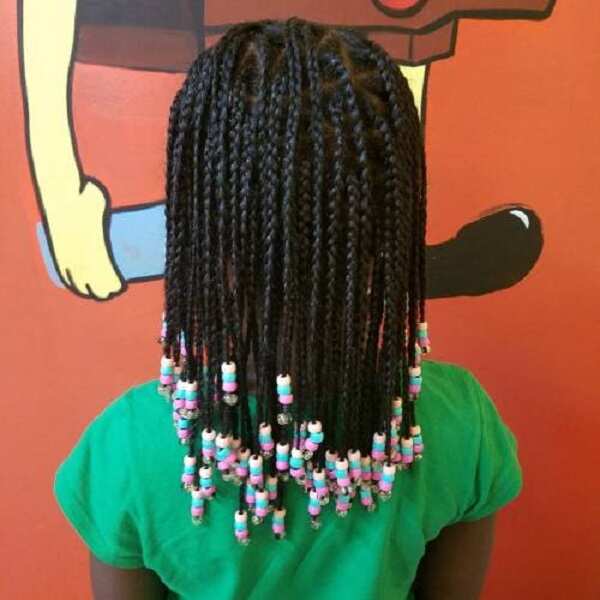 Tiny braids like these are a popular teenage and children hairstyle. Having your whole head braided like this is a great hairstyle by itself because it's variable. You can create a ponytail, collect them all into a bun or so. When decorated with beads, such a hairstyle becomes even more attractive for children
It's a great idea to decorate such braids with pastel-colored beads. They look very refreshing and nice and give a very pleasant sound when you move. As you can see, there are many beads at the tip of each braid, which suggests that their weight is significant for the braids. If you want to avoid headaches and damage to hair, use lightweight beads.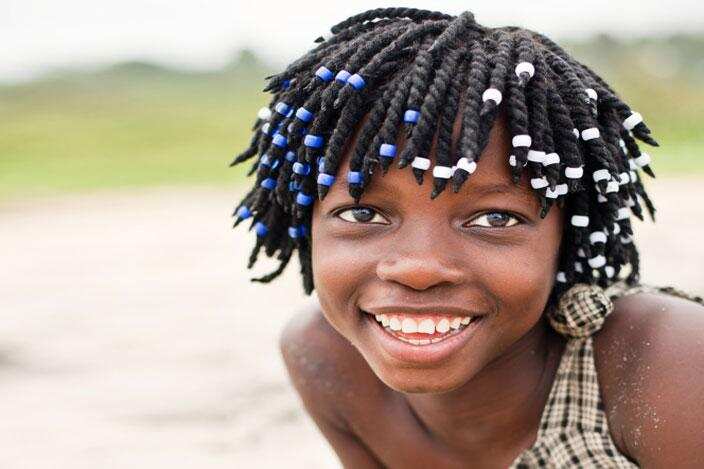 READ ALSO: Alicia Keys' braids hairstyles you will like
These twists with blue and white beads at their tips are very lovely and authentic. The hair they are made of is quite short and this is why they are not even parted into two sides. Instead, they are all braided in the same way and then simply scattered from the crown of the head into all directions
Such a hairstyle is comfortable in any situation. You can change the color of beads when you like and style your twists in any other comfortable way. Relaxed and careless at the first glance, such a hairdo can be the base of an elegant hairstyle for any occasion and place.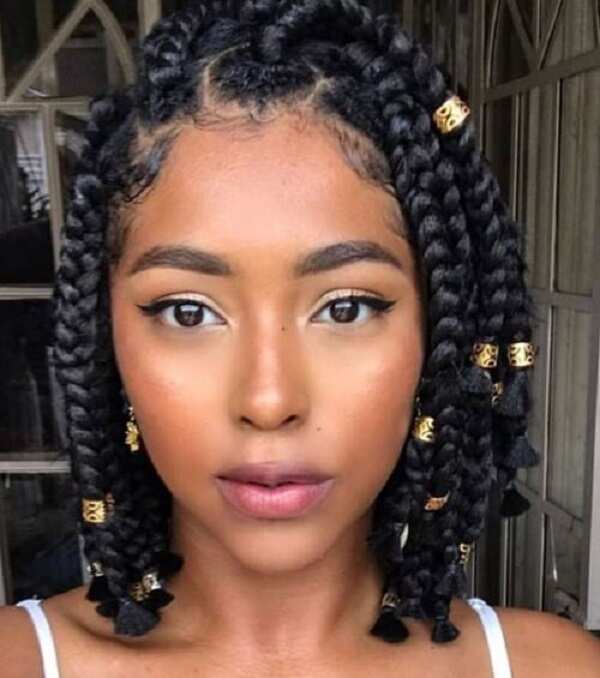 Huge braids always look great, no matter whether they are made out of hair extensions or your own hair. The bigger they are, the more attractive and unusual the look is. The key here is in the contrast between the shiny and silky black hair and the golden sheen of the beads. Just try this hairstyle and see how gorgeous these short braids can be
Here the decorative elements are not exactly braids. They are more like metallic clips that are closed around the braid at the level you choose. They can be worn at the tips of each braid serving as both a decorative element and a secure clip against unbraiding but you should feel free to attach such items along the braids as well.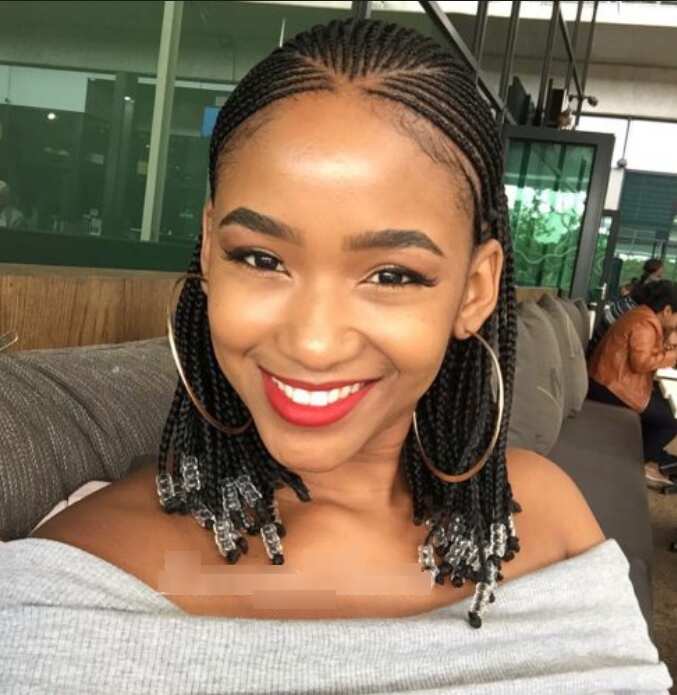 Cornrows are a hairstyle that unleashes the imagination. These thin braids done so accurately and closely to the scalp create fantastic ornaments sometimes. Such a hairstyle looks always neat and stylish and everything you need to do is style the ends of the braids prettily. Beads are a great option
Decorating the tips of the braids with transparent beads, you make a very stylish choice. They are here and not here at the same time. You don't need to change the color to make your hairstyle suit your office uniform and dress code and neither need you exchange them for something brighter when you are having rest. Transparent beads are a great option for your braids!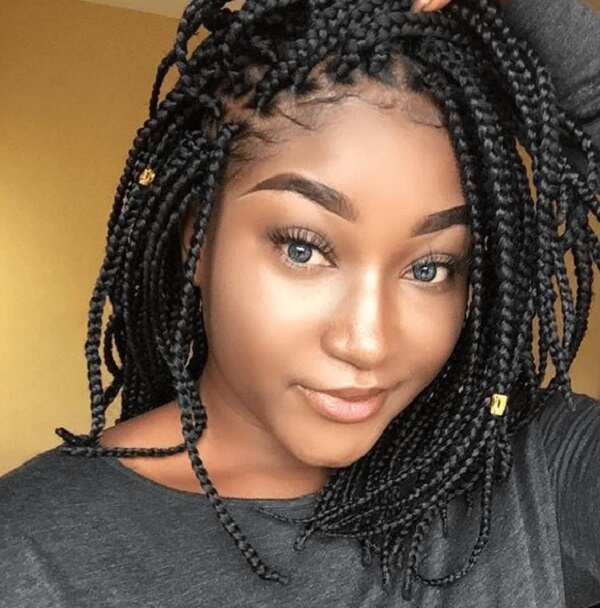 Regular box braids are good as they are but a golden decoration every now and then can be a great stylish idea. They are easily detachable and if you need an elegant style, you can take them off at any moment. With them, your hairstyle will receive beautiful accents and a touch of ethnicity
Decorations are set very rarely in this hairstyle. The tips are not adorned with beads, and the main quantity of braids is not decorated with anything. The scarcity and minimalism play a huge role in this case. Just a couple of small accessories create a much stronger accent than plenty of them could do.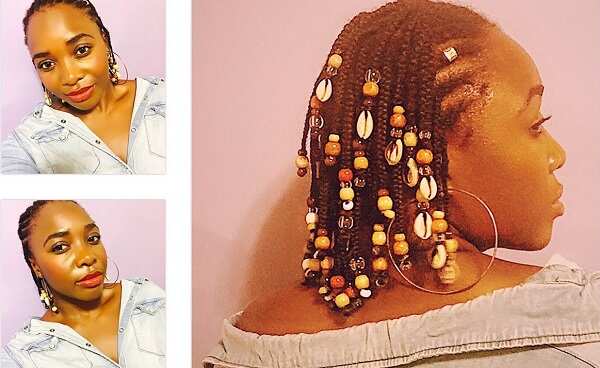 READ ALSO: Afro twist braid hairstyles
If you are searching for a perfectly ethnic style, this one will be exactly what you need. Decorated with shells and beads made of natural materials, they look simply gorgeous in spite of the fact that the hairstyle is absolutely plain and regular
Wearing such a hairstyle can be tiresome and hard for a person who's not used to heavy hair decorations. This is why it's better to avoid such a hairstyle if you have never worn hair decorations of this kind or heavy beads before. Of course, it's necessary to remember that such a style is not compatible with office clothes and formal outfits.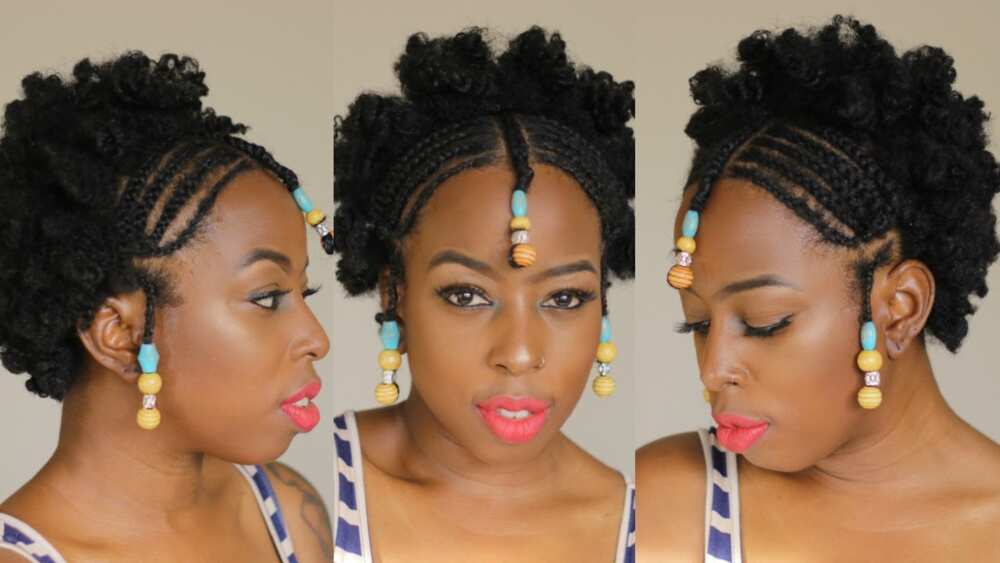 This is a bright hairstyle for daring ladies. You will have the front of your head braided into a kind of cornrows running in several different directions. One braid with beads at the tip will run from behind of your either ear and the third one will line the parting in the middle of your head. Beads from it will hand over your forehead
This is a cute hairstyle and quite a daring one. It's absolutely informal and if you want to wear such a hairstyle, your general appearance should match. However, if you don't need to meet any requirements of dress codes or so, it's a perfect hairdo with lovely beads.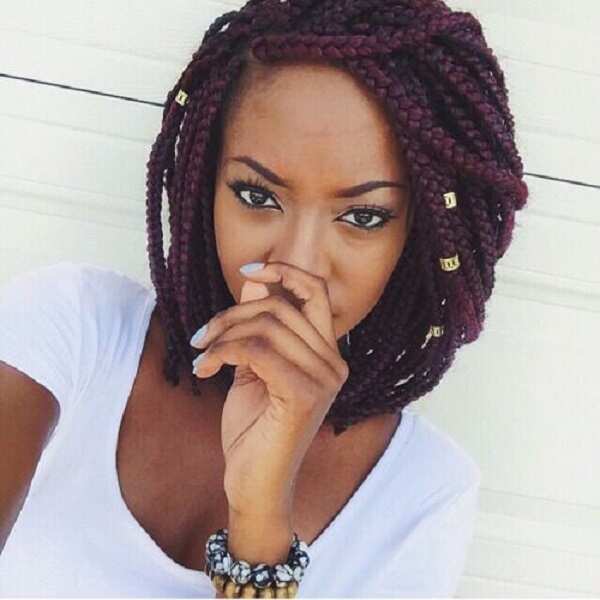 Wool hairstyles can also be decorated with beads. Using wool as hair extensions can be very efficient if you want to have lovely braids. The color of wool can be emphasized greatly with the help of decorative metallic beads or clips
It's important to use only a few beads in order to prevent overloading of the hairstyle. Choose the color of metal that will match the color of your braids. For example, if the color is reddish (dark red, cherry red, or bright red), it's better to choose golden beads. Blue, green or grey will look great with both golden and silver beads.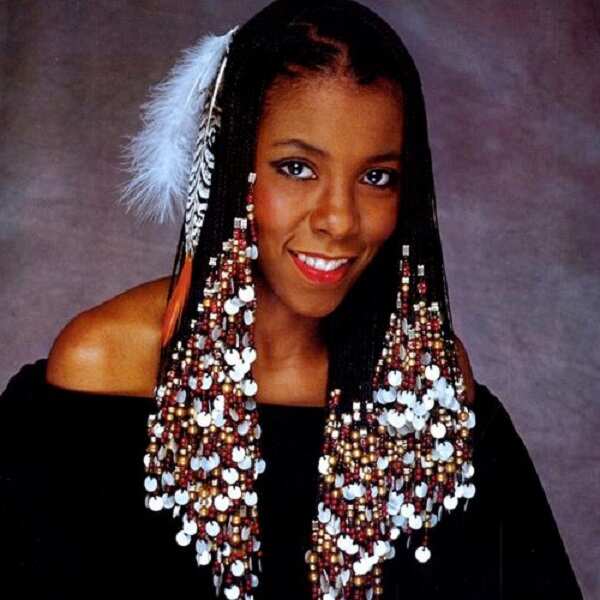 These are several cute and comfortable beaded braid styles for short hair. You are free to choose one or use any of them as a base for your own creative hairstyles.
READ ALSO: Big twist braids hairstyles for real fashionistas
Source: thirstyroots.com
Source: Legit.ng