When we speak about Ankara styles for boys, we speak about the garment meant for keepers of traditions and customs. Baby boys are very active, they spend hours moving around, running, jumping, climbing things and playing with everything they can find. This is why a key thing about the clothes for baby boys is comfort.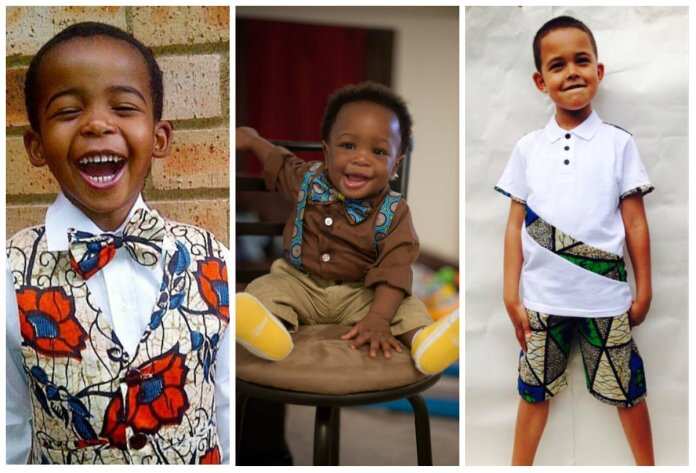 Cute Ankara styles for baby boys
Ankara is a great choice as it is natural and thus highly hygienic to a baby's skin.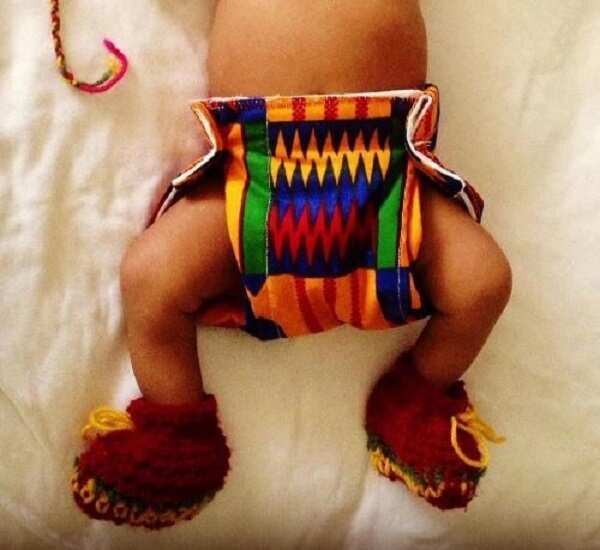 READ ALSO: Popular a line ankara dresses for Nigerian women
Ankara clothes are available even for the smallest babies. Just look at this reusable Ankara diaper. It's also possible to make such a piece for a baby to wear over the disposable diaper for decorative purposes and for more comfort.
Ankara is used for boys' clothes equally for formal and informal occasions. If a baby needs a suit to dress down, it will most likely be something made out of the same type of Ankara. As a rule, baby boys wear loose shirts and lovely comfortable pants.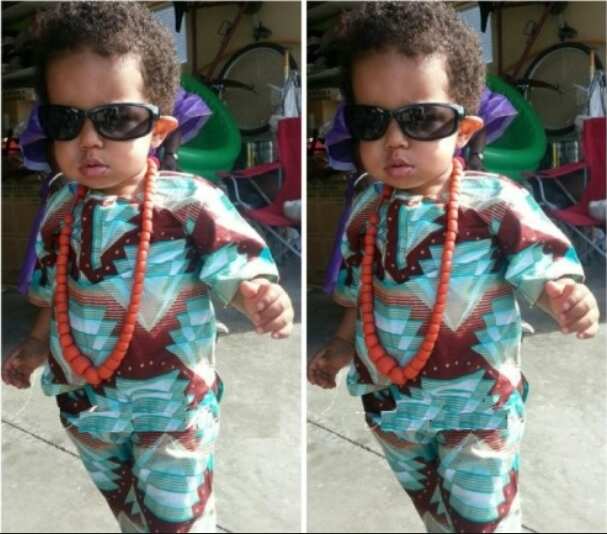 Quite often, Ankara styles for boys are accompanies with a cap made out of the same fabric. It looks very nice and authentic. Caps can be of different types but dogs' ears look especially cute on little boys. If you are an experienced tailor and want something special for your tiny man, you can try to combine Ankara with some plain fabric.
It's also a great idea to dress a brother and a sister in the same Ankara fabric. For instance, a pair of pants with shoulder straps made out of the same fabric with the boy's sister's skirt can be a lovely idea for any occasion. Such an item will look great with a plain top made out of a solid-color fabric. It's interesting that such clothes look great not only on small children but also on teenagers.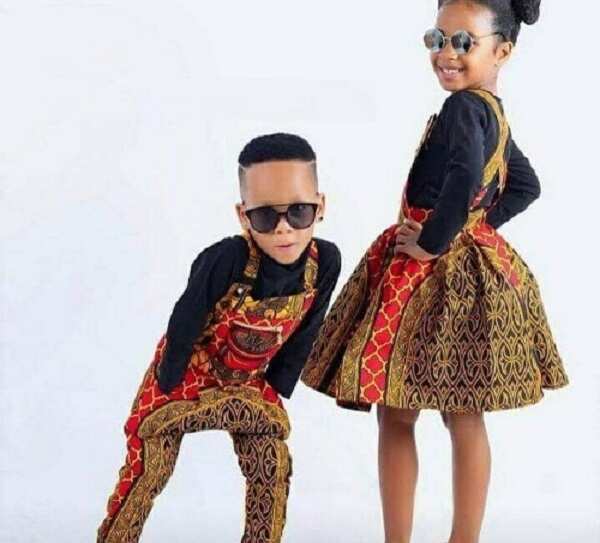 READ ALSO: How to tie Ankara scarf to look stunning
An Ankara jacket that's paired with plain pants is a perfect idea if you want to dress your baby down in a European style. The colorful Ankara patterns will refresh the plainness of the solid color and add mood to the entire look. However, such a style can be comfortable only to the boys who are used to the certain restriction that tight jacket sleeves bring.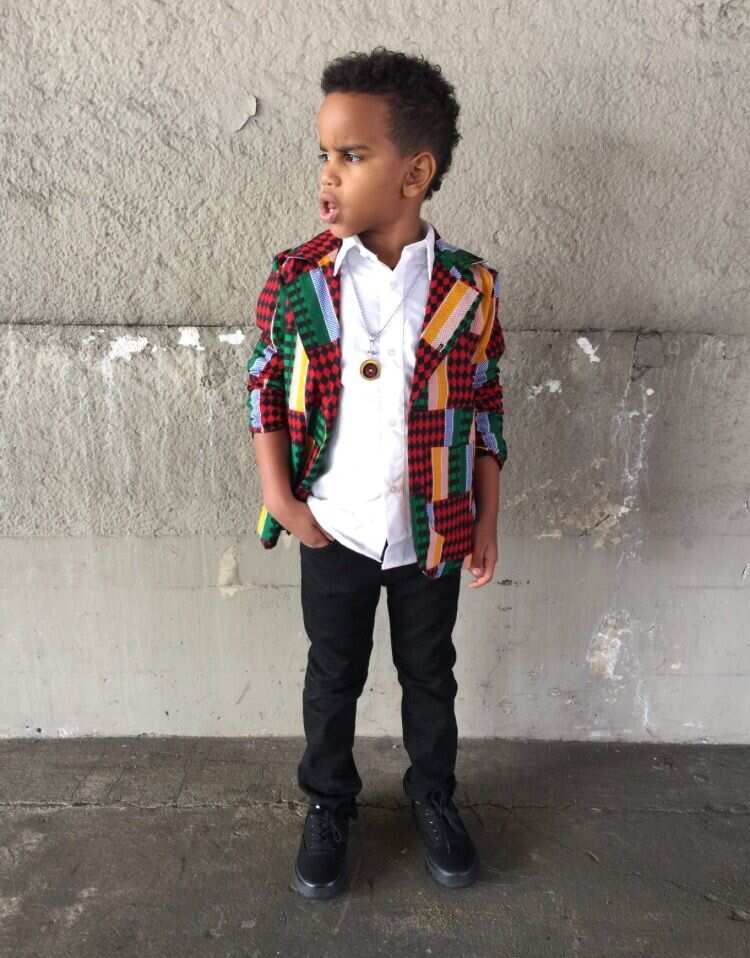 Combinations of Ankara fabrics with solid colors have always been a great idea. It's not always good to make a whole suit out of the colorful and bright fabrics like Ankara. Still, baby boys can get bored by all plain colors, too. This is why the cleverest idea is to combine plain colors with matching Ankara patterns and thus create a lovely elegant suit for any occasion, formal or informal.
Baby boys often want to look like their fathers in all those adult clothes. Still, making an Agbada suit for a baby boy can be quite complicated. All those dense fabrics can be too coarse for a baby to wear. Ankara is a great option in such a case. It's able to keep the shape, it's bright and lovely, and it's fine enough to create no discomfort to the tiny wearer. A matching cap made out of the same fabric can be a lovely accessory.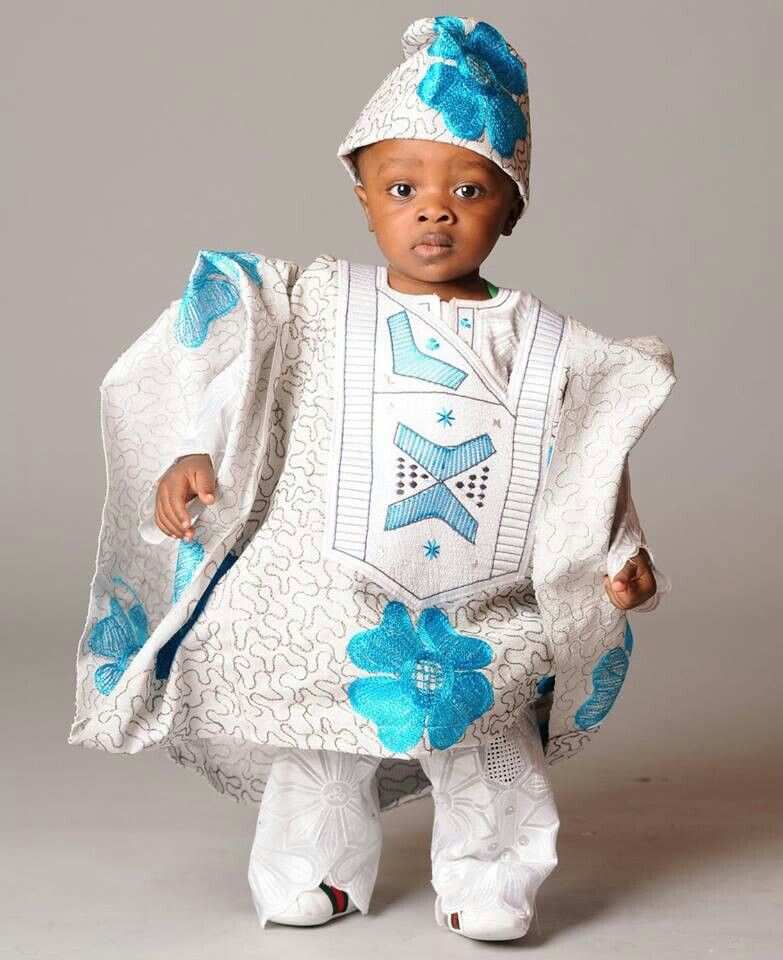 In most cases, colorful Ankara shirts are combined with plain pants. It's also possible to do vice versa and emphasize the brightness and loveliness of patterned Ankara pants with the help of a solid-color shirt. If it's possible to decorate the top with a pattern that matches the pants, the appearance will be astonishing.
Various Ankara shirts look perfectly well with jeans of different hues. Actually, any Ankara shirt of any colors and with any patterns will look great with jeans. The main requirement to such a shirt is to be loose enough and comfortable for the baby boy to move around in it.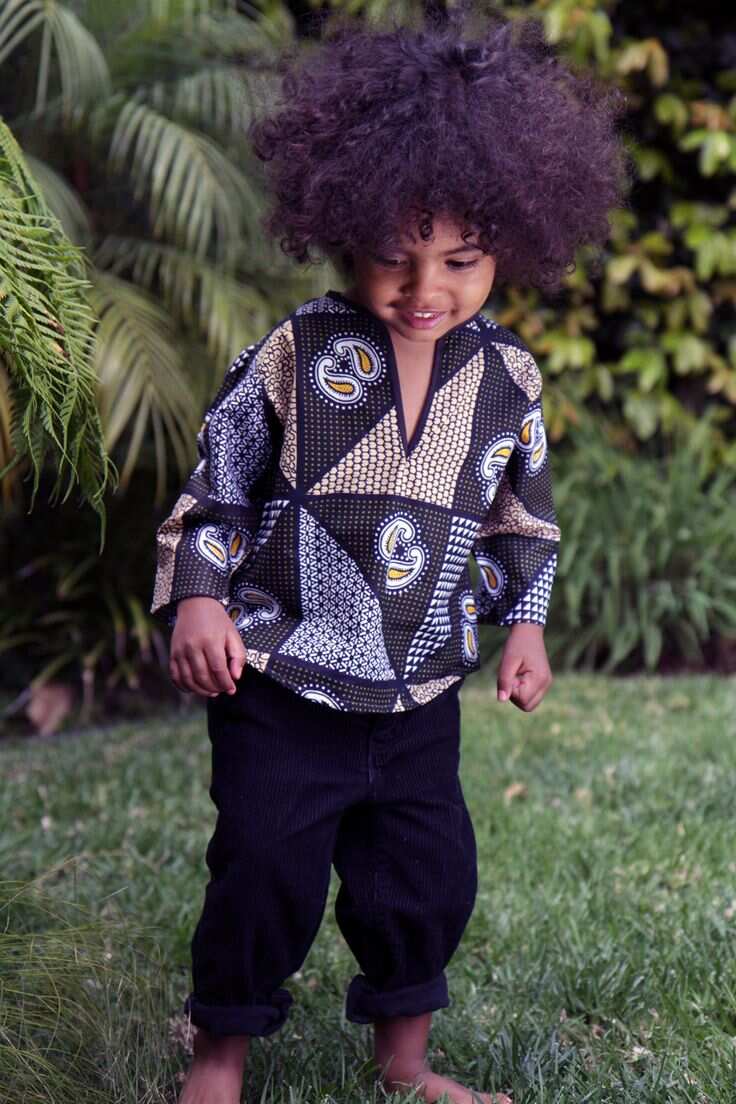 READ ALSO: Ankara iro and buba styles in 2018
It also looks great when the whole family wears Ankara of the same type. Such outfits are usually worn to attend formal occasions like weddings or for formal visits to a church, for instance, on big holidays. In such a case, the style of a baby boy's garment and all its details will be determined by the look of his parents. In most cases, the suit for the boy is made to copy his father's one with some special details.
Lovely Ankara styles for teenage boys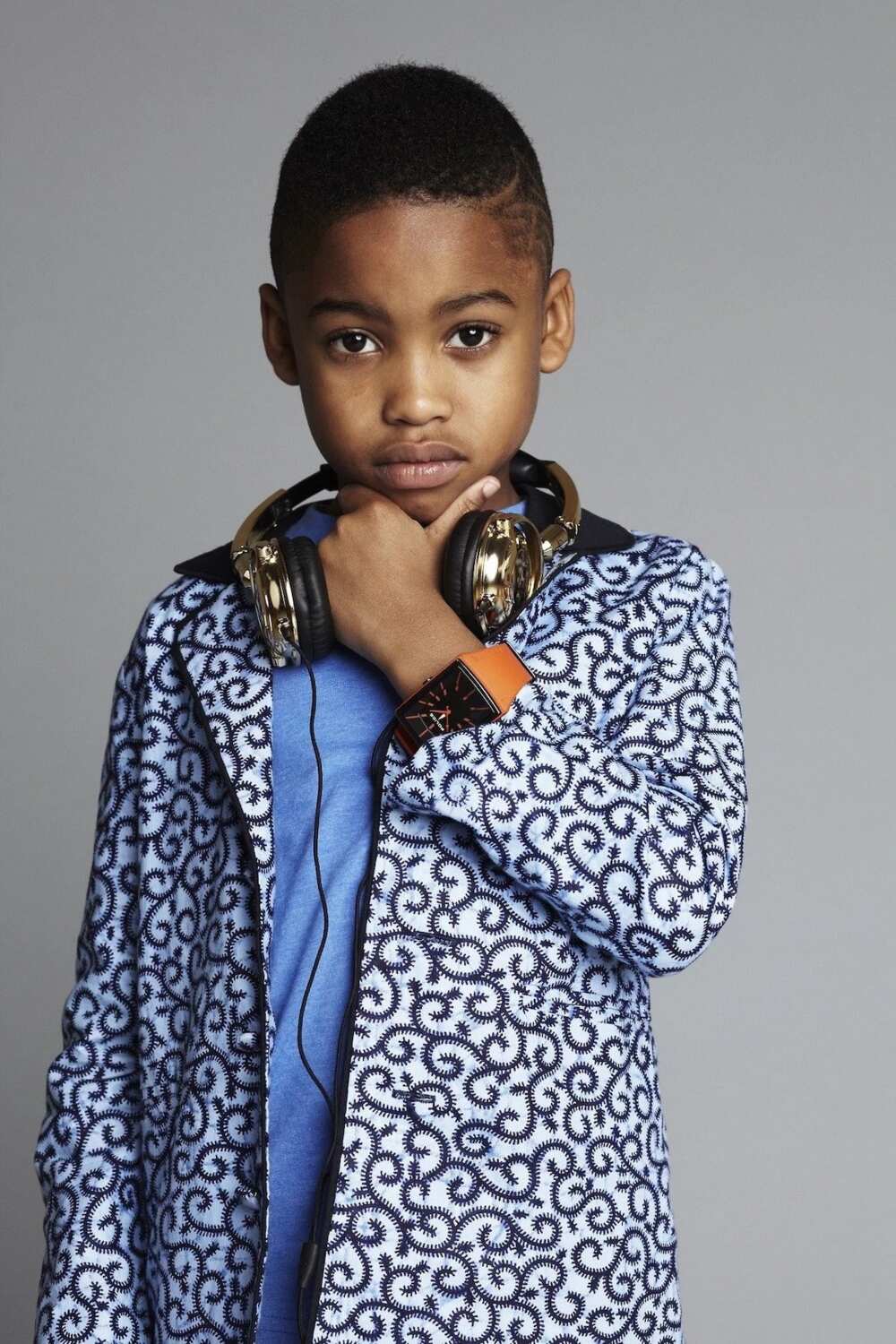 Teenage boys are not like babies. They have their own taste and demands and they can select their clothes on their own. Ankara styles, however, are always trendy and teenage boys gladly wear stylish and bright Ankara items. The main thing about teenage wear is to choose a style the boy will appreciate as comfortable and trendy.
A zipped Ankara jacket or a hoodie can be a great option for a teenage boy. Such an item is trendy and stylish and if the pattern is picked out correctly, a teenage boy will look stylish enough and feel very comfortable in such a garment. Details like big convenient pockets, the fitting size and a zipper are always appreciated.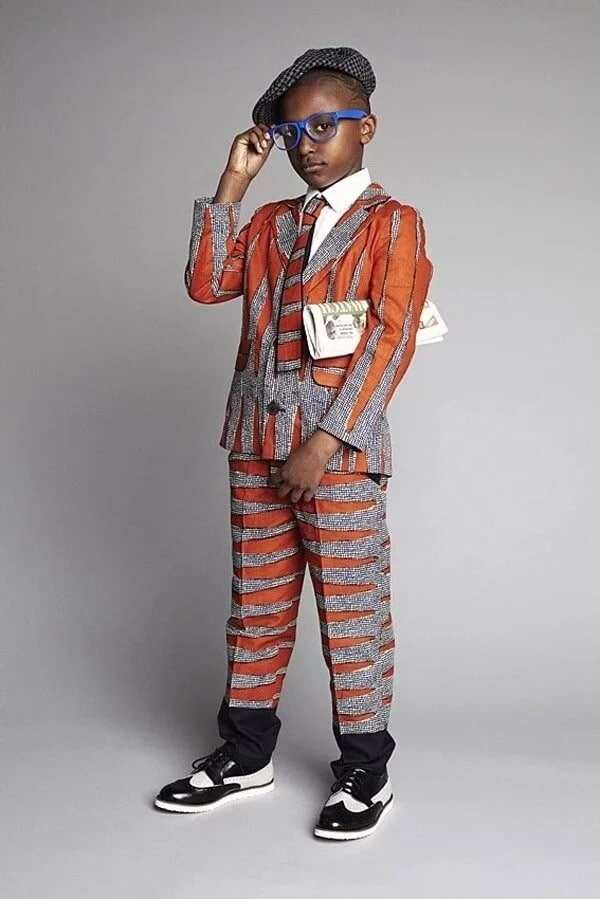 Total Ankara suits are hardly an element of everyday wear your boy might like it a lot as a formal uniform. A bit old-fashioned, such a suit will look amazingly stylish on a teenage boy. Accompanied with a cap and a neck tie made out of the same fabric, such a suit will look especially stylish with old-fashioned shoes. It can also be a great style for a photo session.
Teenagers who wear Agbada now and then will certainly appreciate Ankara patches as a decoration of the chest area. Some bright fabric on the background of a dark solid color is a great stylish finding.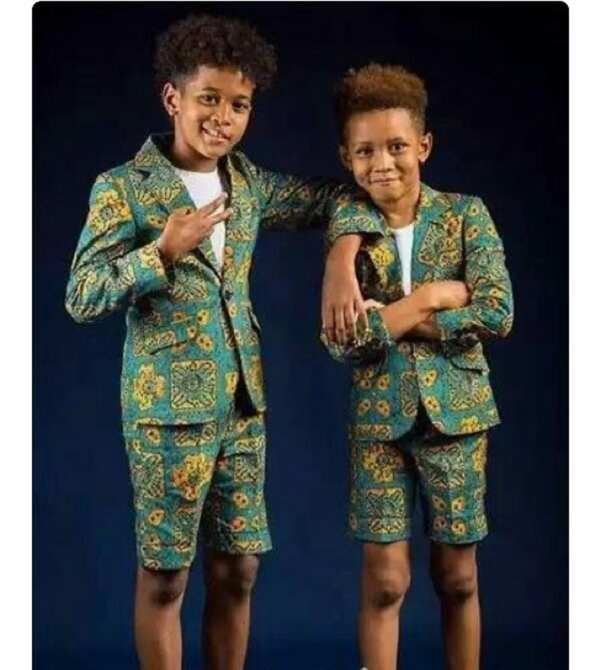 Total Ankara looks are not necessarily made with pants. Sometimes, it's reasonable to pair a jacket or a shirt with comfortable shorts. Such an outfit if quite comfortable and looks stylish enough for picky teenage boys, especially when paired with nice accessories.
Finally, Ankara may be used as tiny decorative elements that leave colorful accents only. For instance, it may be a shirt of a solid color that bears only several lovely details made out of Ankara to attract attention and add some spice to the plain classic style. Such an idea can be a great alternative to all-plain or all-Ankara shirts for all occasions.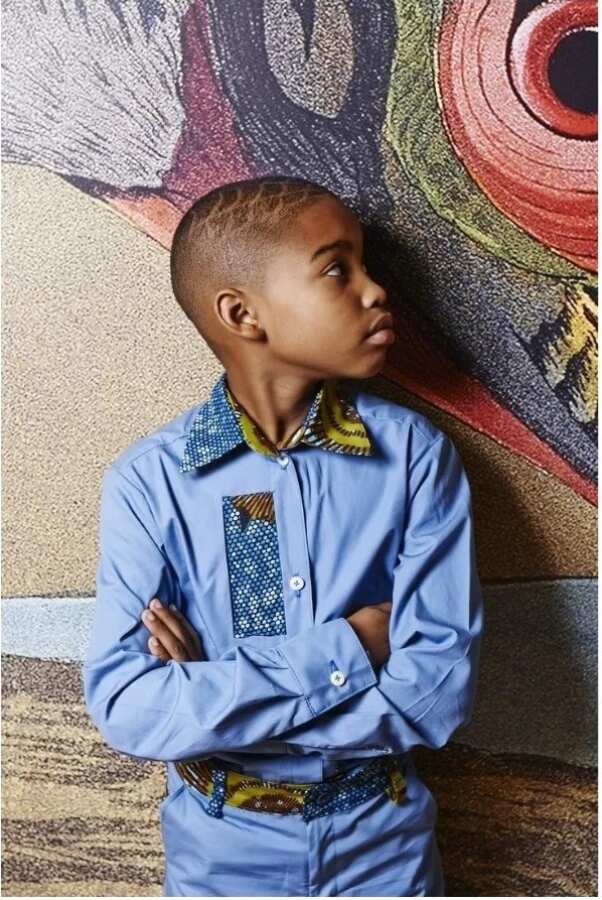 If you want to dress you boy, trendy Ankara styles for boys, you should not restrict your imagination. Everything that looks good and everything your boy likes is great.
READ ALSO: Baby ankara dress designs
Source: blog.jiji.ng
Source: Legit.ng