Hausa female traditional dressing
Hausa female dressing bears a number of ancient traditions and contemporary fashion trends. If you look closely at the garments worn for formal and special occasions, you will see how they match the most prominent traditions of this large ethnic group. Everyday outfits of Hausa females look less like native but the characteristic traits and features are easily visible even in them. Checkout interesting native trends in female Hausa attires.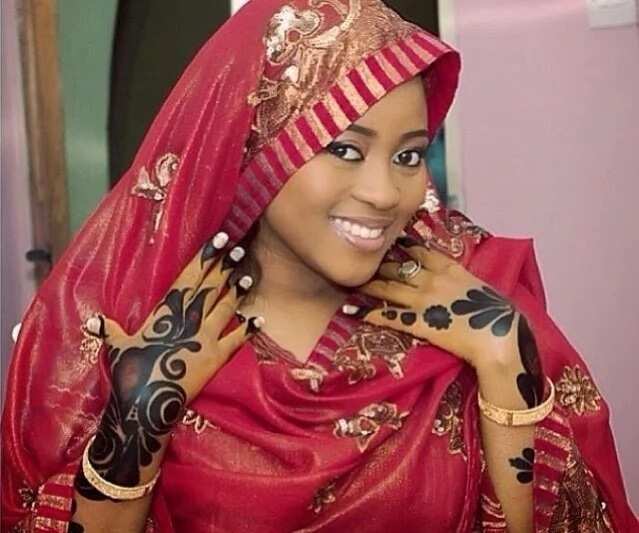 The most popular Hausa female dressing styles
In the native attires Hausa women wear today you can see the features of both ancient and traditional garments. The modern lifestyle and the tempo of life demand more comfort in the outfits but traditions still stay here in even the smallest details. Convenience, style, attractiveness, and brightness – these are the most common key features of a female attire in Hausa lands.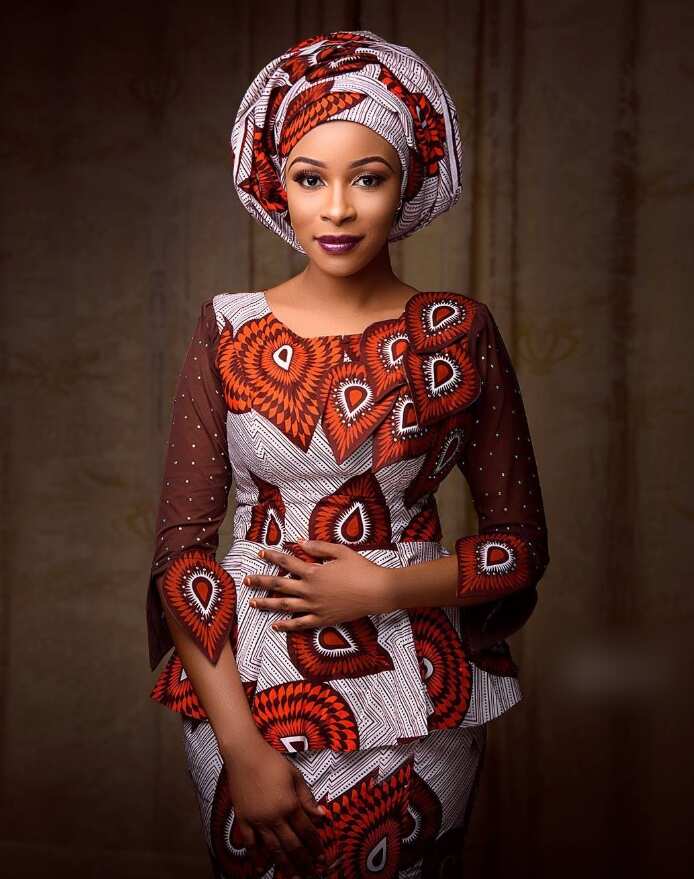 READ ALSO: Idoma traditional attire
Even though females wear Ankara all around Nigeria, Hausa women have their own ways of wearing of this fabric. Ankara and Atamfa fabrics, both colorful and densely patterned, are often the base of every attire a woman wears. Why are Hausa ways so special? They like combining patterns and colors in such ways that might seem strange for other people.
For instance, if you are told to wear something purple with something mint green or something bright red, would you think it natural? Hausa women are talented in combining colors, textures, patterns and everything that they look absolutely stunning in everything they wear.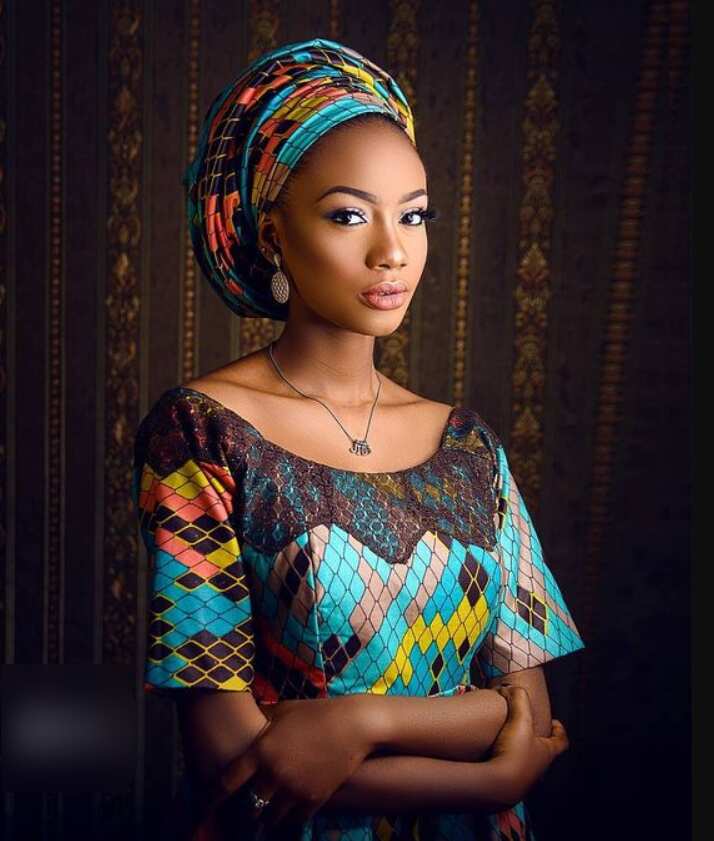 Ankara is used for dresses, blouses, skirts, and head scarves. It's often chosen for kids' clothes. One of the most popular uses of Ankara and Atamfa is the usage for Aso Ebi attires. Even though many dresses made of Ankara are worn every day, some of them are sewn especially for formal occasions.
While guests, relatives and friends are allowed to attend weddings and other special occasions in Ankara, brides themselves often choose lace for their dresses. Lined with silk or satin, or with cotton of a matching color, these dresses are exquisite and stylish. As a rule, there's no limit in colors. If you are a bride, you can do anything and choose any color (of course, this color code will be supported by attires of your guests).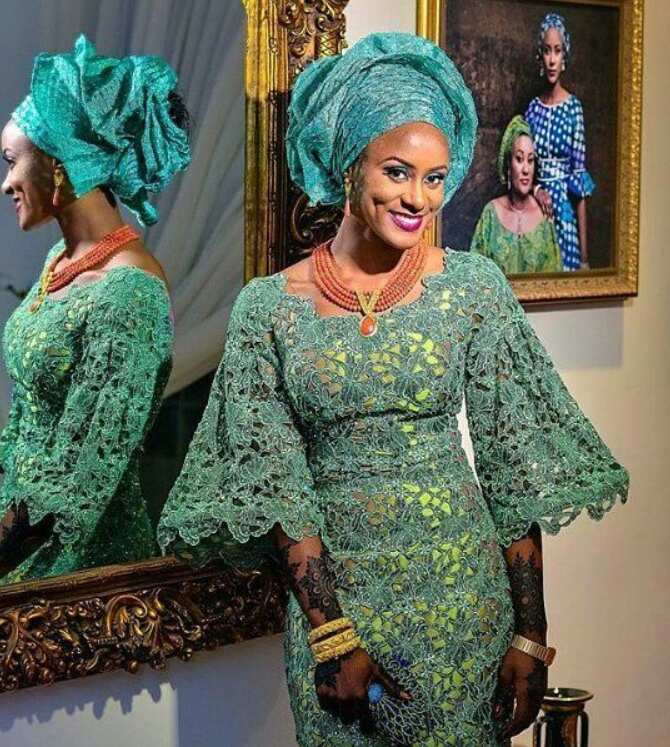 READ ALSO: Akwa Ibom native attire will amaze you
Quite often such gowns are accompanied by luxurious mantels, which will be given attention later. As a rule, brides also wear head scarves (usually made out of a plain fabric like silk, chiffon or others without ornaments or with very little ones).
Lace gowns of Hausa brides are already a tradition even though women have received the access to such luxurious fabrics quite recently from the point of view of the history. They are a perfect example of the combination of western trends with native elements like head ties and very particular painting on hands Hausa brides usually wear.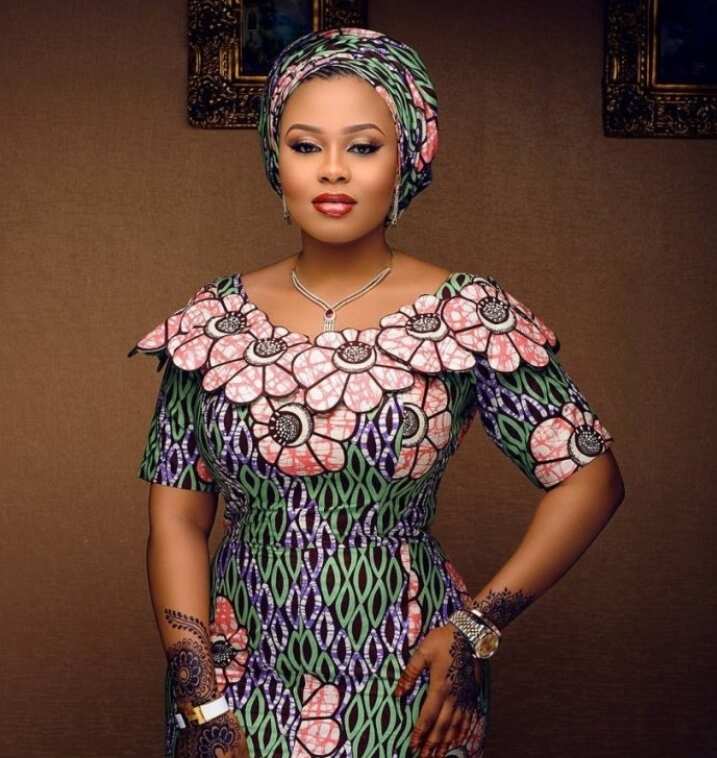 If you give attention to the patterns Hausa women choose most often, you will see that they wear a lot of floral prints. Big flowers and leaves, garlands and bouquets adorn their Ankara dresses and head ties. This is a general tendency that Hausa women give preference to these prints together with bright colors and other lovely decorations.
As a rule, prints with big flowers are used for more formal garments and small flowers are chosen for everyday clothes. It often happens that fabrics with big bright flowers are combined with plain fabrics of a single matching color. Such combinations are really refreshing and lovely. Besides that, the pieces of a single color make the big patterns look less flamboyant.
This design is among the most popular and already traditional ones for Hausa native attire for women. The gowns that tightly squeeze the body from shoulders to knees and then flow into a puffed skirt are highly popular among Hausa women.
This design is cool for any body type because it flatters any particular body built. Sometimes such dresses are decorated with peplum-style frills attached to the waistline. These frills emphasize the natural curve of hips and slenderness of the waist. Sometimes, blouses and skirts are sewn in such a way that when worn together they look like a mermaid dress with a peplum-styled frill.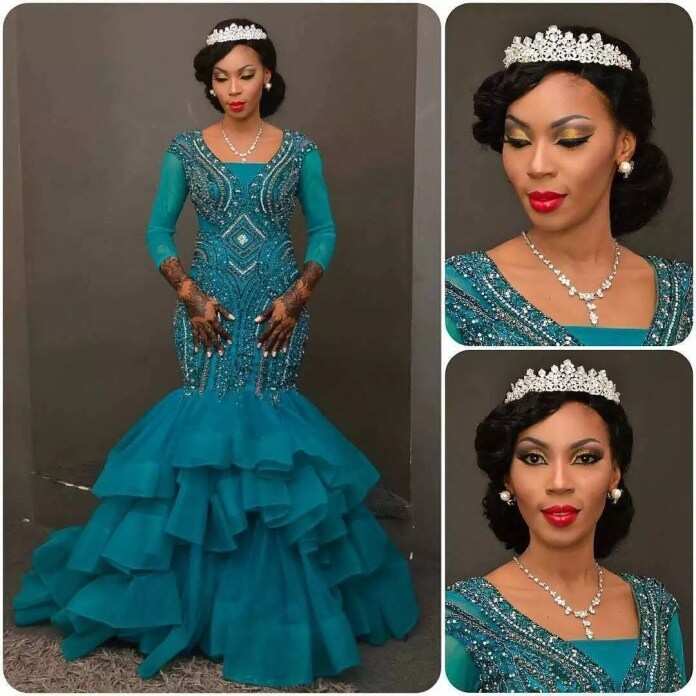 READ ALSO: Cross River traditional attire
Of course, very tight skirts are good only for weddings or parties when beauty supersedes comfort. In everyday life, mermaid skirts are shorter, not that tight and have only slightly widened bottoms. However, they look very neat and feminine on women even in a working surrounding.
Another traditional detail of Hausa female attires is flounced sleeves. They are usually not very long for more comfort and less heat. The upper part of such sleeves tightly wraps around the wearer's shoulder reaching the elbow. From the elbow and downwards, the flounce usually reaches the middle of the forearm. Such sleeves are attached to practically every female attire – a gown or a blouse.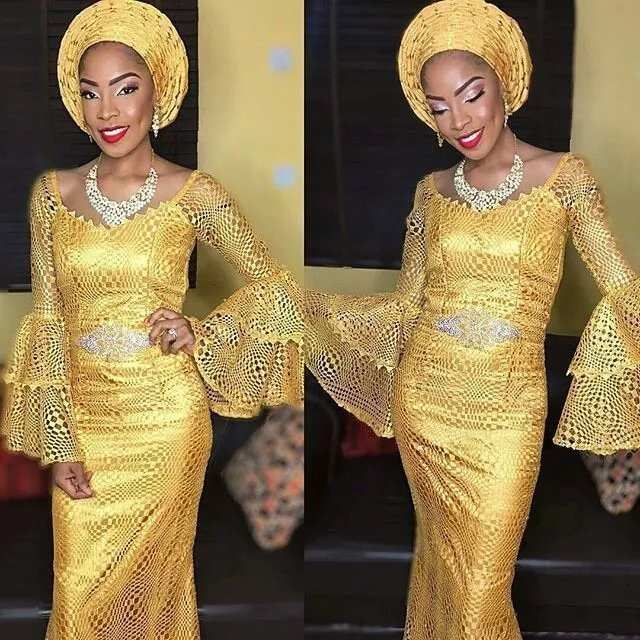 If it's a regular everyday blouse, such sleeves usually have only one layer of fabric. In more formal gowns, sleeves may contain several layers: lace, chiffon, silk, or whichever other materials are used for the gown. Sometimes, for more effect, these flounces are made out of contrasting colors.
Even though gowns can be quite tight on Hausa women, their attires are always a symbol of chastity. Formal dresses can expose more skin of the neck, upper back and upper chest, but in most cases, you will see no exposed shoulders or deeply opened chests.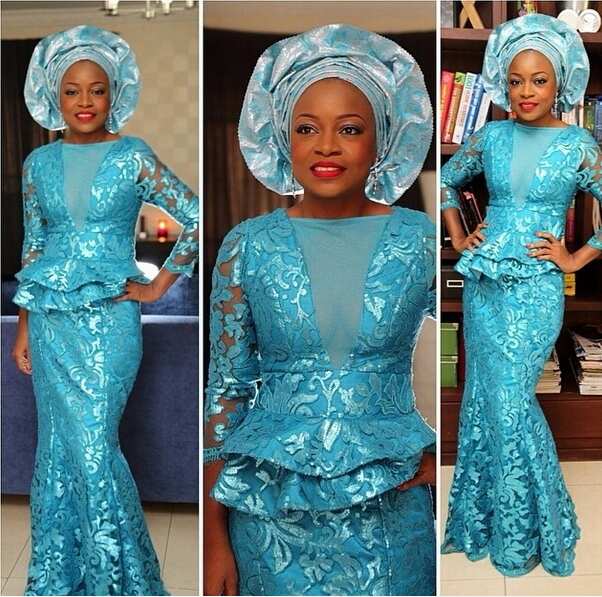 Even the most exquisite dresses that Hausa women wear are quite modest. Sometimes, daringly low neck openings that reach the cleavage are covered with a piece of semi-transparent black mesh that creates an additional fleur of mystery and attracts glances more than exposed body.
There's a stereotypy that all Hausa women wear dresses and skirts. It's a mistake. Some women wear pants quite often. These pants are usually slim and they are normally paired with a long loose shirt with long sleeves. Such suits are regularly made out of very luxurious expensive fabrics like silk, satin, velvet. They are richly decorated with traditional embroidery.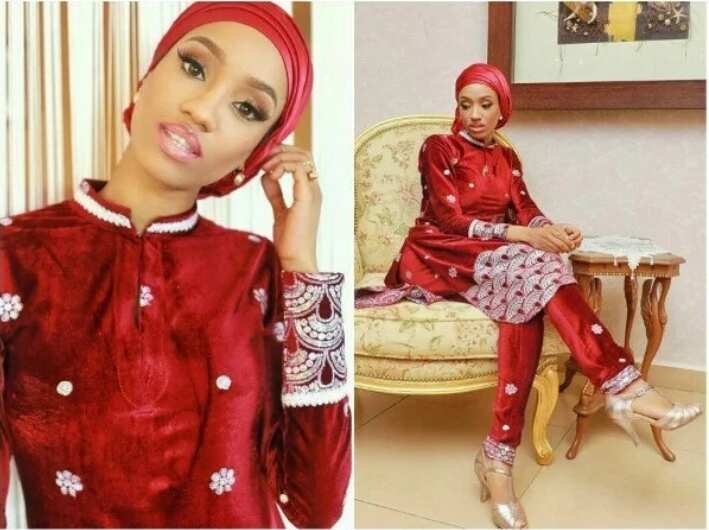 Maybe, that's due to the fact that wearing pants is already daring enough, such shirts are extremely modest. They have long sleeves, which cover arms from shoulders to wrists, high collars that are buttoned to the top, and a very loose cut that gives no hints about the body under it. At the same time, such suits are normally worn with high-heeled shoes.
One more element of a traditional female Hausa attire is a mantle. It's a wide loose cloak with a hood that slightly reminds of medieval European mantles worn by both men and women or the ones Arabs wear. Such mantles are usually richly decorated, especially the hood. It may be adorned with golden details and tassels that hang over a woman's face, creating a magical impression.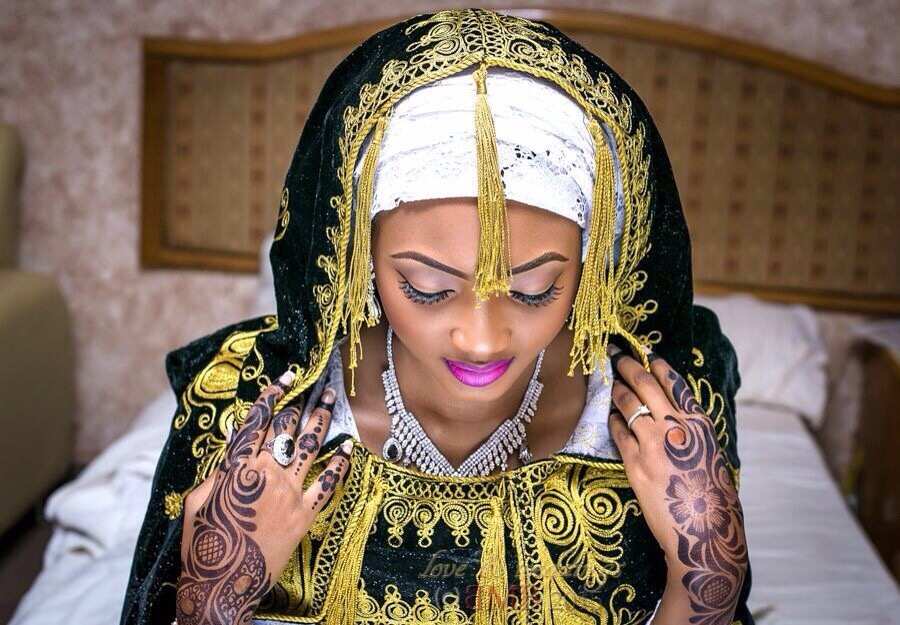 Of course, such mantles are not an everyday element of clothes. It's rather a wedding accessory for a bride, and this accessory emphasizes the royal looks she has in her exquisite dress and other decorations. Sometimes, mantles are attached to the shoulder area of a wedding dress as another decorative element. Such mantles have no hoods and they just cover the bride's back, flowing down to the floor and sometimes creating an elegant trail.
This is what can be said in brief about traditional Hausa styles for women, which can be seen in contemporary clothes and accessories. Of course, there are other native details and features about female garments in the northern part of Nigeria but they're too much for a single post. So, look forward to updates on this subject and learn more about the traditions of getting dressed in the most authentic Hausa ways!
READ ALSO: Calabar traditional attire will amaze you
Source: Legit.ng