The footballers from the Nigerian team have been making us really proud recently. One of the most talented Nigerian players is the forward Ahmed Musa, who has scored a huge number of goals for his club and national team. If you enjoy watching this footballer play and defend the honor of Nigeria on the pitch, you will probably also be interested in the brand new exciting facts about his life and career. Read the Ahmed Musa biography and learn the unknown information about your favourite player!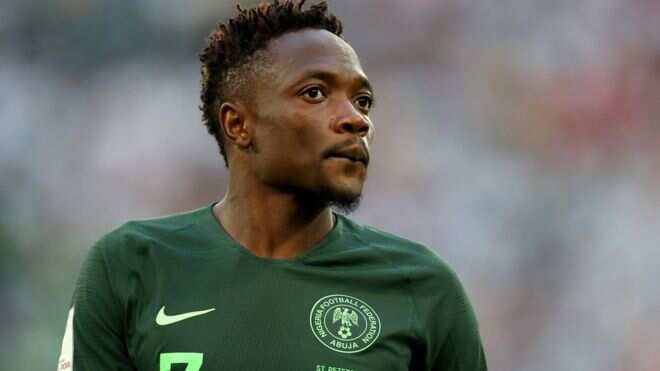 Photo: bbc.com
Biography of Ahmed Musa, Nigerian footballer
Ahmed Musa, who currently plays for the Nigerian national team and the club "Al-Nassr" in Saudi Arabia, is one of the most professional footballers in the country. He has been playing football ever since he was a little boy. He has had a difficult background, but he never gave up, and finally, he reached his dreams of becoming a high-class footballer and playing for the top clubs in Europe, as well as wearing the uniform of the Super Eagles. The biography of Ahmed Musa will definitely inspire you to follow your dreams.
Ahmed Musa real age
The actual age of Ahmed Musa currently is 26 years, which is just the golden age for professional football players. According to Wikipedia, his birthday is on October 14th, 1992. His birthplace was Jos, Plateau State.
Ahmed Musa father
The father of this famous footballer was Alhaji Musa. Even though the father of Ahmed Musa passed away when he was a young boy, the memory of him still lives on, as his famous son remembers him interviews. He says that he would like for his dad to see him play, score goals and win trophies.
Ahmed Musa mother
The mother of Ahmed Musa is a Christian, who comes from Edo State. There were no religious differences in their family, and everyone got along well. Her name is Sarah Moses, and she was Alhaji Musa's second wife. When her husband suddenly passed away, Sarah had to raise little Ahmed and his four older sisters on her own. Ahmed Musa's mother has always been very supportive of him. She understood his football potential since it was discovered at the early stages, and always encouraged him to become a professional player. Ahmed Musa had to become the family's breadwinner when his football career became more and more successful.
To this day, Ahmed Musa and family get along well. Unfortunately, one of his sisters passed away in 2013, which made him miss the match of Premier League to fly to his native land and commemorate her.
Start of the football career
Musa started his football career in the streets when he had nothing but a ball and some friends who shared his love and passion for football. Later, his skills were recognized and he started his training at the Aminchi Football Academy. It was not easy – he had to go there six days a week, and he had to wake up at 6 o'clock in the morning to get there. But in the end, it was worth it, and his talent, as well as hard work, really shone. Musa remembered that his friends gave him a nickname "Cristiano Ronaldo", because he was a winger, and they noticed that he was also a fast player, like the Portuguese superstar.
Ahmed Musa remembered that he was an Arsenal fan when he was growing up. The reason for his football preferences was the famous player Nwankwo Kanu, who was his inspiration. Ahmed Musa confessed that he was a role model and a hero for him. When he finally got to meet him in the national team, he was really happy. To this day, Ahmed Musa and his childhood idol stay in contact and occasionally speak to each other. Musa says that Kanu always gives him valuable advice.
Ahmed Musa's club career
From 2008 to 2010, the Nigerian talent attended the GBS Football Academy, where his professional career started. His talent even got him featured in the local newspaper. Ahmed Musa kept playing football and training in the academy, and he soon got rewarded for his efforts. He was loaned to the club from Jos, JUTH F.C., in 2008.
In this club, he played a total of eighteen games, and he scored four goals in two seasons. Eventually, he got loaned to another team – Kano Pillars F.C. He played for this team in the 2009-2010 season. He managed to set the record in the league by scoring a few important goals and helping the Pillars to finish second that year.
Until November 2011, Ahmed Musa was an official Nigeria Premier League holder of the record for the highest number of goals, scored in one season – there were 18 goals on his account. He later got beaten by Jude Aneke, the player from Kaduna United F.C., who managed to break his record by scoring 20 goals.
The next club of Ahmed Musa was VVV-Venlo, which is a football club from the Netherlands. At first, he had to transfer there in summer 2010. However, there was something that held him down from joining the club immediately, and this was his age – he was only seventeen at the time, and according to the rules of FIFA, he was not eligible for the international transfer. Later, when he turned eighteen in October this year, he officially joined the club. Only a week after his arrival, Ahmed Musa debuted for the VVV-Venlo club. He was in the starting eleven for the game against FC Groningen. In this game, he got fouled and got a penalty kick for his team. He was very soon included in the official rating by Goal.com which listed top-100 of the young football players who the fans should keep an eye on in 2011. He was also put by Lolade Adewuyi, the expert from Goal.com, on the list of ten most talented Nigerian international players of the year 2010. Except for that, Musa was included in the list of 140 world's best players by IFFHS.
In March 2011, the young talent received the national award from the AIT as the footballer of the year. This ceremony was organized at Port Harcourt, Rivers State, and took place at the Presidential Hotel. This event was attended by many officials, including the President of Nigerian football federation, Aminu Maigari, and the BBC African footballer of the year award winner, Asamoah Gyan. In April of the same year, the football director of VVV-Venlo club, Mario Captien, confirmed that the club was visited by the representatives of the English team Tottenham Hotspur, and there were discussions about their interest in Ahmed Musa. The scout of the Amsterdam club Ajax also said that their team expressed the interest in the Nigerian player. However, the decision was to be made by Ahmed Musa himself at the end of the football season.
There were some important moments in Musa's career during his time at the VVV-Venlo football club. For instance, in May 2011, Musa contributed to the victory against Feyenoord Rotterdam, which ended all the fears of leaving the Eredivisie. In August 2011, when Ahmed Musa came back from the FIFA U-20 World Cup 2011, which took place in Colombia, he appeared for the first time in the 2011-2012 season. It was a game against AFC Ajax, and in this match, he scored two goals. Later, in September of this year, the chairman of VVV-Venlo, Hai Berden, has revealed that their club has turned down a bid for Ahmed Musa, which was last-minute and worth 10 million euros. T his club, according to the official confirmation, was from the German Bundesliga, but the name of the club was kept in secret.
Ahmed Musa fondly remembered the time that he got to spend in the Netherlands, as a player of VVV-Venlo football club. He said that it was an amazing experience, and laughed when he remembered one of his big games against Ajax. In that game, he did not only score twice but gave the defender Daley Blind, who later played for Manchester United, a run for his money. This was such an intense battle, that the defender later got tired and had to be substituted.
In winter 2012, during the transfer window, it was announced that Ahmed Musa signed with the Russian club CSKA Moscow. The fee of the transfer was undisclosed. He spent four years in Russia, and his career in this club was quite successful. He scored the consolation goal during the 5-1 away loss to A.S. Roma in the Champions League of the season 2014/2015.
His good performances for CSKA Moscow have earned him a new four-year contract, which he signed in June 2015. According to this contract, he had to stay in this club until the end of the season 2018/2019. He also became the 5th highest scorer in the 2015-2016 season of Russian Premier League. Ahmed Musa has officially become one of the seven players of the age of 23 or younger, who have reached the double-figure amount of goals in each one of the latest two seasons in the seven top leagues of Europe.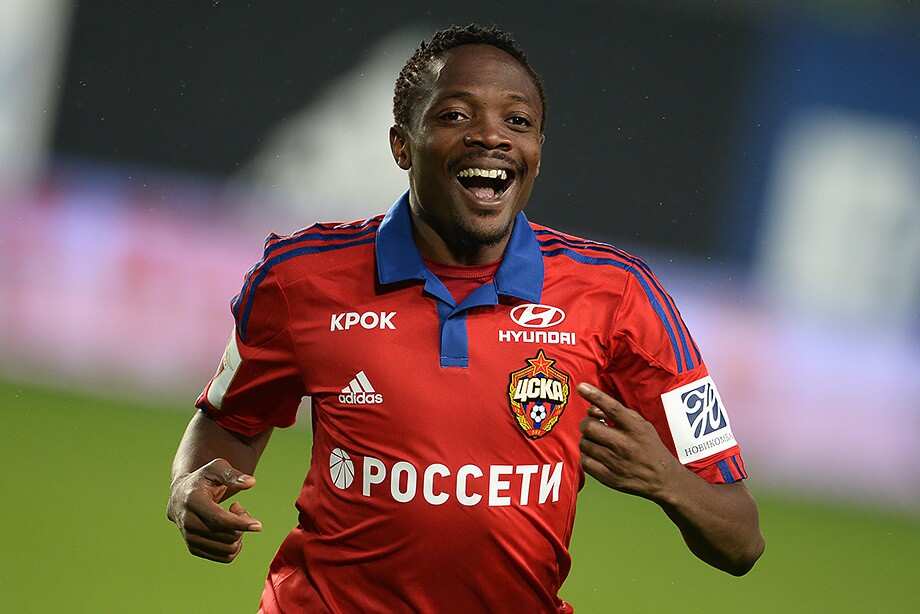 Ahmed Musa in CSKA. Photo: championat.com
Ahmed Musa remembered that after his breakthrough performance at the Under-20 championship in 2011, a lot of English Premier League clubs tried to contact him, but he thought it is too soon for him to move to England. Therefore, he chose to sign with the CSKA Moscow. He enjoyed his time in Russia, despite the severe weather conditions and the "crazy" language, which he had trouble learning.
Together with CSKA, he managed to win three Premier League titles, and also got the experience of playing in the Champions League. He spoke about the issue of racism, saying that Russians have made a lot of improvement in this field, and during his time in this country he did not get involved in problematic situations too often. He also expressed his gratitude to the coach of CSKA, Leonid Slutsky, who moved him to the position of the striker and was always encouraging him with kind words. Ahmed Musa said that this coach was like a father to him, and has made him into who he is today.
In July 2016, Ahmed Musa was signed by the Leicester City football club from England. His transfer was a record for the club, costing 16.6 million pounds. According to Ahmed Musa, his former childhood idol and good friend Nwankwo Kanu advised him to go to England, saying that he will enjoy his time there. His first goals for Leicester City were scored in the friendly game against Barcelona, which took place in the International Champions Cup 2016. Nonetheless, this game finished in a 4-2 loss for Leicester.
Ahmed Musa debuted in the Premier League on August 13th, 2016. This was an opening game of the season against Hull City, where Leicester lost 2-1. His first Premier League goal, however, was scored in the winning game against Crystal Palace, which took place in October 2016. The game ended 3-1, and Ahmed Musa scored the opening goal. In general, during his time in Leicester, he managed to appear 21 times and score two goals.
In January 2018, Musa came back to the CSKA Moscow football club. It was a loan from Leicester City, and he had to remain there for the rest of 2017-2018 season. He appeared for 10 times and succeeded in scoring six goals.
Nowadays, Ahmed Musa plays in Saudi Arabia, for the local club Al-Nassr. In August 2018, Al-Nassr signed him for the reported 14.5 million pounds. So far, he has made nine appearances for this club and scored five goals.
Ahmed Musa's international career
The footballer got invited into Nigeria's national football team for the first time in April 2010. Lars Lagerback, the coach from Sweden, was in charge of Super Eagles back then. Prior to the FIFA World Cup 2010, which took place in South Africa, Ahmed Musa helped Nigeria to win the WAFU Nations Cup 2010, by scoring a goal against the Benin team. During the same tournament, Musa scored an extra-time goal against Burkina-Faso, and this helped Nigeria to qualify into the finals. However, he later got an ankle injury and was forced to miss the upcoming World Cup because of it.
When he was only 17 years old, in 2010, Ahmed Musa debuted for the senior team of Nigeria during the qualification games for the Africa Cup of Nations 2012. He substituted John Obi-Mikel against Madagascar, and the team won 2-0. Ahmed Musa scored the debut goal for the national team when they played a friendly match against Kenya in March 2011.
The following month, Ahmed Musa was chosen into the under-20 football team for representing Nigeria in the African youth championship qualification. Back then, he was still a player of VVV-Venlo, and the club made a statement about Ahmed Musa having club commitments and being not available for participating in the tournament. However, after negotiating with the Nigerian football federation, the agreement was reached between VVV-Venlo and the representatives of Musa. They agreed that it would be good for him to alternate between South Africa and the Netherlands. So, after the game against Ghana, the defending champions, Ahmed Musa won the award of the most valuable player and had to board the next flight to the Netherlands almost instantly.
The same year, in August, Ahmed Musa represented the U-20 Nigerian team at the FIFA U-20 World Cup, which took place in Colombia. The Nigerian player succeeded in scoring three goals in the five matches. Because of his outstanding performance, Ahmed Musa got on the shortlist of FIFA's ten candidates to receive the Adidas Golden Ball, the award which had to be given to the most valuable player of FIFA U-20 World Cup. Except that, Ahmed Musa was also nominated for the Most Promising Talent award, organized by the Confederation of African Football. The award, however, was received by Souleymane Coulibaly from Cote d'Ivoire.
In light of Africa Cup of Nations 2013, Ahmed Musa was included in the 23-man squad of Super Eagles. He scored a goal in the semi-final against Mali, where Nigeria won 4-1. He also was a substitute in the final against Burkina-Faso, which the Nigerian team won. This way, Ahmed Musa and his team won the continental title, which was the third in Nigeria's history. This was a successful tournament for him, as he made appearances in the five out of six games. In the FIFA Confederations Cup 2013, Ahmed Musa debuted in all the three group stage games of Nigeria, but the team was eliminated and did not advance to the knockouts stage.
READ ALSO: Top 10 famous Nigerian footballers the country is proud of
Ahmed Musa became a regular player in the 2014 qualifications for the World Cup, appearing in every match. The coach Stephen Keshi has called him to the squad for FIFA World Cup 2014. In the final group stage match, where they played against Argentina and won 3-2, Ahmed Musa scored two goals. Recalling this moment, Ahmed Musa said that he was walking off the pitch with the shirt of Gonzalo Higuain, and understanding that his life has completely changed. This was when his profile rose, and his football dreams started coming true. Nigeria finished second in their Group F and advanced to the knockouts stage, where they lost to France 2-0.
Unfortunately, Ahmed Musa lost his former coach, Stephen Keshi, who passed away from a heart attack at only 54. It was extremely upsetting for Musa, and for a long time, he could not come to terms with this loss. The footballer said that Stephen Keshi was one of the most influential people in his life and another father figure. He has been playing under his guidance for three years and a half. Ahmed Musa only spoke to him two days before his death, and he did not sound like he was suffering an illness, rather healthy. Musa confessed that Nigeria and Africa have lost a coaching legend and a great man.
In May 2018, before the next World Cup, Ahmed Musa was included in the Nigerian squad for the tournament in Russia. The player has had a remarkable match against Iceland, which was the second game of their group. He scored two goals, which have become crucial, as the team won 2-0. However, this was not enough to qualify to the knockouts, as the Super Eagles lost to Argentina and were eliminated from the World Cup.
Ahmed Musa and his charity initiatives
Ahmed Musa is a man who invests a lot into charity. Since he understands how difficult it is to become a professional footballer when you grew in a poor Nigerian neighborhood, he now uses his fame and influence to promote sports among Nigerians and ensure the support for youth.
He often gives his money to poor people. There are photos on the Internet where he distributes money to the people in need during the holiday of Ramadan. He also helped to rescue more than forty children who were captured in prison and shared a lot of rice and other foods with the starving people.
Photo: guardian.ng
Ahmed Musa marriages
Ahmed Musa was married twice. His first marriage was to the woman named Jamila Musa. They had two children together, whose names are Ahmed Musa Jr (2013), and Halima Musa (2015). However, things did not work out between them, and they ended up divorcing each other. Jamila was even accusing Ahmed of domestic violence. They parted ways the same week. A lot of sources suggest that the real reason for their divorce was Ahmed being involved with another woman.
Apparently, this woman's name was Juliet Ejue, and Ahmed has known her for a long time. She comes from Cross River State, even though she now lives in Lagos. After the divorce with his first wife Jamila, Ahmed focused on his relationship with Juliet, and they eventually got married.
In March 2017, the couple had the introduction ceremony, and in July 2017, they got officially married. Both looked incredibly happy at the wedding, and it seemed from their bright smiles like the marriage was long overdue.
Ahmed Musa responded to all the critics, who were judging his divorce with one wife and marriage to the other, saying that nobody is perfect, including them, and that they should mind their own business.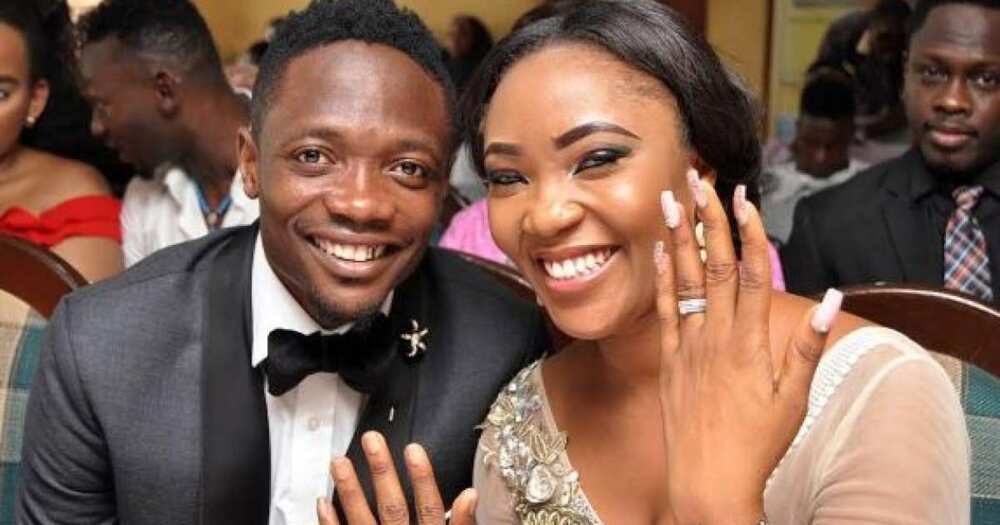 Ahmed Musa and his wife Juliet. Photo: pulse.ng
In 2018, Ahmed Musa's wife Juliet delivered a healthy baby boy. The footballer revealed the news on Instagram, saying that he was blessed with happiness.
Ahmed Musa newborn baby is called Ibrahim, and he is the cutest bundle of joy, which constantly makes his parents happy.
READ ALSO: Ahmed Musa's marriage life
This is all you needed to know about one of the most talented Nigerian footballers, Ahmed Musa! We hope everything will be good in his career and personal life.
READ ALSO: Where is Jay Jay Okocha now?