RMD biography: interesting facts to know
What do you know from RMD biography? He's famous as an actor and as a man in public service. What else do you know about his life, career, family, and other interesting facts? Supposedly, not much. Now, let's talk a little about his biography and everything he has done for the development and promotion of the Nigerian culture.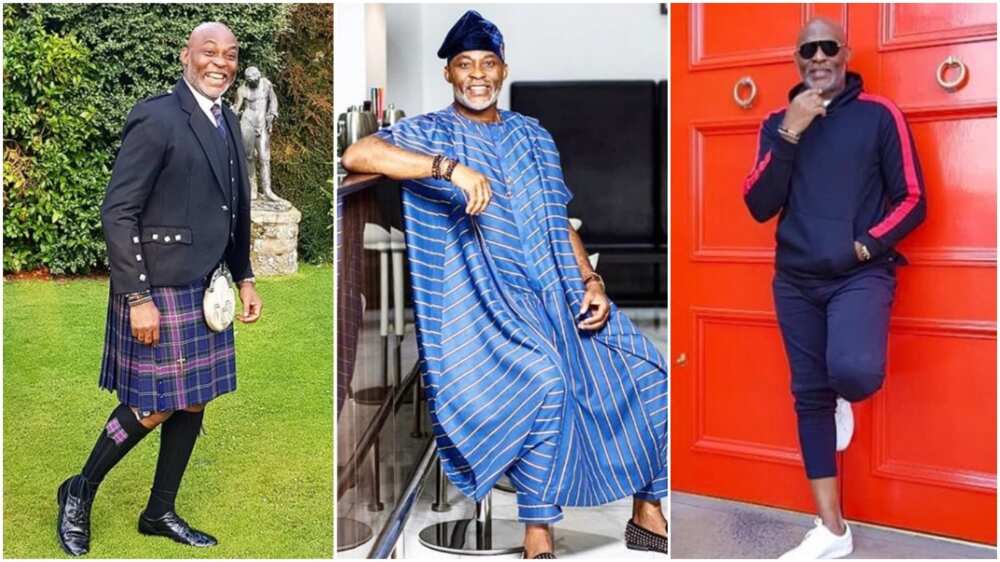 A little about RMD's background
RMD's true name is Richard Mofe-Damijo. This was the name given to one little boy born exactly on July 6, 1961. It was Aladja community located in Udu Kingdom, which is in Delta State. All his childhood passed in this place and eventually he grew up enough to start attending a college in Warri. His education continued in the Anglican Grammar School and this is where the boy participated in the first Drama Club in his life.
READ ALSO: Tobi Bakre parents: interesting facts
After graduation from the secondary school, Richard entered the University of Benin. In Nollywood, there are many actors whose professions are as far from acting as they can only be. Richard is one of those rare Nollywood stars who has been into the acting career from the very start. At the same time, having finished the course in Theatre Arts, Richard went into further education at the University of Lagos and studied law unexpectedly.
It's interesting how RMD has always managed to combine his career and studying successfully. While receiving the degree in law, he was one of the leading actors in a range of successful movies like Diamond Ring, Hostages, Freedom, and others. At the same time, he produced the first movie of his own – Out of Bounds.
Moving towards Richard Mofe Damijo's career
Richard Mofe-Damijo is a popular Nigerian actor with a career that has been unfolding in Nollywood since the 1990s. Apart from playing, he has been engaged in the sphere of culture and tourism in Delta State as a Commissioner.
As an actor, Richard is known for dozens of roles – major roles! – in series and full-scale movies. In 2005 his efforts in acting were rewarded by a Best Actor award of the Africa Movie Academy. This was a leading role in a movie and he performed it brilliantly.
As it was said above, success in leading roles began for Richard with his very first big appearances during the time of his studying. It was a soap opera titled Ripples that brought him to fame already when these were only the late 80s. At this very time, RMD used to try his hand in reporting for Concord Newspapers and Metro Magazines.
READ ALSO: Bukunmi Oluwashina's biography and amazing career
Yet, the 2000s have become the most productive for him as he played 13 major roles in 2003 only together with other Nollywood stars. Next year, the number of roles grew to 18 within a year only. These efforts could not but stay unnoticed by the African Movie Academy and he was granted the Best Actor award in 2005 for one of his new leading roles.
In 2012, there came a new award – Special Recognition – and in 2016, a Lifetime Achievement prize. This was the 12th edition of the Africa Movie Academy prize party.
RMD participated in 30 Days in Atlanta, released on October 30, 2014. This movie is notable due to the highest grossing in the history of Nigerian movie industry ever. Richard has played the role of Kimberley's father there, accompanied by Ransom Nouah and AY Makun.
Between 2007 and 2013, Richard Mofe-Damijo took a short break from the acting just to focus his attention on politics and his role in the social service. This has logically followed his appointment for the post of the Commissioner in the sphere of culture and tourism in his native Delta State.
At the moment, Richard is a COE of his own production industry titled RMD Production Ltd and is busy producing a TV drama series of his own titled The Mr.X Family Show.
Sometimes, fans are into talking about RMD's net worth but the exact quantity of money he possesses is not known. He's doubtlessly rich or even super rich due to all those successful roles, his own movie production and other ventures of his but the exact amount of his monetary value is still a matter of guessing.
Richard Mofe Damijo's family and children
Richard Mofe-Damijo has been married twice in his whole life. His first wife is late now. She was May Ellen Ezekiel, a famous TV personality and an editor of a popular magazine. Everything used to go well for them and they lived on together in happiness with their kids until 1996. This was the year when MEE (a common nickname for May Ellen) underwent a surgery to cure fibroid in a Lagos hospital and never survived it.
Several years passed, and Richard marrid another women who is his current wife. Jumobi Adegbesan is a journalist who abandoned the sphere some time ago and started working for the corporate sector. Their wedding took place in 2000 and they also have kids together.
Now, Richard is a proud and loving father of two daughters and three sons, and a happy grandfather already, too. He shares adorable pictures of his family on diverse occasions and they all look pretty and absolutely happy. It seems, the family shares close family bonds together, judging on their photos.
Richard claims that his family is the biggest gift in this life the Lord could give him and the highest and most precious of his awards. The actor is often called the most handsome grandfather of the entire Nigeria. His absolutely handsome looks, his charisma and grooming are the reason.
This is all we have to say about RMD history and biography details at the current moment. If you are interested in more, keep an eye on further updates and news about your favorite actor. Share this information with those who are interested, too, and thanks for your attention!
READ ALSO: Okiki Afolayan's biography and career
Source: buzznigeria.com
Source: Legit.ng