The story of Segun Ogungbe family may sound special and unusual. If you want to find out exciting details about the family of this famous Nigerian actor Segun Ogungbe, go on reading this article!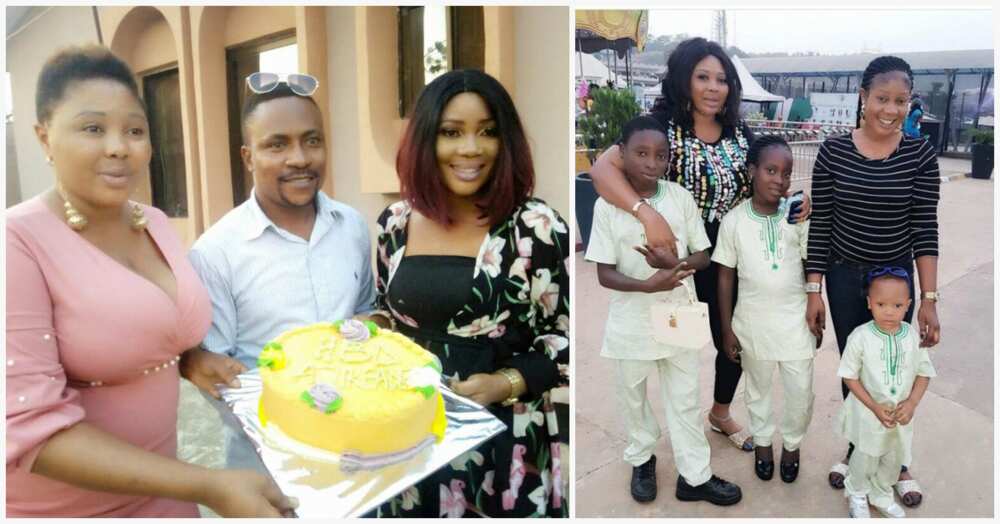 Segun Ogungbe and his family
Maybe you have already heard about it, but famous Nigerian actor - Segun Ogungbe gets two times more love than any other average Nigerian. He has two wives!
By the way, the actor`s uncle – a film director and actor Akin Ogungbe had 20 wives and 50 children! Segun Ogungbe has three children from both of his wives. So, polygamy is not stranger to Segun Ogungbe family.
The actor the situation in his family thus:
"I have a peaceful household. God has blessed me with wives that understand each other. It is only God that can help a man have a peaceful home. However, for those who think that I would have about 20 wives like my uncle; all I have to say is that they should mind their business."
Do you want to learn more about the wives of the actor? Keep reading then.
READ ALSO: Top 10 richest Nollywood actresses in 2018
Segun Ogungbe's first wife
The actor's first wife is Atinuke Ogungbe. Segun Ogungbe has two children with her. She is an actress and even starred in a movie by her husband in 2017. She wrote about her relationship with the second wife of her husband on Instagram:
"We were never friends from the start because no woman will be happy to share her husband but for the sake of love, respect and unity we both have for our husband we became best of friends now and so shall it be forever."
Who is Segun Ogungbe's wife number two?
As you have already understood, Segun Ogungbe has two wives. The second wife of Segun Ogungbe is an actress. Her name is Omowunmi Ajiboye, and the actor married her after she got pregnant. Omowunmi gave birth to his third baby and her first baby. This is how the actor became a husband of two beautiful ladies.
However, there were a lot of rumours claiming that Segun Ogungbe cheated on her first wife with her best friend and the woman got pregnant. Though later Segun denied the fact of his infidelity, saying that he was not a terrible man and he did not cheat on his wife with her best friend, he said:
"What actually happened was that there was a lady who wanted to marry me a long time while ago and I made her realize that as of that time I could not have two wives. She is not into entertainment at all, and I would not want to mention names. Eventually, I got together with my second wife, and when she got pregnant, and we eventually got married, the lady was very mad at me. She was the one that went on her Facebook wall to spread the false news that I got my first wife's best friend pregnant. She was the one that framed me simply because I did not want to marry her back then."
Both wives of Segun Ogungbe claim that they are friendly to each other because they respect the choice of their husband and wish him happiness.
A polygamous family is a common thing for many Nigerians, however, not all of them manage to have peaceful relationships. Segun Ogungbe is a lucky man who has chosen two ladies who managed not only to communicate peacefully but become friends to make their man happy. This is the magic of love!
READ ALSO: These 13 celebrities have piercings in unusual places