Best trousers for men nowadays: find your style
In the wardrobe of every modern man there should be a pair of mens fashion pants for different occasions. For official meetings and business style, experts advise having a classic-style trousers paired with a shirt, jacket. For meetings with friends or active pastime, you can wear jeans or sports pants. Also, designer collections offer many other types of men's trousers in different styles.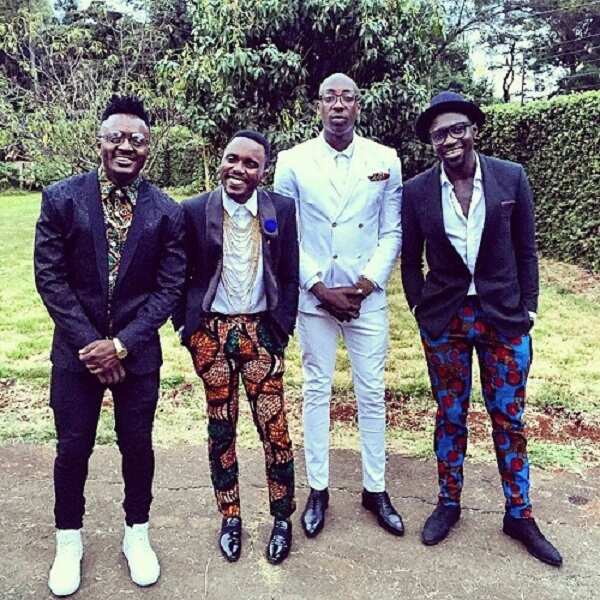 Stylists insist that every modern man should know the styles and the names of all the existing models of trousers in order to navigate the choice in the selection and correctly create outfits. In addition, experts have more than 10 of their varieties, each of which involves its own unique style and design. Knowing the names and their specifics, the man will be able to correctly make up the general image, selecting the wardrobe items according to style.
Types of male trousers
Now young guys know for sure how to choose pants from the proposed models and styles to look perfect and fashionable. Men's wardrobe is now rich in a variety of styles and differs significantly from the standard set of the last century. Today even customary classical trousers are presented in several varieties.
Every modern man is simply obliged to try on several popular models of trousers in his own image - classic, khaki, chinos, cargo, slacks, denim and corduroy pants. All these types of trousers are made of different materials and different styles, emphasizing the advantages of a male body.
Classic trousers for men
This style of pants is designed for various special occasions and business working style. They are made of monophonic laconic fabrics with a small addition of synthetics, so that the pants keep their shape and do not hesitate while wearing. Classic models often offer protection from the front. They look well at men of dense build, visually making them slimmer. Trousers can also have arrows in the front, but this style is typical for men of solid age.
Mens cargo trousers
If we consider all types of mens pants, cargo is the most comfortable and simple option. Their wide cut contributes to the fact that a man feels free and comfortable in these pants. On the sides, manufacturers attach wide pockets in the knees, which make the pants more practical while wearing. Pants are made of dark fabrics, and combined with knitted sweaters and jumpers, sportswear and shoes, and put on for meetings with friends and during active pastime.
Chino trousers
Another model of comfortable and practical trousers for men of all ages is chinos. Trousers assume direct cut, are made of natural fabrics, more often cotton, but with the addition of synthetics. Most often, such a model of pants is offered in two colors - brown and beige. And for young people there are bright options in the style of grunge or casual. Chinos can be combined with both classic clothing and raglans and sweaters. Stylists advise men to try on chinos of any configuration, as they emphasize only the best sides of the figure.
Male slacks
Slacks are ideally suited for our country, made from cotton fabric of concise light shades. The model assumes a free and straight cut, worn under summer sandals or classic style shoes. It is contraindicated to wear such pants along with raglans, bright T-shirts or sports shoes.
Velveteen male pants
Velveteen pants are a great idea for men of all ages, especially for adults. They are made mainly of dark dense fabrics, therefore it is better to wear them in a cool season. Visually, they are similar to classic trousers, so it is better to wear them with jackets and shirts. Velveteen fabric is very practical and retains its novelty for a long time.
Khaki and camouflage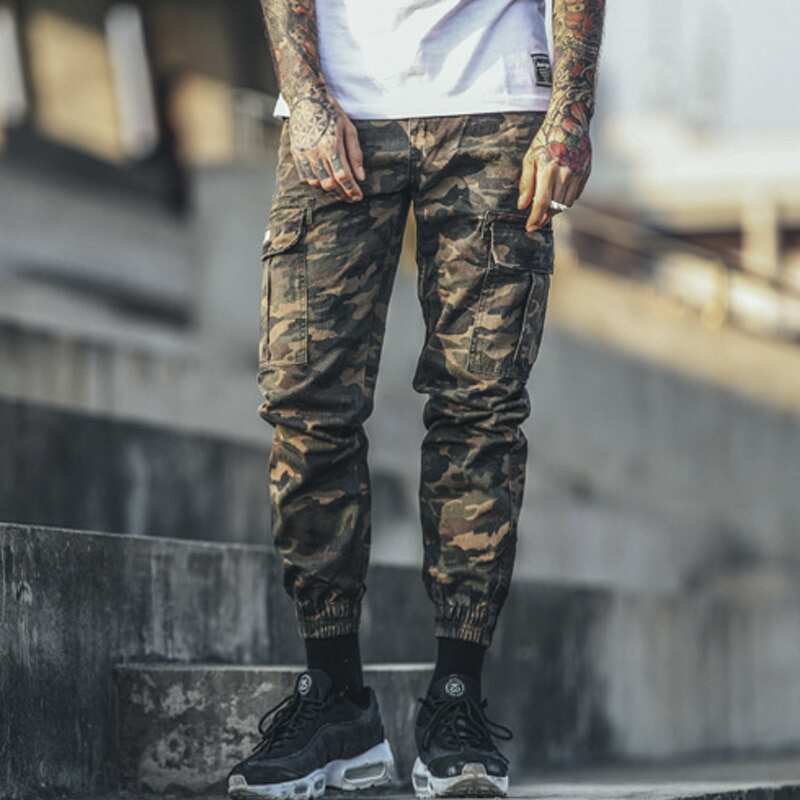 Khaki style is great for men who work in the office. They are sewn from dense monophonic fabrics, offering different tones of khaki color. Pant models can be with or without tucks, in the hips they can be tight, and below - free, as a straight cut is provided. A belt is a must-have accessory, such pants can be combined with sports and classic clothing. The only contraindication is shoes with a narrowed elongated toe.
Male joggers
This type of trousers combines a classic and sporty style, that is, sweatpants, but with a skinny, tight-fitting silhouette.
READ ALSO: Ankara styles for boys
They use bright fabrics with patterns or spotted colors, which are similar to the stylized camouflage. Joggers are exclusively youth pants that can be worn for walking with friends, on nature and a picnic.
Gallifera for men
If a man is interested in varieties of comfortable trousers, it is worth trying this model. Pants assume a free cut in the hips, after which they gradually taper to the ankles. It is a summer version of trousers with good airing. Ideal for men aged about 30 years, but for older people they are contraindicated by stylists.
Flare style
Since the days of retro entered the modern fashion, flared pants, which are distinguished by their elegance and versatility, have not lost their relevance. With the help of their special style, a man can hide the fullness and excess volume in the hips, his pants visually make a man taller and slimmer. It is better to wear them with shirts and elongated pullovers, shoes can be classic with a narrowed toe.
Narrowed trousers
This style of pants was at the peak of popularity in the United States in the 90s of the last century. Today, the narrower models of trousers are advised to the men of slim stature and medium height. And you can combine them with a classic or urban casual style.
'Bullies' style
Pants of this style suggest several features - the classic free style, the presence of oblique, spacious pockets on the sides. They are made, as a rule, from viscose, cotton fabric or jeans. Most often, these pants are made for the football players and for other athletes. Pants are comfortable to wear, and therefore suitable for active and mobile men.
Trousers with stripes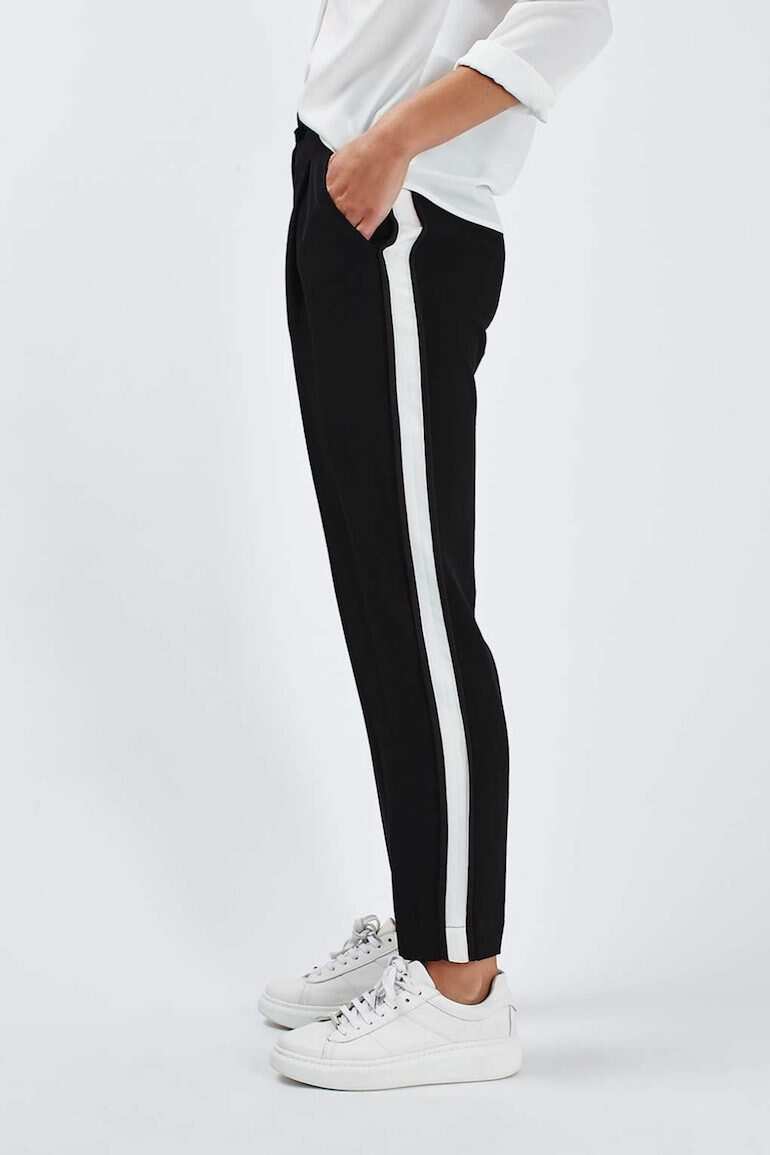 Such trousers have gaps of fabric of a different color along the side. Most often, pants are made of dark fabrics, and stripes of contrasting colors - white or red. These pants belong to the sporty style, they can be free, straight or tight-fitting cut. Combine pants with stripes only with a sporty style in clothes.
How to pick up a man's pants
To understand how to choose pants, a man needs to decide on the style of such a piece of clothing, as well as what trousers will be combined with in the future. In addition, you need to be able to correctly calculate your own size; for this, three parameters are calculated - leg length, waist volume and hip volume. Further, the obtained figures are compared with the dimensional grid, comparing the table with the country of the manufacturer, since each state has its own measurement methods.
Another important criterion for choosing a man's trousers is considered to be the man's figure and body build, which is oriented in the styles of his pants. Pants tucks are suitable for obese men, a wide-cut pants with a low fit so that they do not tight a full belly. Slim men should choose fitting styles, pants with side pockets, wide 'oxfords' or skinny jeans, as well as tight pants with cuffs.
As mentioned earlier, modern types of men's trousers and their classification suggest more than a dozen models and styles for men of different builds and styles in the image. Pants can be classic or sporty, skinny, straight or flared, thin or made of thick fabrics for different seasons of the year. It is important that the style and design of this item of clothing completely coincides with the character of the man and his overall style.
READ ALSO: How to tie Ankara scarf to look stunning
Source: Legit.ng