Latest shoes for girls: best styles
There are a lot of trends and styles nowadays, so parents are able to find beautiful and comfortable latest shoes for girls. We have collected the latest trends in kids shoes to inspire you and your daughters.
Trends of kids shoes for girls
Parents frequently think that they need to buy shoes that are not only comfortable and practical but also fashionable for their children. Moreover, the extensive range of products and competition enforce manufacturers to produce original novelties that children will definitely like. However, when choosing stylish shoes, it is essential to pay attention not only to the decor but also to the quality, because the shoes for the child should be comfortable.
Fashionable designs of kids shoes for girls are many, like adult shoes, they attract attention with bright decor in the form of fringe, lacing, and sequins. You can find shoes for every taste and style: sandals, moccasins, slip-ons, dress shoes and even shoes with a lug sole.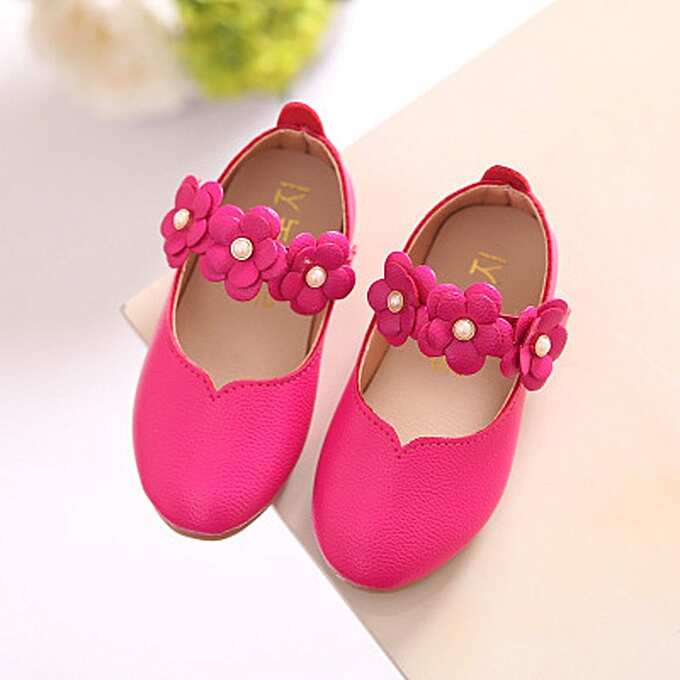 Today it is not difficult to buy beautiful shoes for kids girls. At the same time, it is noticed that fashion trends generally repeat fashion trends for adults. Models created for girls are often decorated with rhinestones and applique patterns. Today, fashionable children's shoes are most often created from textiles and leather-cloth with a suitable checkered pattern.
Suede or leather moccasins with bright lace are what you need to give a childish look lightness and ease. This type of shoe can serve as an excellent alternative to more stringent classic shoes. Loafers of delicate shades look cute with a wardrobe of very young fashionistas and stylish teenage girls. It can be said without a doubt that all children love the light and comfortable moccasins. You can safely buy toddler girl shoes in bright colors such as green, pink, white, blue and orange.

READ ALSO: Latest Ankara styles for children to wear in 2018
The fashionable trend for children's shoes are sneakers on a high platform. Just make sure that the child is comfortable in such shoes, and that the platform is not too high for his age. Sneakers is a real magic wand in the children's wardrobe. Comfortable, beautiful, stylish and versatile, they can be worn with very different clothes.
The main highlight of the sneaker is color lacing. Bright laces look great on girlish sports shoes. In addition, the lacing can be changed at least daily, each time choosing new stylish colors. Believe us, children will love such experiments.
Trendy colors for children's ballet flats for today are blue, white, lilac, beige and golden colors. Choose the right clothes for these shoes, and your girl will become an exquisite little princess.

READ ALSO: Top 10 trendiest shoes for men and women
For older girls, you can look at the girls dress shoes with a small heel, with a rounded toe and a strap around the ankle. The primary requirement is that the heel should be massive and stable. Suitable sandals on a low, flat sole, with an open toe and a closed backdrop, are ideal for girls of any age.
Provided that these shoes are orthopedic, the girl will be comfortable, even if you are going on a long walk. Slippers shoes are also the trend among children's shoes. These shoes are made of thick denim fabric, decorated with textile lapels in a contrasting color. Such shoes look very cute and charming.

If you choose children's rubber boots for your daughter, pay attention to the bright models with decorated prints. Also, this season, rubber boots of bright colors are very fashionable, and the more colorful, the better. Rubber boots are the best friend of mom in rainy weather because you do not have to wrestle with what to put on a child. Rubber boots do not let the moisture, allow the baby to walk entirely freely. But it is not recommended to stay in rubber boots for a long time, because the skin of the legs does not breathe in them, which does not in the best way affect its condition.
Oxfords are in demand not only among adults because this style has migrated in the trends of children's shoes. These comfortable and stylish shoes guarantee your child the attention of friends. In addition, you can instill good taste in your baby from childhood.
A variety of assortment makes it easy to choose fashionable baby girl shoes, even for the smallest.
READ ALSO: Best school uniforms in Nigeria
Source: Legit.ng