A pocket square is a symbol of power and style. When men want to wear pocket squares, they usually know what they want and which pocket square folds are their favourite. If you don't know how to fold a pocket square, check out these creative ideas on how to fold a pocket square easily and stylishly.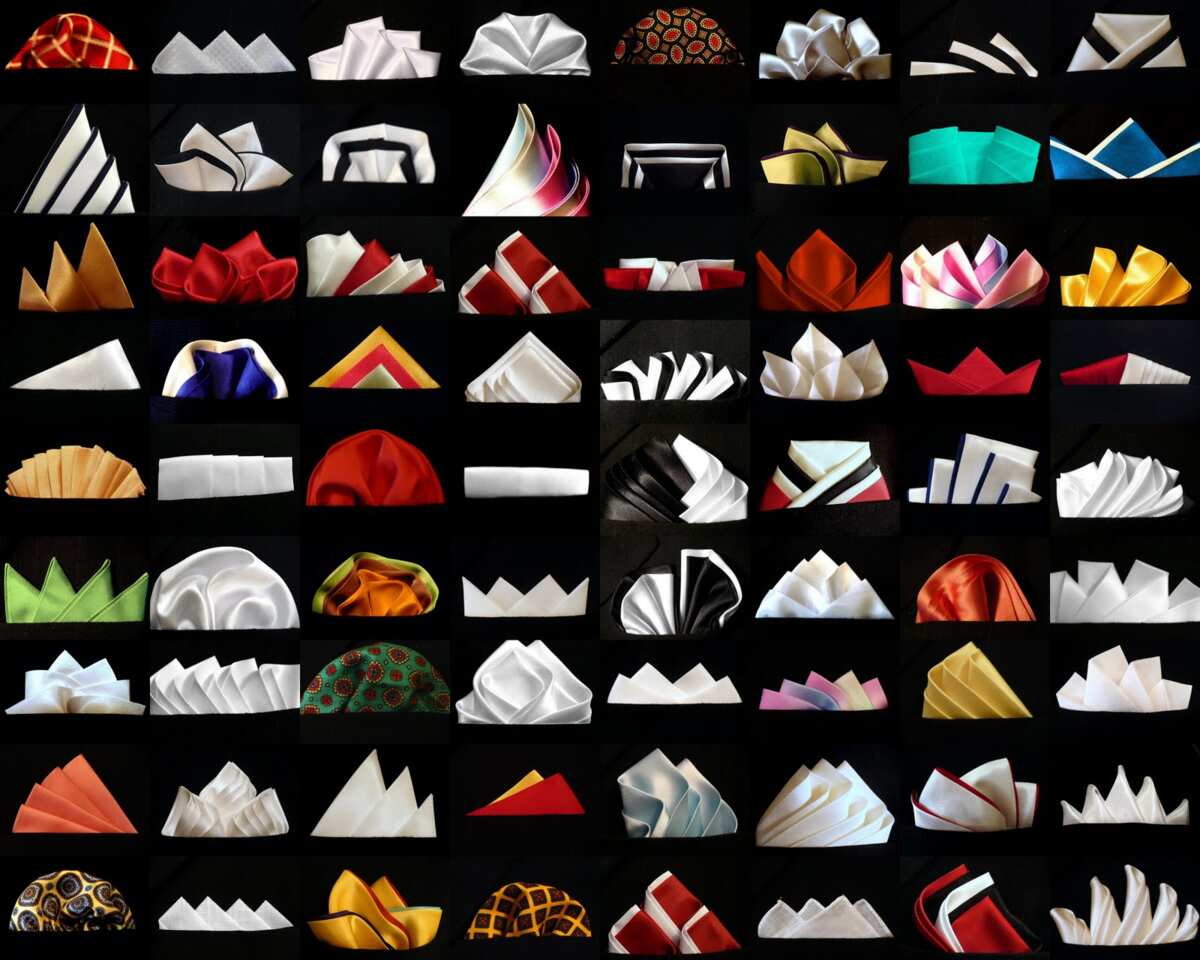 Photo: pl.wikipedia.org
Top pocket square ideas
You will know the names of the top 6 easiest and most trendy pocket squares and will learn how to fold them.
1. Square fold or presidental fold
Lay the pocket square flat on a level surface and unfold it.
Fold its left side over the top of the right to the width of your pocket square.
Fold the bottom of the pocket square up so that it could form a rectangle the same width as the pocket, and a little longer.
Put it into the pocket so that the edge is horizontal. Adjust it if necessary.
Presidental fold is a simple, elegant fold that can be paired well with any black tie wear, especially, tuxedo. If it is made of cotton, linen or other fine materials, one point fold pocket square looks simply amazing. Remember that the task is not to distract from the outfit by a pocket square but to make it a perfect touch that will finish your look.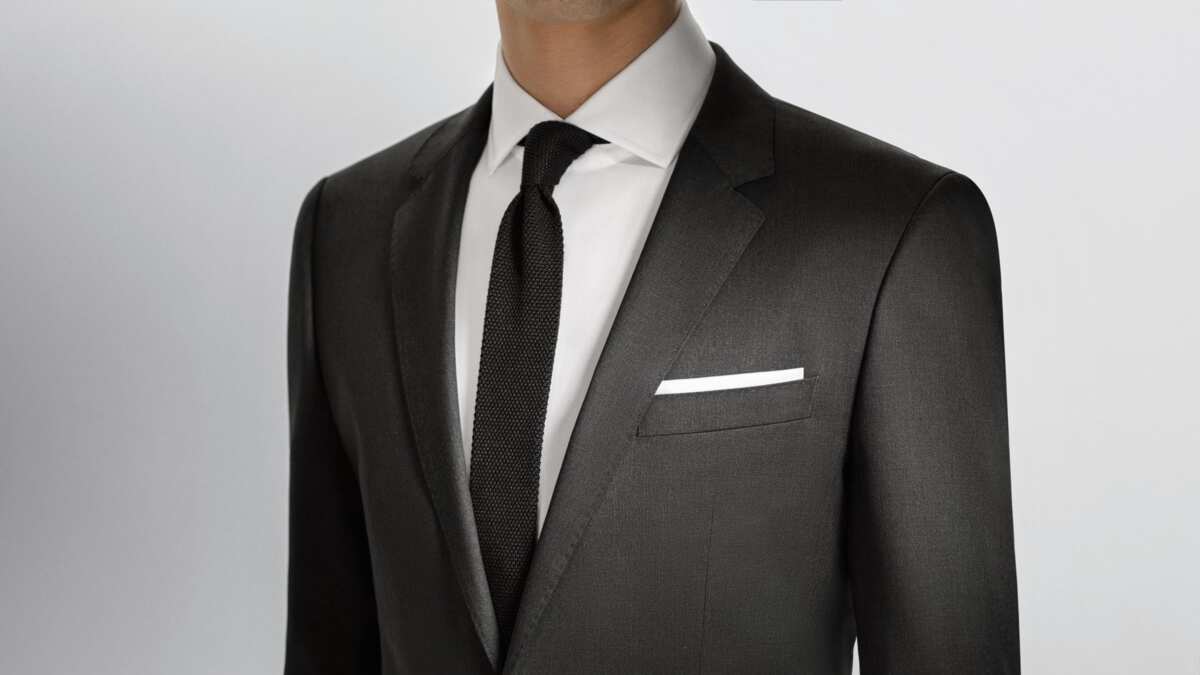 Photo: hugoboss.com
2. One point fold
Unfold the pocket square and lay it on a level surface so that one corner points down.
Fold the bottom corner diagonally, that is, towards the top corner. They should make a triangle.
At the bottom of this triangle, fold the left corner inward on one side of the pocket square, that is towards the right corner.
Make folds the same size. Adjust the pocket square the width of your pocket.
If it looks like an envelope, tuck all the way down into the jacket pocket. Hide the rectangular edges so that only triangle is visible pointing straight up.
One point pocket square fold is quite simple, and it can be appropriate for the business meetings as well as for more casual occasions.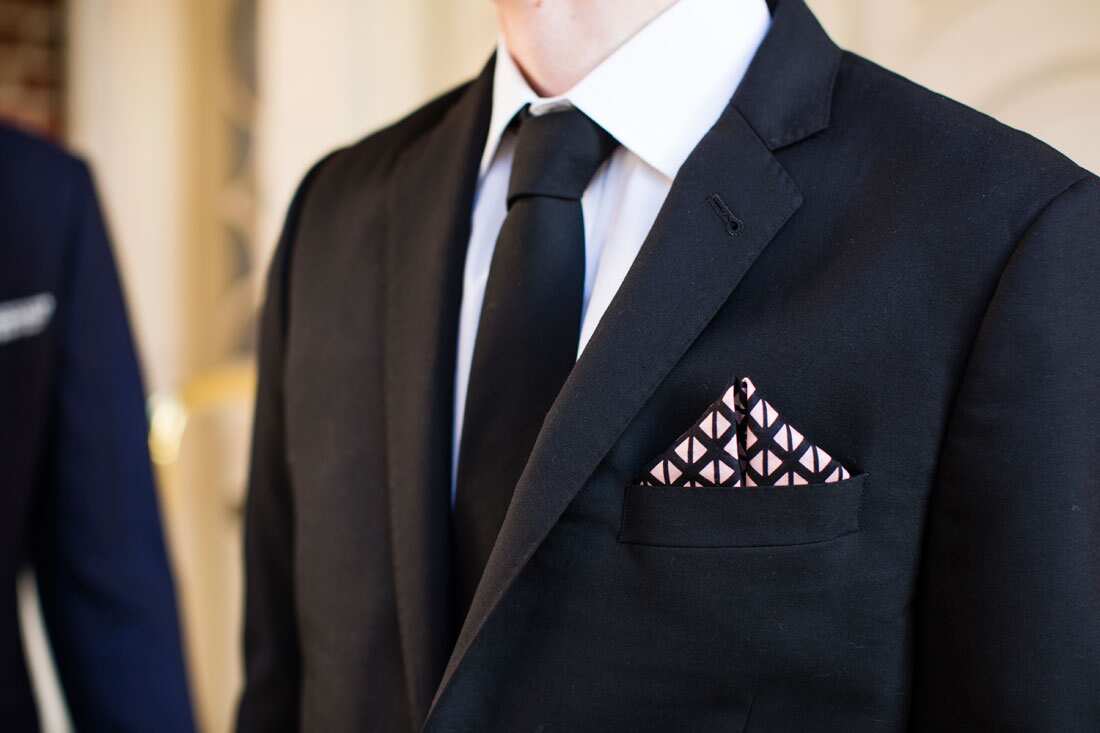 Photo: theidleman.com
3. Two point fold
Put the fully unfolded pocket square on the flat and hard surface.
Fold it diagonally but note that the bottom corner should not match perfectly to the top corner but be slightly angled to the left.
Fold one of the corners over to another one, then bring it over.
Make both folds the same size. The pocket square should match the width of the pocket.
Put the bottom of the fold into the pocket so that only two triangular points could be visible should from the pocket.
Two point fold pocket square is slightly more sophisticated. It is a good choice for sports, suit jacket outfit, wear for casual, business meetings and other occasions. Linen, cotton, and wool work well for the two-point fold pocket square.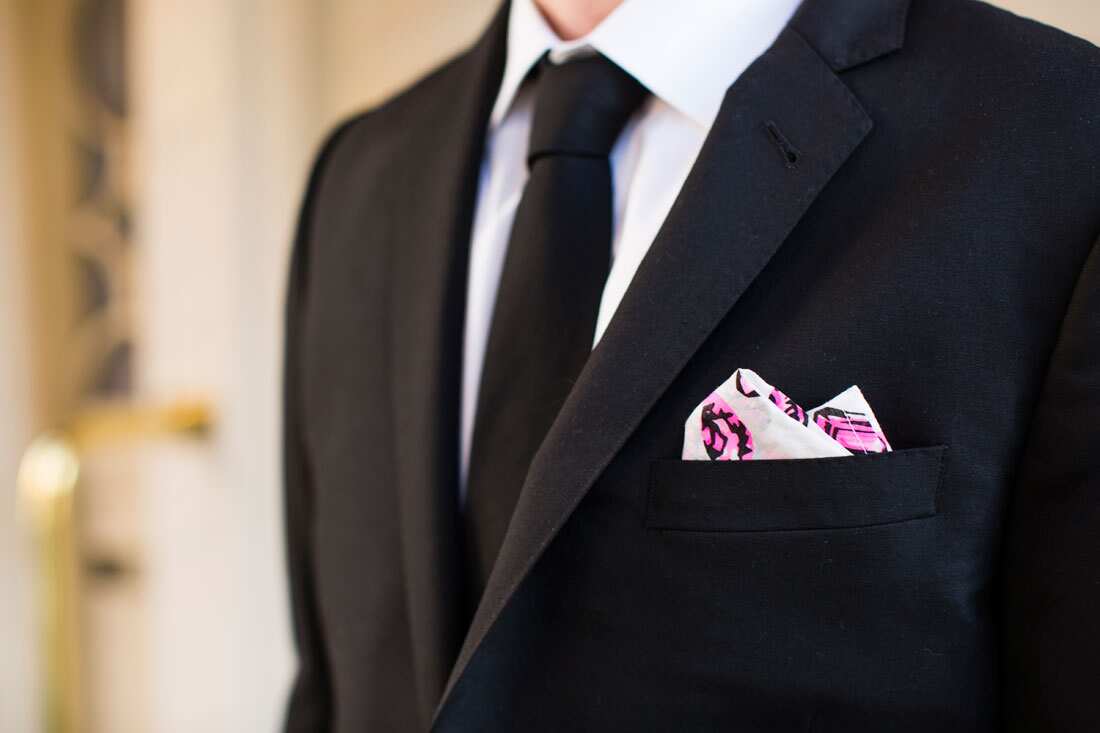 Photo: zhinno.com
4. Three-point fold
Unfold the pocket square and put it on the hard, flat surface, with points facing top and bottom, right and left.
Fold the bottom left corner diagonally. It should not match fully to the top corner but be slightly angled to the left.
Fold the bottom left corner up to the right and fold the right corner of the pocket square straight over to the left.
Tree points should be spaced on the same distance from each other.
Put the pocket square into the pocket leaving only the three points visible.
Try a few times to make it look perfect and neat. While this fold is slightly more advanced, it is still appropriate for a business meeting. It also looks brilliant in bright colors and goes well with casual attire.
READ ALSO: How to knot a tie: step by step tutorial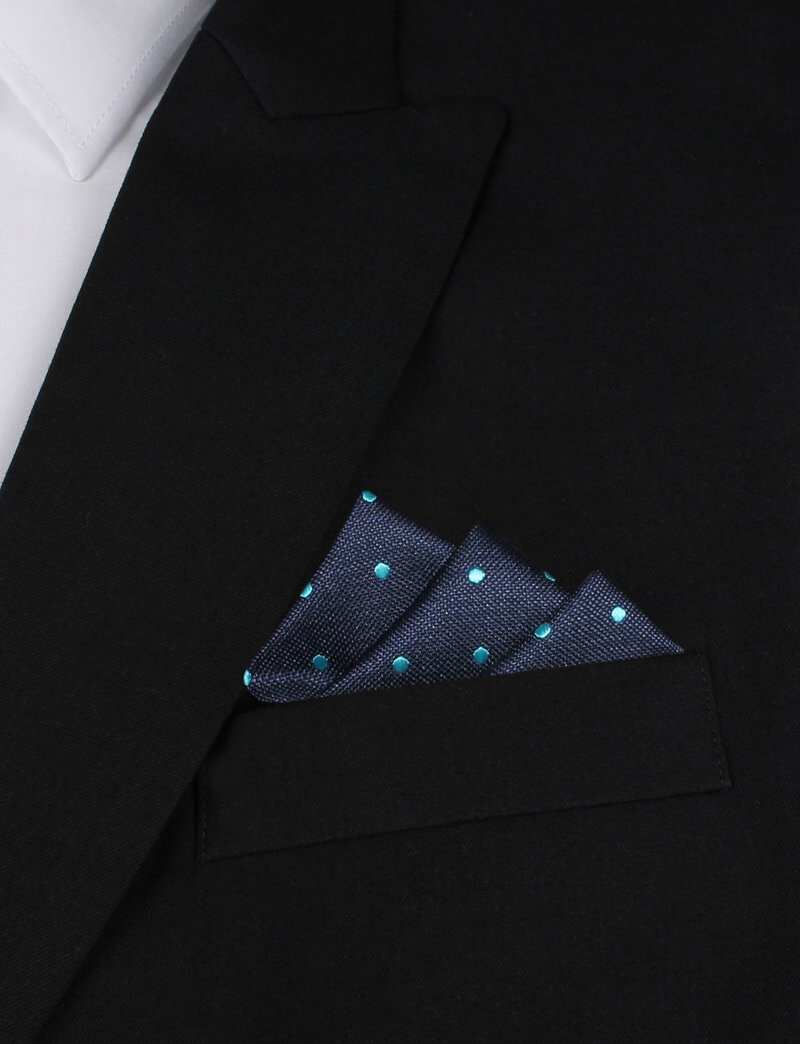 Photo: otaa.com
5. The puff fold
Unfold the pocket square and lay it in on a hard, flat surface.
Grab the pocket square at the center with your thumb and forefinger. Lift the fabric up so the edges and corners hang down around the point you are holding.
Wrap your other hand around the pocket square and pulling it into a loose tube shape. It is supposed to look a little messy and have wrinkles and dimples.
Gently fold all the edges back behind the square until it is short enough to put into the pocket.
Turn the puff fold pocket square upside down.
When you tuck the pocket square into the pocket so that only the rounded top was visible.
The puff fold is not formal, however, it is still very stylish. And it is quite an easy pocket square pattern too.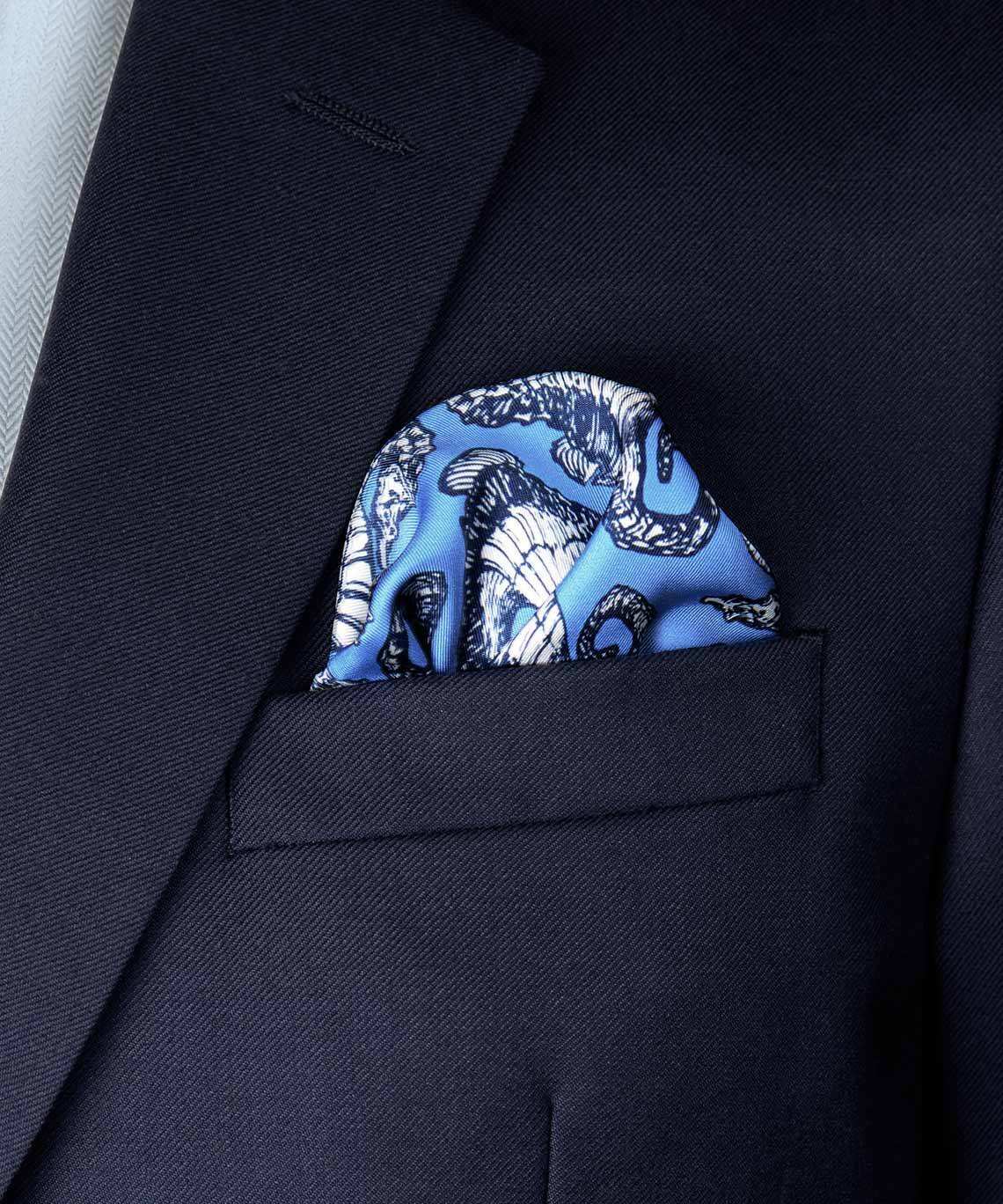 Photo: dalvey.com
6. The scallop fold
Unfold the pocket square fully and lay it on the flat surface.
Fold it diagonally down the middle and fold it in half again.
Lift the scallop fold pocket square curling one of its corners inward and downward, that is at the 450 angle.
Do the same with the second corner.
Put the scallop fold pocket square into the pocket so that only the top of the square is visible. The curves should form a rounded, scalloped shape. The points and edges should be hidden.
This pocket square fold looks extremely stylish. It is one of the most beautiful pocket squares that can be worn at the wedding and other celebrations. For this fold, it is better to use glossy, colorful materials.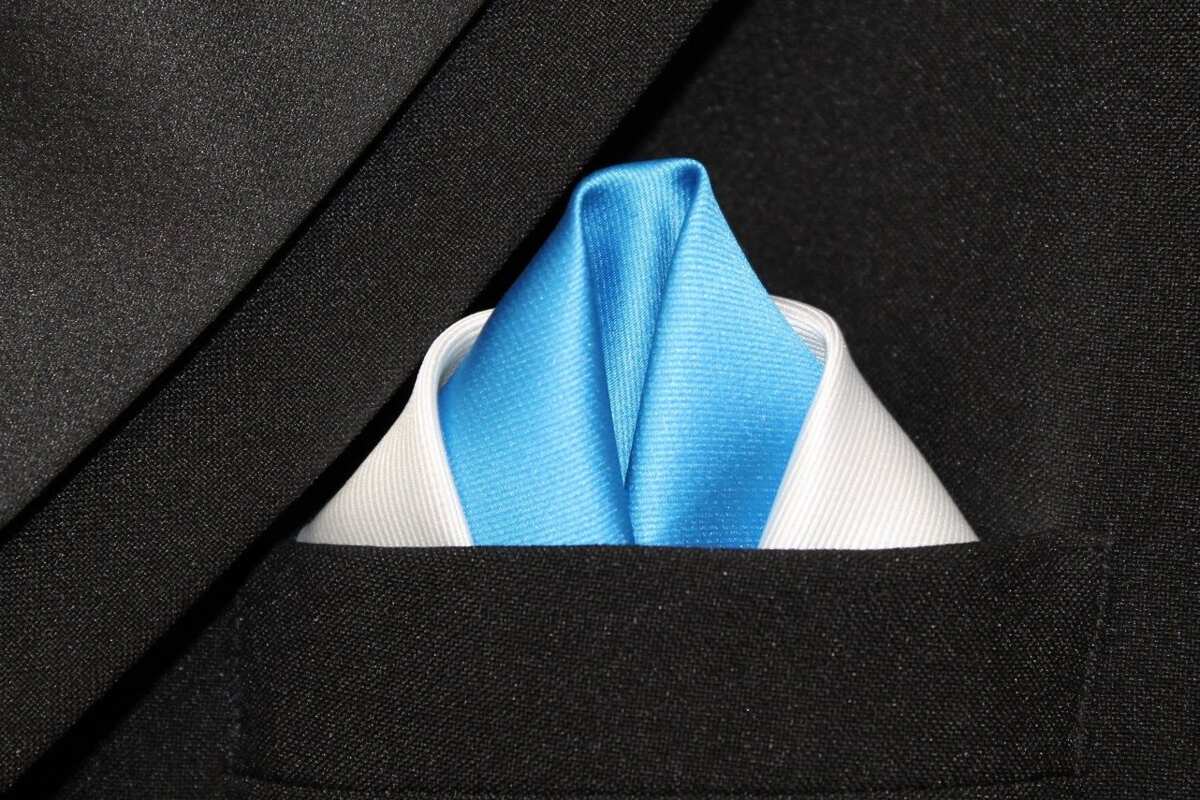 Photo: mycrafts.com
How to choose the material for a pocket square
Pocket squares can be of different materials including wool, linen, cotton, silk and other. A silk pocket square is an excellent choice for a tuxedo and other evening looks. It is a good idea to choose a pockerchief material to complement the fabric of the suit. Whether it is a wool, cotton or linen, a matching pocket square is always a great choice. However, you don't have to put limits on your imagination. Depending on the occasion, use some creative ideas on how to fold your pocket square.
When talking about how to fold a silk pocket handkerchief, there is nothing to be afraid about. You just need to remember that silk has a delicate nature and is quite slippery which makes the folds hold better.
If your pockerchief is cotton, silk, wool and other, make sure you iron it before wearing. Also, remember to check if a pocket square truly has a rectangular shape as it is important for making better pocket square folds.
There are no strict rules of the folding pocket square. There is no right or wrong way to fold it but, obviously, there can be some recommendations. The main thing to take into account is that your pocket square should complement but do not exactly match the tie. So, one needs quite a good sense of taste and develop personal preferences.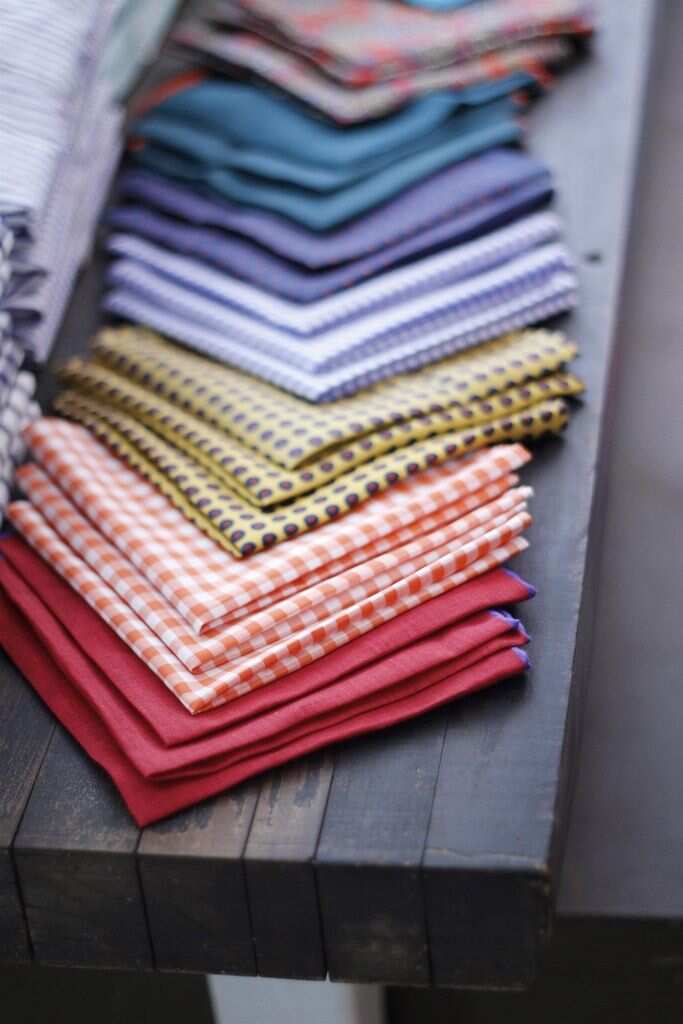 Photo: glamorous-pochette.com
What size should a pocket square be
The precise size, that is, the length and width of the pocket square can vary depending on the dimensions of the pocket. It can also depend on the preferences of the suit wearer.
The common length of the pocket square is 5 to 6 inches, and the width is 3-4 inches. Pocket squares can also be found in large sizes, for example, up to 15-17 inches. 16″. If you are making a pocket square yourself, remember to cut your fabric 1 inch larger.
READ ALSO: Top Ankara designs for men
How to make a pocket square without sewing
Those who would like to try to make a pocket square themselves can use a few methods of preparing DIY pocket squares without sewing. What is needed? The key tool you will need to use is a hem tape which is one of the most favourite tools of many crafters and home tailors. So, here are the steps for making your homemade pocket square. It will cost you no more than a few dollars, and it will take you a couple hours.
To make a pocket square, take the following supplies:
Fabric. It can be wool, cotton, linen, silk, flannel, blends, and other.
Hem tape.
Fabric shears or rotary cutter. Make sure your pair of scissors is super sharp as you don't want the edges of the pocket square to fray.
Cutting mat. This is optional, but it will help you to ease measuring and cutting.
Begin with measuring, making marks (on the inside of the fabric), and cutting out the pocket square with your scissors.
Iron the fabric, so it looks nice and smooth. Fold up each side 1 inch and iron the edges. Take a hem tape and apply it inside the ironed crease. Then, iron the hem tape under medium heat. It needs around 5 seconds to bond with the fabric.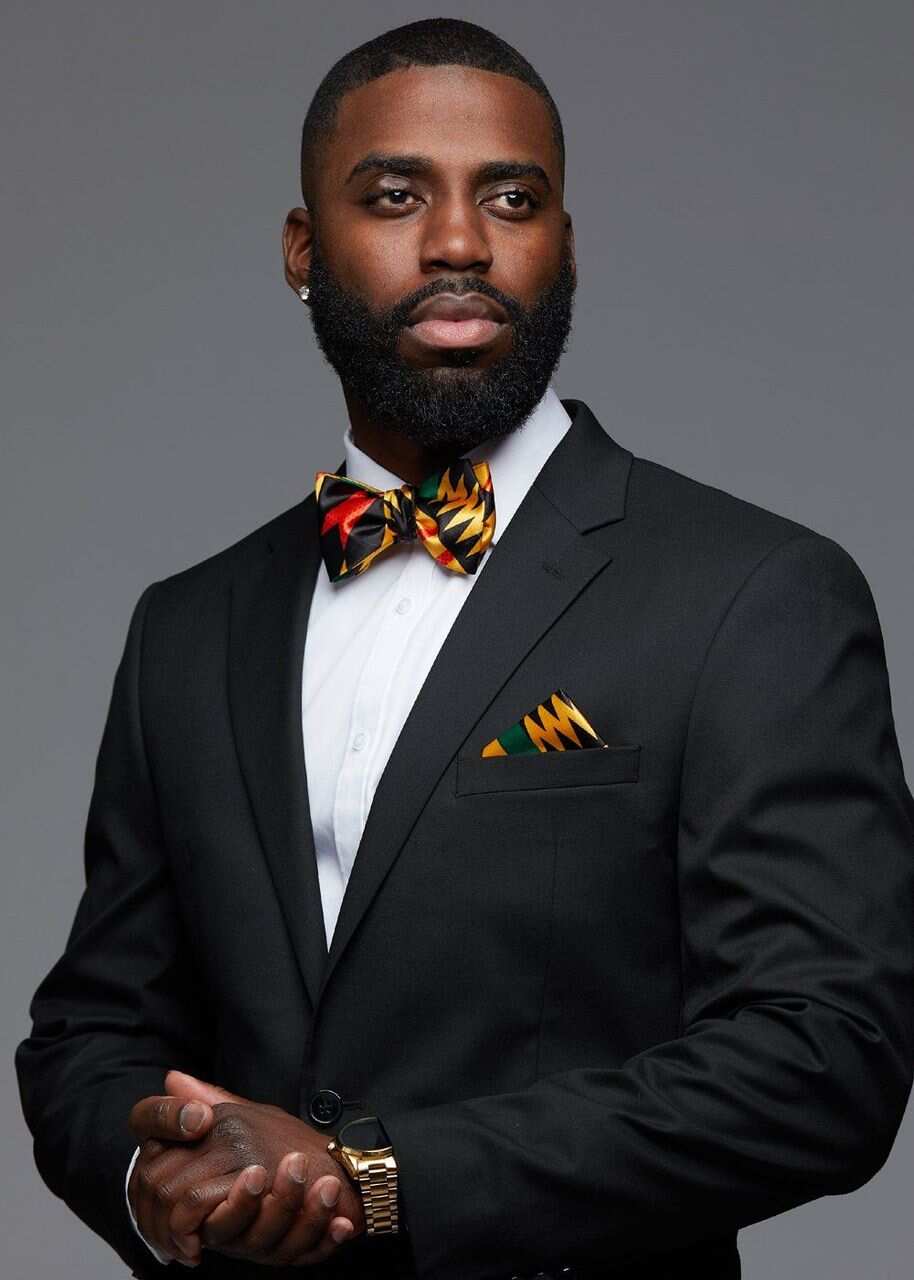 Photo: www.diyanu.com
Tips on taking care of pocket squares
The most important tip on how to wear a pocket square is to make sure you are feeling comfortable wearing it. One more recommendation is concerned with keeping the pocket square clean and folded properly. Learn the different pocket square folding patterns to make yours looking the best. Dry cleaning is helpful in ensuring your pocket square will retain its shape. It's better to hand wash it rather than use a washing machine. If you take good care of your pocket squares, it will help you to fold them much easier.
Not everyone knows how to fold a pocket square, but this is a great skill to learn both for men and women. This accessory might seem to be old-fashioned, but it is able to complement a suit, jacket and tuxedo simply perfectly being an elegant finishing touch. There are many ways to fold a pocket square. Among the traditional ways, there two-, three- and four-point ways. The most trendy pocket square patterns include scallop pocket square and other.
Now, that you know how to fold a pocket square in different ways, try to use this knowledge in practice. This kind of skills are not taught in school or a family but knowing how to fold a pocket square can help you stand out in the job interview, at the wedding, business meeting and other occasions. Save this guide for quick reference any time you need to dress up for an important social event.
READ ALSO: Nigerian men's traditional fashion styles in 2018