Best wedding suit colour combinations for men in 2018-2019
The suit for the groom requires no less responsible approach than the dress for the bride. There are high demands such as the suit must be of high quality, excellent, emphasise the figure of the groom, and be combined with the bride's dress. The ideal option would be a suit, which is sewn in the atelier. However, you can buy it in the special store and hem a little, if it is necessary. Read below, and you will know about wedding suit colour combinations that are trendy now and will be relevant in 2019.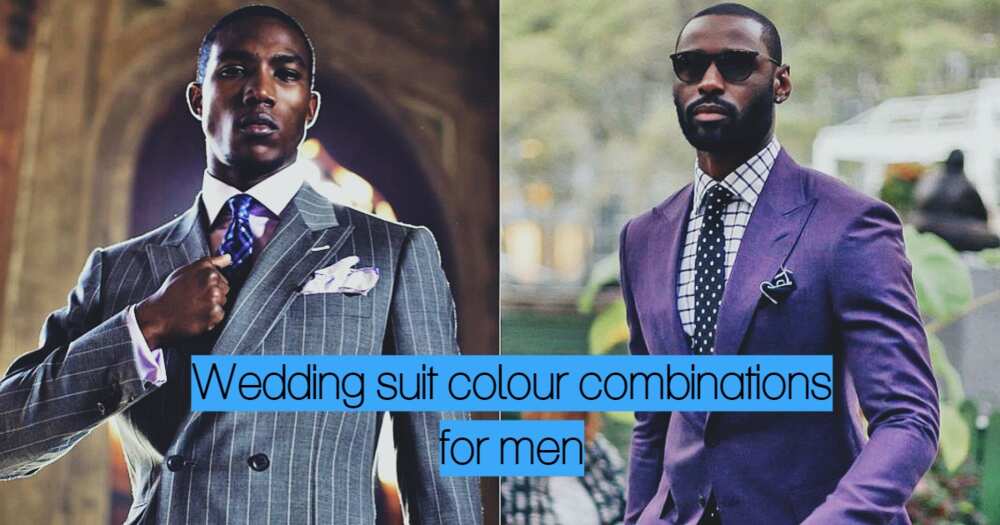 Wedding suits for men
Before we talk in detail about the colour combinations, let's first to figure out what style of suit for grooms.
Classic three-piece suit (two-piece suit). All familiar classics do not mean that the suit of the groom will look trivial and boring. It should not seem like a graduation suit. Despite the triviality and old-fashioned popularity, the classic suit for the groom can be made very stylish and elegant. You need to choose only high-quality fabric, corresponding to the season. You should also choose a shirt in tone and waistcoat (you can take the contrast one). A boutonniere and shoes will complete the look.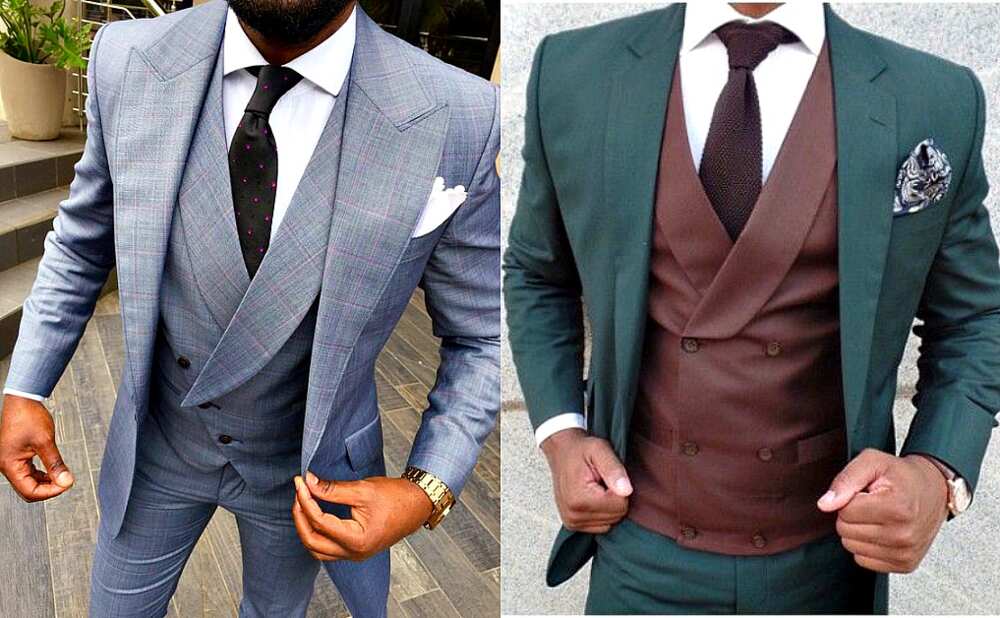 READ ALSO: Wedding suits in Nigeria: top 10 the most stylish ideas
The tuxedo. It is the chic outfit of English gentlemen. Virtually every man would like to feel like James Bond. Its difference from the classic costume is in the open chest. A lapel collar adds chic to the look.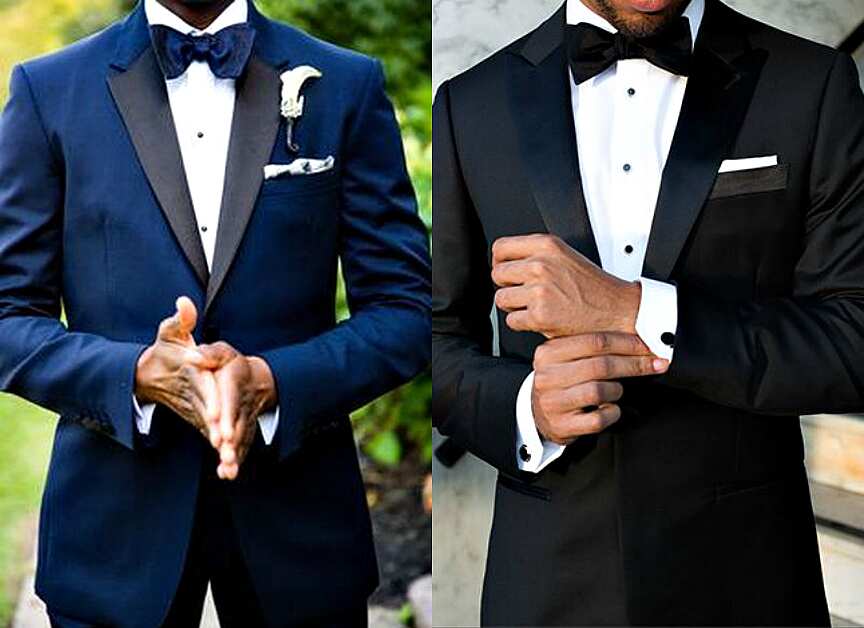 "White tie." It is the most solemn and romantic outfit. This suit will be perfect for any wedding style. Everyone knows the "white tie" has long tails at the back, as well as a pointed jacket in the front, you can wear a bow or a bright neckerchief, as well as a light contrast waistcoat.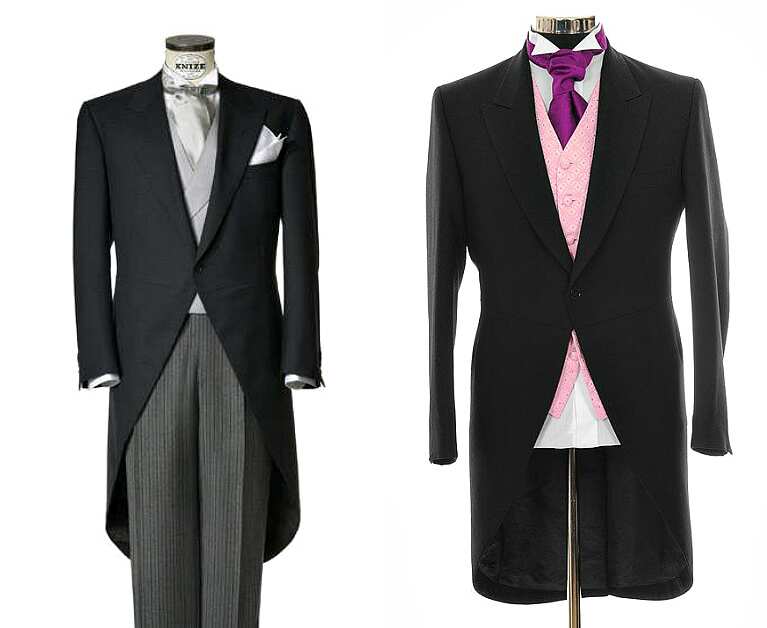 Traditional suit. Traditional attire of bright green, yellow, blue or even red colour will look elegant.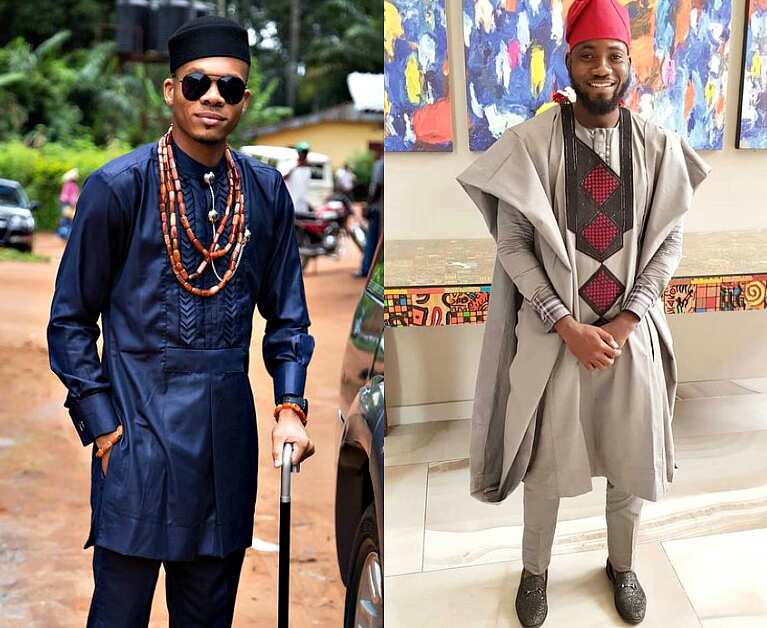 Suit color combinations for weddings
Groom should look like the standard of style, elegance, and masculine appeal. Therefore, choosing a wedding suit, you will need some tips.
Black or grey. The classic colours that are suitable for any situation and practically for any bride`s dress. Grooms often prefer lighter shades in the hot season, but it is not the only option. Light grey or steel colour will also look good.
White. There are a lot of opinions and prejudices about the white suit for the groom. They say that only bride should be in white. However, the white colour looks solemn, bright and allows the groom to stand out among the other guests.
Creme brulee. The suit for the groom of any shade with yellowness (creme brulee, champagne, ivory, beige) will be excellently combined only with a similar tone of the bride's dress.

Suit colors for traditional wedding (traditional wedding attires)
If you are tired of the popular colours for the groom`s suit, think of something unusual, choosing your favourite colours in an exciting combination with other shades. It is important not to overdo with experiments and make the right palette, choosing the perfect combination of favourite colours. For a traditional wedding, we recommend the next colours:
White. This colour is a classic option for any wedding. Use it as a background to frame the selected shades. For example, gele can be in other colour. It is a perfect choice because this colour is combined with absolutely all shades, perfectly complementing them.
Red. It is a very bright colour, which is a symbol of life and passion. Combining it with green, gold, orange is a good decision. Blue is not fundamentally suitable for this shade.
Pink. It is an excellent option for a wedding in the warm or sweltering season. It evokes tender feelings, fills the atmosphere around with romance. You can combine it with brown, chocolate, burgundy, silver or grey colour.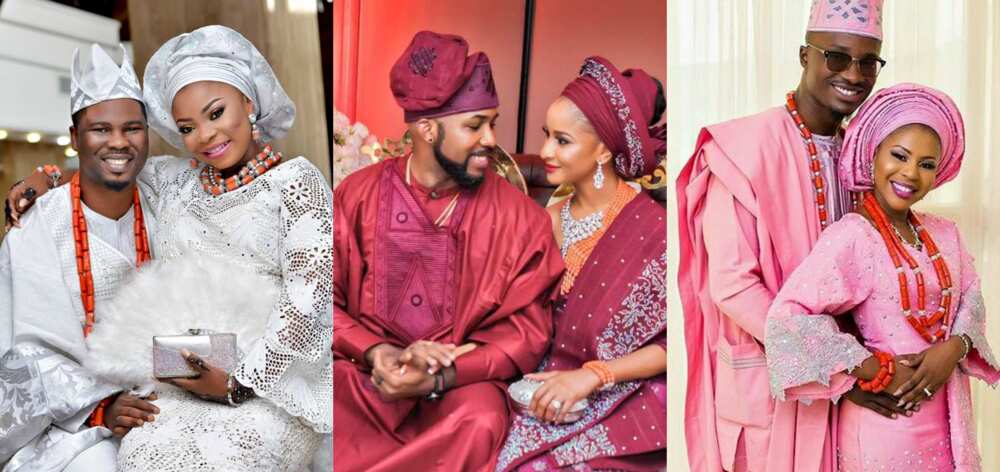 READ ALSO: Simple wedding hall decoration ideas in Nigeria
Violet. You can successfully use this colour in any season. Combine it with the tone of lavender, pink, purple or light blue. It is not recommended to add red or green shades to violet.
Golden. This colour symbolises wealth, success and looks great with green or red.
Green. It is the pacifying colour of harmony, which will be appropriate for any wedding celebration. It symbolises mother nature. It is also good to combine it with lilac, pale blue, or gold. You should eliminate the combination of green and blue shades.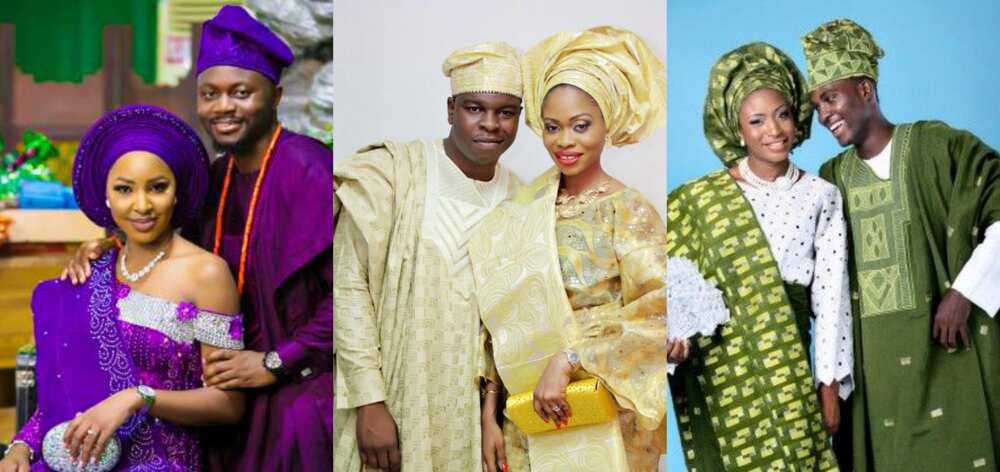 Orange. This colour is a symbol of happiness, smiles, and joy. It radiates a positive atmosphere around. The orange hue perfectly matches the aquamarine colour, pink, brown or yellow.
Silver. If you choose this colour, your celebration will find a special brightness and shining. Combine it with a blue or pink hue. Silver colour looks terrible in combination with orange.
Blue. It is the colour of lightness and freshness.. Muted shades of green, vibrant red, lemon or chocolate will perfectly emphasize blue.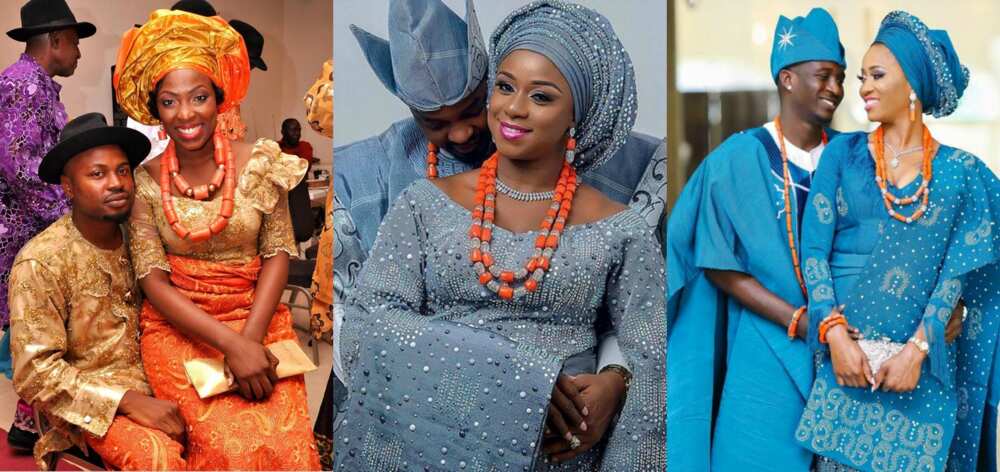 Black. This shade is excellent for creating a contrast effect. Thanks to some details or accessories in black colour, you will create a stylish groom`s image. You can add warm and bright hues to the whole black image.
Beige. It is a very mature colour that looks good in combination with gold or green.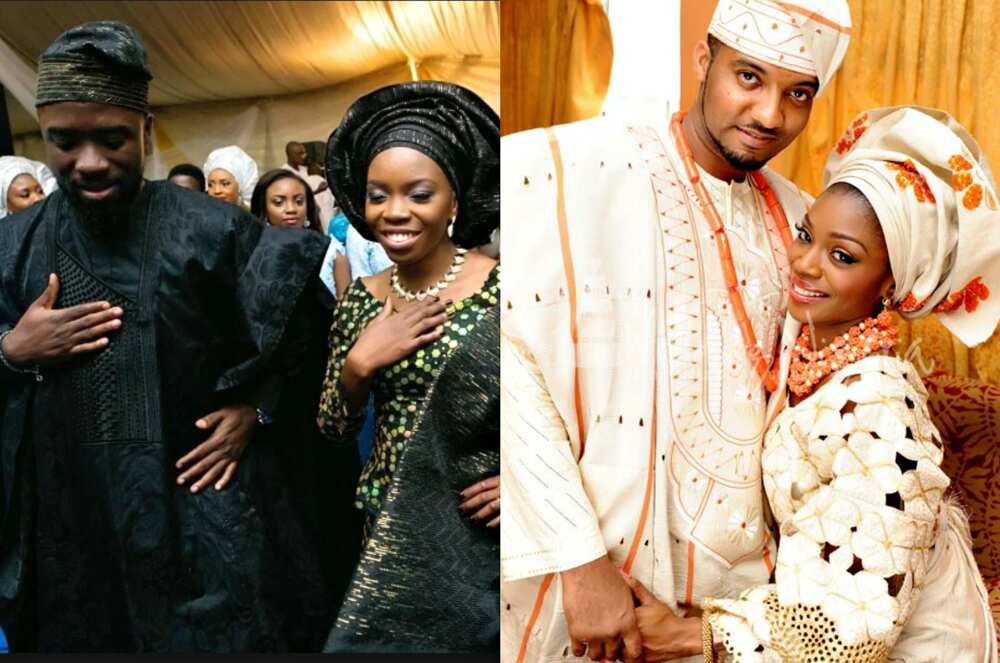 How to choose a shirt colour for the groom's suit
The colour and texture of the shirt should be perfectly combined with the chosen suit. You can use the following recommendations:
White, blue and pink shirts suit with the grey groom`s outfit.
It is best to pick a white shirt for a blue suit.
A brown suit will complement a white, beige and light pink shirt.
Choose an ivory shirt for the green outfit.
A black shirt is perfect for a black suit.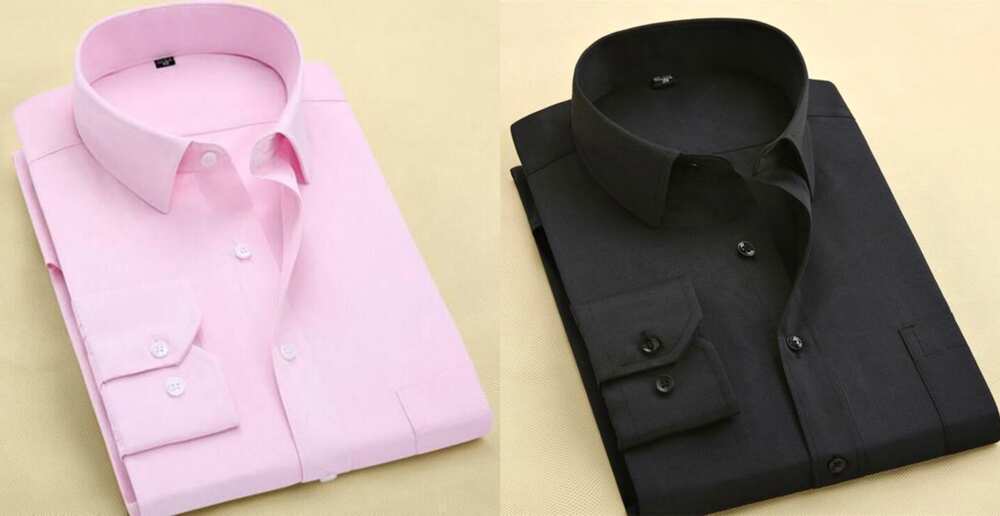 Now you know almost everything about fashionable colours for wedding suits for men this season. The rest is a matter of your imagination and choice. Rely on it, but do not overdo it. Let your wedding be the brightest and most stylish!
READ ALSO: Nigerian lace styles for wedding in 2018
Source: Legit.ng