Muhammadu Buhari's birthday today
It is Muhammadu Buhari's birthday today. Do you know how old is Buhari? How much do you know about his family and main achievements? Being the President of such a huge country like Nigeria is a big and very important mission.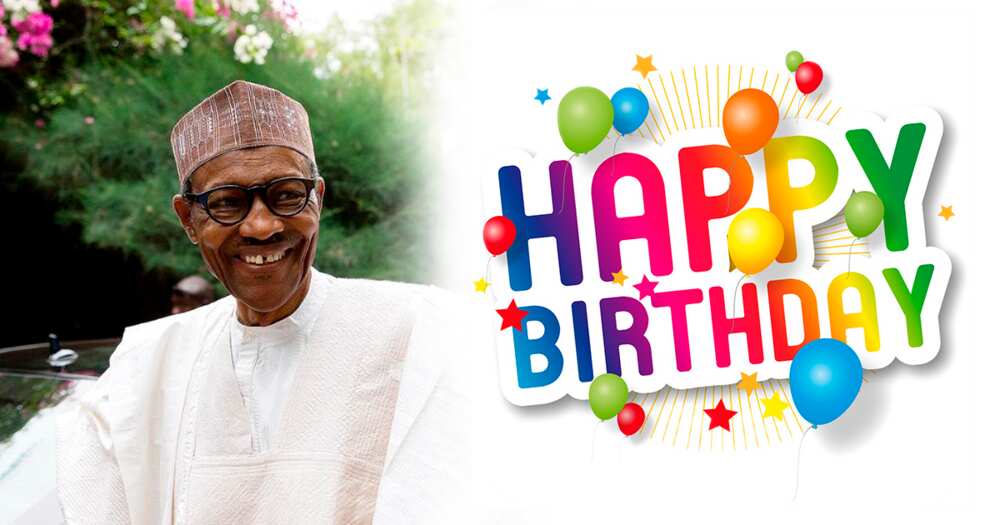 Muhammadu Buhari's age
The first question we would like to answer is 'how old is Buhari?' in 2018. Today he is turning 76 years old.
Muhammadu Buhari was born in 1942 in Katsina State. He celebrates his birthday on December 17th, and he has lived an interesting life, built an impressive career, and grown to the most prestigious title of Mr. President.
Since you already know about Buhari age and the fact that it is his birthday today, let us talk more about his family.
READ ALSO: General Muhammadu Buhari family history
Buhari and his family
The President was born in a big Fulani family. His father's name was Hardo Adamu (chief of Fulani). This man had many children, and Buhari was the 23rd kid of Adamu. The President's mother, Zulaihat, raised her child on her own after the death of the Fulani chief (this happened when the boy turned 4 years old).
He joined the military. He was also trained in the United Kingdom, and he started building his 'military career' since the 1960s.
As for his current family, Buhari married to Aisha Halilu since 1989. Together, they are raising 5 children and 1 grandchild. Besides, our current President had 5 kids from his previous marriage to late Safinatu Yusuf.
READ ALSO: Muhammadu Buhari children
Muhammadu Buhari and his achievements
Everyone is curious to learn more about the achievements and progress made since President Buhari assumed office back in 2015. The President's main agenda is focused on security, economy and fight corruption.
According to the reports shared by this administration, the beginning of 2018 looked promising because it showed the fallen inflation, a slowly growing economy, a better environment for small businesses, and investments.
During Buhari Presidency, Nigeria has been awarded Global Capital and EMEA Finance awards. The country has also moved up in the 2017 rating of 'Ease of Doing Business' places created by the World Bank.
A lot is yet to be done, but let us pause for now and recollect that it is Muhammadu Buhari's birthday today.
We want to congratulate Mr. President on his birthday. May December 17 bless him with the biggest joy, never-ending bliss and new goals that would one day make both Buhari and the whole Nigeria more successful!
READ ALSO: Top 10 facts about Muhammadu Buhari Legit team gathered for you
Source: Legit.ng