Online makeup stores in Nigeria - Top 10
The cosmetic industry is one of the most popular on the Internet. You can buy absolutely any cosmetics of any price category. Today we will tell you about the best online makeup stores in Nigeria based on customer reviews, as well as on the quality and speed of shipping.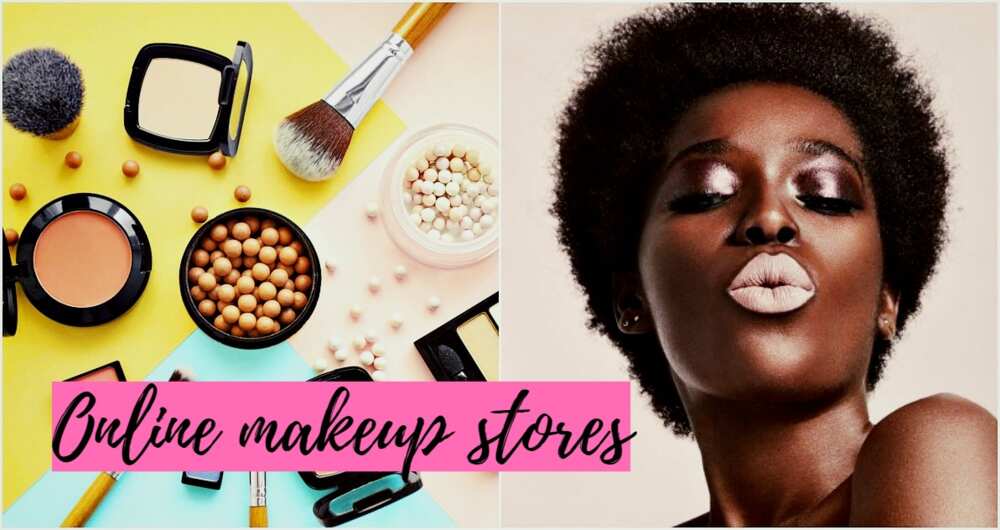 Best online makeup stores in Nigeria
Our top includes the 10 best online makeup stores in Nigeria. Let's take a close look to them.
1. Original Cosmetics
If you want to buy original, and most importantly natural and healthy cosmetic products, go here faster! The online store of Original Cosmetics will provide you with a wide range of products of any price category.
If you are used to certain brands, but you are afraid to order them on other websites, here you can purchase any quality product. Does your favorite lipstick end? Run to the shop of Original Cosmetics.
A nice addition will be fast shipment, which operates throughout the country. If you order goods directly in Lagos, the delivery time is funny, because it is only 2-3 days. If you live in another city, the deadlines are increased to 7 working days. Speaking of delivery, we exclude weekends and holidays.
This online store will be a real find for you! Follow the link.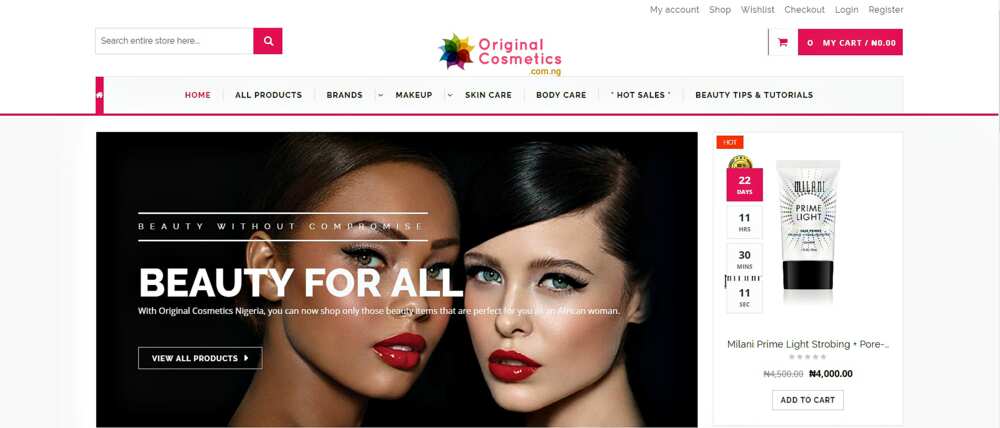 READ ALSO: List of makeup products for beginners in Nigeria
2. Yanga Beauty
Yanga Beauty is a famous Internet company that does not just sell you cosmetics. It sells you beauty in its pure form! You just have to put it on your face. The incredible thing is that here you can purchase not only premium goods but also middle market ones.
As mentioned above, this online store sells both expensive and reasonably cheap cosmetic products. Their assortment is diverse, including cosmetics for the face, perfumes, and body sprays, as well as skin, hair, and nail care products. Here you will also find incredibly beautiful Ankara jewelry, accessories and tools for body care, hair styling and much more.
A few clicks and the goods are already yours! This online store guarantees fast and timely delivery.
Yanga Beauty is a company that grows and develops every year. It plans to open stores throughout Nigeria in the future. Yanga Beauty also has a network of subsidiary stores in addition to the main one. They are located throughout the country. So they are:
Silvastouch: 16 Okigwe Road, Aba, Abia State.
Duprinah Make-Up Studio: Beauty Secrets Skincare Spa Plot 424 Oka Okoka Crescent, Off Lagos Street, Garki 2, Fct Abuja.
Touch of Michelles: Suite 203, Gcl Plaza, Beside 1st Forty Hotel, Opp Dbn Plaza, Aminu Kano Crescent, Wuse 2 Fct Abuja.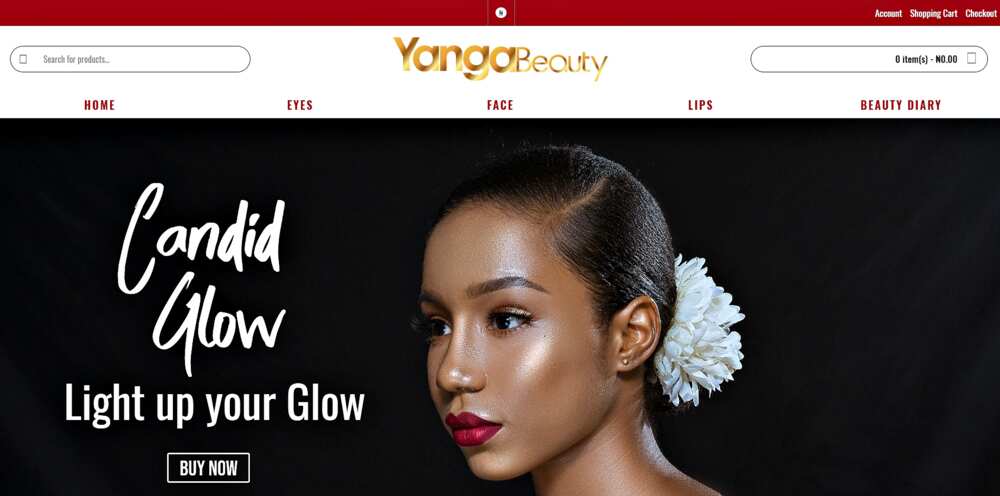 The Ruby Centre: Suite 203, 762 Aminu Kano Crescent, Wuse 2, Fct Abuja.
Sleek Shop: Shop B11-13 Frances Plaza, Unizik Tempsite, Awka.
Beautymatterz: 37 Ede Shopping Plaza, Airport Road, Benin City, Edo.
Meldis Make-Up: 1a Siagbo Street, Big Qua Town, Calabar Municipality, Calabar, Cross River State.
Urban Emporium: Plot 51, Hon Chris Nnadi Street, Liberty Estate Phase 1, Enugu State.
Makeda Beauty Hub: 8 Aare Avenue Beside Mosh Phаrmacy, Bodija, Ibadan.
Dafnick Makeup Quarters: Suite 33, Elim Vision Plaza, Opposite UI 2nd Gate, Ibadan.
Tee 2 Beauty: No 16 Itire Road, Surulere, Lagos.
Veestore: 1a Crown Court Estate, Oniru Estate, Victoria Island, Lagos.
House of Zee Beauty: Dfic Plaza, Ph Road, Opposite Owerri Hotel Plaza, Owerri, Imo State.
Evesradiance Concepts: No 1 Evo Road, Gra Phase 2, Port Harcourt, Rivers State.
Adaartstudio: No 67 Rumuola Road, Port Harcourt, Rivers State.
Hadassah Beautifiers: 102 Jaycee Plaza, Otiotio Road, Yenagoa, Bayelsa State.
The Makeupspot: Nikton Road, Kpansia, Yenagoa, Bayelsa State.
It is very convenient, you can find what you like online and then check and buy in the store.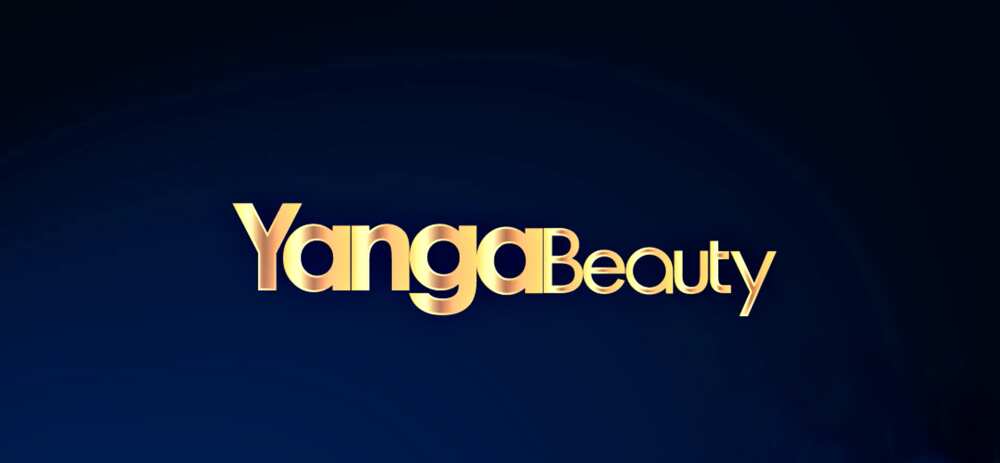 3. Allure
Online store Allure is another place where you can make order among a wide range of cosmetics. They include skin and hair care products. Here you can also buy cosmetics for men. This store is popular among all the women of Nigeria. Men are also frequent customers of this store.
You will receive your order quickly and directly to your hands. You do not need to leave a deposit. You can pay the goods by cash on the delivery.
The range of products in this store is wide. Here you can purchase such products as:
Face: bronzers, concealers, face primers, foundation powders, contour kits, blushes, etc.
Eyes: products for eyebrows, eyeshadows, false eyelashes, pencil eyeliners, liquid eyeliners, mascara, eyeshadow primers, etc.
Lips: lip glosses, lip pencils, balms, and lipsticks.
Nails: artificial nails, nail treatment, polish removers, nail tools, nail polish, etc.
Accessories: makeup brushes and tools.
All you need is to follow the link and choose the products you like.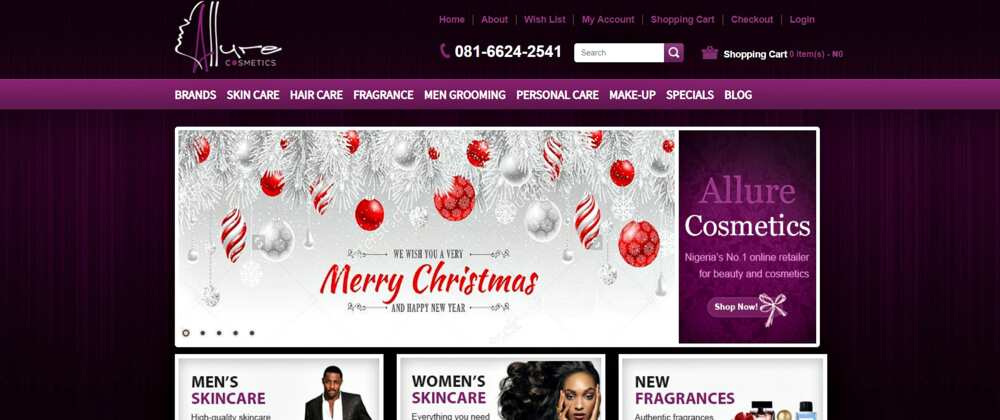 4. Girly Essentials
Here you can purchase high-quality cosmetic products at any price. The main product range is cosmetics for everyday makeup. For example:
Face: powders, contour kits & bronzers, blushes, concealers, foundations, highlighters, primers, makeup fixers, powder/foundation palettes, etc.
Eyes: eyeshadow palettes & glitters, mascara, false lashes & glue, eyeliners & pencils, etc.
Eyebrows: eyebrow enhancers, eye pencils, eyebrow treatments, etc.
Lips: lipsticks, lipglosses, lip liners & pencils, lip brushes, lipstick palettes, etc.
Accessories: brushes, brow & lash tools, sponges & applicators, sharpeners, cosmetic bags & organizers, brush cleaners, etc.
To buy everything mentioned above and even more follow the link.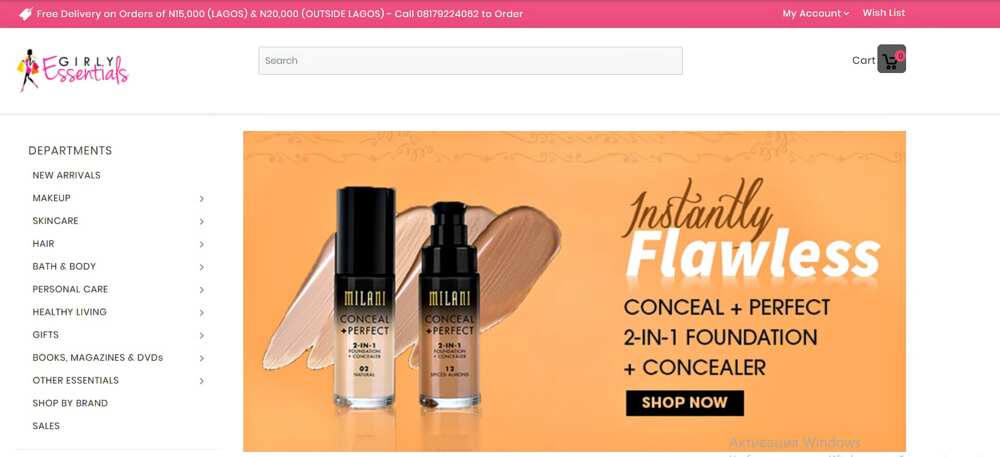 5. Beauty Kink
Are you looking for beauty? Then you definitely need to go here! Beauty Kink is one of the leaders in the Nigeria cosmetics trade. It made its name thanks to the quality of skin and hair care products. Here you will find more than 10,000 of a wide variety of cosmetic products not only from domestic manufacturers but also from world-famous companies such as Bdellium-Tools, Bh-Cosmetics, Maybelline, House-of-Tara, Zaron, LORAC, Sigma, etc. The assortment of goods is, of course, influenced by consumer demand and new trends in the world of beauty.
All customers or just visitors of Beauty Kink adore this place for the highest level of service, product quality, a variety of brands (from cheap to expensive) and express-delivery throughout the country. In addition to buying cool products, you can also visit the full-service beauty salon offered by this online store.
You can also directly visit the store and purchase everything you like. Hurry up! The shop is located at DAVIDA MALL (opposite Ebeano Supermarket) 31A, Admiralty Way, Lekki Phase 1, Lagos or follow the link.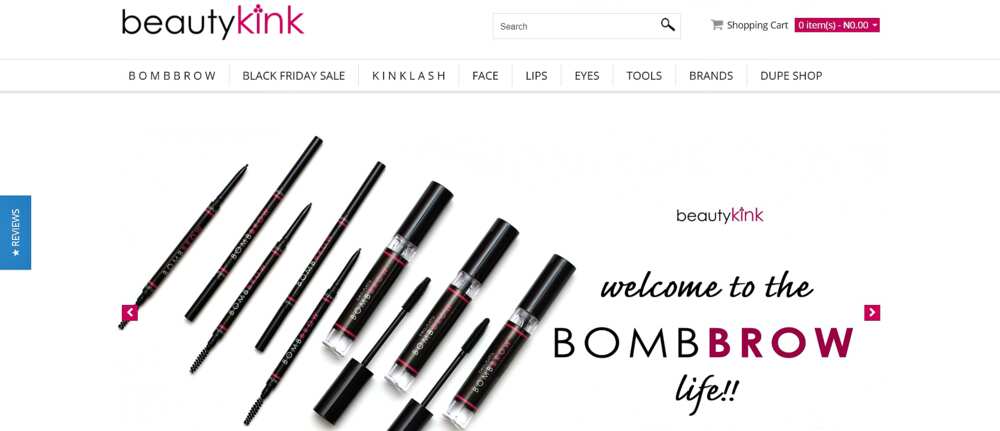 READ ALSO: Makeup materials and their uses
6. FineFace Beauty Studio
If you do not know, the beauty company FineFace was founded by a professional makeup artist, beauty and style guru Mojisola Dele-Adeisa in 2008. For ten years of successful business, this online store has established itself as one of the absolute leaders in the field of beauty trade.More precisely, here you can purchase high-quality cosmetics, which has a huge success among customers. It makes this store incredibly popular.
The specialists of this website will provide you with additional information about the cosmetic products you are interested in.
Are you interested? Then you definitely should visit their website fineface.com.ng.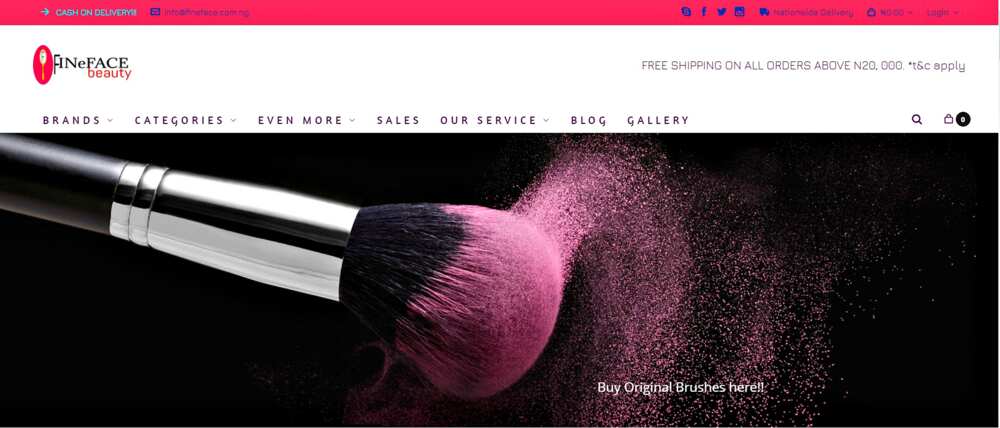 7. GlambeautyNG
You probably heard about this store. It specializes in high-quality cosmetics at different prices. Here you can buy absolutely everything for makeup starting with standard sets of brushes and ending with super cool shadows. GlambeautyNG has established itself as a store with excellent service and fast delivery throughout the country. If you do not know where to buy good and inexpensive cosmetics, then visit this online store.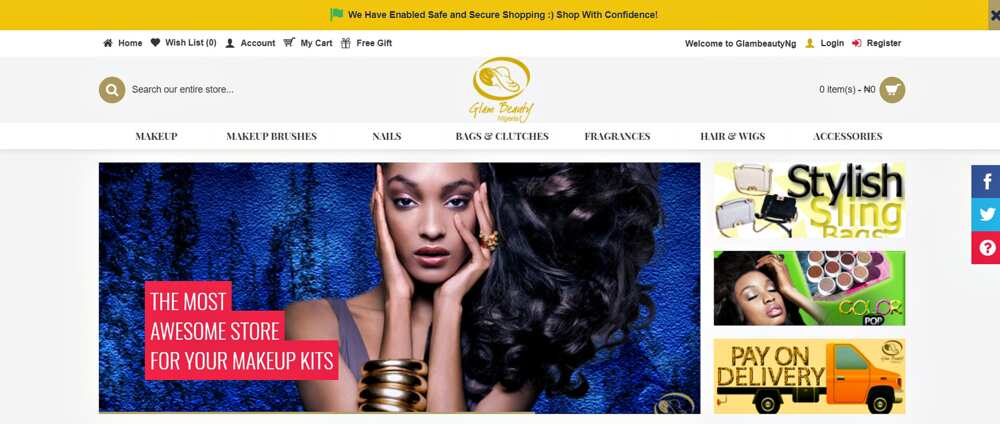 8. Kuddy Cosmetics
Kuddy Cosmetics is the favorite place of many Nigerian women. It seems here can be purchased everything to become perfect. It does not need much time or money. Visit the website and take your order directly at home to save the first one. If you want to save the second one, just visit this store in any part of our country and do not overpay for delivery, which, by the way, is timely.
This store is famous not only because of the trade in various means for applying, removing and the makeup itself but also because of the skin care products. Your skin will shine with health and beauty with these products. After all, the primary purpose of this company is considered to give a woman the beauty in its purest manifestation.
You can buy Black Opal MAC, Makari, Neutrogena, HT26 and Bio Balance products here. You can visit the website and purchase any cosmetic product, or you can take advantage of a range of 5-star cosmetic services that Kuddy Cosmetics also provides.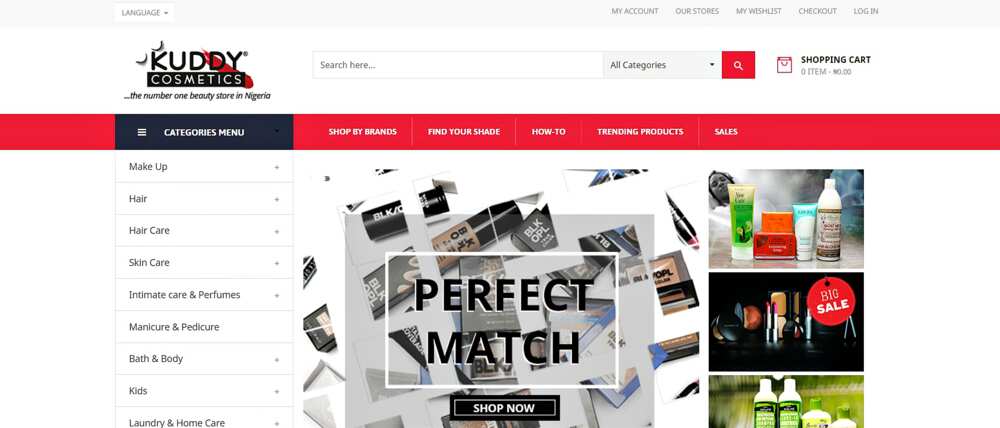 9. House of Tara
House of Tara is considered one of the first in Nigeria to trade cosmetics and makeup products. Tara Fela-Durotoye founded the company in 2003. House of Tara won the love of shoppers across the country for their high-quality cosmetic products and service.
H.O.T is not just an online cosmetics store. It includes a makeup school with a wide range of intensive training courses which has basic beauty makeup course, the advanced beauty makeup course, professional makeup course, refresher makeup course, theatre makeup course, and personal makeup course.
You can order any H.O.T cosmetic products you like directly on the company's website, or you can take advantage of 5600 representatives of the beauty industry in any part of our country. You can either make an order or visit the store in person. Friendly staff or online manager will help you to make a choice and provide detailed information about this or that cosmetic product. Below we give a list of places you can visit and buy everything you want there. Hurry up! It's time to be perfect!

1. All House of Tara Studios:
Centro Mall, Plot 15 Admiralty Way, Lekki Phase 1, Lekki, Lagos.
Ceddi Plaza, Plot 264 Tafawa Balewa Way, Central Business District, FCT Abuja.
Shop 41, Polo Park Mall, Abakaliki Road, Enugu.
Shop 16, Palms Mall, Ring Road, Ibadan.
Adeniran Ogunsanya Shopping Mall, Surulere, Lagos.
Shop C11 & C12 Saham Plaza, Alexandra Street, Off Aminu Kano Crescent, Wuse 2, FCT, Abuja.
52, Ikeja studio 24, off Allen Avenue, Ikeja.
93, hospital road off Jakpa Junction, opposite new layout junction Effurum. Warri.
2. All Medplus Pharmacies.
3. Jabi Lake Mall: Shop L21A Jabi Lake Mall, Jabi, Abuja.
4. Linas Suite Amuwo Odofin: Linas Suite, Amuwo Odofin Road, Lagos.
5. Mangal Plaza Kaduna: L82-L83 Mangal Plaza, Yakubu Gowon Road, Kaduna.
6. Onwuegbuzie Asaba: 3 Onwuegbuzie St., Off Nnebisi Rd, Asaba, Delta.
7. Oron Road Uyo: 264 Oron Road, By Fourlane Junction, Uyo.
8. Road 12 Lekki Phase 1: Plot 13A, Onikepo Akande Street, Road 12, Lekki Phase 1.
Follow the link to take a look at the products and services proposed by the company.

10. Beauty Frenzy
This online store is just a storehouse for all fashionistas and makeup artists because here you can buy absolutely everything for an incredible makeup. The website of this store is made so thoroughly that you do not have to look for additional information at a different place or seek help from an online manager. You simply will not have questions without answers here. If you want to create the perfect makeup, then this shop is especially for you!
Follow the link.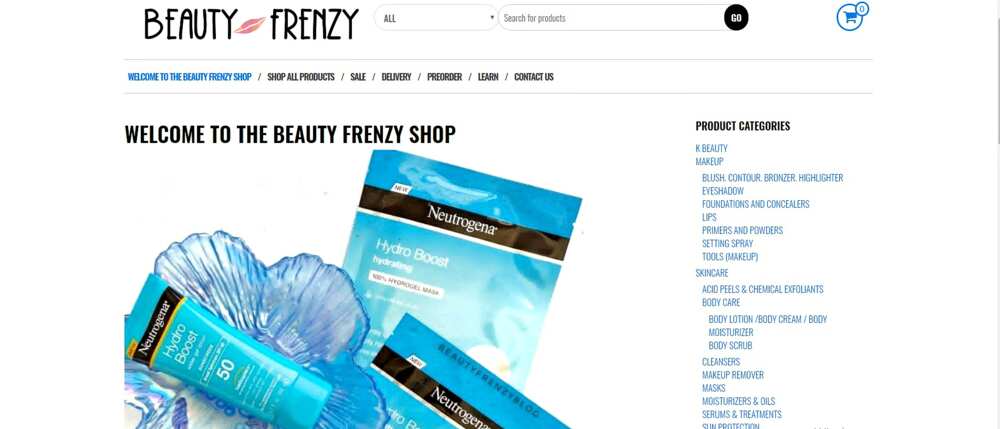 Now you have a huge selection of cool shops where you can buy quality cosmetics at a good price. The current online sellers create all the amenities for their customers: favorable prices, quick delivery, online consultation with experts, the opportunity to visit the store. All you have to do is to click, choose the product you like, and place your order!
READ ALSO: How to do Nigerian makeup: main tips to follow
Source: Legit.ng