Birthday cake for husband and father
What do you think of a lovely birthday cake for husband and dad? Isn't it a great part of a birthday gift for a man you love? Today's cooking possibilities allow making cakes that will match the personality of your man and leave him pleased for a very long time. It's not only delicious, it's a sign of your attention and affection, which is never forgotten.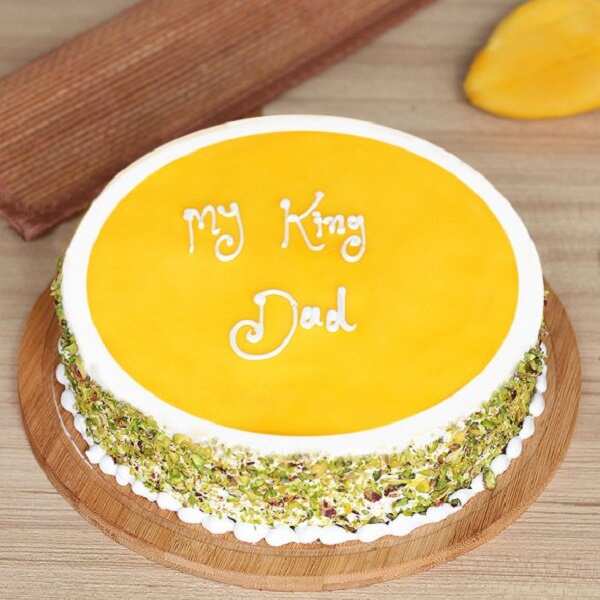 What is a birthday cake for husband?
First of all, you need to think of the type of a cake your husband loves best of all. There are several usual sorts of cakes that are used as a base for the further design. As a rule, these are regular sponge cakes but in some specific cases it may be possible to order, say, a traditional Nigerian sponge cake that's not like western ones, or a red velvet cake that has an astonishing taste.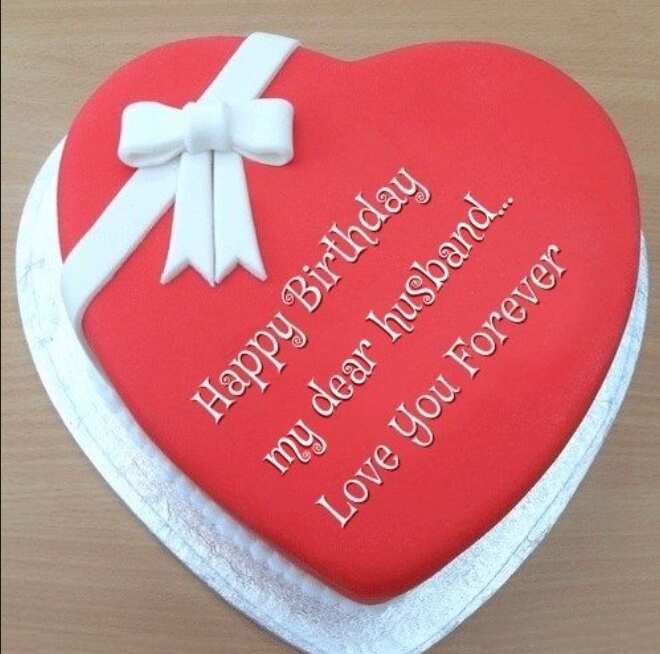 READ ALSO: Top Birthday Cake Designs for Husband
Then, you need to think of possible designs that would match the personality or interests of your hubby. For example, if he loves sports, it may be possible to design a cake that looks like a football field, a ball, or something else your husband would like. Such a cake would show him that you know his interests and hobbies and that you give this matter enough attention.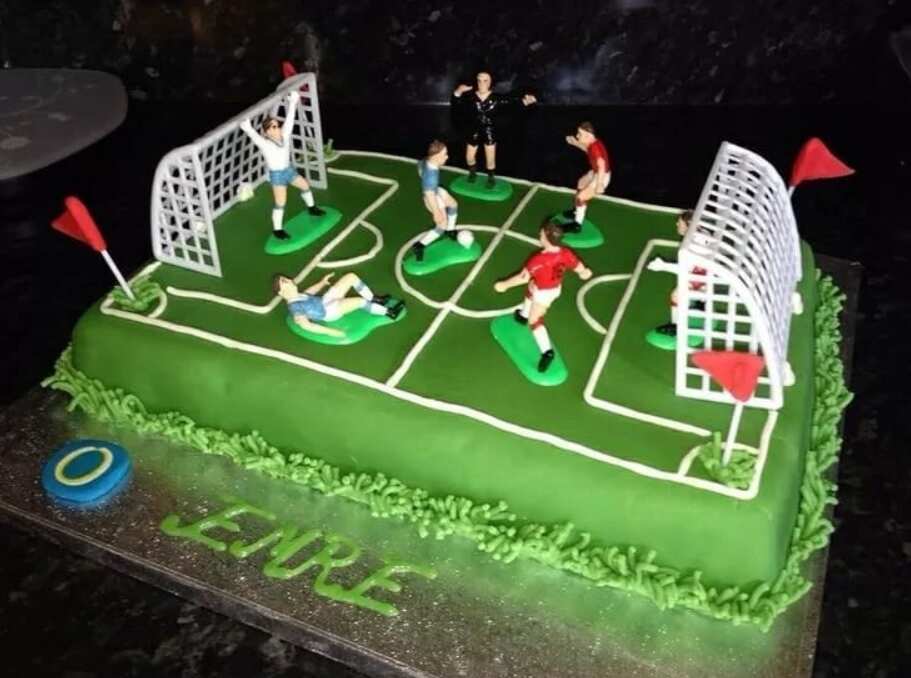 However, it may happen that you share the same hobby. In this case, you may order a cake that shows both of you doing something that you like to do in your free time: riding bicycles, swimming, even watching TV while cuddling on a coach. Technically, you can choose any available methods: small figurines that represent you and your husband made of fondant, a picture of the two of you or whatever else the chosen cake maker can do for you.
Take a look at this lovely cake dedicated to a fan of fishing. If your husband loves it or if he's into fish breeding, which is so popular in Nigeria, just use this idea.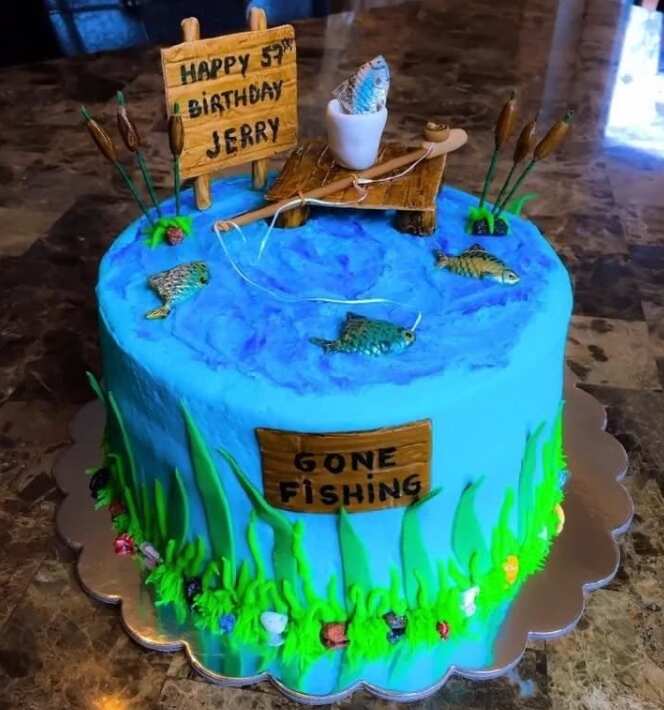 If your husband has skillful hands for carpentry, plumbing or other household works and likes spending hours with screws and wrenches, this is also an idea for a birthday cake design. Just find a cake maker who is skillful enough to create the correct shapes of all the tools and small details.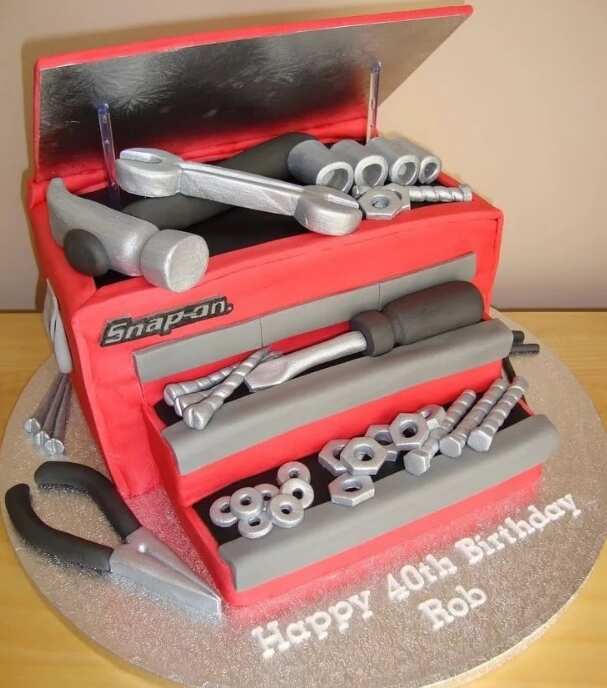 READ ALSO: Birthday cake for men with name: top 10 ideas
If you are a fan of simplicity, just order a regular cake with cream decorations (or with fondant, as you like) and have some lovely words written on it and, possibly, a heart or so. Sometimes, it makes sense to add some nice phrase that has a special meaning just for the two of you. It's a very romantic and sweet gift that is always pleasant.
There's a popular type of birthday cakes for men that look like suits or shirts with ties or other men's accessories such cakes are often chosen when it's necessary to greet a man on his birthday and make an accent on his being a businessman or an owner of a prestigious job. As a rule, such cakes are also decorated with other items that determine a busy and successful person: a phone, money, fashionable labels on the clothes.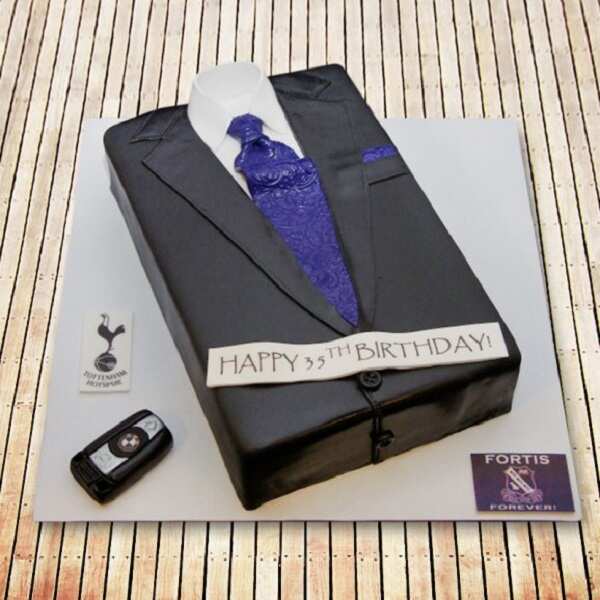 Sometimes, even shoes can look impressive when used as a cake decoration. Check out this wonderful cake design with a trainer on it. It's for a real fitness fan who knows what all these things are about – a water bottle, a training schedule, and a watch that shows something that's clear only to those who are in the trend.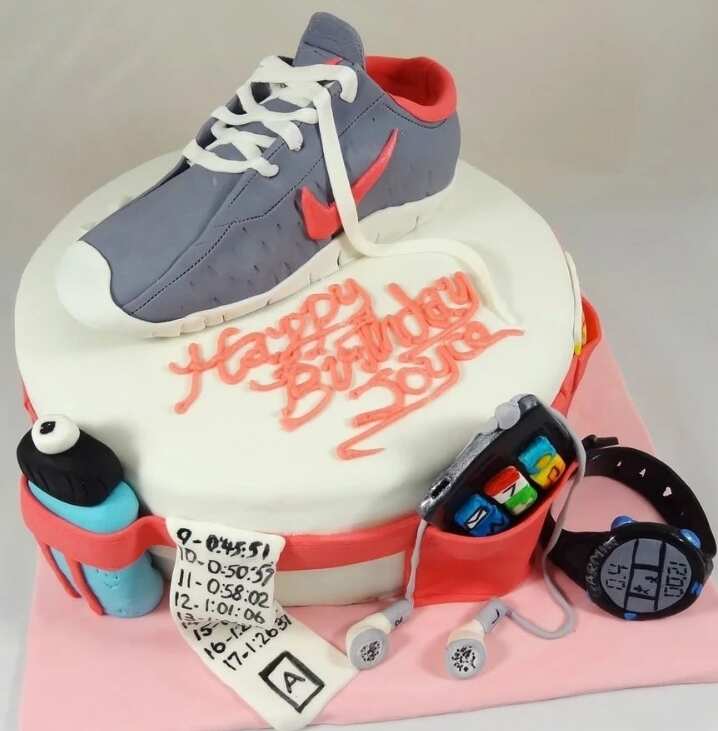 Since young Nigerian men often strive for luxury and a well-off life, they would appreciate a cake made in the shape of a fashionable expensive car or other things that determine luxury: gilded wristwatch, game tokens, cards and so on. A cake that's made in the shape of a dial-plate of an expensive watch can also be a lovely and funny surprise.
There are cakes that represent the package of other signs of luxury: expensive whiskey, cigars, or things like that. Check out this cigar box that looks so natural and interesting. Your husband will appreciate the surprise when he sees such a beautiful job.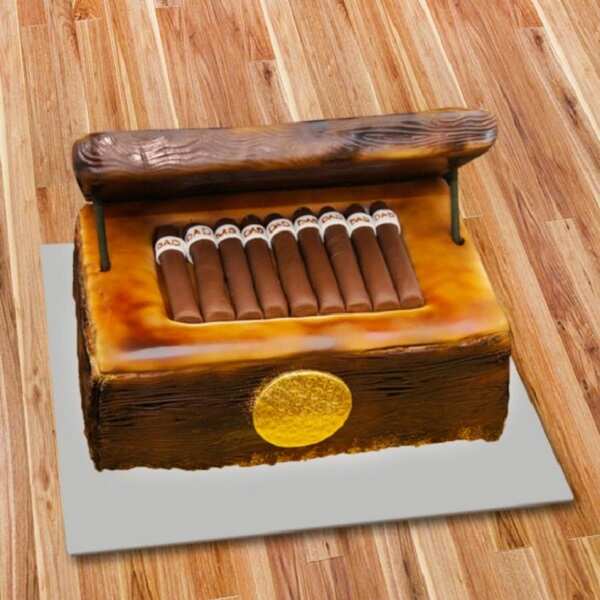 Sometimes, it makes sense to use profession and environment of your husband to create the birthday cake in a slightly different form. For example, if your man is a military officer, a cake finished in specific military tones and decorated with small fondant soldiers may be a good thing but it's very important that the scene on the cake doesn't represent a true military conflict because it's not fun.
What is a birthday cake for father?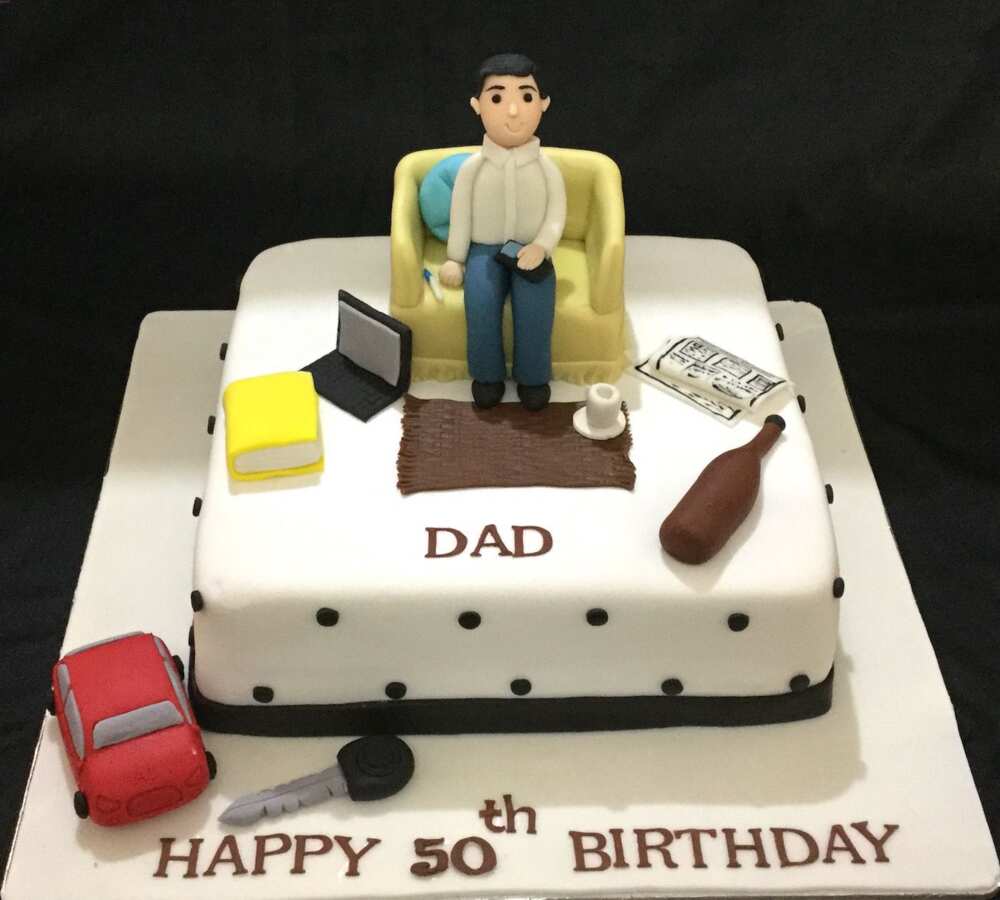 If you are choosing a cake for a father, the general rules are the same. Find something that the man would appreciate – his hobby, things he likes in general, some of his ways, or something funny – and represent it in a cake. If you are this man's child, order a cake with a fondant mini-you. It's touching and lovely for a father.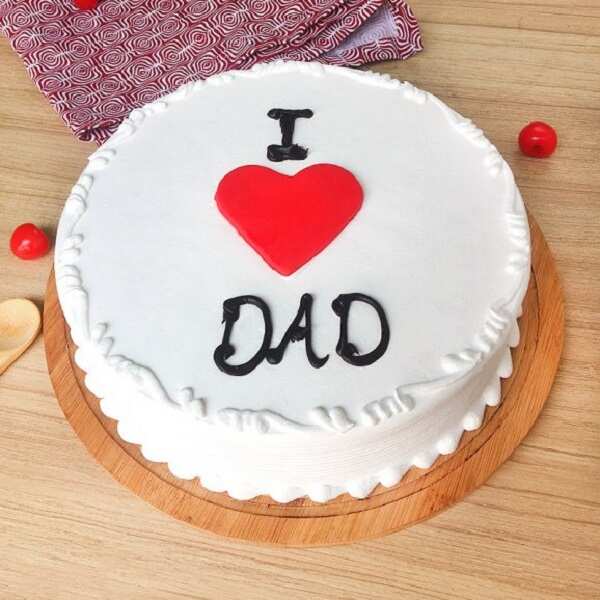 In separate cases, it makes sense to choose a simple cake with only some words of love and greetings. It may be more impressive than complicated designs. If you are ordering a cake for your husband but on behalf of your children, find out whether it's possible that the kids write something nice on the cake themselves. It will also be touching and sweet for the father to receive such a gift from his little ones.
Which birthday cake designs for husband and father to choose?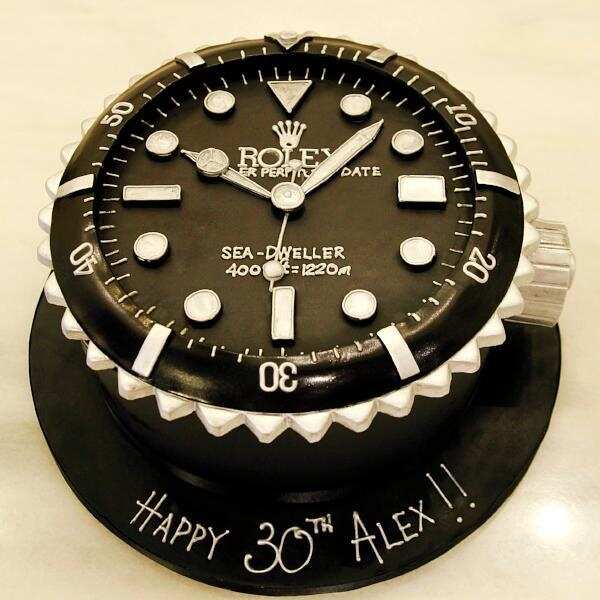 The choice of a good design is not complicated. Still, some people manage to make a big mistake when doing this. There's a stereotype that all men love the same things (and so do all women) and that if you need a cake for a man, it should be finished in black colors and have only a few decorations.
Men are different and being a man doesn't necessarily mean loving whiskey or smoking cigars. Instead, a birthday cake you are ordering for your particular man is a thing that should be customized in compliance with his likes and interests. If he's not a car fan, ordering him a cake that looks like a car will be senseless. It's better to think twice and choose something that will represent his personality and interests.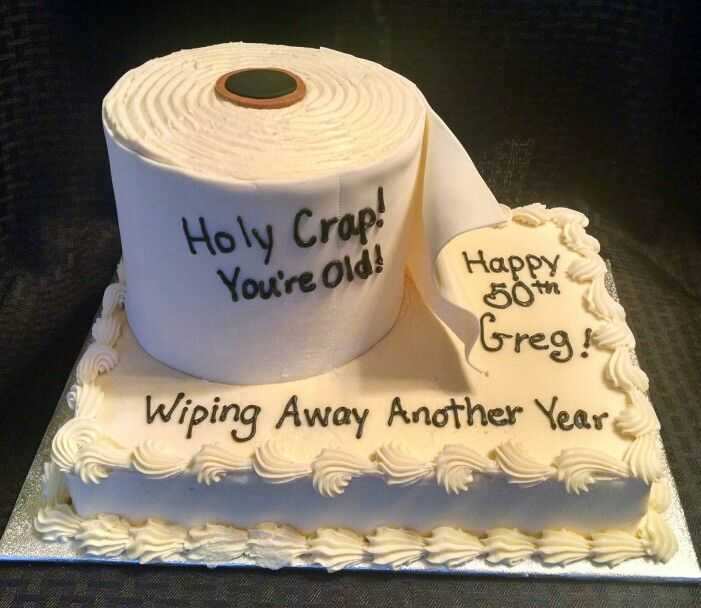 If your man has a good sense of humor, think about ordering a funny cake with an unusual design but only in case it will be appreciated in a proper way. You don't want to spoil the whole thing, right? Just choose something that reminds you of your man and that will definitely bring a smile to his face.
READ ALSO: 10 most beautiful chocolate birthday cake designs
Source: coastcakes.co.uk
Source: Legit.ng