Without doubt, every single child born into the world does not happen by means of coincidence, rather, it occurs by way of a miracle. This is because the journey from conception to delivery is no easy one; it is full of hurdles, heartaches and sometimes disappointments.
A Nigerian man has taken to sharing a very vivid encounter that mirrors just this fact. The said person who experienced firsthand the problems that can come with bringing a child into the world could not but let the world know about his experience.
According to the man who took to a popular Facebook group to share his post, his wife had taken in earlier this year. On October 16, the said woman, who was 36 weeks gone, went for her usual ultra-scan. After the test, it was discovered that the lady had certain pregnancy complications. Not one, but two.
First, her baby was in a breech position , and then, she also had placenta previa. These complicated issues could only be solved by operating the woman and delivering the baby through cesarean section.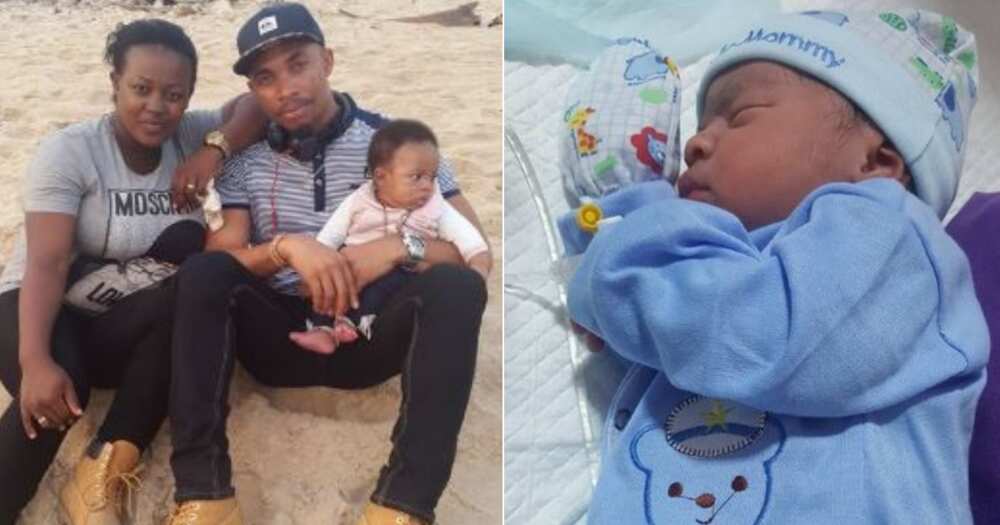 READ ALSO: Danger signs of pregnancy women should know
However, the husband of the wife had tabled these problems before his mother. It was his mother that went on to prescribe a solution and by obeying her strict instruction, his wife's problems were solved and a bouncing baby boy was miraculously born.
Read the man's words below:
"I think I would be doing someone out there who have lost there faith in God an injustice if I don't share this.
On the 16th of oct my pregnant wife went for check up cos she is 36 weeks gone, after the scan it was discovered she has 2 complications, the baby is in a breech position and she has placenta previa. A breech baby can actually be turned but it's dangerous. Placenta previa can only be treated by a C section especially when the mother is 36 weeks gone.
Placenta previa occurs when a baby's placenta partially or fully covers the mother's cervix which can cause severe bleeding during pregnancy or life threatening bleeding during delivery.
Our doctor told my wife that he could operate on her immediately cos it's dangerous for her to go back home in her predicament but on 2nd thought he wants to give the baby one more week to mature before he can carry out the C section. My wife called me in the office to give me the story with tears in her eyes, I was alarmed but calmed her down. I called my mum and sisters to tell them the issue on ground.
PAY ATTENTION: Save mobile data and get more Nigerian News with Legit.ng News App
On Tuesday, the 20th of November my mum called me, she told me her God won't allow my wife to give birth through C section. She gave me 3 psalms, told me when I get home I should lay my hand on her womb and pray with the psalms telling God what I want. I got home and did as she said.
On Friday the 23rd of November, my wife went back to the hospital so that the C section can be prepared for, the doctor carried out another scan and found out that the baby has turned and the placenta has moved. The doctor looked at my wife and asked her "who is the prayer warrior that prayed for you? After 36 weeks the placenta doesn't move". So our doctor sent her back home to come back the following week for check up.
On Friday, the 30th of November, my wife went back to the hospital in the evening, after some test, the doctor told her that she is due and has to deliver the baby cos her blood pressure is high, so they kept her in the hospital.
On the 1st of December, she gave birth naturally to a baby boy. Baby and mother are okay. Welcome Chizaram, God answered our prayers..."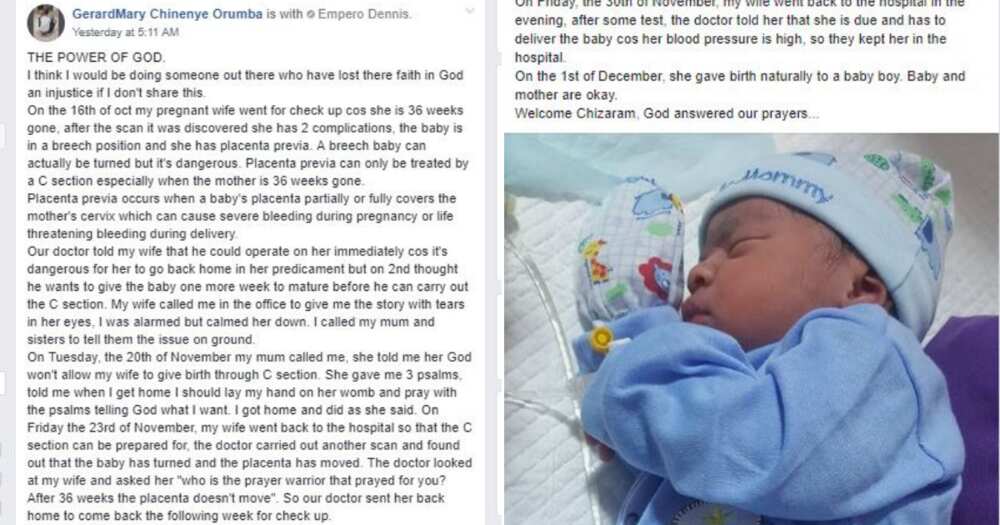 READ ALSO: Personal letter from the Editor-in-Chief of Legit.ng (former NAIJ.com)
Many Nigerians have responded to this individual's testimony. The general reaction is that of happiness and felicitation with the couple and their new born.
See some of the reactions below: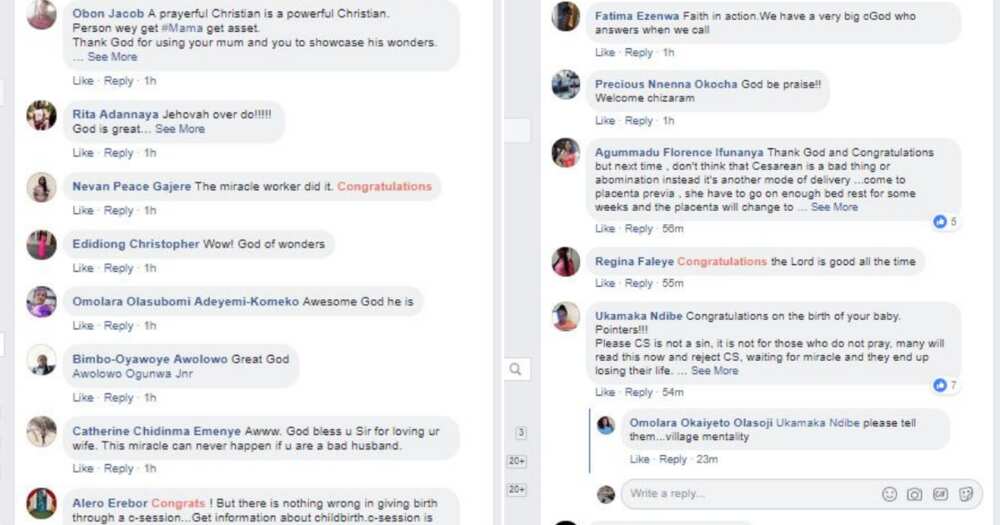 PAY ATTENTION: Love, relationship, marriage on Africa Love Aid
This is coming after a popular Nollywood actress Yvonne Jegede took to sharing a testimony revolved around her journey from conception to delivery. According to her, she had suffered from fibroid while she was pregnant, and although, she was told that the baby might not survive, she was able to successfully give birth to her child.
Nigeria Breaking News: 34-Year-Old Woman Gives Birth to a Set of Quintuplets in Awka | Legit TV