Rihanna's short hairstyles front and back view
We all love Rihanna, her music, personality, stage presence, and style. She is truly one of the most remarkable superstars of our generation. And one of her biggest hobbies is to change her hairstyles for at least a few times per year. Do you love Rihanna short hairstyles? Then, check out the beautiful Rihanna short hairstyles front and back view!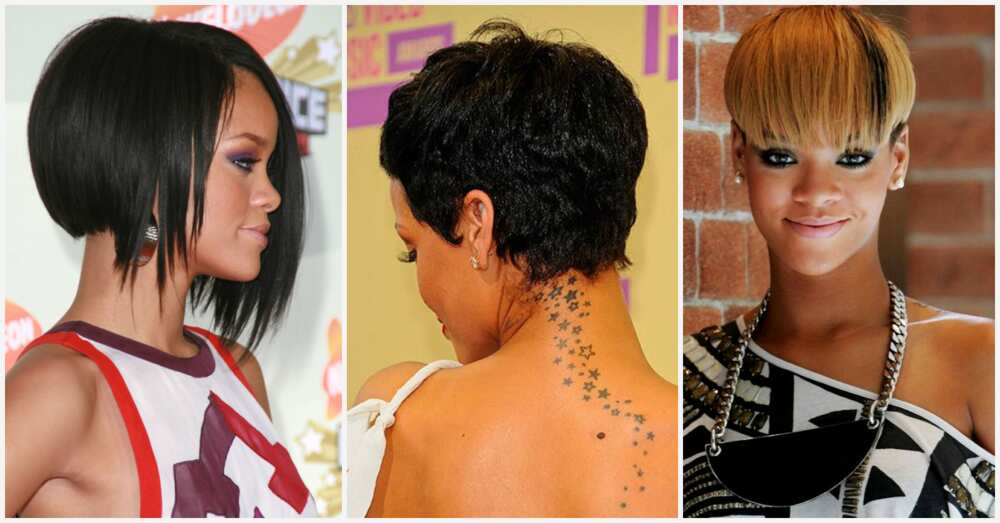 Rihanna hairstyles: what is so special about them?
Rihanna's hair has gone through multiple transformations over the years, and some of the fans and media even call her "hair chameleon". They also joke that she changes her hairstyles almost as often as her outfits. You can find hundreds of different Rihanna hairstyles archived in the form of photos on the Internet, starting from the long wavy hair and ending with bold pixies, bobs and fauxhawks. She is also a big colourful hair enthusiast, but at the same time, she goes naturally quite often.
If you are thinking of getting a bold short hairstyle like this worldwide superstar and fashion icon from Barbados, you have come to the right place! We will show you top-10 best Rihanna hairstyles pictures and Rihanna short hair back view. There is also be a cool video with front and back views of all Rihanna hairstyles. We bet that you are excited already!
1. Red hot side-swept pixie cut
Many of those people who know and love Rihanna also know that she is a pro when it comes to pixie cuts. And at the same time, she is very brave with the hot saturated colours. Rihanna had a whole period that lasted about a year when she rocked different hairstyles with the red hair. This is probably one of the most memorable out of them, and the Barbadian star once again proved us that she could pull off anything, and still look absolutely amazing. This red side-swept pixie cut is one of her edgiest looks ever.
So, what do you do if you would like to recreate this look of Rihanna, but have no idea where to start? First of all, you will have to use the mousse that adds volume to the hair for slicking the back of the hair into a little bun, leaving out the top section of your hair where it belongs. In case your hair is rather short, you can just pull the remaining strands back. Then, you will have to brush your hair's top section across the forehead.
You can use some discreet pins for pinning it down behind the ear in case it is too long. For creating the final unforgettable look, you should use the strong hairspray to secure your hair and keep it in place. All in all, if you are prepared for looking like a daring girl who knows what her place in society is, you can get inspired by Rihanna's look and truly make it your own.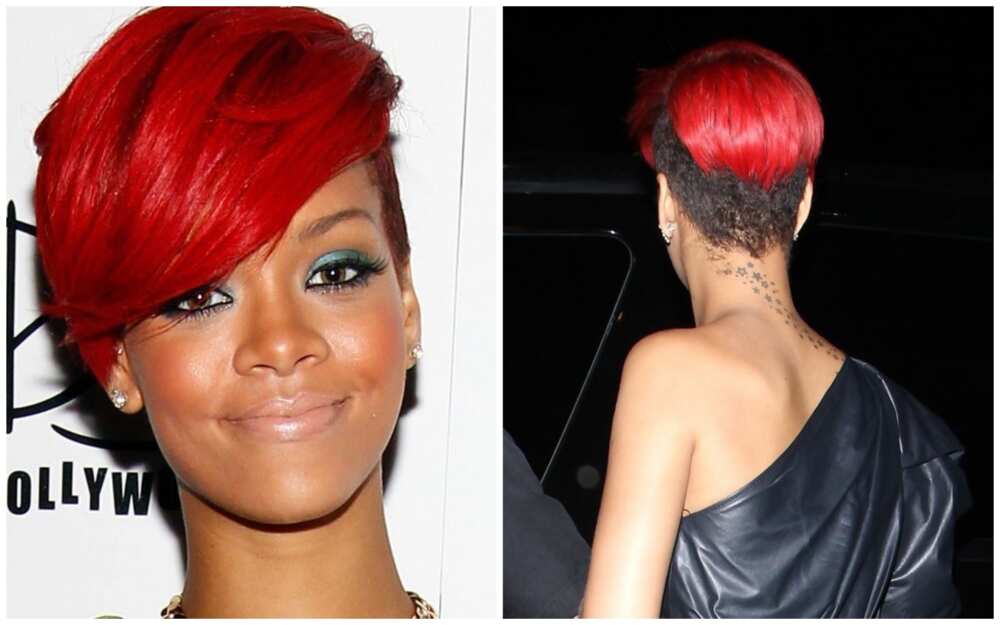 2. Simple pixie cut
The most successful and popular looks of Rihanna are usually those that are designed to showcase her bold personality and confident appearance, but at the same time are made with taste and do not cross the border between style and trash. This is one of those looks, and we are sure that everyone remembers the short pixie cut of Rihanna. She truly rocked this cute hairstyle, together with bright makeup and some minimalistic accessories that emphasized on her grace and beauty. The warm shade of her hairdo also brings out her natural charm and attractiveness.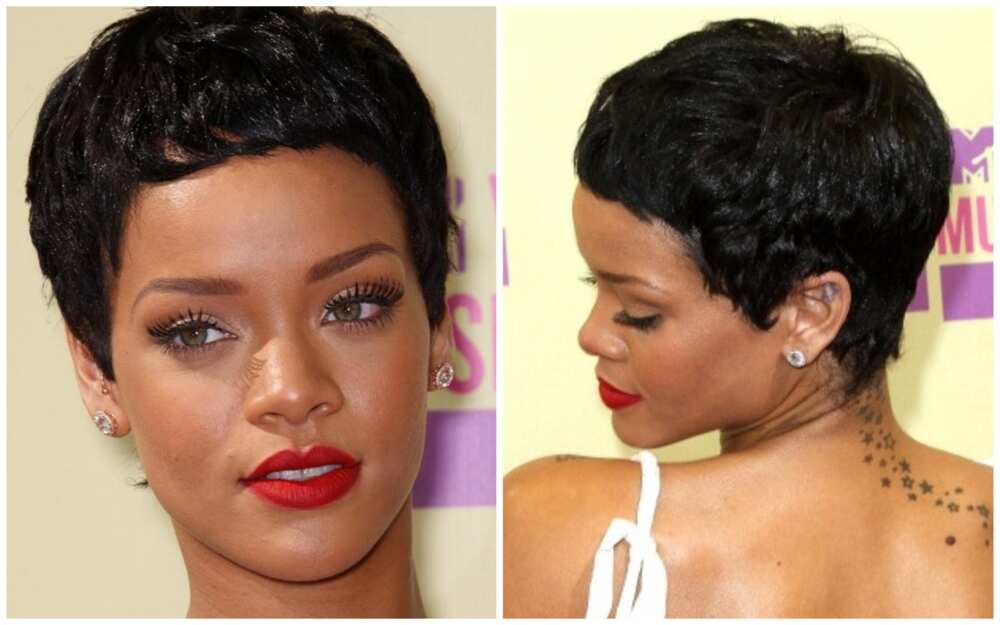 3. Caramel bob with the side-swept fringe
Rihanna and her stylists are the absolute professionals when they need to take something old and well-known, and reinvent it into the entire new thing that would be fun and interesting. In the pictures, you can see that Rihanna is rocking the look with a short caramel bob, which she transformed into a Mohawk sort of and decided to add a side-swept fringe that adds some special charm to the overall image. Even though Rihanna is a gorgeous celebrity and basically suits everything, it does not mean that you will not be able to rock this hairstyle as well as she does.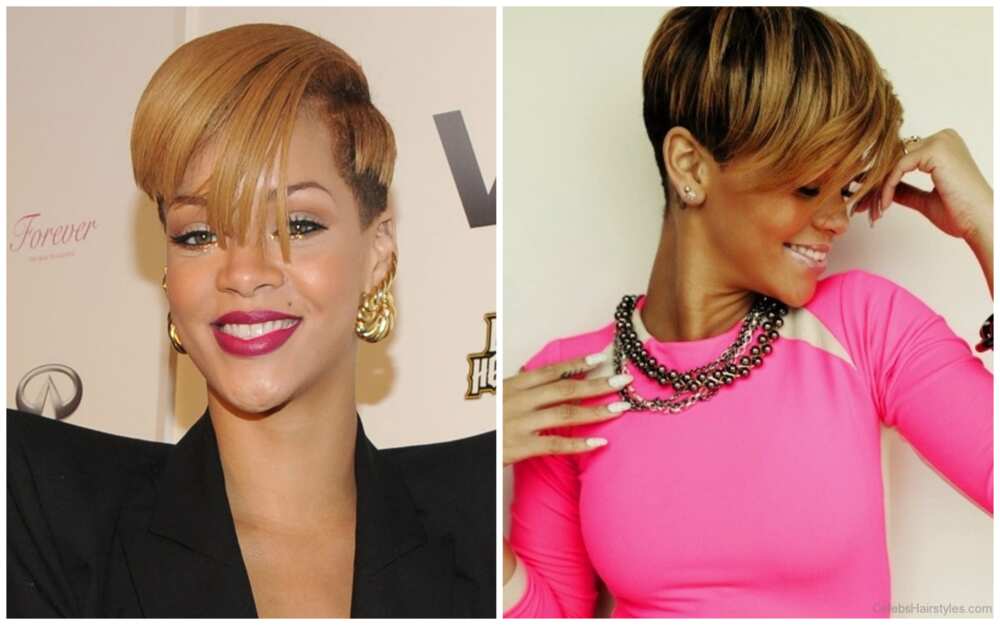 4. The fiery fauxhawk
Mohawks and fauxhawks are some extremely risky hairstyles, and we know that not every woman would be courageous enough to try it. However, Rihanna is fearless when it comes to hair experiments, and she once again pulled off a new hairstyle, which seemed to be a lot of risks. Now, she is known as an amazing Mohawk and fauxhawk ambassador, showing young ladies how you can impress everyone with this hairstyle and your attitude. As you can see from Rihanna's public presence and behaviour, there is always a spark of confidence and rebellion in her eyes, and this is exactly how you need to present yourself when you are wearing something as daring as a fauxhawk.
READ ALSO: Rihanna and Chris Brown love story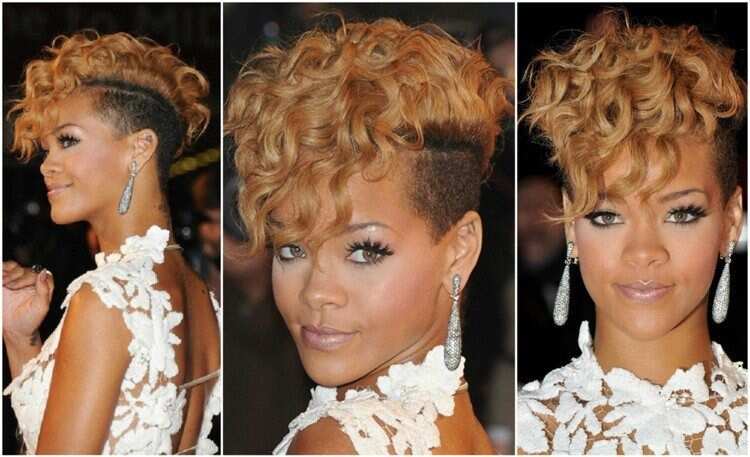 5. Short two-toned bob
If you have been following Rihanna in the early days of her career, you are probably aware that she had long and shiny hair, which she later decided to replace with stylish and funky bobs. It turned out that this was a perfect choice, and the bob hairstyles have added even more modern note to her image. Besides, the singer also added colours to her haircut, combining the darker tones with the lighter ones and rocking this stylish combination. In case you would like to try something similar, we can assure you that this is a very easy and great way to add some playfulness to your general image and become a centre of attention among your friends and family.
This hairstyle is one of the easiest hair choices among the short hair category. To achieve this result, you will not have to do a lot of hard work. The only things you can do are getting good supplies of mousse that adds volume, as well as anti-frizzing serum.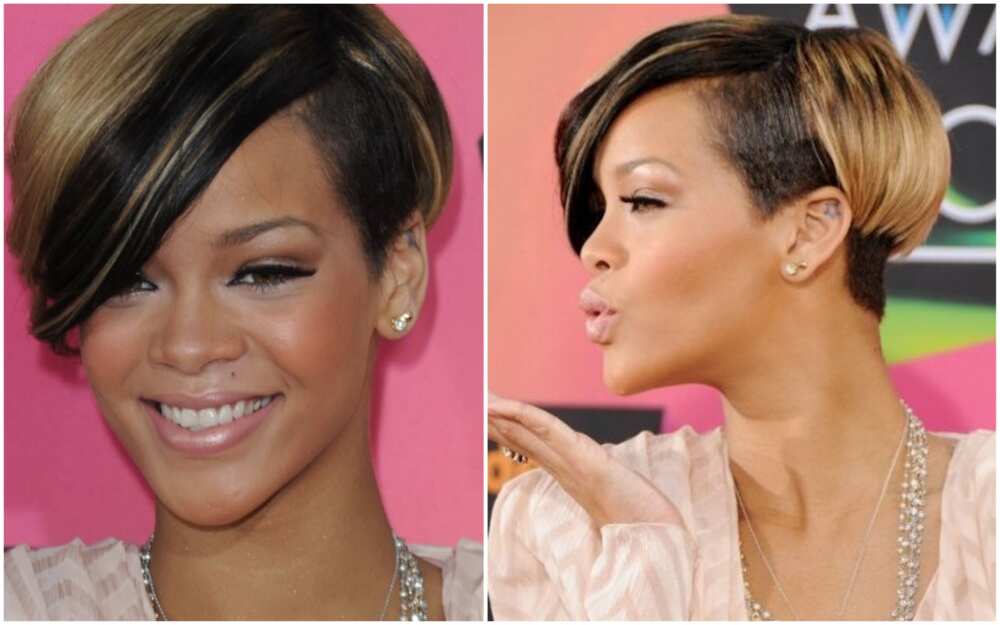 6. Pompadour Mohawk
There is nothing impossible for Rihanna, and combining two hairstyles into one is nothing else than a brand new challenge for her. First, there was a pompadour, then there is the goth and punk-inspired Mohawk, and also shaving the sides of your hair. The music superstar managed to combine them all into one harmonious piece which looked exceptionally well on her head. This is why Rihanna is widely considered a trendsetter who always makes the new fashion statements.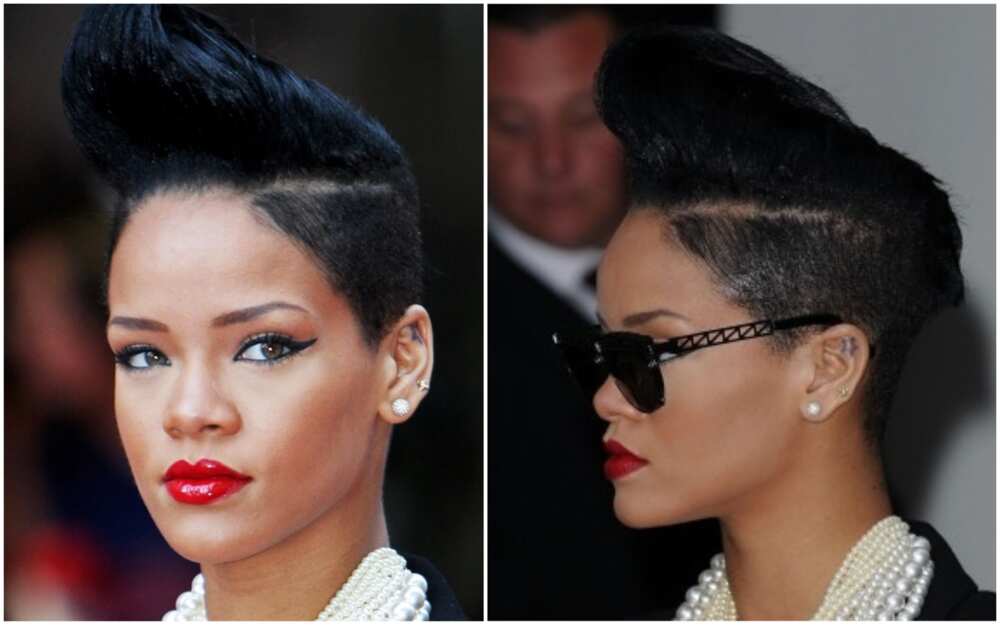 7. Layered cropped hairstyle
You probably know already from the previous examples that Rihanna absolutely loves pixie-cuts and often returns to them when she needs a brand new hairstyle that would wow the public. They are also very trendy in general and would suit a lot of women. So, this is Rihanna, absolutely killing the look of the layered pixie cut. She did not dye her hair for this one – this is actually her natural hair colour.
This pixie-cut is still very stylish, though, and with it, you will never be forgotten or brushed off. In case you developed a wish to get this edgy haircut, you should drive your attention to adding a lot of layers to the side bangs, and then tousle them up a little.
READ ALSO: Top Rihanna's hairstyles: short, curly hair and braids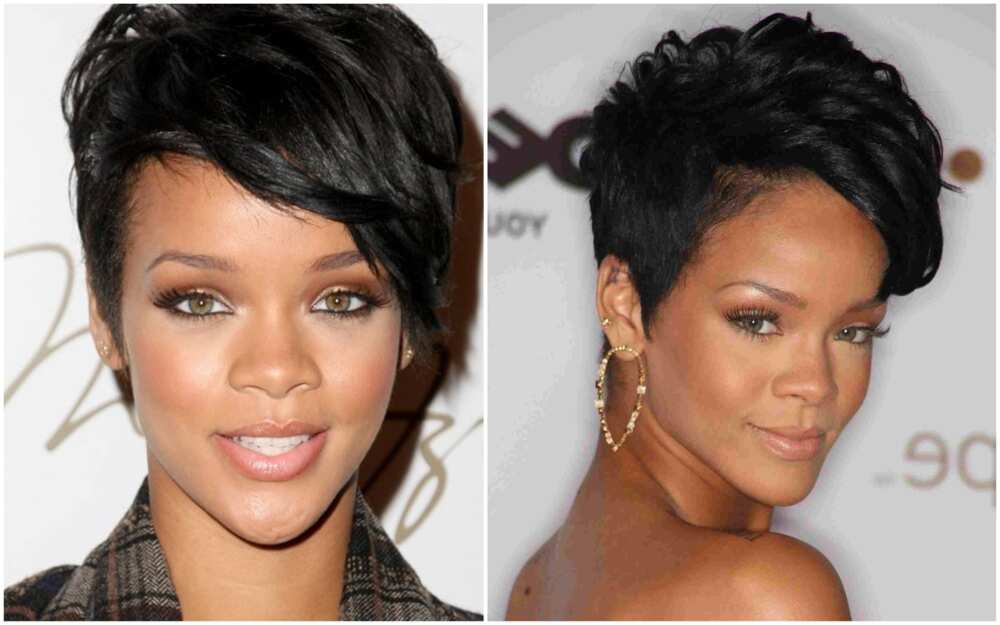 8. Soft pixie cut with the waves
People who have tried to grow out a pixie hairstyle might know from their own experience that it could often be a huge pain. However, Rihanna seems like a true wonder woman – she changes hairstyles with a speed of light, and of course, she can afford professional hairdressers, so this is not a problem for her. Even if you are not a celebrity, though, this hair option would be very easy and quick to create. You may say it is simplistic, but simplicity often equals success, just like we see in Rihanna's case.
This is a sort of hairstyle that may seem like nothing special, but you are unable to keep your eyes off the person once you see it. It suits both edgy and lovely looks, and the waves add some glamour to your general style. Surprisingly this hairstyle is extremely versatile and feminine, and it will create a nice contrast with the makeup, as well as drive more attention to your pretty facial features. Shortly, this is absolutely ideal for every occasion.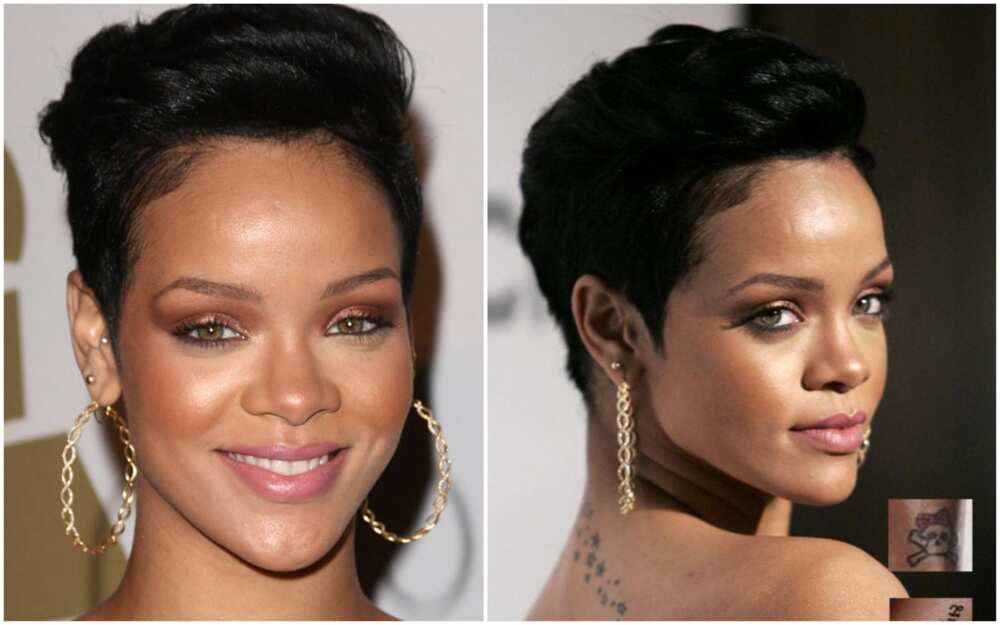 9. The blunt angular bob
This hair styling option was also a special feature of Rihanna at one point. She appeared with it in some of her early music videos, which have made her famous and prominent. What is incredibly special about this bob is that it is not regular, but angular, which means that it is longer on one side and shorter on the other. It gives your hair a lot of movement and freedom and makes it look more lively and healthy.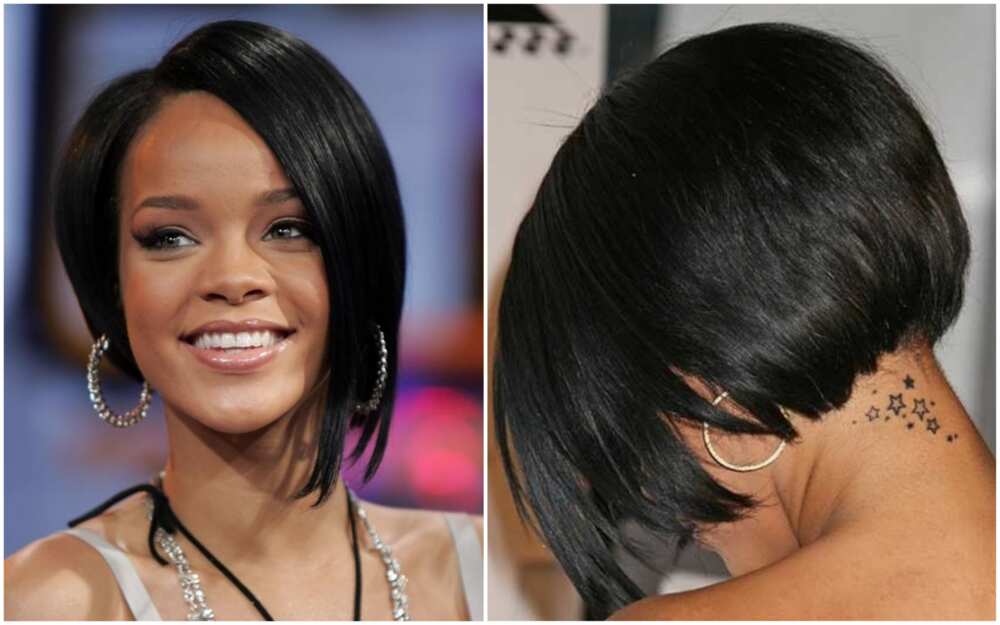 10. Bowl cut with the blunt bangs
And finally, we bring you something entirely new, different, and bold. It is a very exotic and wild hairstyle, which would require a lot of thought and preparation before you decide to imitate Rihanna. This superstar never fails to surprise us, because what we thought of as a very rare and risky hairstyle turned out to be just the right thing for her. This bowl cut of a honey blonde colour, with some hints of Rihanna's natural hair colour – black, goes really well with her mesmerizing eyes and sweet smile.
For people who have naturally straight hair, this haircut would be absolutely perfect. However, if you are not one of those people who are lucky to have their hair perfectly straight, you can still use a hair straightener, as well as the shiny hairspray. This haircut is very protective and easy to manage – the choppy crop with blunt bangs does not require a lot of care. Together with the refined and flawless makeup routine, this funky and hilarious hairstyle will give you volume, edginess and the look of a rock star.
READ ALSO: Rihanna's houses in Hollywood and Barbados
Below, you can see the video with even more of Rihanna latest hairstyles, and check out how they look from the front and back. This will be useful for you if you are actually planning on replicating her hair.style However, do not forget about your own charm and ideas. We wish you luck with finding your exclusive style and getting inspired. Just like the lyrics of the popular Rihanna's song says, "shine bright like a diamond!"
READ ALSO: Alicia Keys' braids hairstyles you will like
Source: Legit.ng