Cute things to text your girlfriend to make her smile
Do you want to make your girlfriend happy, but don't know how? Cute things to text your girlfriend to make her smile will help you. We have chosen for you the cutest messages that will make your girl the happiest person in the universe. Be bold and most importantly, do not forget to be romantic.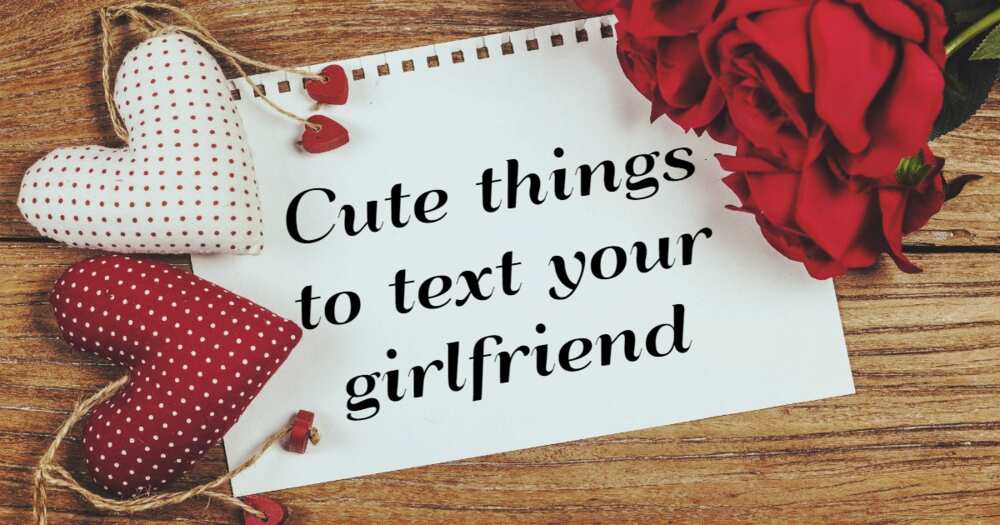 Cute things to text your girlfriend to make her smile in the morning
We have chosen for you the cutest morning messages for a girl that will definitely brighten even the greyest day. Let the morning of your girlfriend begin with a smile!
You're probably sleeping like a cute baby right now. I just wanted to say good morning, beautiful. I hope you have a smile on your face right now. In case you don't, you better have one by now. Because your smile is just so pretty, and I can't get it out of my head. I hope you have a fantastic day today, cutie.
Morning, Sunshine ... You look great today. How did I know? Because you look great every day.
Don't listen to your mind. Always listen to your heart!
I do not think much, I do not think often, but when I am thinking, I am thinking of you.
I love the spring mornings, the afternoons in autumn, the winter evenings and the summer nights ... but I love YOU more!
Can I take a pic with you? I could show my friends that angels do exist.
You have a cute yawn on your face, a cup of coffee in your hands. All that remains is a good morning message from me. Have a great morning!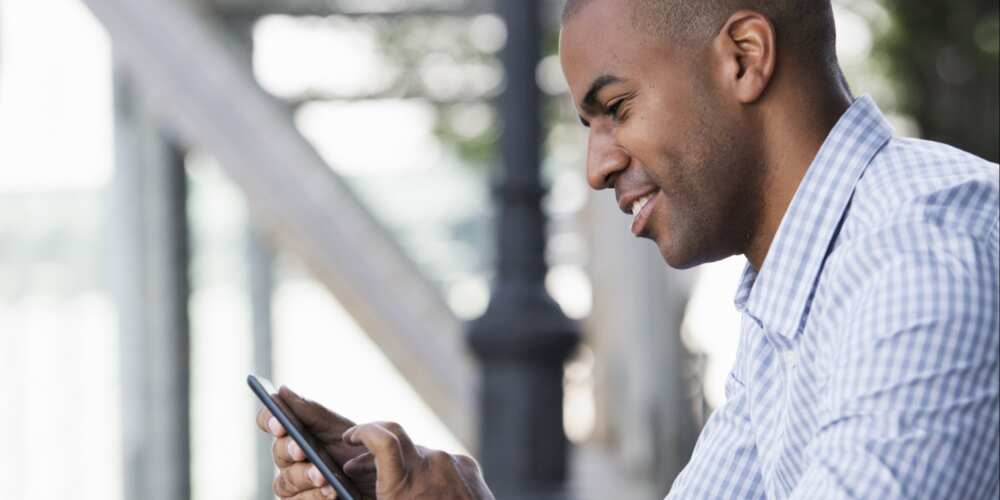 READ ALSO: Top 10 cute nicknames for your girlfriend
Every sunset gives us one day less to live! But every sunrise give us one day more to hope! So, hope for the best: Good Day, Good Luck, and Good Morning.
May I come into your world? I bring no flowers, no cakes, but wishes to keep you fresh, prayers to keep you healthy, and love to keep you smiling... Good Morning.
Night has ended yesterday and morning brings another day. May you smile like the sunny rays and leave your worries at the bright blue bay. Good Morning!
It makes me so happy, and this is what I'm going to do, send a good morning message right back to you. Good morning, my friend.
Open your eyes. Take a deep breath. Throw aside the covers. Get up from the bed. And read my message. Good morning, my dear.
Life is like a book. Each day is like a new page. So let the first words you write be, good morning to you, my love!
Night has gone and the moon too. The sun has risen on a sky so blue. Open your eyes, there's a message for you - Good morning!
May you notice the beauty of the morning, see the glory of the sunshine, feel the moments of the day and hear from a friend who cares: good morning!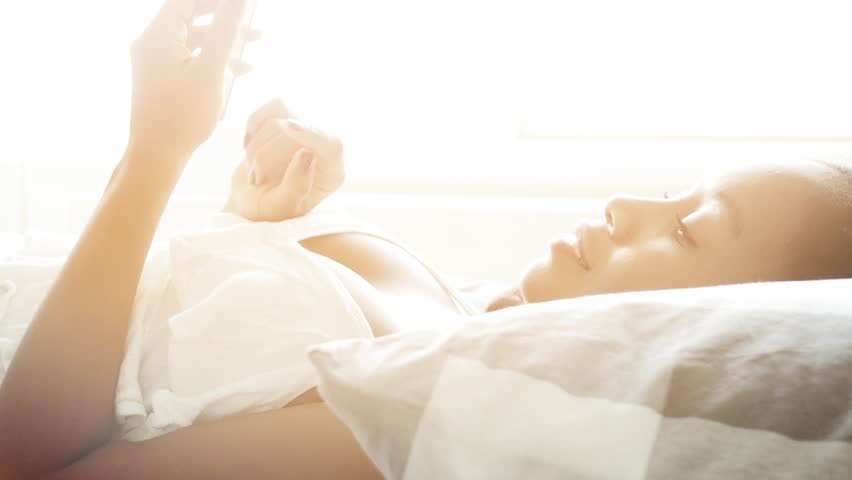 Go confidently in the direction of your dreams. Live the life you have imagined. Have a good morning and a great day!
As you wake up today, ask yourself what you would be, and then go out and do what you have to do. Have a great morning!
Not everything is meant to be, but everything is worth a try. Good morning and a great day!
Always keep your words soft and sweet, just in case you have to eat them. Good morning.
Many beautiful things are waiting to welcome you to this new day. Wake up my beauty, wake up! Let this morning see your beautiful smile and energetic activities! Have a blessed morning.
My dear, wake up from the dream world. Here is the world welcoming you to face a new fresh day in your life! Have a great and beautiful morning!
How can I find words of wishes, which express my feelings to you? Your smile brightens my life even more day by day. Good Morning.
All good people always do good things for their friends. I wish you a very GOOD MORNING!
Everyday, you have another chance to live your life in the best possible way.
SMILE and be happy and let that happiness spread everywhere you go. Life is beautiful! Good Morning!!!
Arise and shine ... Today is your day to follow your dreams and succeed in pursuing your goals.
A sweeter smile, a brighter day, hope everything turns out great for you today!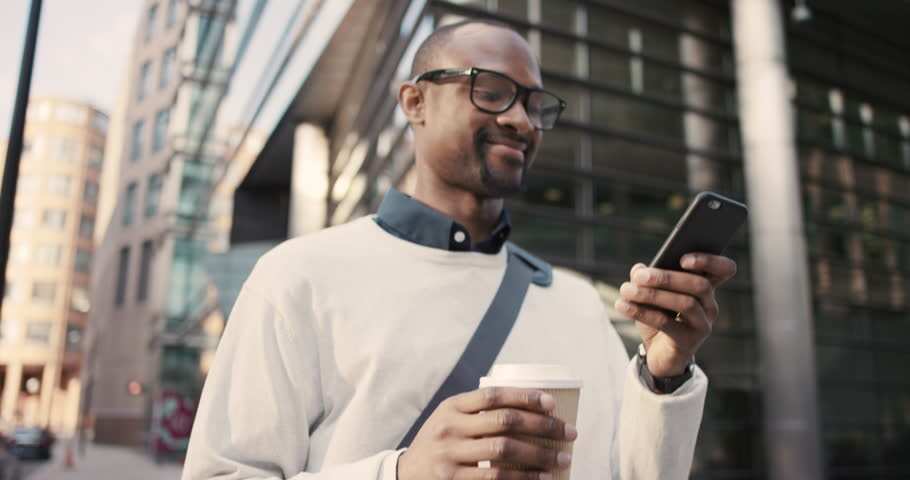 READ ALSO: How to make your partner happy in a relationship
Every morning was a cheerful invitation to make my life of equal simplicity, and I may say innocence, with nature herself.
Like the sunshine in the morning, may this message brighten your day, and remind you that you're thought of in a very warm way.
You are the first thing to enter my mind in the morning and the last thing to leave my heart at night.
Even though I found you on an ordinary day, it felt like I found a precious pearl in an oyster when I deep dived into the sea. Baby, you are really that precious to me.
In my dreams, I create a beautiful morning for you and then I share this beautiful dream as my heartfelt wish.
I think of you and a smiling face I always visualize, wishing you is a happy act to see my thoughts realize.
A smile can make a day complete. A hug can make a day better. So I'm sending my smiles for you to have a better day! Good morning!
Hey sleepyhead, time to wake up. Time to brush your teeth. Sip some coffee. And eat some bread. So I can give you my morning kiss!
I can't sip a coffee with you. I can't have breakfast with you, but by heart, I am with you, and I am always thinking about you. Good morning, baby!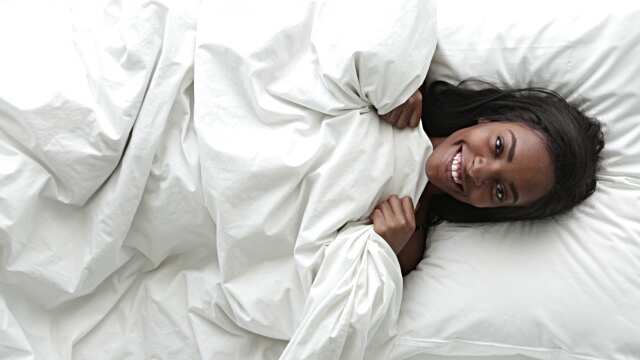 You are the first thing that came to my mind as I woke up this morning.
You are my sunshine. You are my light. You make everything feel alright. I feel so lucky to have you. A girlfriend who's beautiful and kind, too. Good morning!
Mornings remind us how lucky and blessed we are, to be blessed with another day to be with our loved ones, and let them know how much we love them. So this morning, I want to tell you that I love you. Good morning, enjoy your day!
As you wake up in the morning, start counting your blessings, check your phones and emails, read my thoughts saying Good morning!
Get up from this bed little one. Another beautiful day has come. Get out and play with the morning sun. Greet the day with a smile my fairest one.
The beauty of your eyes can never be seen without the radiance of the morning sun. So let us wait for the light to shine, as I will witness the future in your sparkling eyes. Good morning, babe!
A lovely morning on your way, greet this day with your beautiful smile. I wish you to have a great day ahead. Good morning!
The cool breeze is touching you to wish you Good morning! Birds are twittering to wake you up from your sleep! Wake up my dear, here is my good morning wish to start your day!
My dear, wake up from the dream world. Here is the world welcoming you to face a new fresh day in your life! Have a great and beautiful morning!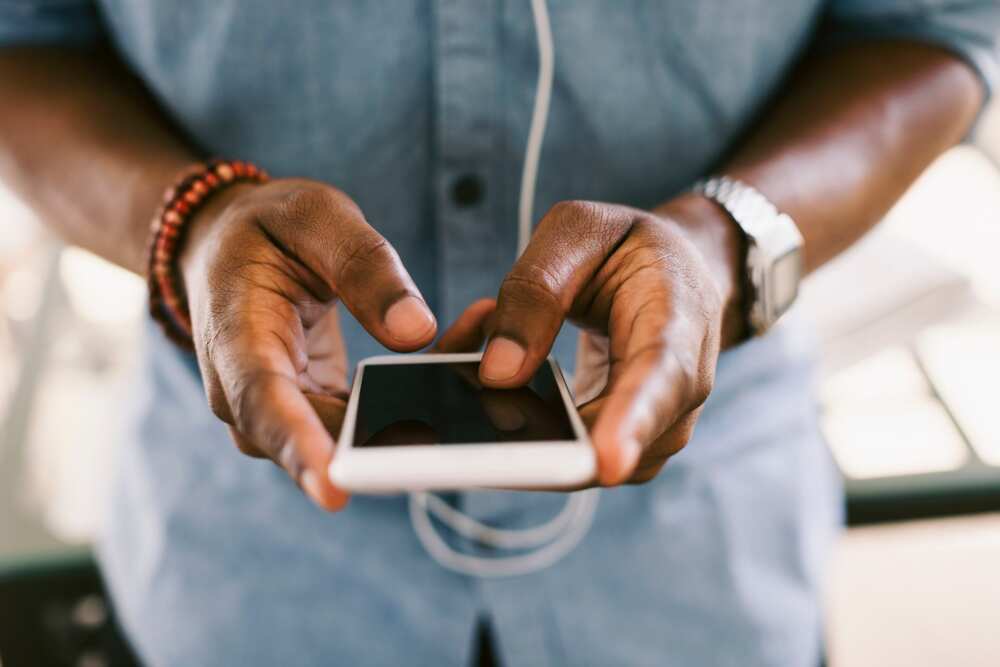 Cute things to text a girl to make her smile at any time of the day
And now let's talk about cute messages to please your girlfriend at any time of the day. She will definitely like it! Here you will find love messages that can melt the heart of any beauty. Do not be afraid that sending a romantic SMS is a trivial thing. Any girl will be pleased by such courtesies
You are my destiny, making you my friend was not a choice, falling in love with you was not a coincidence, but making you my wife was my greatest achievement. I adore every step I took to make you mine. I love you my jewel.
You are my happiness, my heart desire, my everlasting flame, the one that makes my heart beat fast. My love, my queen, I cannot think for a second without you in my mind. I cherish you, princess of beauty.
My love for you has no limit, my joy you are my eternal. You make me feel so fulfil whenever I think of you my eternal flame. I love you so much my jewel.
Love is a risk either you sink in it, or it sinks you, for me have deeply drowned for the love that I have for you, thank you for giving me this unconditional love.
The biggest achievement for me sees you happy and comfortable. You know that your smile alone gives me the courage to live and always want to be with you my morning star.
My princess, you are my moment of weakness and strength, I enjoy every day spent with you in my arms, I just want to check on the cutest love of my life.
Your eyes sparkle like the sunrise. Your breath has frozen all the fish in the rain. You are my most treasured security. I love my life with you it makes it complete. I adore you a lot sweetheart.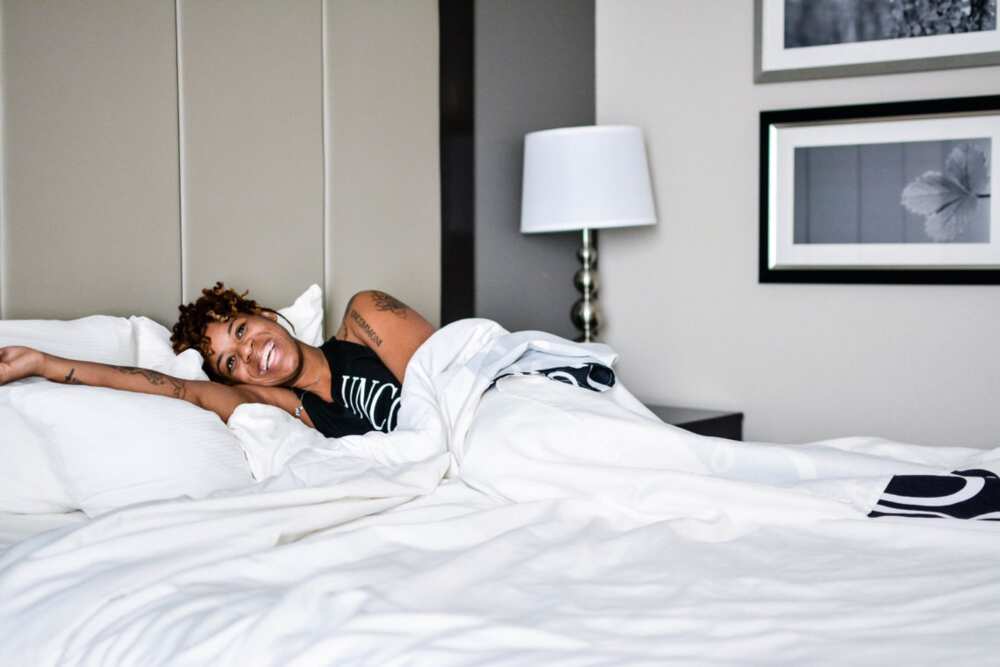 READ ALSO: Best modern love songs for romantic evening
It was that night I saw a falling star that I made a wish, and I found you, I am assuring you, my love, that if you make a wish tonight, it will come true the way you came true in my life. I love you for who you are my queen.
If I could go a thousand miles just that make you mine, I won't even think for a blink of an eye for my love for you knows no boundary. I love you, my princess.
Your happiness is my major priority. Your weakness is my strength, want you to be the queen of my heart. I love you.
If loving you is a crime I will rather be a criminal, your love has made me who I am today, thank you, my love, for making me the love of your life.
People may say that I have gone insane, if loving you will make me what I am today, I will say yes, yes! Because your love is what made me the bravest man. I cherish you with everything I have got.
Nothing is going to change my love for you, even if you want me to tell everybody in the world, I will always love you as long as I live, my honey bunny.
Do you know the impossible thing to do in this world, is describing how water taste? My love but the possible thing I have ever done and will always be proud of is falling in love with you the queen of my heart.
Every step I took to know you made so much difference in my life, knowing more and more gives me that desire that makes me a happy person. Thank you for giving me the opportunity to know you. I adore you so much, my angel.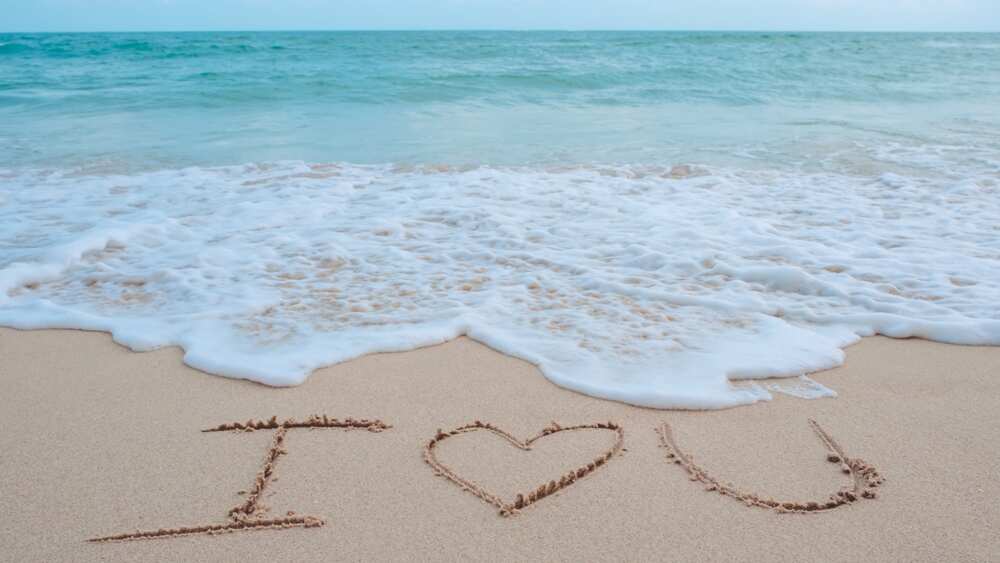 Ever since you came into my life, my life has a new meaning to everything, you have been the source of my joy and the reason I am who I am today. I love you just the way you are my sweetie pie.
You are my weakness, whenever I see you I seem to forget all my worries accept for you that worry a lot about. My happiness has a beautiful day ahead of love.
I believe dreams do come true because mine did when I met you queen of my heart. I will love you with everything that I have got. I adore you, princess.
I could never say how much I love you. Just for you to know how special you are to me, I can say that you are my world. I love you my sweet darling.
They say this kind of love is once in a lifetime, I know you are the one for me, I have given you all my today and always. Thanks for showing me how it feels to be loved. I can't stop loving you.
You can't see the sun when it rains, but you know it's there. I hope we can both be like the sun, who don't always see each other, but who are always there for each other.
An angel once asked why I care for you so much. I told her I care for you so much because ... I can't find a reason not to.
I admit I'll never be the perfect one. I'll never always be there. I may fail to make you smile at times, but there is one thing I could do. I could be the person I am, for you.
What makes some people more special than others? It's not just the happiness you feel when you meet them, but the anguish you feel when you miss them.
Certain people touch your heart in a way that you can't stop thinking about them; that is the kind of person you are; so far, yet so near, so simple, yet so desirable.
There's no special reason for this message; I want to steal a single moment of your busy life and hope I can make you smile when I say: I Miss You.
They say, as long as at least one person cares for you, life isn't a waste. So when things go wrong, and you feel like giving up, please remember you still have me.
It may be too early to say I love you, but I can't keep it a secret. I have never felt this happy before that I was so lonely, thank you for coming this far with me my honey. I can't stop thinking of the way I love you.
READ ALSO: Questions to ask a girl you just met online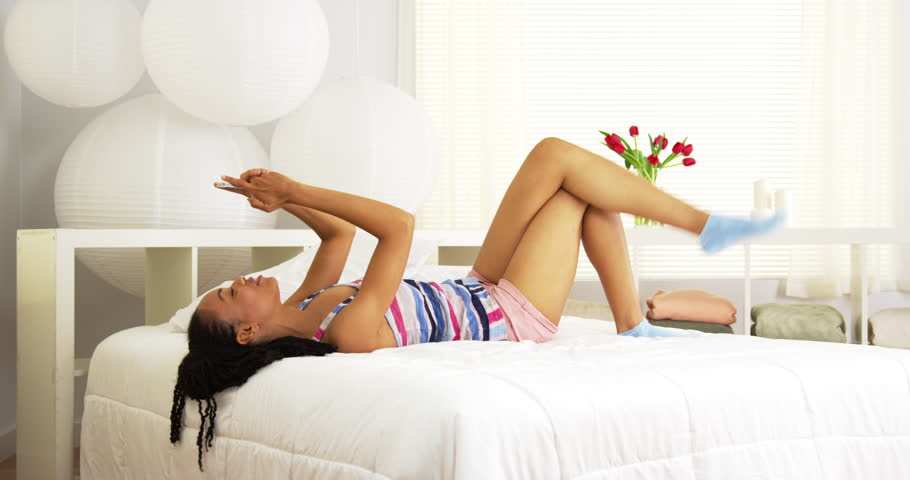 I love it when we cuddle and spend some quality time together, I love it when we go out on a date, but I love it more when you tell me you love me and want to be with me forever. I love you more my angel.
No matter how much laughter people laugh with me each day without yours, its like I have not seen anyone yet, but whenever you laugh with me, it set my heart on fire. You have set my heart on fire ever since the day I set my eyes on you, my love.
I will never ask you to change for me because you are perfect just the way you are, my sweet princess I love you once, and will still love you, always have and always will cheers.
If I know what love is, it is because of you, never leave me alone, please. I would be an empty flame without you in my life. I love it when you say I won't ever leave you not for a second.
When I look into your eyes, I know I have found the mirror to my soul. I adore you my other half, have a beautiful day like yourself.
Why do I love you, your smile, less ego, hot body, chill mood, brilliant brain, cute attitude, and most of your love is such an amazing gift for me. I love you.
I wouldn't want to have anything to do with any other person in my life, I have you is more than enough to me, I can't stop but to love you endlessly.
If a kiss could tell you how much I love you, I am sure we would be kissing forever. Please, can you give me a kiss because I am sending thousands to you now? I love you my darling.
If I know what love is, it because you thought me a million ways to love. I never knew there could be a love analytic like you and most of all the love of my life. I adore sweetheart.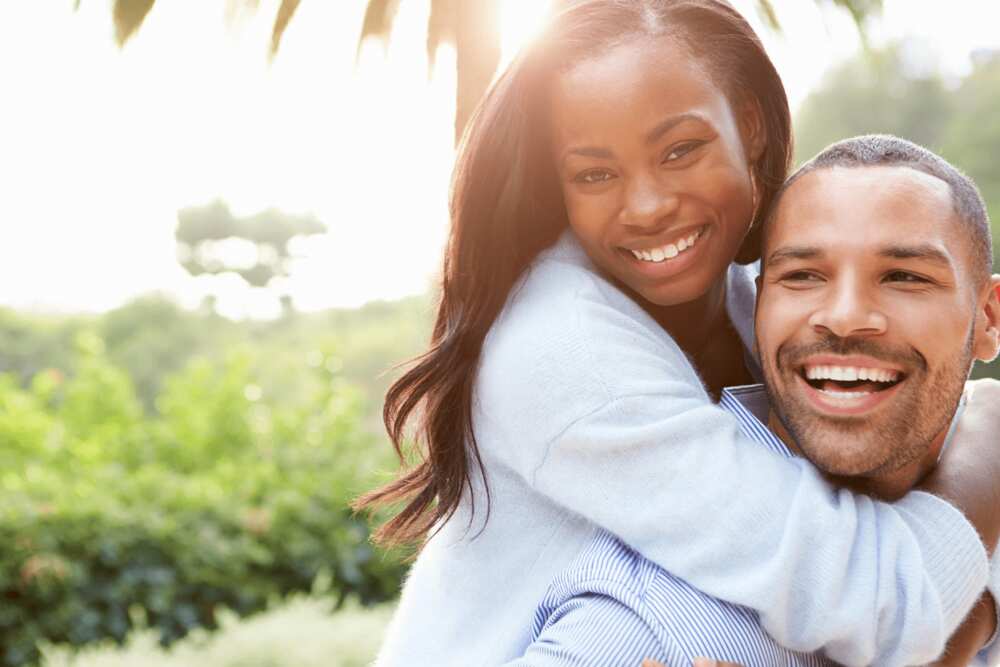 Now you have a huge selection of messages that can make your girl happy. You do not need to come up with something complicated, just save our article and use our messages at any time.
READ ALSO: How to make her miss you
Source: Legit.ng