Next Level vs Get Nigeria Working Again: Point by point comparison of Buhari and Atiku's plans
As the campaigns for presidential and National Assembly elections started on Sunday, November 18, according to the Independent National Electoral Commission (INEC)'s timetable, the two major presidential candidates in the 2019 general elections have kick-started their campaigns.
President Muhammadu Buhari, the ruling All Progressives Congress (APC)'s presidential candidate, opened the campaign floor on Sunday, November 18 with the launch of a "campaign manual/next level document".
The presidential candidate of the major opposition Peoples Democratic Party (PDP), Alhaji Atiku Abubakar, has also launched his plan on Monday, November 19 via social media platforms (Facebook and Twitter).
In this piece, Legit.ng compares the policy documents of the two major presidential candidates below:
JOB CREATION
President Buhari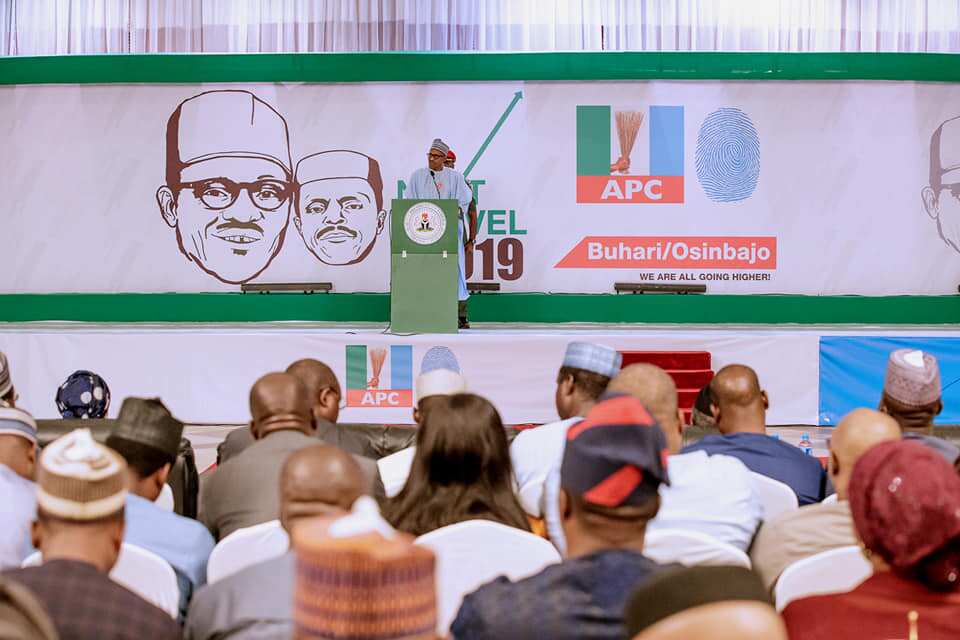 President Buhari promised over 10 million new jobs across various sectors if re-elected in 2019. How does it he plan to achieve this? Here are what President Buhari listed as his mechanisms for achieving the 15 million jobs target:
Expanded N-Power programme: President Buhari promised the enlarged N-Power programme would engage one million graduates with the aim of lifting Nigerians above the poverty line.
Skill acquisition: There is also a promise to skill up 10 million Nigerians under a voucher system in partnership with the private sector.
Agriculture: Several millions of jobs are also promised to be created through agriculture, including having the "Anchor Borrowers' Programme to support input and jobs to one million farmers; Livestock Transformation Plan to create 1.5 million jobs along dairy, beef, hide and skin, blood meal, crops; and Agriculture Mechanisation Policy with tractors and processors to create 5 million jobs."
Jobs- Tech & Creative: The president also promised to provide $500m innovation fund to tech and creative sector to create 500,000 jobs and also train 200,000 youth for outsourcing market in technology, services and entertainment.
READ ALSO: I will soon celebrate my 76th birthday, I am not dead - Buhari finally speaks about being cloned
Industrialisation and Jobs: In the Next Level plan, the president also promised to create Regional Industrial Parks and Special Economic Zones, 109 Special Production and Processing Centres (SPPCs) to spur production and value additive processing, and Tractors and Processors Plan in Each Senatorial District Extra Jobs Created.
School feeding: President Buhari also vows '300,000 extra jobs' for vendors and farmers by increasing the number of children fed under the school feeding programme from 9.2 million to 15 million.
Former vice president Atiku Abubakar; The Atiku's Plan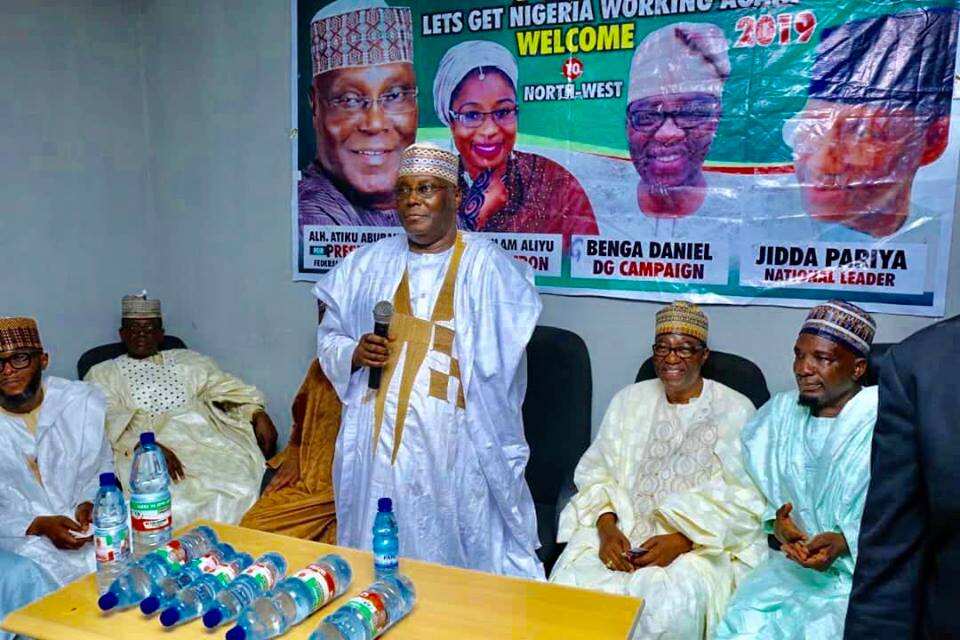 The PDP presidential candidate said, through investments, he will create a minimum of 2.5 million jobs annually and lift at least 50 million people from poverty in the first 2 years. In place of President Buhari's plan, Atiku promised to create jobs using the following four pathways.
The Informal Sector Pathway: Under this, Atiku promised to relaunch the National Open Apprenticeship Programme (NOAP) for Nigerians who did not attend school or complete basic education. This programme will recruit, annually, 100,000 people who will train 1 million apprentices in various trades.
The Entrepreneurship Pathway: The former vice president promised to train and fund entrepreneurs and targets "at least 100,000 budding entrepreneurs will be added annually". He also promised to introduce a Graduate Trainee Internship Programme (GTI) – a programme similar to the current N-Power programme.
The School to Jobs Pathway: Under this pathway, the PDP presidential flag bearer planned to fund and develop the technical colleges and vocational skills acquisition centres to facilitate self-employment.
MSME /ICT Special Entrepreneurship Pathway: Here, he promised to provide the minimum of $250 million of private sector funding for Nigerian small businesses. He also promised 2 million direct and indirect jobs from this sector.
POVERTY REDUCTION
President Buhari
To address the rampant poverty in the country, President Buhari promised to continue its administration's Social Investment Programme (SIP). He said that Nigerians who are still below the poverty line will be rescued through the administration's expanded National Social Investment Programme.
The SIP covers Trader Moni offers N10,000 cash to market women (and men) trading in a few markets across the country. There is also a N5,000 monthly grant to 'poorest Nigerians'.
The N-Power employs thousands of unemployed graduates to fill inadequacies in public services in education, health and civic education, with N30,000 monthly benefit. It is the country's poster work-for-cash social programme to address the challenge of unemployment.
By establishing People Moni Bank, the president promised soft loans of up to N1million to small traders, artisans (carpenters, tailors, mechanics, hairdressers, barbers, plumbers, vulcanisers etc) and commercial drivers (Taxis, Keke and Motorcycles)
He also promised to take the current number of 2.3 million traders, farmers, artisans under Trader Moni, Market Moni and Farmer Moni schemes to 10 million Nigerians under the People Moni Scheme.
The Next Level Plan further promised to help beneficiaries to remove restraints such as skills, government bureaucracy and others. Other poverty eradication measures outlined in the Next Level plan are:
The Entrepreneur Bank: The bank will specialise in; providing debt and equity support for young entrepreneurs, giving soft loans to support business ideas across different business value chains, profiling and tailored advisory services for entrepreneurs.
Other features of the bank include:
Online Bank: Account Opening, Credit Rating done with technology
Skills & Capacity Building Support
Help with capacity development where needed
READ ALSO: Why Atiku did not travel to US - Sources
Atiku
Among other things, Atiku says his administration will "provide skill acquisition opportunities and enterprise development for job and wealth creation, -rather than direct cash distribution; An estimated 1,000,000 youth shall benefit annually from our apprenticeship scheme in the informal sector".
ECONOMY; ECONOMIC DIVERSIFICATION
President Buhari
President Buhari promised to continue the plan to move Nigeria away from being an oil-dependent country. He said he will create 6 Industrial Parks in each of the nation's geopolitical zones and 109 Special Production and Processing Centres (SPPCs) across each senatorial district, our incremental move away from oil dependence is assured. The president also promised to develop Special Economic Zones to facilitate the administration's Made in Nigeria for Export (MINE) plan.
Atiku
Atiku promised to attract investments and support the 50 million small and medium scale enterprises across Nigeria for the purpose of doubling the size of our Gross Domestic Product to US$900 billion by 2025. He promised to focus more on infrastructure, agriculture, solid minerals, ICT and education.
He specifically promised to increase agricultural output from the current level of N23.85 trillion to about N40 trillion by 2025.
EDUCATION:
President Buhari
President Buhari also promised an overhaul of the education sector. With the policy recently launched, Every Child Counts, the president promised to do "whatever it takes to prepare our teachers, curriculum and classrooms to attain the right educational goals that grow our country." Specifically, he promised to remodel and equip 10,000 schools every year and retrain teachers to deliver digital literacy.
Atiku
Atiku promised 'world-class education' for Nigeria's youth. Specifically, he promised to streamline functions and transfer of responsibilities for greater efficiency. He said by 2024, responsibility for funding and control of public primary education shall be transferred to the local governments.
The PDP presidential candidate also promised to develop and promote Science and Technical Education to create skills for the new economy, improve access to qualitative as well as industry-relevant education with access, equity and quality receiving prominent attention, and also increase investment in social infrastructure by the federal and state governments
SECURITY
President Buhari
Focusing on farmers/herdsmen conflict, President Buhari promised to implement a policy his administration has drafted to bring an end to the perennial conflict between farmers and herders. He said his administration is "implementing a blend of measures that ensures that justice, order, modernisation and new economic paradigms emerge."
Atiku
To address the security issues in the country, Atiku promised to 're-activate' registration at birth as a way to reduce crime. He also promised to: conduct the next national population census as the basis for further development planning, deal with insurgency using alternative approaches to conflict resolution, such as Diplomacy; Intelligence; Improved Border Control; Traditional Institutions; and Good Neighbourliness.
The PDP presidential candidate also promised to restructure and decentralize Security Institutions, promote regional security cooperation, resolve militancy issue in the Niger Delta, handle the northeast development issues, deal with terrorism, kidnapping and other crimes, etc.
ANTI-CORRUPTION FIGHT
President Buhari
President Buhari noted that for Nigeria to succeed, moral integrity and conscience must continue to form the dominant character of the country and its leadership. Thus, he promised to continue the anti-corruption fight if re-elected in 2019.
Atiku
To fight corruption, Atiku he will launch a comprehensive National Anti-corruption Strategy that is based on the rule of law, separation of powers, neutrality and non-partisanship. He added that his government will strengthen policies and measures for detecting corruption through a strong technology infrastructure that supports the end-to-end operations of government businesses.
He further promised to ensure that judgments on corruption cases are fully followed through and enforced by the appropriate law enforcement agencies. Atiku added that he will enhance the whistleblowing and witness protection policies initiated by the current Buhari-led APC government.
RESTRUCTURING
Atiku
Restructuring is one of the cardinal promises of the PDP presidential candidate. In his policy document, Atiku promised to decongest the exclusive and the concurrent list in the constitution. He explained that the federal government would also retain the role of providing the required direction for the economy, defense and national security, internal law and order, currency, international affairs and foreign policy, customs, citizenship and immigration, firearms, and related matters. However, issues bordering on minerals and mines, internal security including police, law and order, railways, communications, transport, environment, land matters, etc, would be devolved to the concurrent list, Atiku promised.
He added that local governments shall become an independent tier of government and Nigeria's common resources will be shared equitably in accordance with a new revenue allocation formula to be negotiated across the board.
READ ALSO: NAIJ.com upgrades to Legit.ng: a letter from our Editor-in-Chief Bayo Olupohunda
INFRASTRUCTURE
President Buhari
In the Next Level document, President Buhari promised to continue to address the country's infrastructural deficit by focusing on four areas: roads, rail, power, and the Internet.
He specifically promised to complete the Second Niger Bridge and other major road projects in each state of the federation.
On the railway, he promised to complete the Lagos- Ibadan-Kano Rail, Eastern Rail (Port-Harcourt-Maiduguri) taking the network through Aba, all southeast state capitals, Makurdi, Jos, Bauchi and Gombe, and the Coastal Rail (Lagos-Calabar).
Regarding the Internet, the president promised to move broadband coverage to 120,000km of fibre network across Nigeria and prioritised Internet access to education, markets, primary healthcare and business clusters.
Atiku
To address the infrastructural deficit, Atiku promised to establish an "Infrastructure Development Unit" (IDU) in the presidency, with a coordinating function and a specific mandate of working with the MDAs to fast track and drive the process of infrastructure development in the country.
Specifically, he promised, through Public Private Partnerships (PPP) and community efforts, a target of rehabilitation and development of up to 5,000 Km of roads across the nation by 2025.
He also promised to "develop and rehabilitate the connecting road networks across the geopolitical zones. Bulk of the transport activity is along three corridors, and traffic volumes are expected to double within the next 20 years: Lagos to Kano (Western Corridor); Port Harcourt to Kaduna (Eastern corridor) and Lagos to Cross River (West – East Corridor)."
Others are; develop the Lagos – Abuja rail network on the standard gauge system, undertake immediate operational improvements to significantly decongest Lagos ports, etc.
POWER
President Buhari
Through renewable, clean energy sources such as solar, he wants to 'energise' nine universities and up to 300 markets across the country to have an uninterrupted power supply.
President Buhari also promised "a minimum of 1,000 MW New Generation incremental Power capacity per annum on the Grid; Distribution to get to 7,000 MW under Distribution Expansion programme".
Atiku
Atiku promised that power sector reform will be a critical policy priority in his government. He specifically promised that by 2025, Nigeria shall make giant strides in diversifying its sources of power and delivering up to 20,000 MW.
Making further promise on the upgrade of the Power Transmission Grid, he said his government will intensify rural electrification projects to ensure electricity access to over 80 million Nigerians currently without access to grid electricity.
POLITICAL INCLUSION
Buhari
The president promised to ensure 35% of his appointments go to females. He added that he would increase the number of youth for appointments to boards of public agencies.
He also promised "special mentoring programme in governance with young graduates working with ministers and other senior government appointees".
Atiku
Atiku, in his own plan, promised to encourage states and the private sector to incentivize studies for girls in Sciences, Technology, Engineering and Mathematics (STEM). He added that he will provide microfinance and financing schemes specifically targeted at the youth and women
The PDP presidential flag bearer also promised to create a special tribunal for crimes against women including domestic violence, physical or sexual abuse, rape.
Similar to what obtains in the Next Level plan, Atiku also promised to increase women representation and retention rates in politics and business, through positive action such as quotas for women on political platform and corporate boards. He equally promised to increase the number of appointments made to young people in government and in government committees.
HEALTH
Buhari
President Buhari promised health insurance for all Nigerians. He said his government will use co-payments to share the cost between individuals, the private sector and government, adding that the poorest 40% will be exempted from such co-payments.
He also promised to dedicate one percent of Consolidated Revenue Fund to the health sector.
Under N-Power Medic, President Buhari promised to pay young doctors to stay in rural areas to make quality treatment easily accessible.
Atiku
Atiku promised to ensure a comprehensive reform of the Federal Ministry of Health and its agencies. Other promises by the former vice president include: expand access to basic primary healthcare, improve quality of care and clinical governance, unlock market potential of the health sector by engaging the private sector, encourage medium and large scale pharmaceutical industries for the local production of essential drugs, expand healthcare professionals to the frontline and attract Nigerian doctors in the diaspora to reverse brain-drain.
NAIJ.com (naija.ng) -> Legit.ng. We have upgraded to serve you better.
Between Buhari's Next Level And Atikulate - Nigerians React| Legit TV
Source: Legit.ng