Trendy African hairstyles for ladies
Every lady wants to have her hair styled unforgettably, combining beauty with comfort and protectiveness. We have some good news for you – there is a wide variety of hairstyles for these criteria! We have gathered different trendy African hairstyles for ladies for you.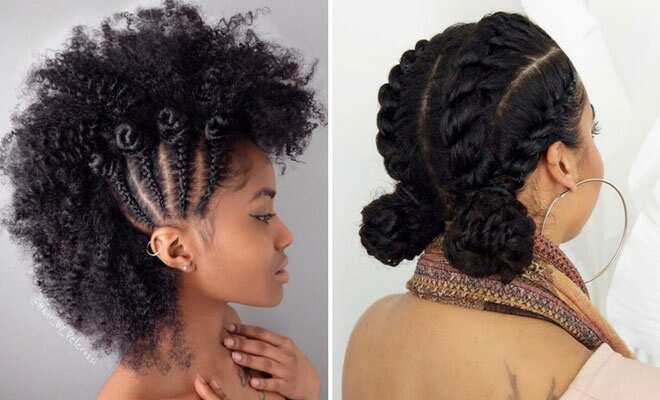 In this article, you will find the following information:
African hairstyles for natural hair: best choices
African hairstyles for round faces
African hairstyles for oval faces
African hairstyles for short natural hair
African hairstyles for medium hair
African hairstyles for long hair
Go ahead and inspire with these fresh ideas!
1. African hairstyles for natural hair: best choices
The black natural hairstyles come in so many different tastes and options. You will be surprised, but there are a few perfect hairstyles for every face shape, and today in our article, we will cover those and show you which hairstyle would be perfect for oval and round face. We will also demonstrate some of the best choices for long, short, and medium hair. We sincerely hope that one of these hairstyles will become yours someday, and you will wear it with style.
If you are a fashion lover who is constantly in search of a perfect hairdo, or if you want to advise some new hair options to your friends, this article is definitely for you! This will be an unusual piece where we divide all the cool recent hairstyles into categories. Read more and find out which hairstyles are the finest for every face shape and hair length.
2. African hairstyles for round faces
Trying to find the right hairstyle for round face can turn into a real challenge. Finding the hair option that will highlight all the benefits of your round face is surely not easy, but this is what we are here for. These hairstyles will surely make your beautiful rounded jaw along with the soft-looking cheekbones work for you instead of against you. Here are some of our picks among the hairstyles for women with round face shape.
Short high natural Afro
Even though the afro hairstyles for ladies have something in common, they are also very different from each other. If you have these beautiful African curls and have no idea how to style them in an appealing way, here is your answer. You can just give them some volume and embrace your natural beauty. Many women keep complaining about the natural curls, but in fact, they are a real gift.
This hairstyle is very protective and simple, and you will not have to style it every day like many women with straight hair and extensions do. Besides, this is a perfect solution if you have a round face shape and want to focus on all of its benefits. The key of this hairstyle is styling your curls upwards, instead of outwards, so your beautiful face is visible.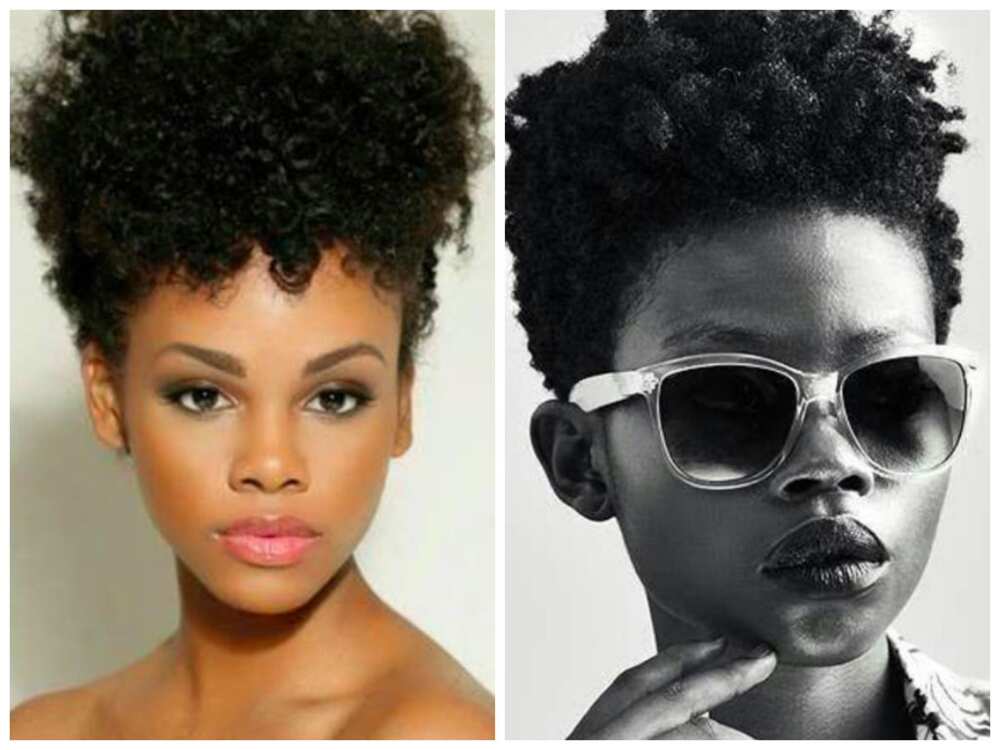 Ultra-short afro
If you are a fan of extra-short hairstyles, then the gentle natural afro will be perfect for you. For women with round faces, it is very helpful in framing their face ideally and making it stand out, showing their lively eyes and gorgeous smile.
The height of this hairstyle automatically makes your face longer and highlights your features. One of the biggest benefits of this hairstyle is that it is extremely easy to maintain, and you will not have to spend your money and time on hair stylist. This hair option is an amazing choice for those people who value comfort and want to take full advantage of their natural hair.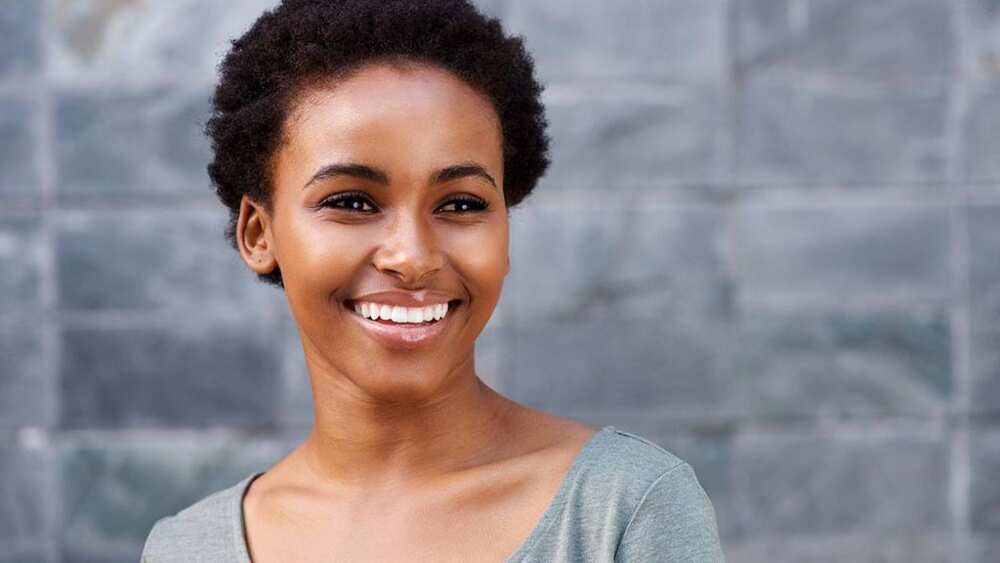 Two-stranded twist
This twisted hairstyle will succeed in covering the side areas of your round face, so if you want to prolong it rather than make it seem naturally round, this is your perfect choice. For this effect, you should wear those twists down instead of pinning them back. And we have not mentioned another benefit yet: this hairstyle is very durable. It can last for a relatively long time, which is usually up to two weeks. After this amount of time, you can let your hair rest and unravel your twists for the beautiful twist-out hairstyle. As you can see, this one is practical and cute at the same time.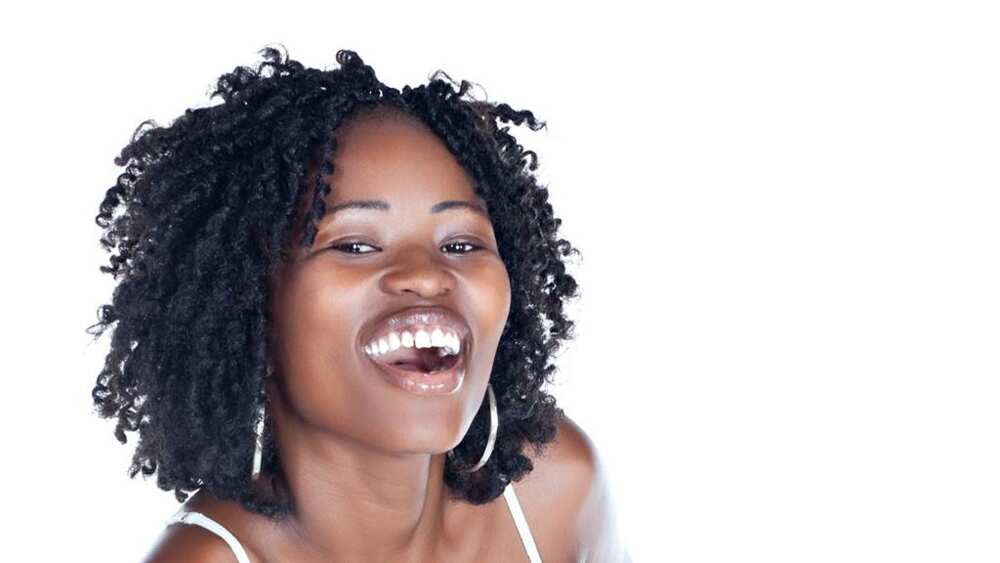 Braided up bun
If you have long braids or twists and sometimes are tired of wearing them loose, then you should pull your hair into a bun from time to time, to put all the focus on the face instead of highlighting the hairstyle. Sometimes, the hairstyle has to be a secondary thing, and your beautiful face needs to be demonstrated more explicitly. This is especially true with the round face, and the height of this bun will balance your face shape in a great way. All in all, this is just the right look for various evening events, or for the hot summer days when you want your hair up instead of covering your shoulders and neck.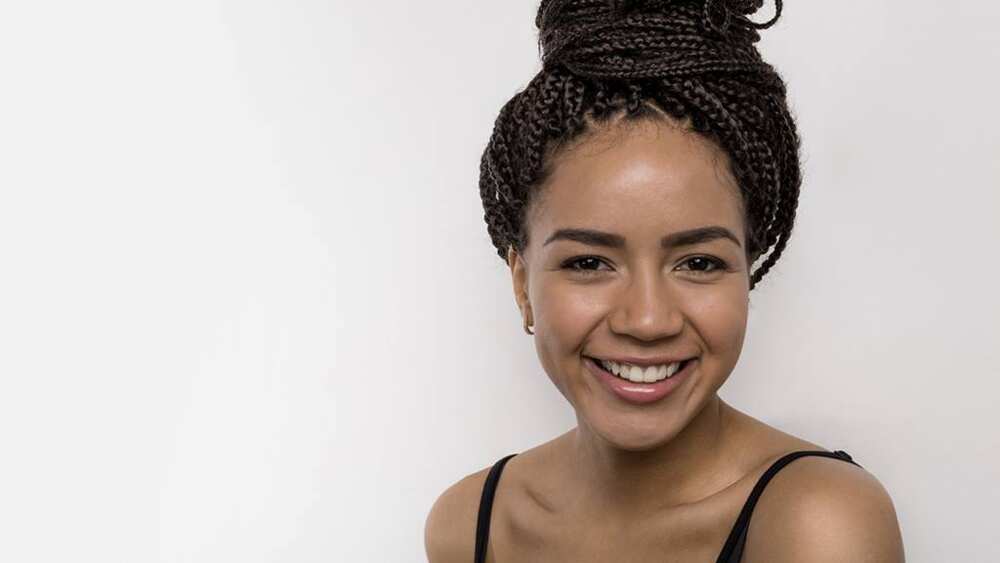 Large curly tapered afro
The African hairstyles are famous for their amount of texture and volume. If you have natural hair and it is also curly, the whole world lies at your feet. You can do all the things you want with your curls, and one idea that would be great for you is styling them into the elegant afro. Most of the time, you will just be wearing your hair naturally, without having to take a lot of special care of it.
Also, it will be beneficial for your round face, because, as you know already, all kinds of afro hairstyles go extremely well with this type of face shape. This afro is different from the others because the curls are tapered and textured, and if you like it this way, you can consider making this hairstyle your own.
READ ALSO: Hairstyles for oval faces in 2018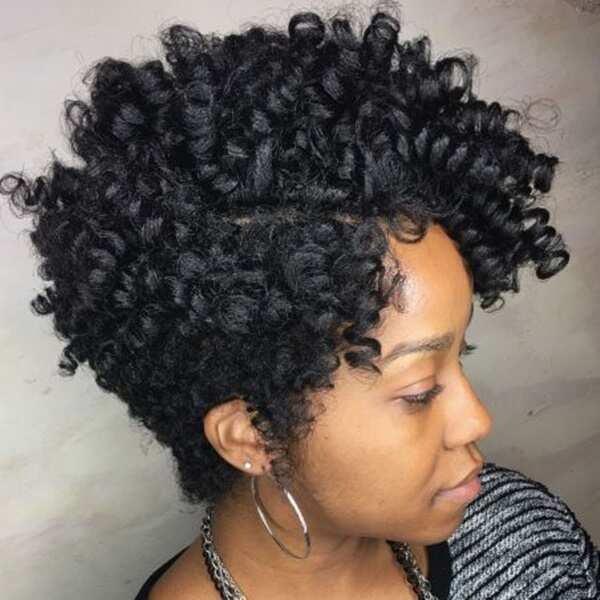 3. African hairstyles for oval faces
Now, we will move on to the oval face hairstyles. The women with oval faces also do not always have it easy – sometimes they wish the hairstyle could visually make their face rounder. Well, in this article we will suggest you some of the best hairstyles for oval faces, which can make you look more presentable.
Long braided hairstyle
Cornrows are the hairstyle which will probably last forever. They can come in so many different variations, and every woman can find her own. This hairdo offers you some intricate cornrow designs on your head, along with pulled-back hair which can fully show these designs and your beautiful face. It also provides comfort – your hair will not get in your face anymore during the morning jog or serious work. The benefit of this hairstyle is that you can go wild with makeup and accessories, and the hairstyle will not overshadow them.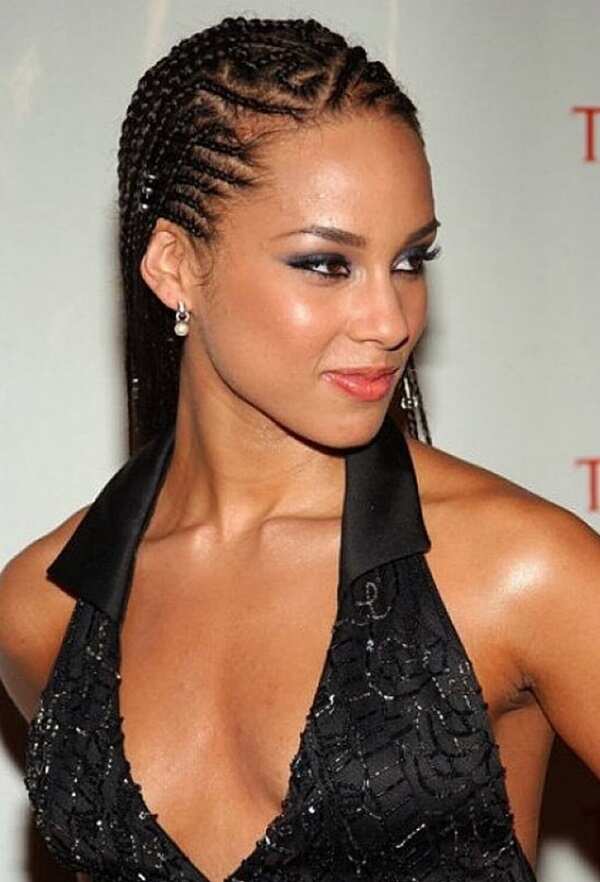 Simple box braids
Believe it or not, the box braids are perfect for oval-shaped faces, because they frame the face very well, and you can make so many more complicated designs with it. For instance, you can twist them in any direction you like, or tie them with a scarf of headgear. The coloring of box braids can also depend on you. Some women like sticking to their natural black hair color, but there are also others who prefer diversity and multi-colored designs. If you belong to the latter category, you have many options to color your box braids: purple, maroon, blonde, blue, brown, and so on.
This is one of the timeless hairstyles which will probably always be relevant. You have a great chance to make a statement with the simple box braids.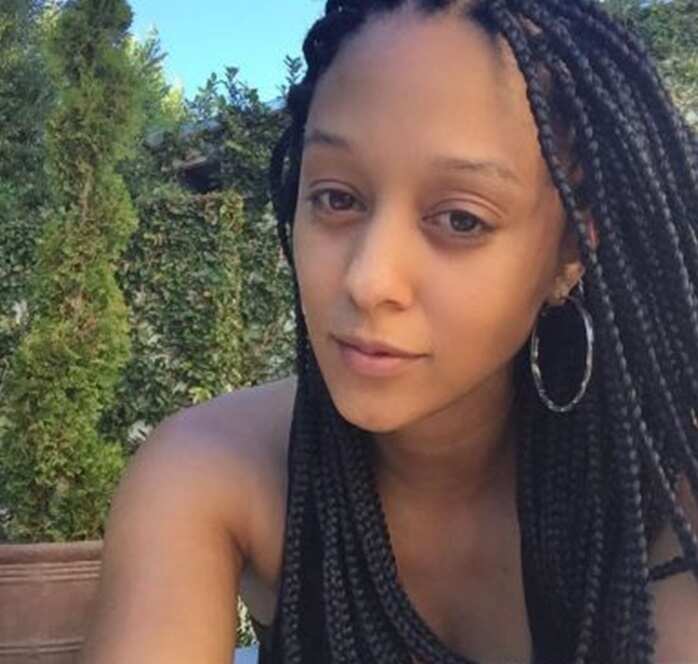 Pretty ponytail with the maroon hair strands
If you have long hair and want to preserve it this way, but also are tempted to try some braids, you can combine both. You can create the medium-sized cornrows on your head and put them on the side for a fine look. This is a popular hairstyle both among teenagers and grown women who want to look edgy and memorable. Maroon is a trend of this season, so you are guaranteed to make a huge impression on your friends if you wear this hairstyle. It is perfect for girls who like to party and enjoy their life to the fullest.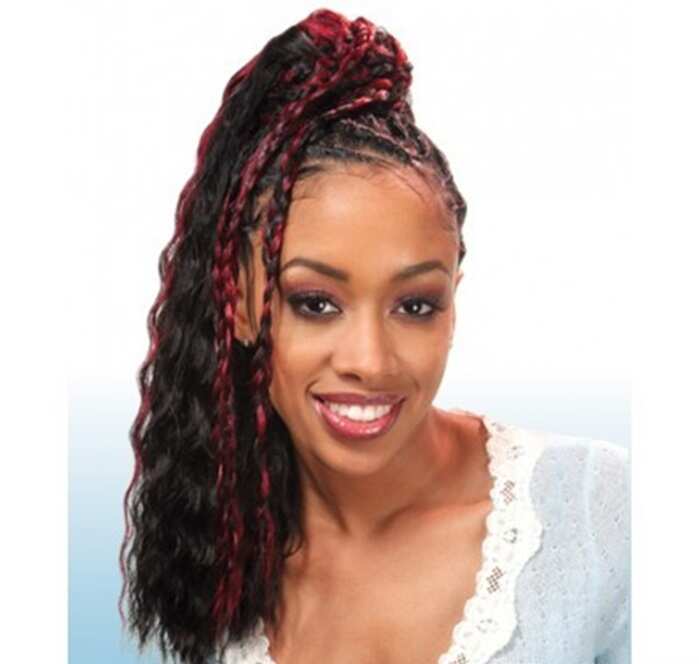 Curly ponytail with cornrows
This might seem like a complicated hairstyle to you, but no worries, it does not require any super effort. So many black women start feeling entirely differently when they use extensions. If you are not against them and are looking for an excuse to add more volume and life to your hair, this is what you need.
Cornrows are a pretty little addition to this hairdo, and they will be perfect for adding textures. There is a reason why this hairstyle is so popular among people whose faces are oval and long. Because of their face shape, they look pretty slim, but this hairstyle due to its huge volume adds some weight visually, which makes the face look more round and pretty.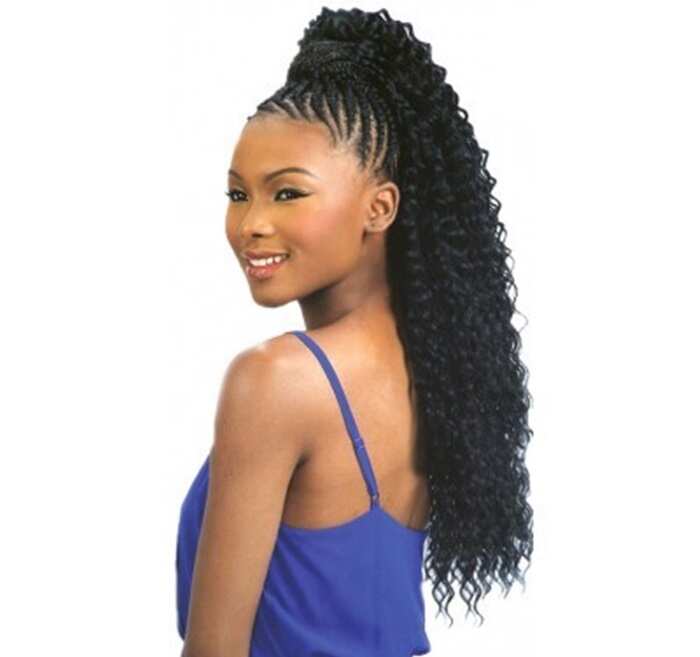 Lovely short cornrow bob
The short bob, made of cornrow braids, can look extremely lovely. And for women with oval face shape, this hairstyle will round it up and hide some visual face flaws. If you are not a huge fan of extensions and heavy cornrows or got already tired of them, then it will make sense for you to wear something easy and light for a while.
You can use the middle box braids for making a cute fringe. The hairstyle like this automatically makes you look young and refreshed. It can be a perfect choice for every season and looks very attractive on every black woman. You can be creative and add some beads, or dye certain braids a different color. Make sure that this hairstyle has truly become your own.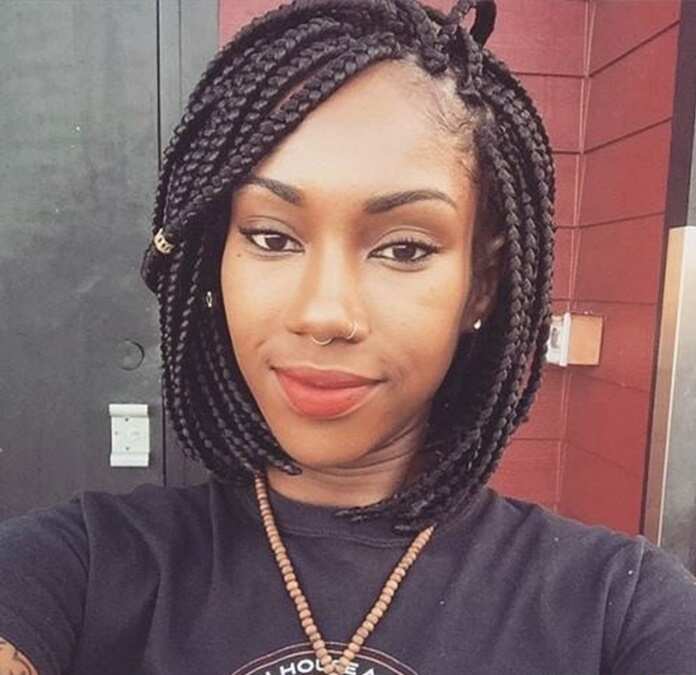 4. African hairstyles for short natural hair
Next, we will give you the list of the best hairstyles by length. We will start with the best picks for short-haired ladies. So, if you have short hair, you should know that there are a whole lot of opportunities waiting for you. Here, we have chosen some of the trendiest hairstyles for your hair length category, and you should absolutely check them out!
Short curls with shaved sides
Yes, this hairstyle is just as easy to make as you can see, and it will always look cute and protective on your head. It is a basic hairstyle which has a cheerful vibe to it, and with it, you will be able to activate your inner charm.
READ ALSO: Latest female hairstyles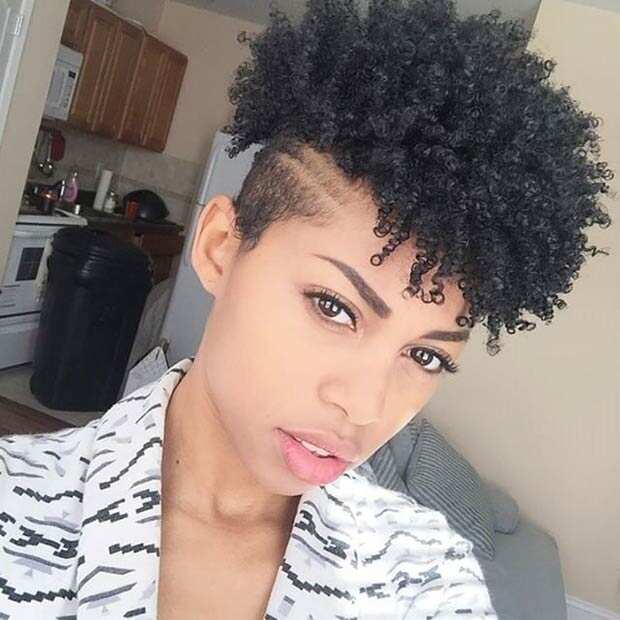 Teeny-weeny afro haircut
This is for women who are always open to the brand new beginnings and are not afraid to change something in their life. So, if you would want to have a haircut which will be not just cute, but also practical, as well as showcase your confidence and readiness for big things, then teeny-weeny afro haircut is your number one choice.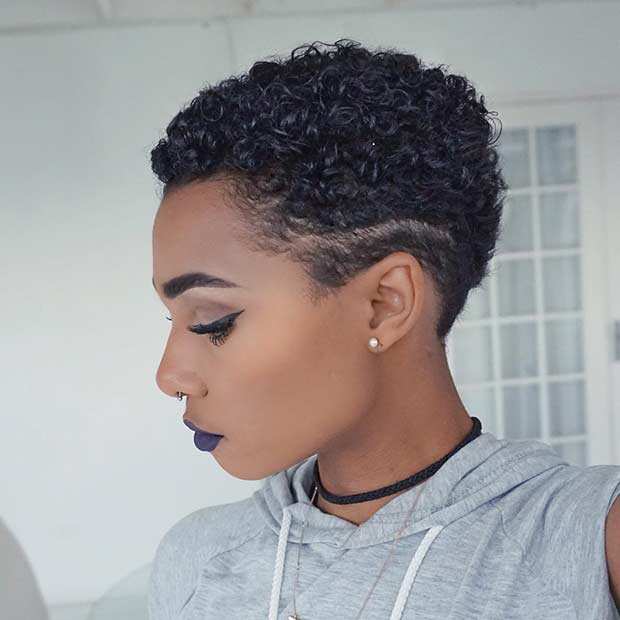 Long curly pixie haircut
Choosing a pixie cut does not mean just going for one choice. There are a few different types of pixie cuts, which people usually alternate between. Curly pixie haircuts are a thing too, and they are, in fact, a very nice pick for those who have curly natural hair. Mainly this is because they are quite rare, so you have a great chance to make this hairstyle your new fashion statement. It is very cozy and will definitely play in your favor on hot summer days. Besides, it also has a cute vintage vibe to it, so you can not just wear it with modern clothes – it will look absolutely amazing with a floral dress and red lipstick.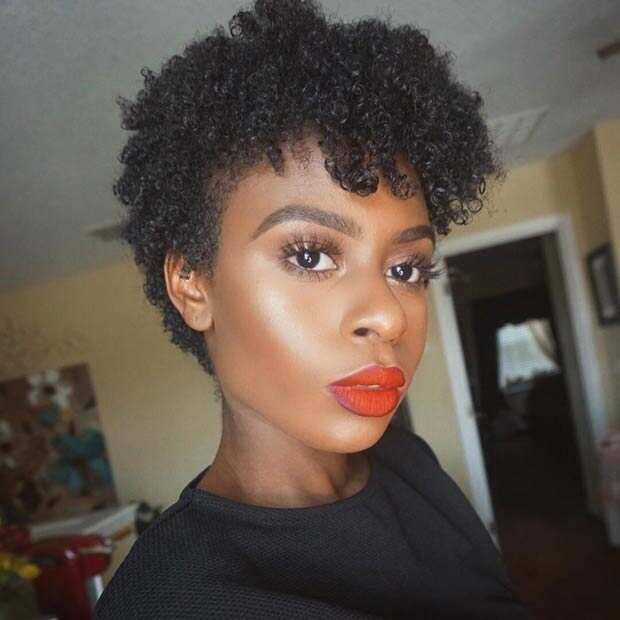 Short grey curls
By picking this hairstyle, you will pick not just comfort, but also trendiness – grey hair has been a massive hit lately. Not everyone is brave enough to dye their curls grey, so you can be the trendsetter – this is your chance! Speaking of which, grey has different variations, which you can pick from – starting from silver grey and ending with darker smoky grey. There are truly "fifty shades" of grey, and even more when you think about it. Nice accessories, like sunglasses with mirror lenses and cute tiny earrings, along with dark matte lipstick, would make your image even more unforgettable.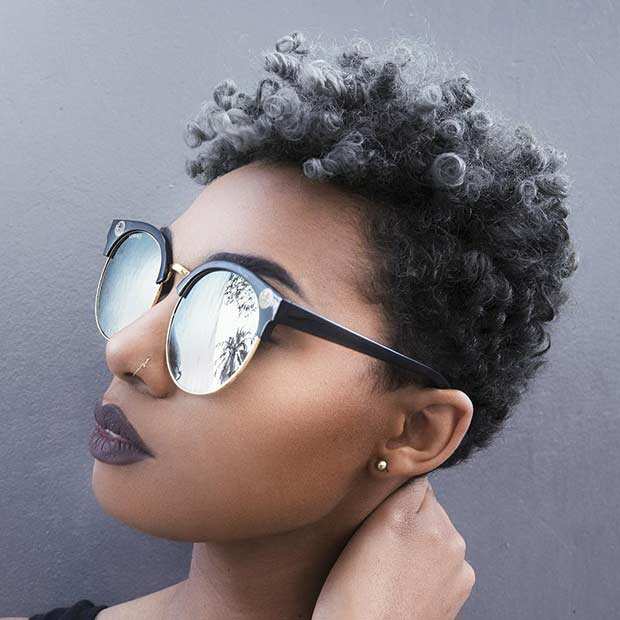 Fancy caramel curls
If for some reason, you are not a fan of grey and prefer warmer shades, then we have a perfect solution for you right here. The caramel curls have been worn by so many celebrities, and this shows the popularity of this hairstyle. This hairstyle will never need any excessive treatment, except maybe a basic one, so this is another plus one point into its luggage of benefits. It can suit the fierce and hot ladies, who have a fiery nature and would never stop if there is something they really need. Caramel is one of the season's trends, so it would be natural to dye your hair in this color.
READ ALSO: Quick short natural hairstyles for Nigerian ladies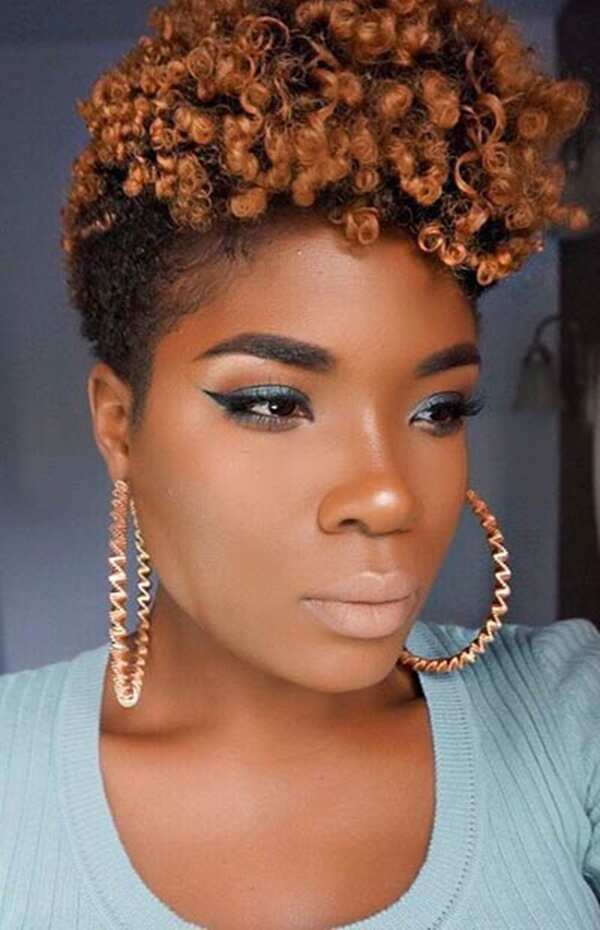 5. African hairstyles for medium hair
If your hair is not super short, but at the same time it is also not very long, you are very lucky, because you have plenty of options and can get inspired both by hairstyles for long and short hair. You should pay attention to these options and how they would go together with the type and quality of your hair. We will start with some very common medium hair options which you will love.
Rusty colored afro
Choosing the afro hairstyle is bold and convenient at the same time. This pick will give your hair a lot of versatility and charm, and it will be a great combination of good looks and personal comfort. If your hair is naturally curly, you will not even have to do anything with it – you can just mess with your curls a little bit to create a lively and voluminous afro hairstyle. However, if you decide to straighten your curls, you can wet them when you are prepared for it.
You can also experiment with various types of curls, from big to small ones. They make so many different interesting hairstyles. Also, hair dye will be your friend during this time – if you want to try something new and make your afro hairstyle of a different color, you are very encouraged to do so.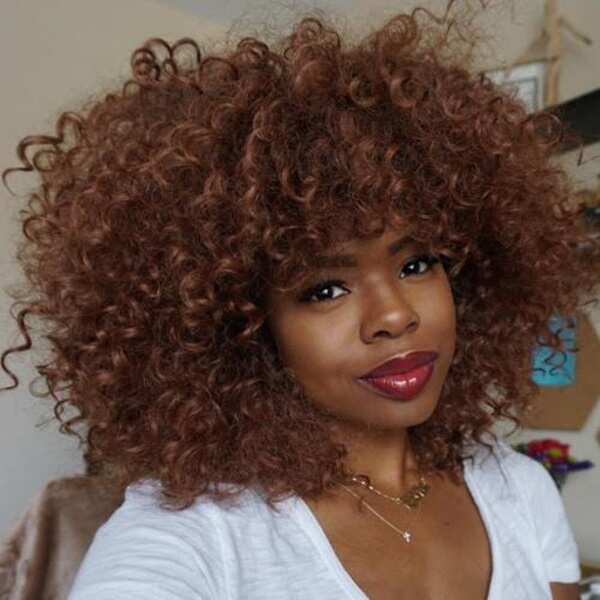 Beautiful caramel coils
This hairstyle will work for both short and medium hair, but it is mostly effective if your hair is of a medium length. The reason for this is that there are plenty of curls that can attract everyone's attention, and they are all multicolored. In the picture, you can see not only pure caramel curls but also lighter and darker tones which really add life and spark to your hair styling. The curls are very defined and luscious, and you probably will not believe it, but you can easily achieve these beautiful rings without damaging your hair with the curling iron. You can just use the rod set, which creates a lot of volume, and you will not have to be nervous about the use of curling iron.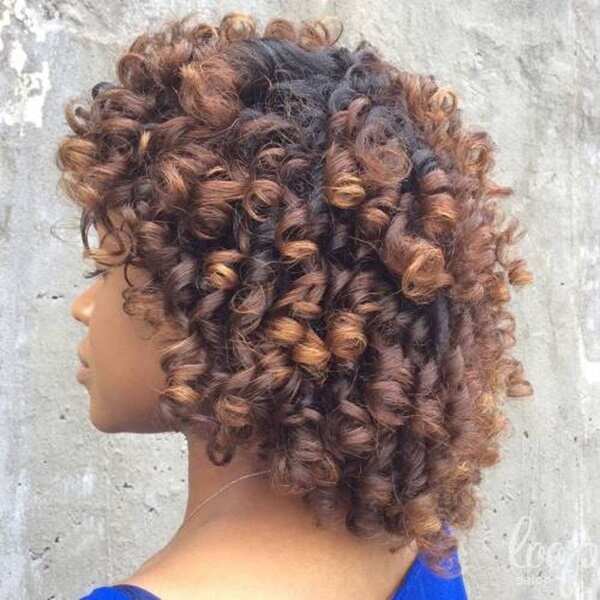 Micro-cornrows with curly natural hair
Another option for you if you have bouncing curly medium-length hair is making beautiful little micro-braids on your head, and leave the curly section freely flowing behind. This hairstyle looks very sophisticated, and there is no way that the braided patterns on your head will not become everyone's favourite.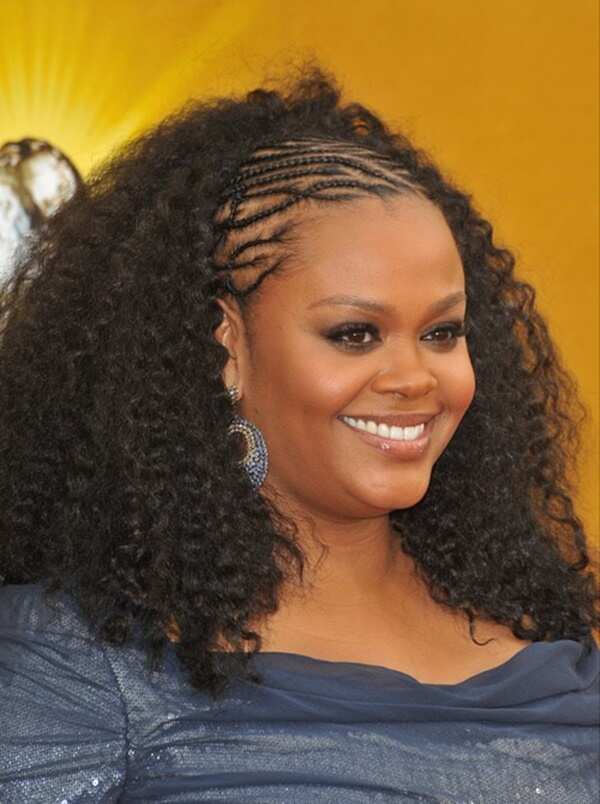 Elegant updo with the crown braid
This is an incredibly creative and gorgeous hairstyle if you want to go out, and your plan is to wow all the people around you but also remain your usual gentle and sincere self. You do not need to have long hair to make a cute crown braid, and you can always use an attachable one.
The beautiful part of this hairstyle is that you can leave some curls out, and they will frame your face in a very sweet way. There is also a side-swept bang which creates even more unforgettable effect. What we enjoy about this hairdo is that it will help you embrace your femininity and soft nature, but also shows that you are a strong and fierce woman.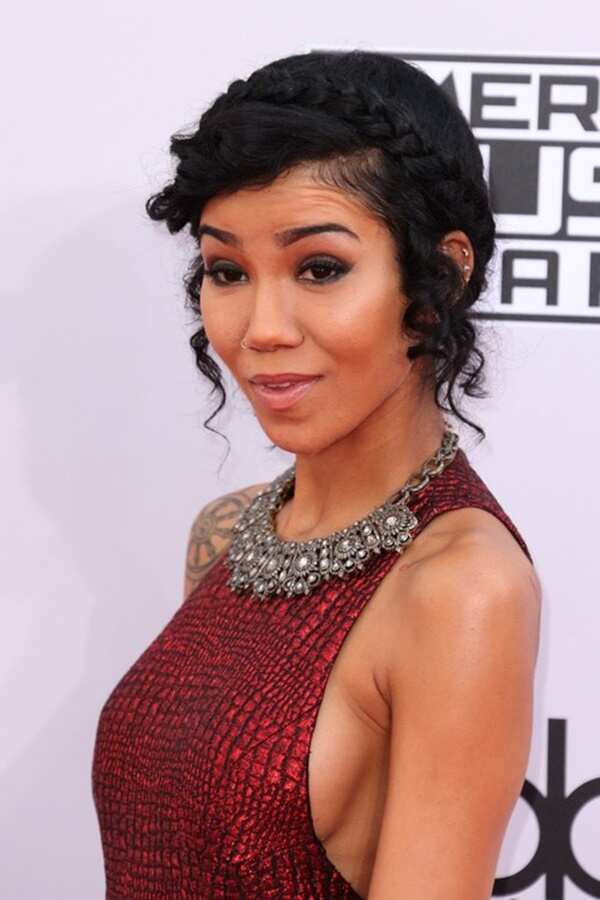 Bohemian fluffy updo with a headband
If you wear this hairstyle with a beautiful sparkling headband and lovely earrings, as well as a pretty dress and appealing makeup, the chances are that someone out there will take you for the royalty member.
The fluffy updos are a huge trend this year, and you can show the volume and beauty of your hair with not too much effort. The curls are very delicate, wispy and create an absolutely unforgettable look which adds very feminine and luxurious appeal. Shortly, if you are going somewhere and want to look like a princess from a fairytale, this hairstyle and image are your go-to.
READ ALSO: Big twist braids hairstyles for real fashionistas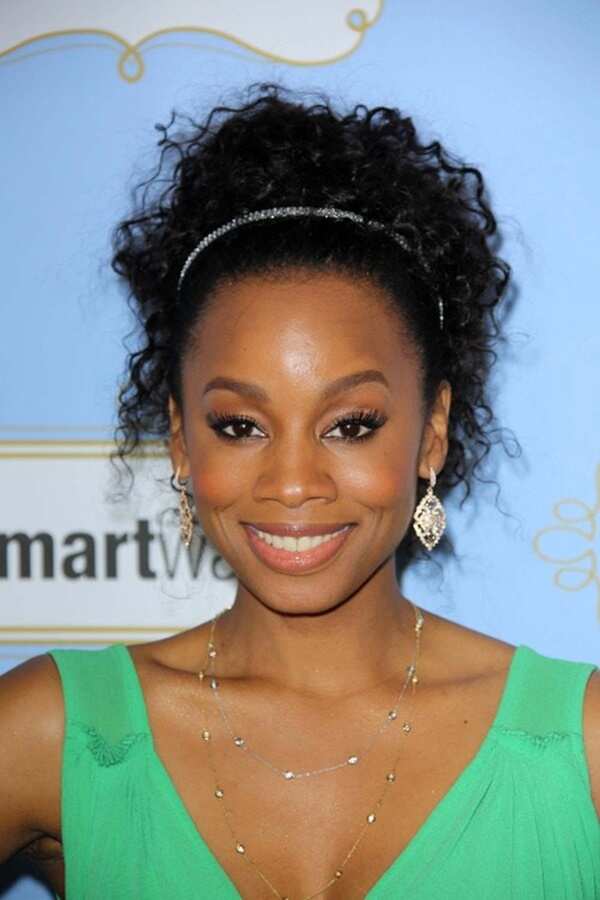 6. African hairstyles for long hair
You have lovely long hair which you would not change for the world. It takes a lot of care and effort to maintain the beauty and health of your hair, but you are ready for all the challenges. Or perhaps you just like using long and chunky hair extensions and curly weaves. What can you do to make your hairstyle special? Well, maybe you could use some of our ideas and see which one is the most suitable for you. Here are some cool African hairstyles that are meant for long hair!
Gorgeous long Marley twists
Twists are cool, but thick and luxurious Marley twists are even better. This is a style which brings you a lot of protection and low maintenance for your hair, and you will be glad to hear that Marley twists usually drive everyone's attention to you and make you seem like the most stylish person in the room. Twists are easier to make than braids, so this is why the twisted hairstyle has a lot of beneficial options. They are lighter than the braids and will not pose such a big threat to your natural hair's health. Some other good things that you can add to your hairstyle to make it seem cool are cute beads, large earrings, stylish sunglasses and, of course, a bright outfit and a broad smile.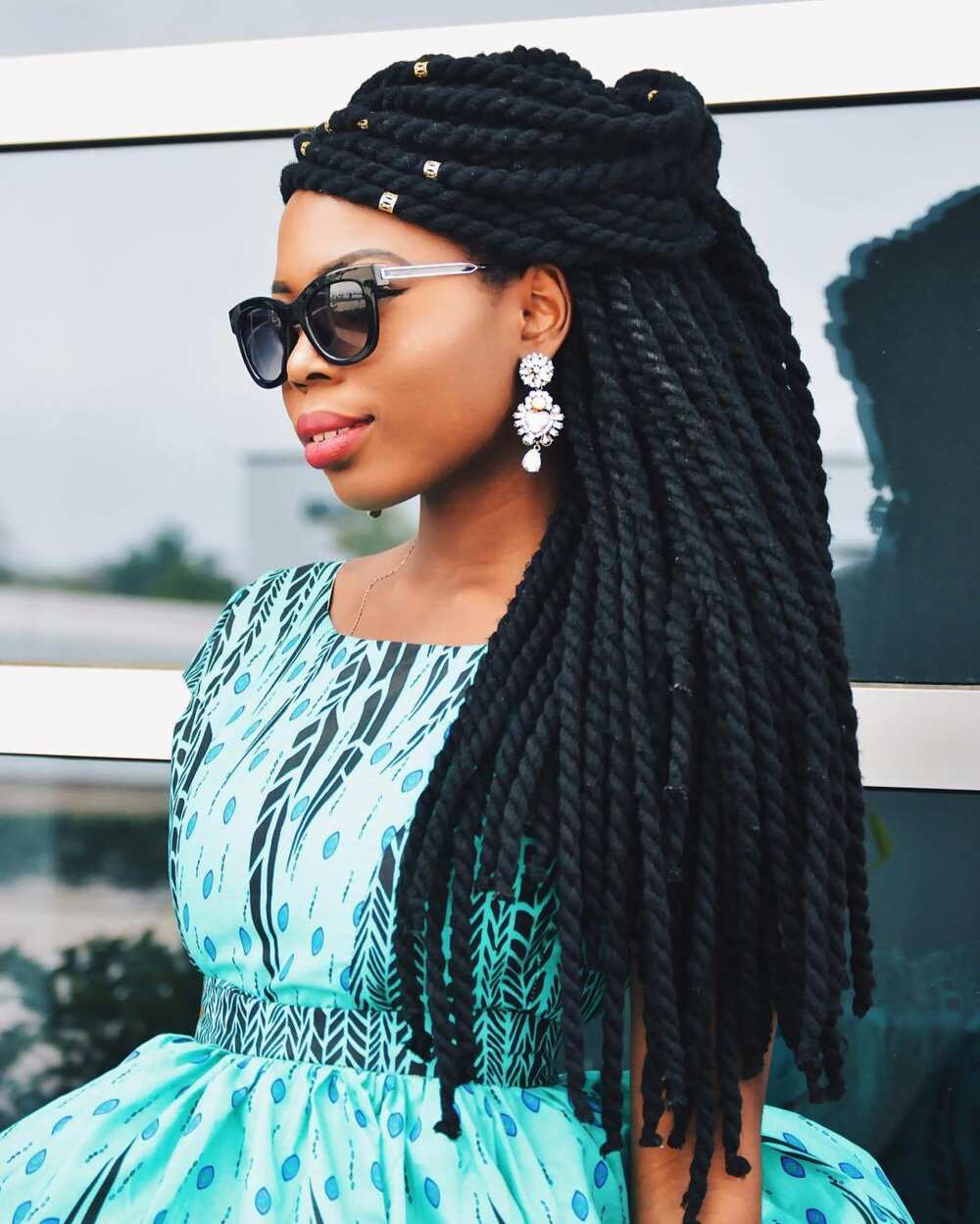 Chunky cornrow hairstyle
Even though cornrows are not a new or revolutionary hairstyle in the community of black people, it is still a very timeless and classic hairdo, and it will show your undying African spirit. This hairstyle may seem to be very simple, yet at the same time exotic, trendy and convenient. You can pull your cornrows to the side for the youthful and fresh effect.
It would be best to wear these cornrows with minimal makeup and casual clothes because it is designed for such a style. This is definitely a hairstyle that has its own personality and is not so easy to forget, though. We are sure that you will also appreciate its minimalism and try it out for your long hair at least once.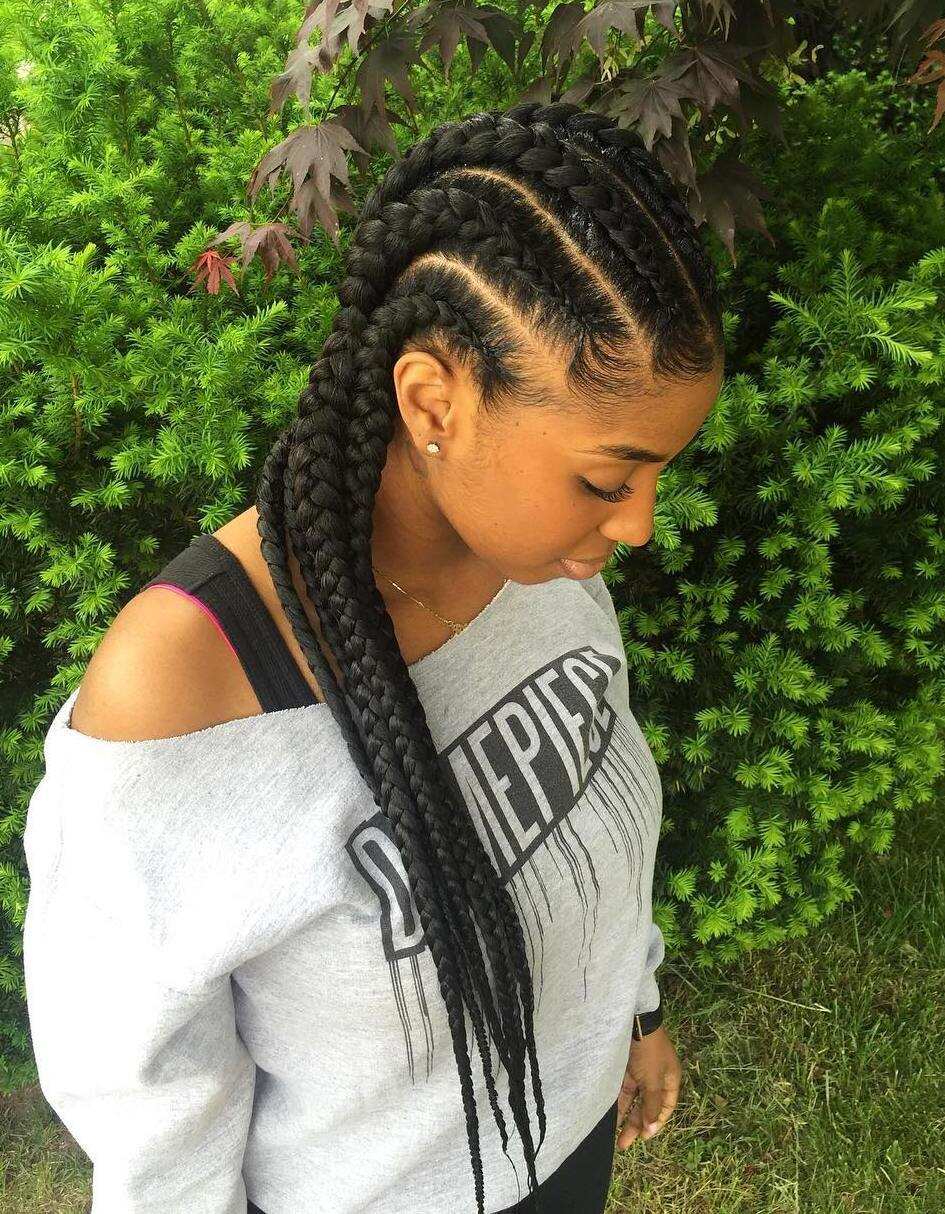 High half-ponytail weave
If you want to know what the key to success is when you are using the weave, we will tell you right now. It has to blend perfectly together with your natural hair color. So, most people's natural hair is black, and if yours is too, you need to buy a black weave. To rock the blonde weave, your natural hair has to be dyed blonde. Otherwise, your weave will not look real.
If you want to blend the hair edges that are left out, you can acquire this effect with the help of a gel or flat iron. Overall, a weave is a great thing to make your hair look pretty and attractive. You will have to preferably go to the hair stylist to create the best effect, but in the end, you will get a beautiful fluffy curly hair without even having to put a lot of efforts.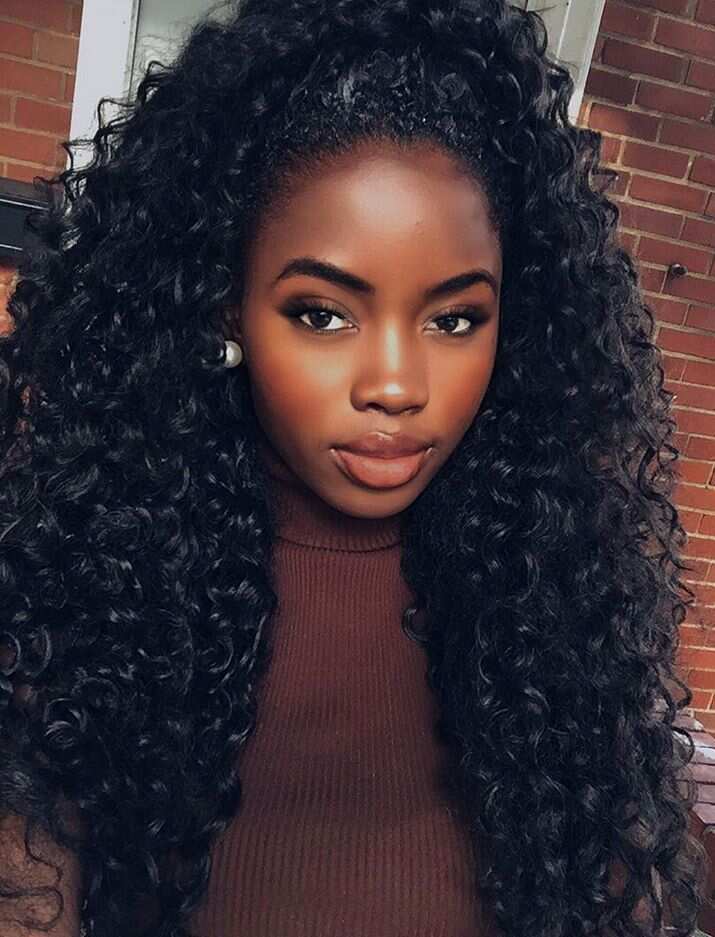 Beautiful long box braids with beads
Do you know that box braids are like a blank canvas for the painter? Just like with regular long hair, you can do whatever you want with them. The entire point is creating the long and smooth box braids to make buns, ponytails, and a whole lot of other hairstyles using them.
Box braids are acceptable both for the office work and for chilling time together with friends. If you feel bored, you may experiment with the hair dye. All in all, you will not regret if you make the traditional box braids your primary choice.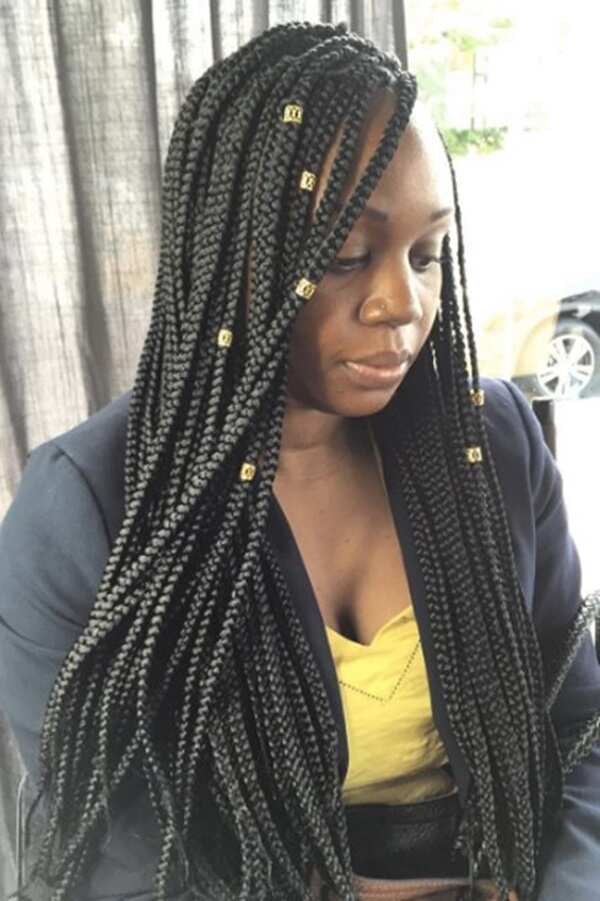 Cute and bright faux locks with curls
Faux locks have become a great trend in the past couple of years, and every black woman is eager to try this unique and interesting hairstyle. This one works well if you have long hair, and it works equally well if you are fine with using the hair extensions. Faux locks are interesting, stylish and cool, and there is no surprise in the fact that they have become one of the coolest hair options for African ladies.
If you are envious of those models in the photos that are rocking their faux locks and have been planning to try them on your own for a long time, this is your chance! The faux locks hairstyle is very appealing, and the curls at the ends will only prove the theory about this hair option being gorgeous. You will get a whole new look if you try this out!
READ ALSO: Trendy braids for short natural hair to rock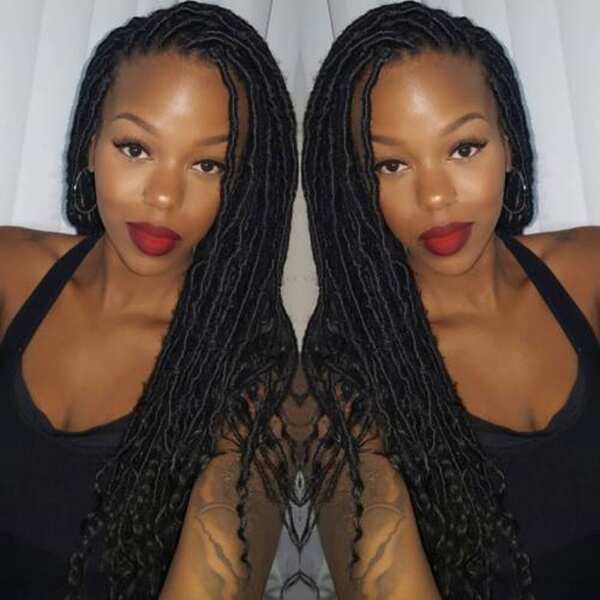 If you have picked one of those hairstyles for yourself, you should feel free to mention this in the comments and tell us how your hair routine is going!
READ ALSO: Very short natural hairstyles for real fashionistas
Source: Legit.ng