It is no secret that many women use rice water for hair growth in order to achieve healthier, longer locks. If you are still not in on the trend, you should check out this article, where we talk about the different ways of making and using rice water, as well as answer a pressing question of whether you should use this natural remedy when your hair is weaved.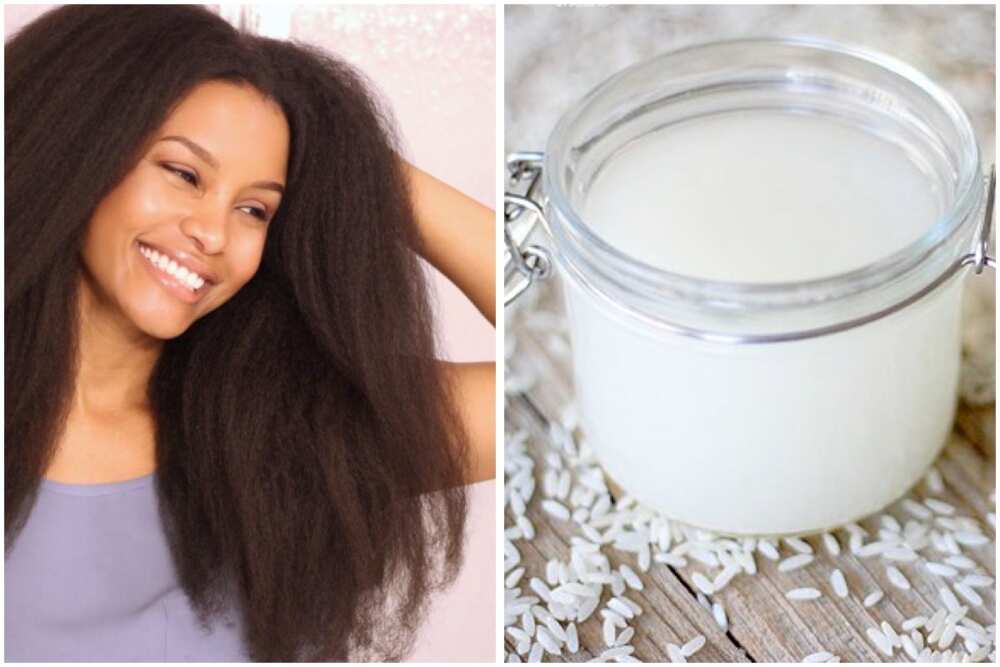 Photo: hairitagepremiumsalon.com
For centuries, women have been using rice water on hair. This tradition came from Asia, and these days, ladies across the world are taking advantage of this incredible gift of nature. There are multiple ways you can make and use rice water, so let's talk about them in more detail.
Simple rice water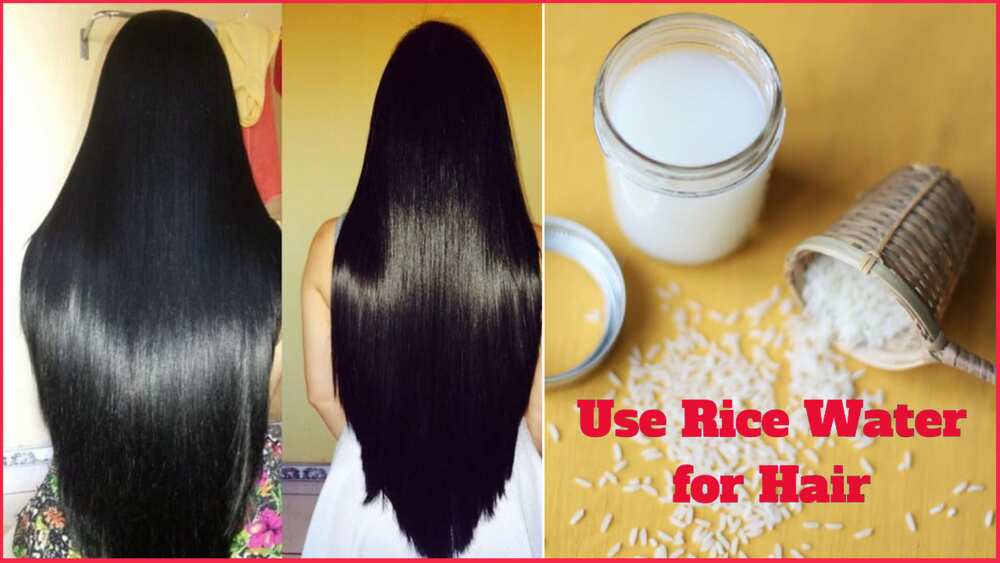 Photo: yoybeauty.com
One of the easiest ways of making rice water is by soaking rice. In order to make it, take half a cup of raw rice, wash it lightly, then add 3 cups of water to it and leave to soak for half an hour. When the time is up, strain the water and use it the way you would use your regular conditioner.
Boiled rice water for natural hair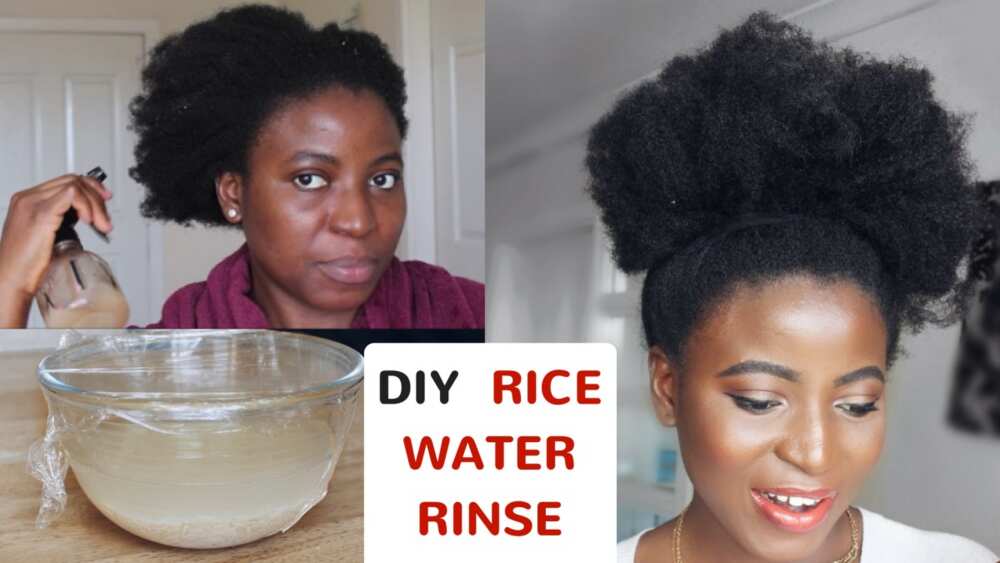 Photo: kennyolapade.com
READ ALSO: Сucumber benefits for skin and hair
Another way you can make rice water is by boiling rice in more water than usual and straining the extra liquid. The cloudy concentrated liquid you get can be diluted and used on hair. Here is how you can use it:
Take a cup of rice water and add several drops of your favourite essential oils to it. We recommend adding chamomile, lavender or rosemary. Put the rice water in an empty and clean shampoo/conditioner bottle for more convenience.
Wash your hair with shampoo and rinse it with regular water.
Squeeze some of the rice water from the bottle onto your damp hair.
Leave it in your hair for up to 20 minutes. You can also gently massage your scalp and hair while you wait.
Wash the rice water off with regular water. Repeat the treatment at least once a week to improve the texture and health of your hair.
Fermented rice water for hair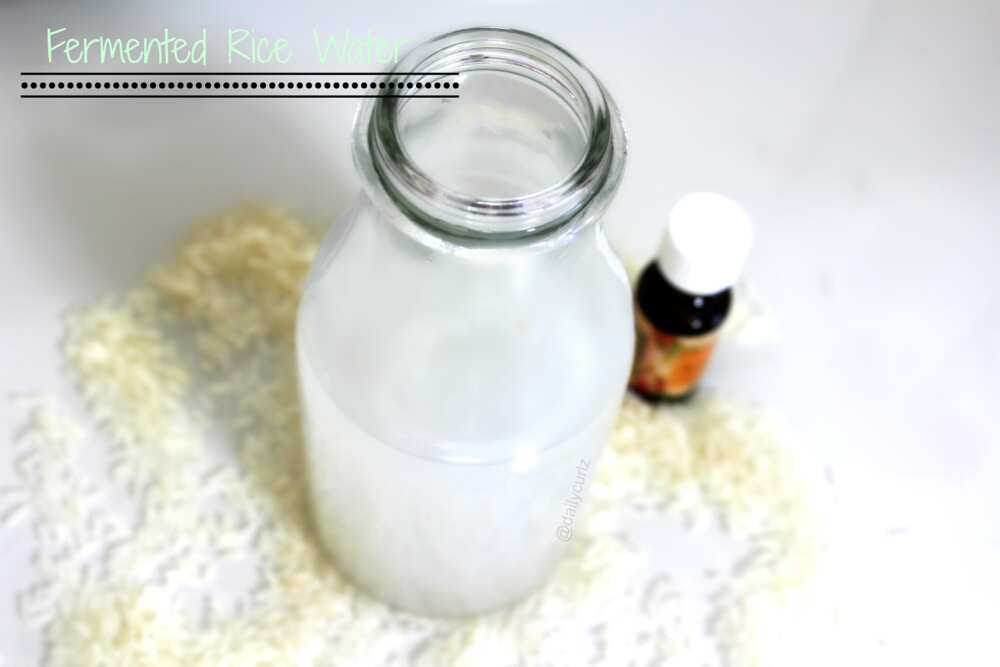 Photo: dailycurlz.com
READ ALSO: Tomato juice benefits for skin and hair
The third way of making rice water involves fermentation. This will allow you to make an even more potent product for your hair. Here is how you can make it:
Wash half a cup of rice in some water, then leave it to soak in two cups of water for up to 30 minutes.
After the time is up, strain the water into a jar and set it aside for up to two days at room temperature. Check on it from time to time, as you need to stop the fermentation by putting the jar in the fridge as soon as the liquid inside begins to smell sour.
Before you use this type of rice water, it is best to dilute it with a few cups of warm water, as it might be too potent for direct use.
While you can use this the same way you have used the soaked or boiled rice water (as long as you dilute it), we want to offer you another recipe you can try. Here is how you can make and use a mask for your scalp out of fermented rice water and mustard powder.
Take your rice water and mix it with mustard powder until you get a smooth paste. Do not make too much of it, as you are only going to be using it on the scalp.
Add a little olive oil to the mix and stir until well combined.
Apply the mask on your scalp. Make sure you do not let it spread all over your hair.
Leave it on for 20 minutes and wash off with a mild shampoo.
This mask can help to nourish your scalp, which, in turn, can improve the health of your hair.
Can I still do my rice water hair treatment while my hair is weaved?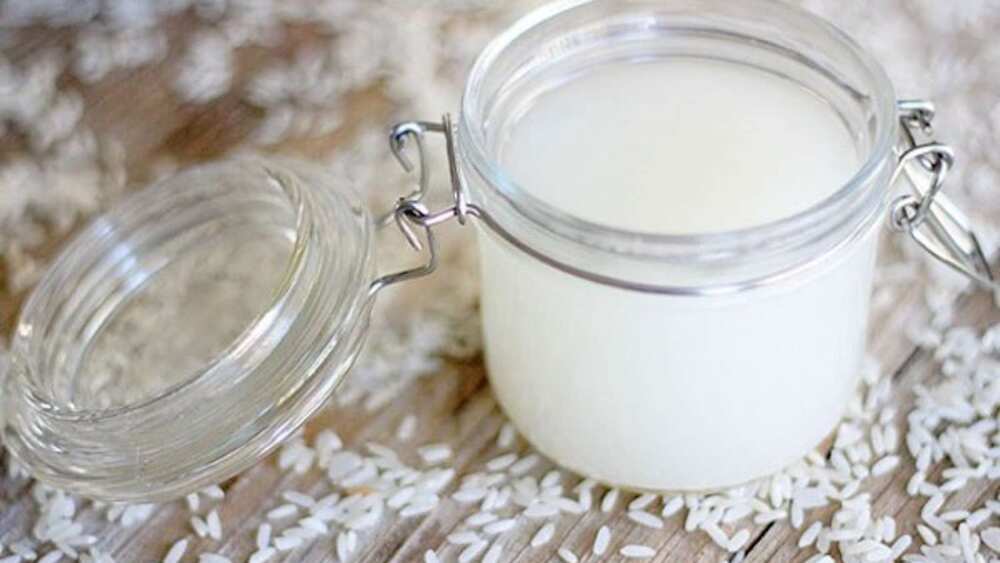 Photo: atlfmonline.com
READ ALSO: Benefits of rice water for skin and hair
Even though most people use rice water to grow hair, for some the priority lies in its restorative qualities. However, not everyone is sure about whether or not you can use rice water when the hair is weaved. We have scoured the Internet for the answer and have founZd no indication that rice water should not be used when your hair is braided.
On the contrary, if you are using synthetic hair for your braids, a rice water rinse is just what you need, as it is not as messy as regular conditioner. When your hair is up in braids, it is important not to forget to take good care of it. If you want it to stay healthy, you should follow the routine below:
Wash your braids with shampoo. Be gentle but thorough, and massage your scalp. Rinse the shampoo off with lukewarm water and squeeze the moisture out of the braids as thoroughly as you can.
Take the fermented rice water we have talked about above, put it in a squeeze bottle or something similar to make the process more convenient and pour it over your hair and scalp.
Let the rice water rinse sit in your braids for up to half an hour and wash it off with cold water. Leave the braids to dry naturally.
From time to time, you should apply oils to your braids and scalp. It is best to use coconut or olive oil. Focus more on the scalp and the parts of braids where your natural hair is. Leave it in and go about your day.
As you can see, rice water is an incredible natural treatment for hair, and there are many ways you can use it to make your locks look healthy and beautiful. So try out the methods we have talked about in this article and feel the difference after just a few uses!
READ ALSO: DIY protein treatment for natural hair growth
Source: www.stylecraze.com