Clove is a spice that is widely used in cooking. It gives savory notes to ready-made dishes, makes food more saturated and fragrant. Maybe you will be impressed, but the clove can be used for weight loss as an additional item - this approach to weight loss is also approved by traditional medicine. We present to your attention benefits of cloves for weight loss.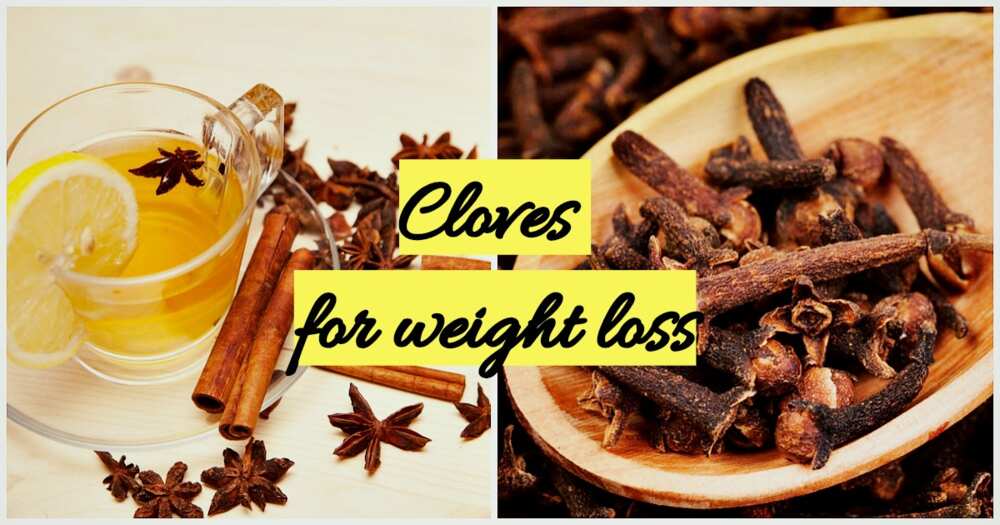 Cloves are the buds of the flowers of a tropical tree called Syzygium aromaticum. This spice is used in cooking, as a seasoning for fish and meat dishes, for pastries (cookies and gingerbread), and it is also an essential seasoning for a tasty hot drink - mulled wine. But few know that this plant is used as a remedy, as well as a means for losing weight.
Health benefits of cloves for weight loss
One hundred grams of cloves contains 320 Kcal. This is a big amount, but such amount of spices cannot be eaten even in a week. Cloves include all the substances, which accelerate the process of losing weight. There are other peculiarities of cloves you should know about:
it corrects the metabolic process in the direction of acceleration;
it reduces the appetite and disrupts the taste in the mouth. Afterward, it gives food a flat flavor, so interest to eat disappears;
it increases the amount of gastric juice and food is completely digested;
it normalizes intestinal microflora;
it reduces high meteorism and diarrhea;
it increases perspiration, so excess fluid is excreted from the body along with slags and toxins.
Normalization of the psycho-emotional background will be a nice bonus, and as a result, unmotivated irritation, mood swings, apathy, and aggression will disappear.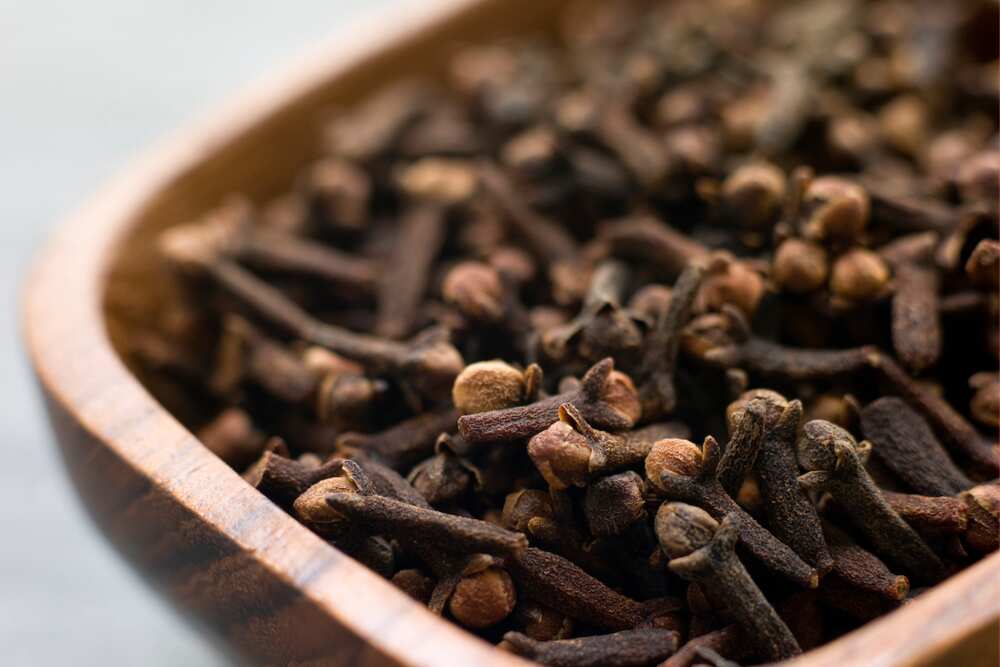 READ ALSO: Best fruits for weight loss in Nigeria
How to eat cloves
Clove is an excellent tool in the fight against excess weight. Drinks and oil from this spice accelerate the process of losing weight, relieve swelling and improve the functioning of intestines. You can "lose" 7 - 8 kg of weight for a month combining with exercises and diet.
Clove tea
Cloves for weight loss are used in the form of tea by adding the powder of this plant in boiling water. There is a traditional recipe for preparing clove tea for weight loss purposes:
1 tbsp. of not crushed clove buds must be ground to a powder.
Add powder to 1 cup of boiling water and leave for 4 hours.
You should drink 1/3 cup of warm tea before meals.
It is believed that cloves help to reduce appetite. Thus, a person who takes this tea eats less food at dinner.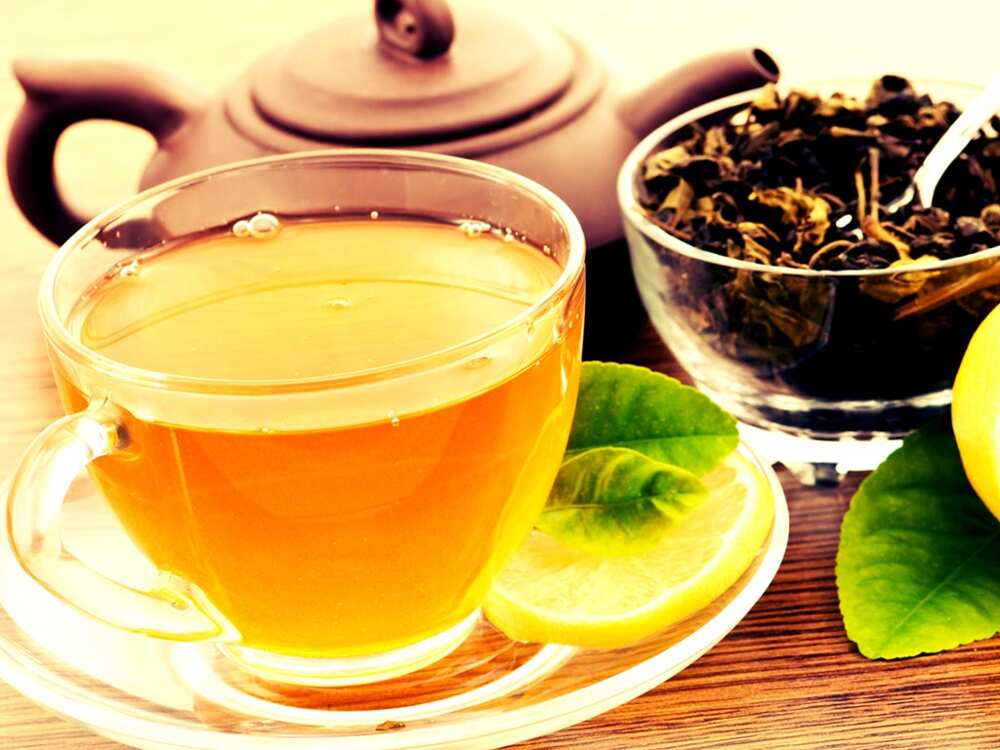 Clove tea for active metabolism
If excess weight is caused by slow metabolism, then it can be accelerated with the help of the next drink. It must be prepared in the morning. For the preparation, you will need:
2 tsp. of green tea without additives;
1 tsp. of clove powder;
1 tsp. of cinnamon;
one pinch of natural vanilla.
All these ingredients should be put in a ceramic pot. Then pour 0.5 liters of boiling water into it and leave for 20 minutes. The resulting tea with spicy seasonings is not only tasty but also can help to boost the body's metabolism. This tea also tones and fills with energy. It is better to drink it with the addition of low-fat milk cream.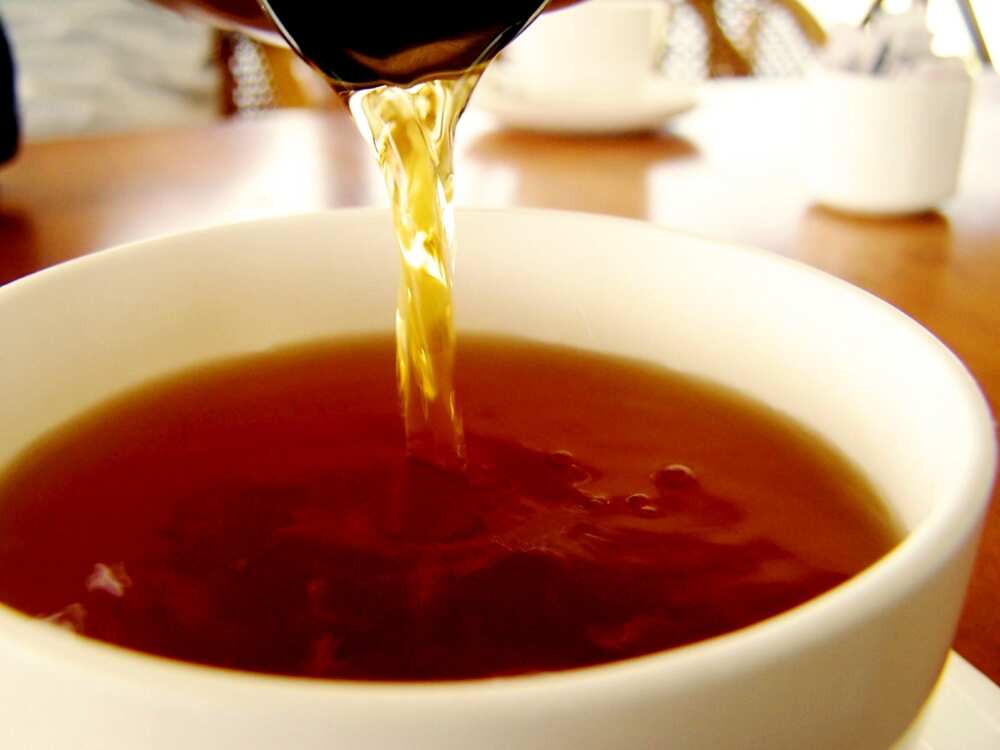 Tea with cloves and ginger
It is also possible to make metabolism active with the help of tea with clove and ginger. You can take green or black tea as a basis for the drink. So you need 1 tsp. of tea. Then take fresh ginger root and grate it on a fine grater. You will also need fresh clove powder. Put all the ingredients in a teapot and pour boiling water (use 0.5 liters), and leave for half an hour. You can add lemon and honey to your taste.
It is necessary to drink no more than 1 cup of tea with cloves per day. Consuming this spice in large quantities irritates the stomach and, instead of the benefit, will cause only harm.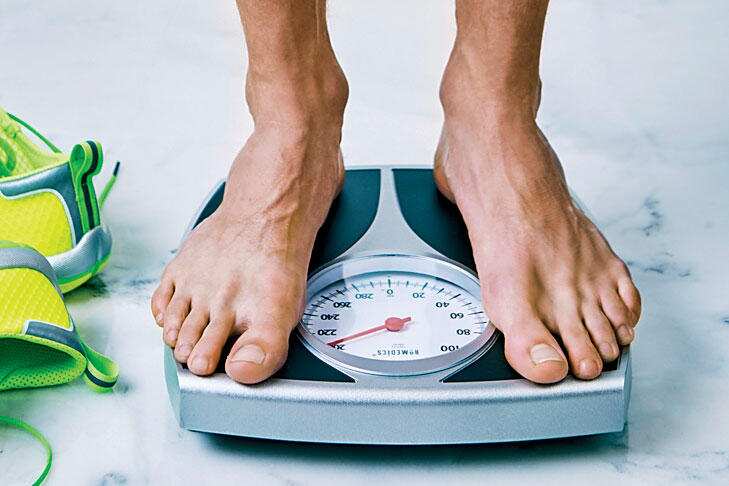 READ ALSO: Aju Mbaise for weight loss: does it work?
Body scrub with cloves
Clove powder is successfully used as an anti-cellulite body scrub. It makes the skin soft and smooth. Take 1/3 cup of granulated sugar to prepare the scrub. Add 2 tbsp. of ground coffee and 1 tbsp. of chopped cloves. Mix all ingredients and apply this product on a wet body, massaging with palms.
The second method of application is massaging the body with a washcloth. Thus, sugar along with particles of coffee and cloves make a soft peeling. It also removes dead cells from the skin and helps to get rid of cellulite. Massage accelerates the flow of lymph, promotes rejuvenation.
You can make it even easier adding some ground spices to your favorite shower gel. Massage the body for 3 minutes, then rinse with warm water.
There is also another scrub recipe: mix 1 tsp. of clove powder, 2 tbsp. of ground coffee and 100 g of honey. Use the resulting mixture like any other body peeling. We advise to make such scrub with sea salt, but be careful because it can scratch the delicate skin. It is much better to make the basis from sugar, which does not injure the skin.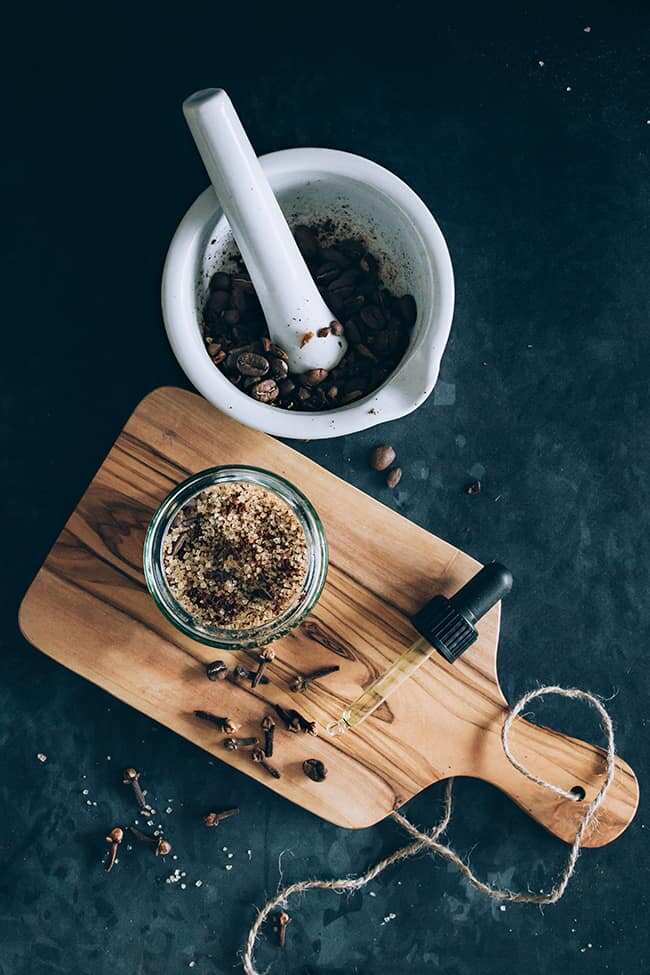 Massage with clove oil
Clove for weight loss is also used in the form of oil. Clove oil has a healing effect. You can buy it at the drugstore or do it by yourself. Just take 1 cup of olive oil and mix it with 1 tbsp. of spices. Prepare it for about 24 hours. The finished clove oil is very concentrated, so it should be applied by adding to the vegetable oil in a ratio of 5 drops to 1 cup. Use it after the shower, applying a little oil on the places where there is cellulite, and making a massage in a circular motion.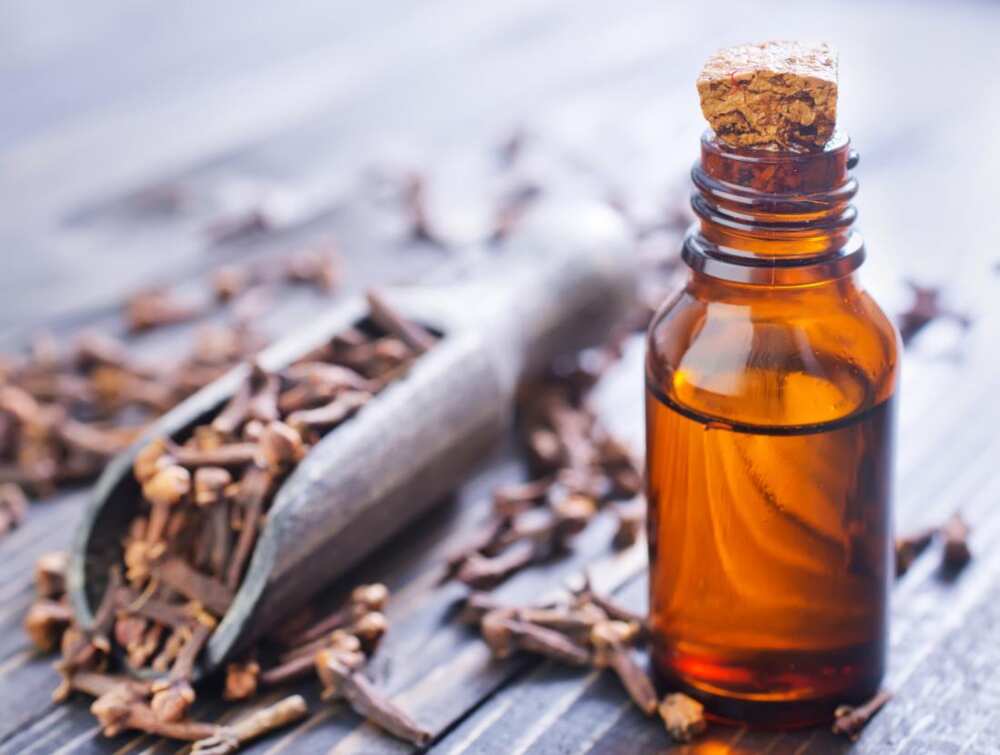 Contraindications
Clove is a potent agent due to its specific substances. Therefore, it has some contraindications, because not everyone can take therapeutic agents prepared from cloves. People with gastritis, especially those with the raised acidity of gastric juice, and gastric ulcer. People with diseases of the kidney and liver should also not eat a lot of cloves. If there are problems with the gallbladder, you also need to be careful in accepting drinks with this spice.
Clove should not be used for those suffering from hypertension, as it increases blood pressure. It refers to different tea, as well as pastries and other products with this seasoning.
Allergy can also occur. Therefore, if there is the first sign of an allergic reaction (reddening of the skin, itching), usage of various products based on cloves (tea, ointments, creams) should be stopped.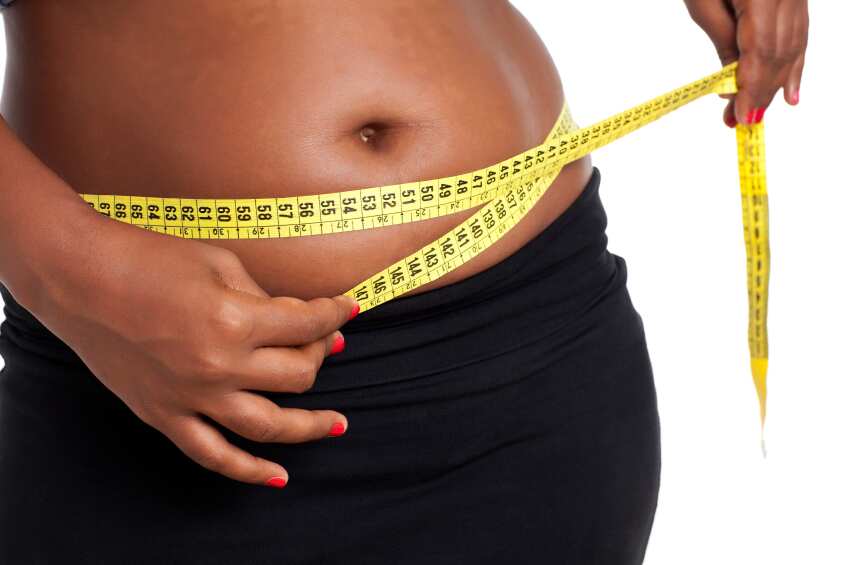 Useful tips
It is not necessary to prepare the powder from cloves in advance, as ethers quickly evaporate from it and useful properties are lost. It is worth remembering that the spicy taste gives a "bud," but the bitterness you can get from the "stem."
It is also undesirable to use tea or any other remedy from the spice regularly instead of proper nutrition. It will lead to problems with the gastrointestinal tract, high blood pressure, and heightened appetite.
Experts recommend drinking no more than 1 cup of clove tea per day. This spice irritates the mucous membrane of the stomach and intestines. And if you take tea or other means in larger quantities than necessary, you can cause various diseases of the gastrointestinal tract.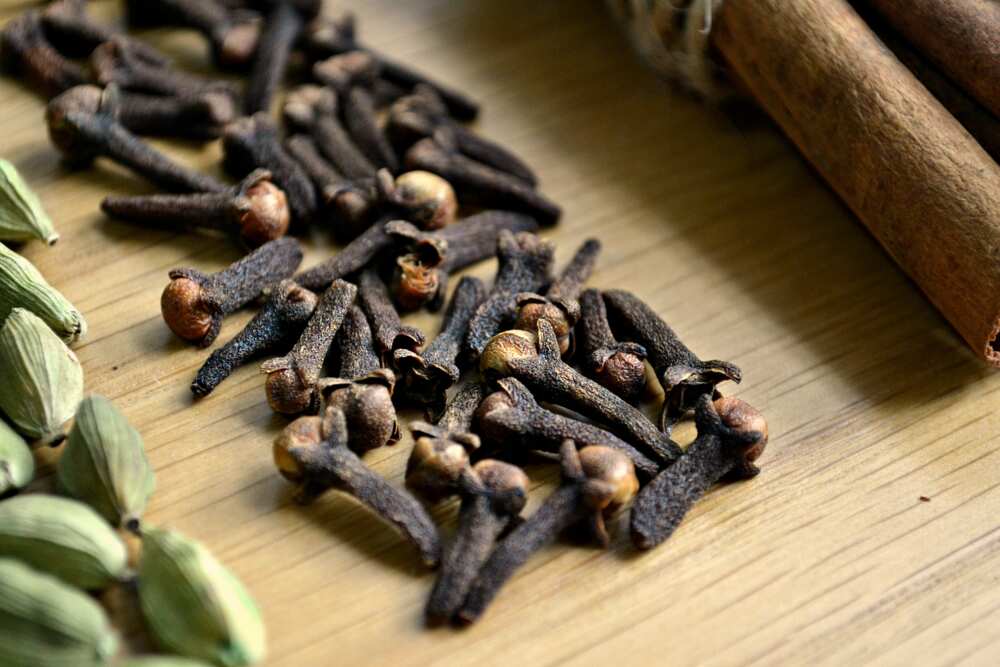 Now you know that clove is an effective remedy for weight loss. You can prepare healing tea, blends with other spices, make anti-cellulite creams, masks, and scrubs. It is used as part of complex treatment, helps to lose extra pounds and makes the skin healthy and beautiful. However, do not forget about proper nutrition and regular exercises.
READ ALSO: Top 5 weight loss apps