How to make million braids wig with closure
Do you want to know how to make million braids wig by yourself? It's a fashion accessory, which will serve you well at any time. It's a perfect way out when you want to have a new hairstyle over the night but there's no time to make it or your hair is not long enough for this style. Making a wig with closure at home is so easy that you can create a lovely new hairstyle in a day!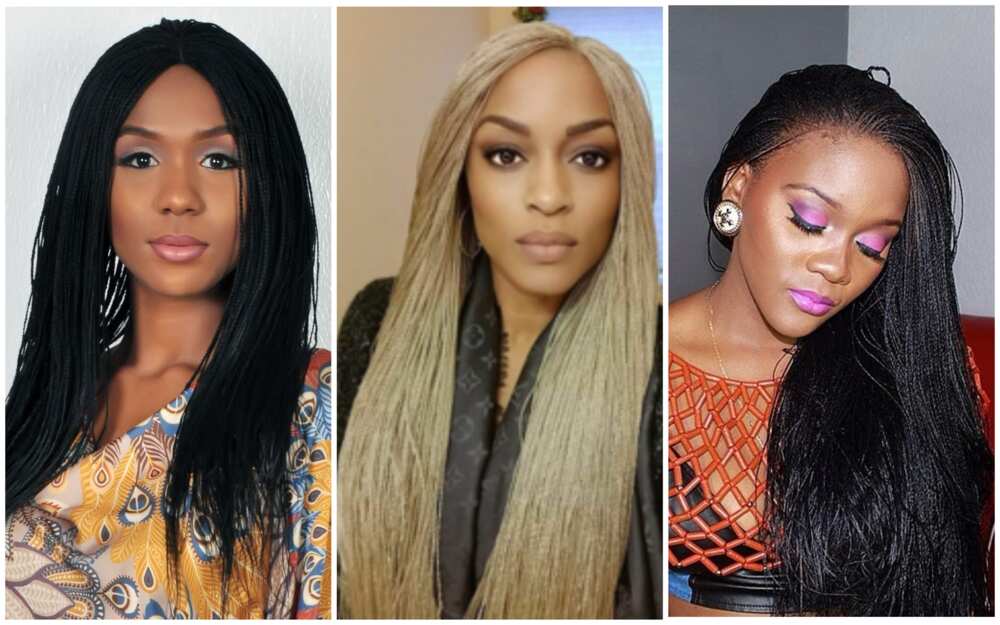 Image source: pinterest.com
Is anyone able to make braided wig easily?
For sure, if you have the most primitive sewing skills, a little patience and a lot of determination, you can create a wonderful braided wig in no time. You will only need a cap, a piece of fine net, hair extensions, and a needle with a thread of a matching color. In several hours, you will have an accessory, which you can put on and take off whenever you want and have a completely new and fashionable look without spending hours at a hairdresser's.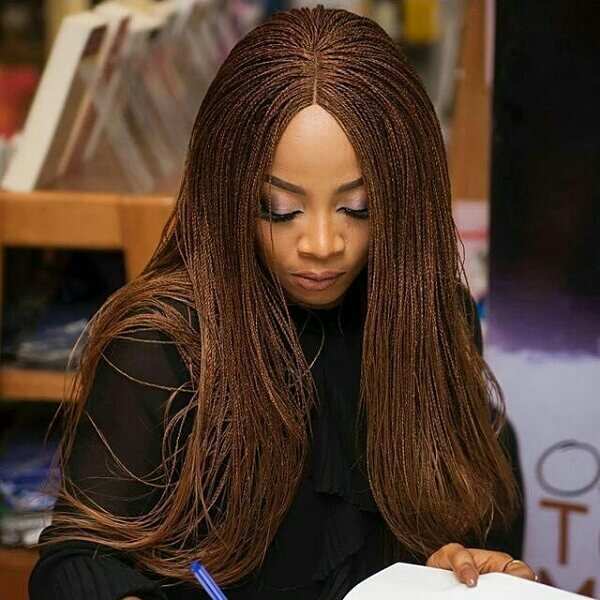 Image source: pinterest.com
READ ALSO: How to wash human hair extensions and wigs? - Top tips
So, let's find out what exactly is needed to create a braided wig with a closure. First of all, it's a good cap which will sit on your head firmly and securely. Such caps are available on the Internet and some of them already have a closure made out of net. It's up to you whether you would prefer such a cap or just attach some net to a solid cap.
Why closure? Well, if you have a solid cap, you need to sew the braids so densely that they don't reveal the cap material. It's necessary to conceal the fact that you are wearing a wig. In such a case, it will be very clearly visible that you are wearing artificial hair. This is why you need this net closure right in the area where your braids will part in a natural way. Your natural scalp will be visible through the net and only few people will ever guess that you are wearing a wig.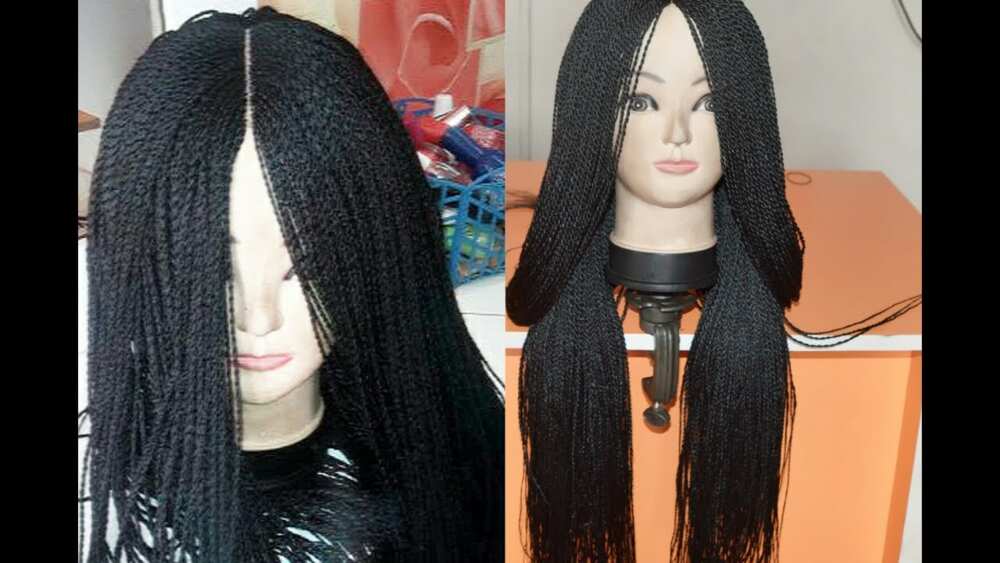 Image source: pinterest.com
Now, the final thing that you need to choose right are hair extensions. If you want a real million braids wig, choose the finest braids you can find. Of course, you will need some time to attach them all to the cap but such a braid will really look absolutely impressive.
How to make braided wig with closure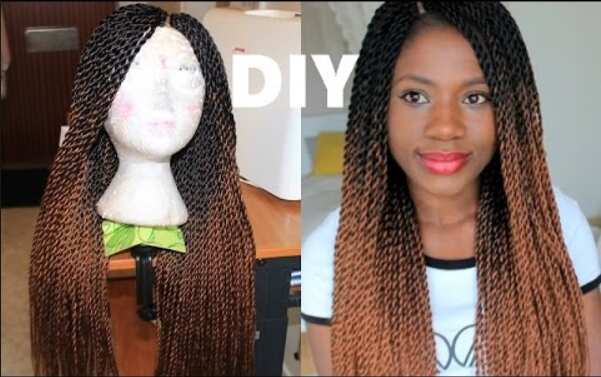 Image source: pinterest.com
So, let's get down to the process of wig-making. Let's check once again the tools and materials required for your work.
A wig cap that matches the size of your head (with or without a closure)
A piece of fine net (choose the color that's as close to your skin tone as possible)
Hair extensions you have already chosen
A mannequin head for hair styling
Several pins
Very sharp scissors that can cut both hair and fabric (if there's no closure, you will need to cut one, and it may be necessary to style the hair extensions somewhat in the end)
A thick sewing needle (maybe, even more than just one) and threads of a matching color
A lighter (to seal the ends of the braids if you decide to clip them
The caps come in two types. Some of them already have V or U-shaped cuts in the front and this is exactly the place where the closure can and should be attached. Some caps are made out of dense elastic fabrics while others are made out of lace or net. Surely, the dense ones are more durable and they sit more securely on your head, especially if you use bobby pins to attach the wig to your own hair.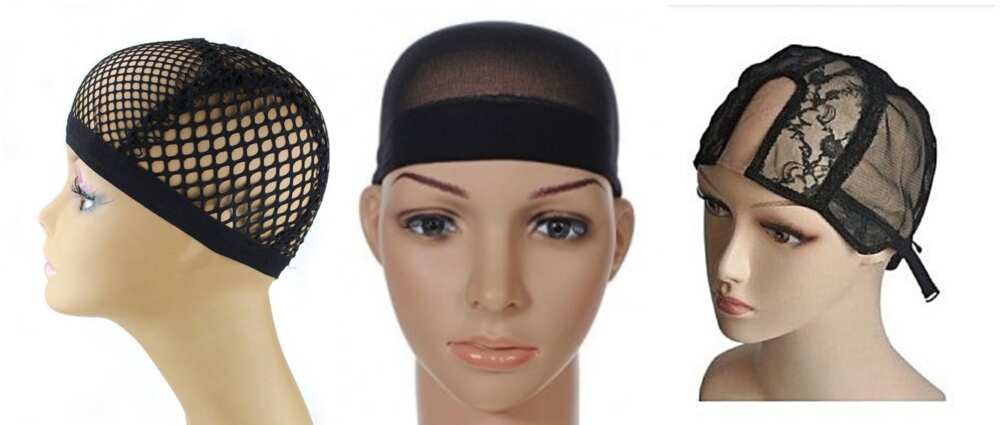 Image source: pinterest.com
In case you have a piece of dense elastic fabric and are skilled in sewing, you can create a wig cap on your own. It will be your own custom-made wig cap that matches your unique head and meets all your requirements. In case such complications are the last thing you need right now, just buy a cap and take advantage of it.
Since net caps are quite delicate and not meant to endure big weights, use them for a million braids wig only if you leave the braids quite short, about the shoulder length. The longer you want the braids to be, the denser cap you should choose.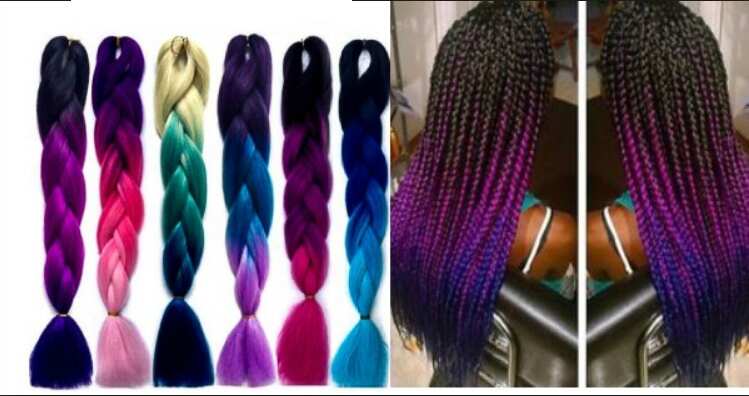 Image source: pinterest.com
Now, to the hair extensions. To create a luxurious wig that really looks like a million of braids, you will need about 3 packs of extensions. It's up to you whether you will purchase braids or just hair and then braid it as you wish. If you want an ombre colour, choose those extensions, which are dark at the roots. It will be easier to conceal the fact that it's a wig.
The process of making is as follows:
Wear the cap onto the head of the mannequin and adjust it perfectly to choose the place for the closure. Having secured the edges of the cap, accurately cut a V or U- shape from the frontal part reaching almost to the crown of your head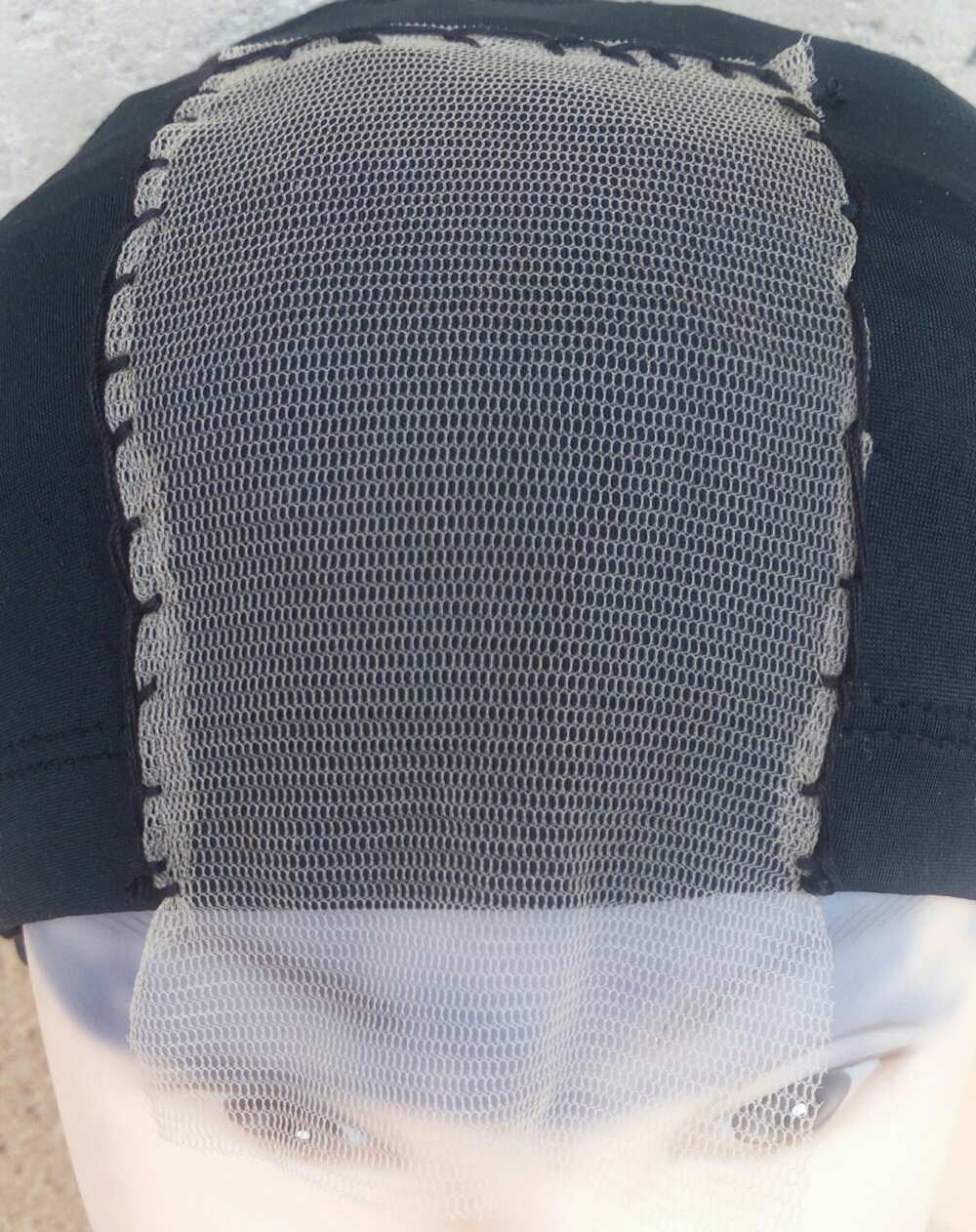 Image source: pinterest.com
READ ALSO: How to make lace wig from scratch
Attach the net with the help of the prepared pins. Sew the net accurately and then clip odd fabric with the help of sharp scissors. Make sure all the seams are inside the cap
Start attaching the extensions. Begin with the edges all the way around the cap because you need to make sure that even if you make a ponytail or any other updo, your wig will look natural
Fill out surface of the cap very densely, leaving no big spaces between the braids or the strands of hair you attach. If you choose to braid the hair yourself, do the braiding first and only then attach a new strand of hair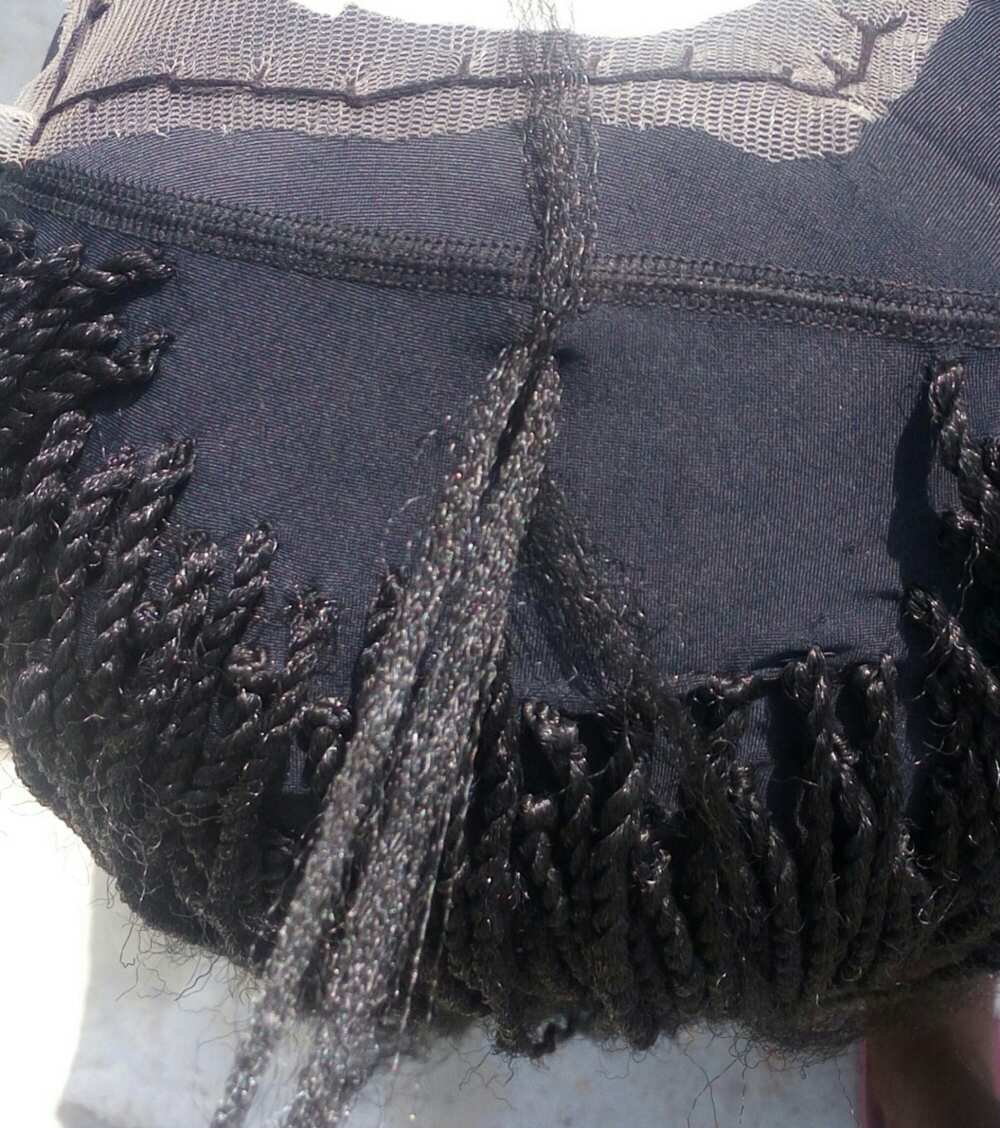 Image source: pinterest.com
Work with the closure when everything else is already done. Make sure the closure is attached securely and that it's not going to rip in any place. If you notice the signs of ripping, add another layer of the net
Some people prefer fastening the hair extensions with the help of a hook, others like needles better. Choose whatever is more convenient for you. If you have a cap that's wholly made out of lace or net, using a hook may be quite comfortable. In case you have a dense cap, only a good needle will work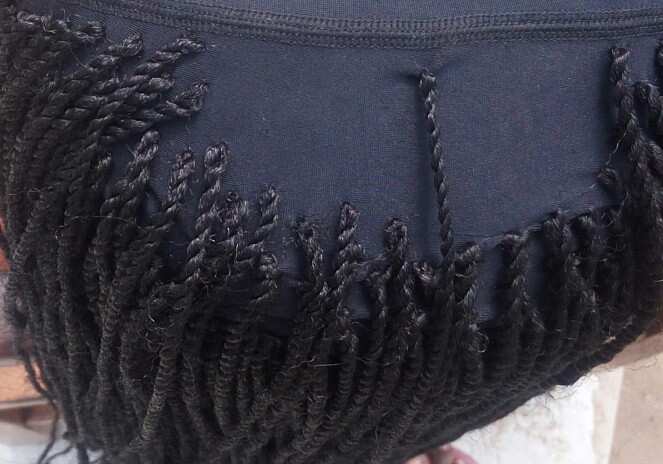 Image source: pinterest.com
As strange as it sounds, when finished with the sewing, pull on the braids strongly in order to make sure that the cap is dense enough and that all the braids are attached securely. Hide all the ends of threads and all the knots and the stuff between the braids but in such a way that they don't get uncovered after an occasional movement of the head
If you make a wig for another person, check out the inside of the wig and make sure that it's absolutely neat and accurate. Sometimes, it's necessary to attach an elastic band under the cap to make it more secure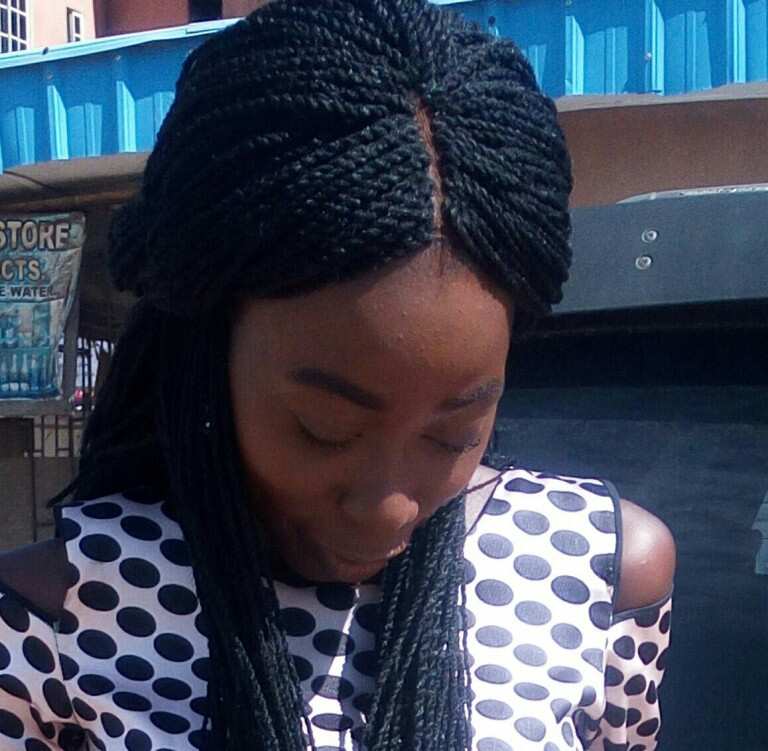 Image source: pinterest.com
If you want to make the wig even more realistic, attach some fine hairs at the front edges of the wig. They will imitate natural baby hairs that can also be styled when the wig is on
As you can see, it's quite easy to make million braids wig at home. You will spend only a little time to create a hairstyle that will look perfect at any time. With wigs, it will only take you several minutes to change your hairstyle when you want.
READ ALSO: How to make a wig look natural?
Source: Legit.ng